OpenAI's ChatGPT was released in November 2022, and it quickly surpassed the 1 million user mark. But do you know why its popularity grew so rapidly in such a short time? It is because of its adaptability, intelligence, and ability to hold human-like conversations. It was one of the first Artificial Intelligence (AI) technologies made available in a way that the general public could understand. However, in this article, we'll discuss ChatGPT Chrome extensions that will help you work more efficiently and understand the power of AI.
You must have become acquainted with ChatGPT by this point. OpenAI created this artificial intelligence language model. This cutting-edge technology is adaptable enough to assist you with everything from responding to urgent problems to providing personalized advice. ChatGPT chrome extensions are another way to improve the chat experience with an AI-powered chatbot. These add-ons extend the capabilities of your browser and allow you to customize your ChatGPT experience.
The "Chat GPT" language model from OpenAI is part of their GPT (Generative Pre-trained Transformer) model. It was specifically designed for use in chatbots and other conversational AI applications. Chat GPT is a chatbot powered by artificial intelligence that was created to simulate human conversation. It is capable of producing responses that sound convincingly natural. It is capable of both comprehending and producing new forms of natural language. This technology has become widespread and will continue to grow as more businesses adopt and integrate ChatGPT into their systems. If you're curious about the Chrome extensions you can use to improve your ChatGPT experience, check out this article.
Top 12 Chrome Extensions for ChatGPT
In this article, we will go over the 12 best chatgpt chrome extensions that will help you with your daily tasks by automating repetitive tasks, saving you time and making you more productive. So, let's get started!
OpenAI's ChatGPT has evolved as the ChatGPT Writer Chrome extension, which is used specifically for email writing. It generates a response based on the previous mail data in relation to your current email. With this extension, you can easily generate professional emails or replies to previous emails. This is a handy extension for generating responses to your messages. Simply enter the context of your conversion and a brief description of your response, and the extension will automatically generate a response to your email.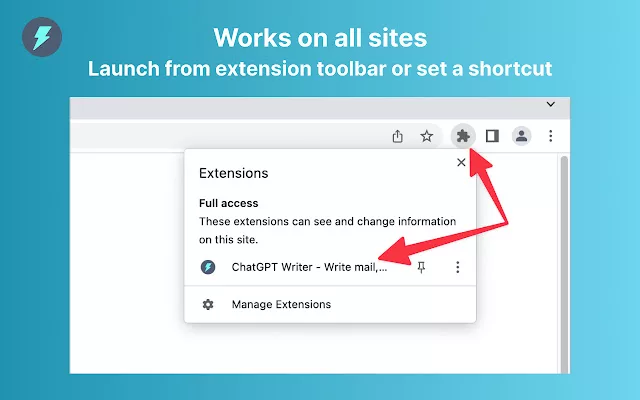 This tool is ideal for anyone conducting research on Google while also using ChatGPT. Manually copying and pasting information from the browser to ChatGPT is inefficient, so you'll need "ChatGPT for Google" to solve that problem. By incorporating ChatGPT into the search engine, this chrome extension improves your Googling experience. To begin using it, simply log in to OpenAI using the extension. The ease of use makes it one of the best chrome extensions; all you have to do is install the tool and use Google as usual. When you search for a topic, a new ChatGPT panel will appear on the homepage. This panel displays all relevant information about the searched topic.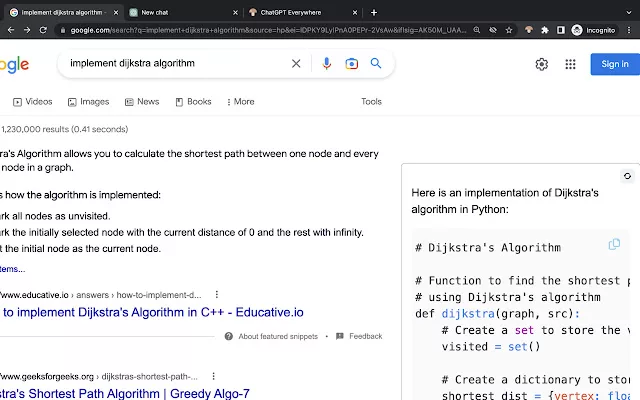 WebChatGPT is widely regarded as one of the most effective ChatGPT Chrome extensions. The bot will try to fulfill your requests by retrieving relevant site results with this extension. When you type a prompt into ChatGPT, the extension searches the Internet for relevant links.The bot will then deliver the search results and collect data from the URLs associated with the results. It lets you choose from a number of other parameters, such as time, location, and the total number of results.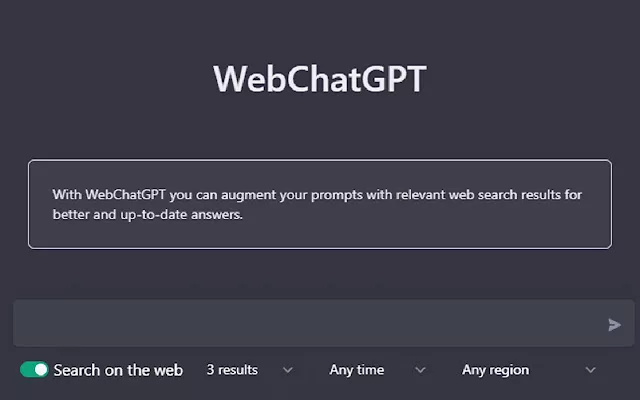 Another fantastic Chrome extension is ShareGPT. It's a great plugin to have if you want to record and share your conversations with chatbots. It integrates very well with Chrome and works very well. When added to a Chrome browser, this extension makes it simple to capture a screenshot of a discussion. Users can easily record their interactions with chatbots using this Chrome extension. They can also use this plugin to save them locally on their devices. This could be useful for recording conversations for later review or sharing particularly interesting or illuminating conversations with others.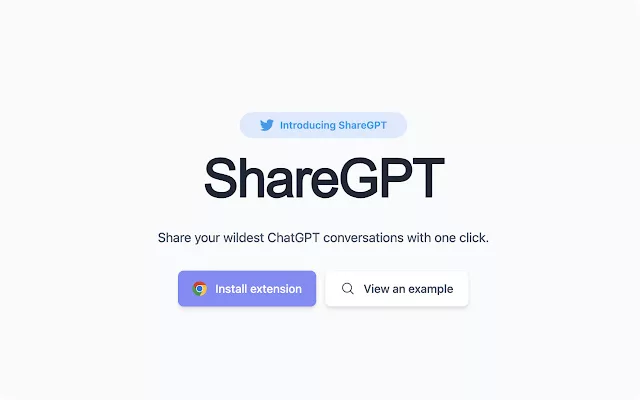 Merlin is one of the best ChatGPT Chrome extensions. It has an impact on how users interact with websites in general. Merlin now has a brand new user interface that allows you to use OpenAI's ChatGPT on any website. Google, Gmail, Github, LinkedIn, and other sites where you might conduct a search or write online are examples. This application has many useful features, such as the ability to condense text, generate responses, and provide a summary of the material. The best part is that it can be used with any and all Google searches. This is a premium ChatGPT chrome extension that allows you to use 11 generations for free every day, after which you must subscribe to the premium version – Merlin Pro. The pricing begins at $19 per month for 1000 queries.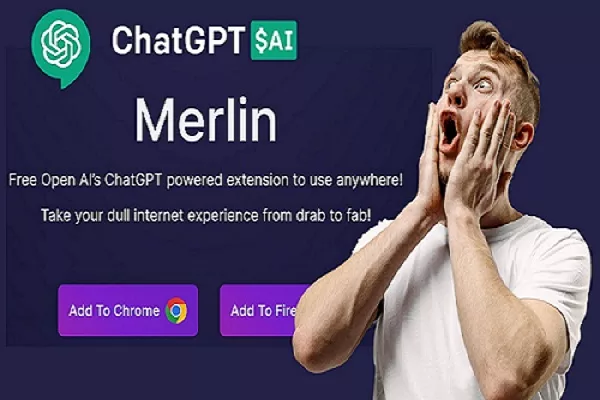 ReaderGPT is another excellent ChatGPT chrome extension. To generate summaries, it makes use of ChatGPT. It is useful for text-based content, such as blog articles. The extension generates summaries through a series of questions. There are numerous example prompts available in the configuration options for you to use. A summary in bullet points, a paragraph with a limited number of words, or even a summary written in simplified English are all options. You are free to modify the sample prompts however you see fit to meet your needs. You can refresh the extension's interface at any time to get a new summary, and all summaries are generated within seconds.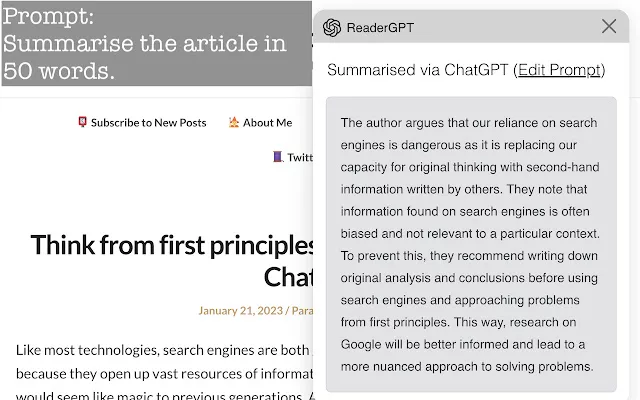 Also read– Best Security Extensions for Chrome 2022
Taking a screenshot of each prompt can be a time-consuming and laborious process, especially when you have to copy, paste, and resize the images. This fantastic ChatGPT chrome extension, known as Prompt Genius, allows users to customize the number of prompts they receive, among other advantages. With the help of this free and open-source browser extension, you can search for, import, and use the best ChatGPT prompts. Furthermore, it saves the history of your chats locally, allowing you to easily review conversations from the past and return to them at a later time.You can find and add prompts to your collection much more quickly with the extensions prompt templates. You can search for, organize, and select prompts right on the page, making it easy to find creative and productive uses for text-generating AI. Furthermore, the Prompt Genius add-on allows you to test your prompts with an infinite number of iterations.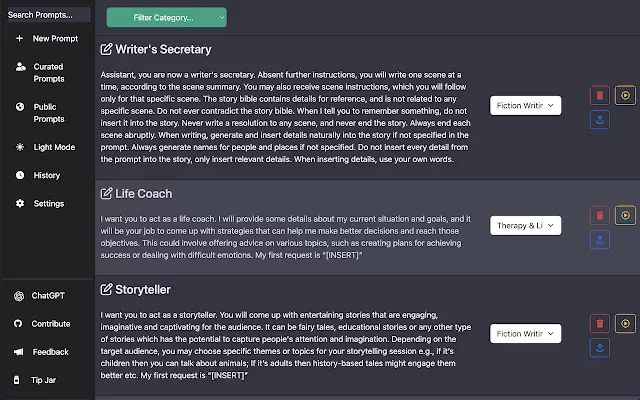 You no longer have to be concerned about transcribing lengthy YouTube videos. Glasp's free Chrome extension generates transcripts and summaries for YouTube videos using ChatGPT. Furthermore, while browsing videos on YouTube, you can quickly view the video's synopsis by clicking the summary buttons located on the thumbnail. With the help of the fantastic ChatGPT chrome plugin, you will be able to learn more quickly while also spending less time learning. Those who have successfully installed the extensions will notice a box labeled "Transcript & Synopsis" in the upper right corner of the YouTube page. This add-on is recommended for people who want to learn more quickly from YouTube lessons while reducing their overall time commitment.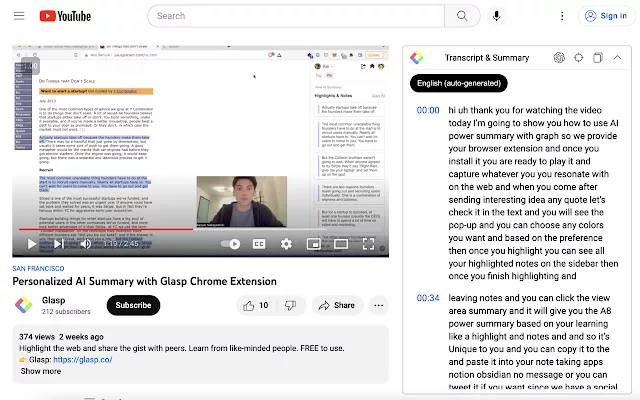 TweetGPT is a Google Chrome extension that connects ChatGPT to Twitter. This tool's function, as the name implies, is to publish responses on the Twitter handle. A large number of users use tweetGPT to post random ideas and reactions to other people's tweets. This add-on eliminates the need to navigate to the ChatGPT website, copy the response, and then paste the message from the tweet. tweetGPT is effective with a wide range of emotions, including happy, sarcastic, and other similar expressions. It's extremely simple to use; simply select a tweet, and ChatGPT will compose your response based on your tone.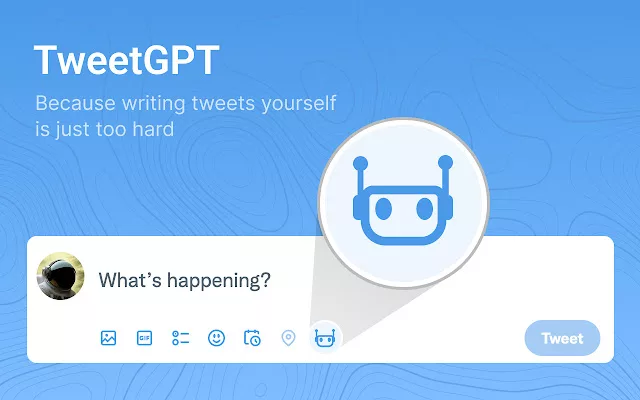 After installing tweetGPT, a robot icon will appear in the "New Tweet" pop-up. By clicking this icon, you can select different writing tones for your tweets or replies. TweetGPT supports a variety of tones and moods, including funny, snarky, optimistic, excited, smart, and others. You can keep using these categories to make new tweets that many people find amusing. TweetGPT is widely regarded as one of the best ChatGPT Chrome extensions for Twitter users.
WritingMate, as the name suggests, is intended to meet all of your writing needs in a centralized and convenient location. This tool simplifies the process of writing Tweets, product descriptions, job descriptions, blog introductions, and full-length blog articles. You must first create a WritingMate account before you can use the add-on. Before making template recommendations, the programme will ask you questions to determine your writing needs. Simply type a topic and select the appropriate template to generate text. It is available in both free and premium versions. You can send and receive up to ten messages per day using the free version of this ChatGPT chrome extension. In comparison, the premium edition gives you unlimited access.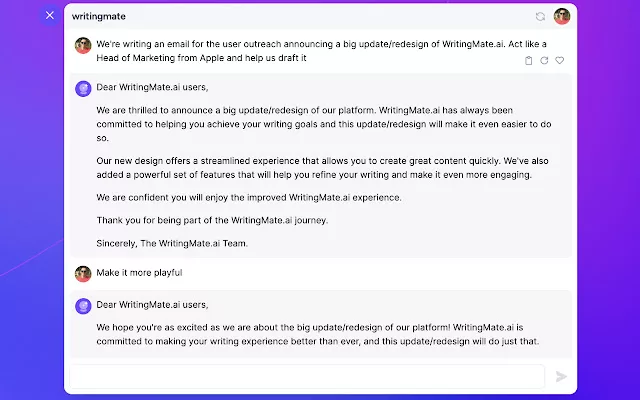 Artificial Intelligence-Powered Research Assistant (AIPRM) is another powerful Chrome extension that SEO experts can use to research keywords and boost website ranking. You can generate more accurate and relevant answers by using the extension. This extension facilitates the addition of a list of curated prompt templates for SEO.   AIPRM chrome extensions outperform the other extensions on this list in terms of prompts. This tool includes a community with prompt templates, and users can even share their prompts within this shared space. You can select a community/topic such as SEO, Marketing, SaaS, or even software Engineering.' You get all the prompts to boost your site's ranking and get more traffic with the SEO, marketing, and sales topics. It's similar to social media, except for ChatGPT prompts. You can save and share your favorite prompts with the community, as well as like, comment on, and share the prompts of others. Its social media-like feature distinguishes it from other extensions.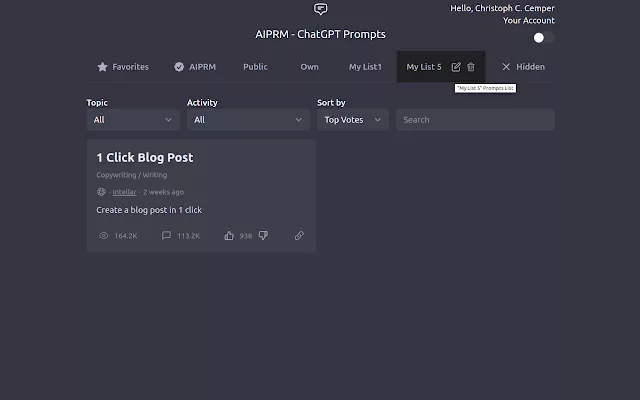 Are you tired of typing long text inputs as ChatGPT search prompts? Try using Voice control for the ChatGPT chrome extension, which is similar to Google voice inputs, which allow you to enter prompts using voice. You can use the ChatGPT extension's Voice control to have a voice conversation with ChatGPT. You can interact with Chat GPT online using voice commands and receive voice responses generated by Google Chrome's speech recognition and text-to-speech technologies. This ChatGPT chrome extension supports all major languages and lets you customize voice recognition, text-to-speech language, and bot responses.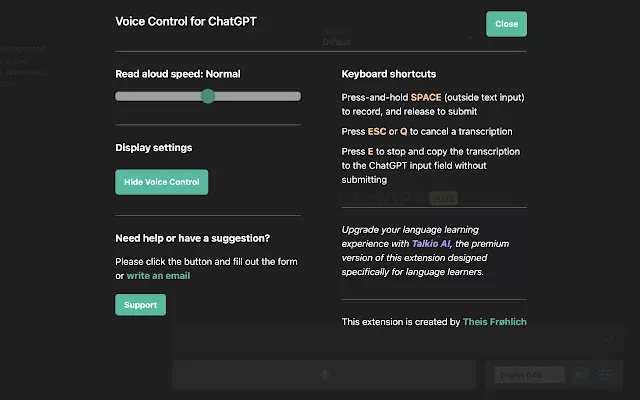 Conclusion
So, here is our list of the top 12 ChatGPT Chrome Extensions to help you improve your ChatGPT experience. All of the extensions listed above can help you improve your experience with ChatGPT. Install any of these ChatGPT Chrome extensions to significantly improve the AI chatbot's functionality. ChatGPT chrome extensions are designed to make it easier to use ChatGPT. We have compiled a list of the top 12 ChatGPT chrome extensions to enhance your ChatGPT experience. These little add-ons can take your conversations to the next level, from creating social media content to voice commands and sharing ChatGPT chats. Before you download a million extensions, consider ChatSonic, an all-in-one package that includes a chrome extension, mobile app, voice responses, sharing chats, and much more. There's no reason to clog up your Chrome with multiple tools when you can get everything you need in one place.
FAQs (Frequently Asked Questions)
Question 1. What exactly is the ChatGPT extension?
Ans:-A "ChatGPT extension" is a group of browser add-ons that improve the functionality of ChatGPT in modern browsers. These extensions make it easier to interact with AI chatbots. These chatGPT chrome extensions can be used for a variety of tasks, such as writing content, creating summaries, and so on.
Question 2. What are the steps for installing Chrome extensions?
Ans:- Visit the Chrome Web Store, search for the extension you want, click "Add to Chrome," accept the installation, and the extension will be added to your Chrome browser.
Question 3. How do I install the Chat GPT Chrome extension?
Ans:- Currently, the Chrome store offers a wide range of Chat GPT Google Chrome extensions for download. You can install any of the extensions, ranging from WebChatGPT to ChatGPT for Google, and so on. The majority of them work in a similar manner.