SMS Automation is the potent channel for improving the customer retention and increasing your LTV for your ecommerce store. This is the reason we have curated a list of best SMS marketing apps for Shopify for your marketing campaigns. To help you understand the importance, You will be a step ahead if you are aware of SMS marketing opportunities. Statistics have revealed that the majority of SMS messages are opened more quickly than emails. The first three minutes saw the opening of almost 90% of SMS messages.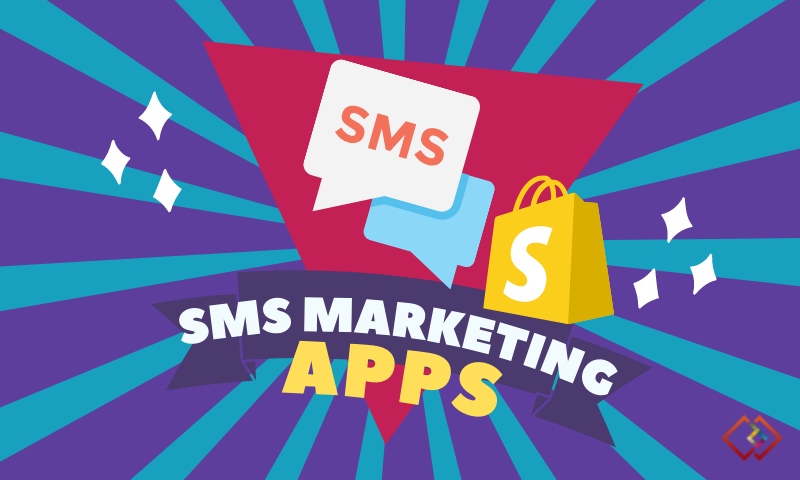 Why SMS marketing is Superior?
Prompt shipping
When you press the send button on an SMS message, your message is delivered quickly to the recipient. Most of the time, text messages are answered relatively immediately.
Greater Open Rate
As we had established, text messages open more frequently than emails. Why is that? Unlike emails, which require multiple clicks to view the content, opening an SMS message only requires one. This explains why approximately 35% of emails go unopened.
Increase in Response Rate
This advantage is visible. SMS messages will naturally have a greater response rate because they have a higher open rate. Research has shown that SMS marketing has an average response rate of 45%. SMS texts have a less formal and more casual tone. A less formal piece of writing will always elicit speedier responses from readers. When used properly, SMS marketing may benefit your business greatly.
So our recommended SMS Marketing Apps/Plugins for Shopify (2023) are as follows.
7 Best SMS Marketing Apps For Shopify (2023)
An all-in-one e-commerce marketing app is called Omnisend. It addresses SMS, email, pop-up, and newsletter marketing. Over 70,000 customers entrust Omnisend to help them scale their businesses, and it has a 4.6 rating on Shopify. Omnisend is incredibly user-friendly
and simply interacts with Shopify stores. SMS marketing campaigns are simple to make. You can launch your SMS marketing campaign with Omnisend's SMS automation tool and a tonne of SMS templates. Additionally, it contains landing pages, pop-ups, spin wheels, and sign-up choices. Utilize the built-in chatting tool to have live conversations with your customers.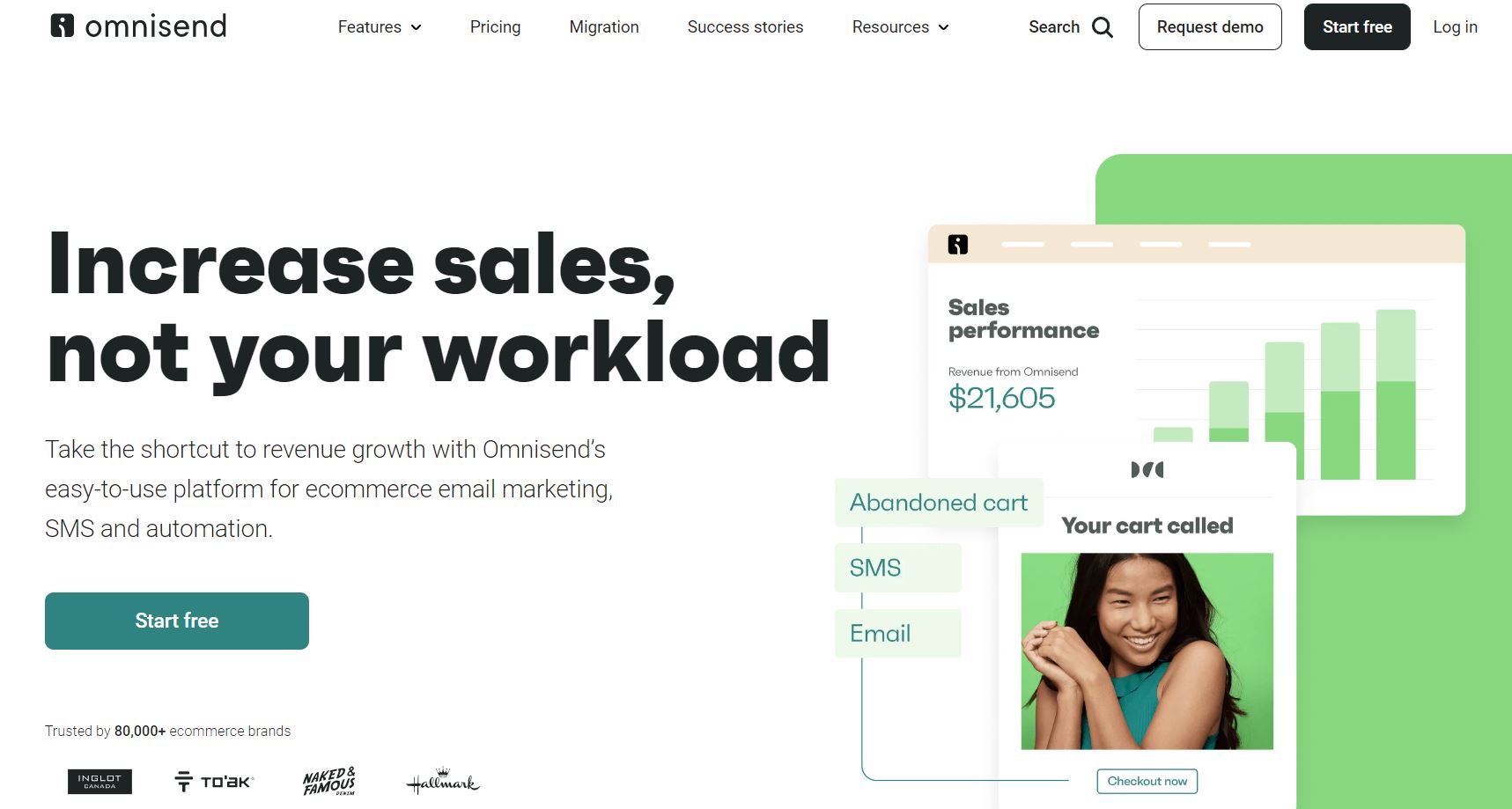 Onmisend enables you to market your company, comprehend your clients, increase sales, and retrieve abandoned carts. This app complies with the TCPA. It responds to the unsubscribe request right away.
Pricing
You can send up to 60 international SMSes per month with Omnisend's free plan, which is available right away.
The regular plan has a monthly cost of $16.

The monthly cost of the PRO plan is $59.
An all-purpose marketing app is Firepush. It emphasizes marketing using Web Push, Email, and SMS. You can use these techniques to compose and send automated messages with the aid of Firepush. Text messages are sent via Firepush over a cellular network. Privy, GemPages, Loox-Photo Reviews, SMS, and other services are all integrated.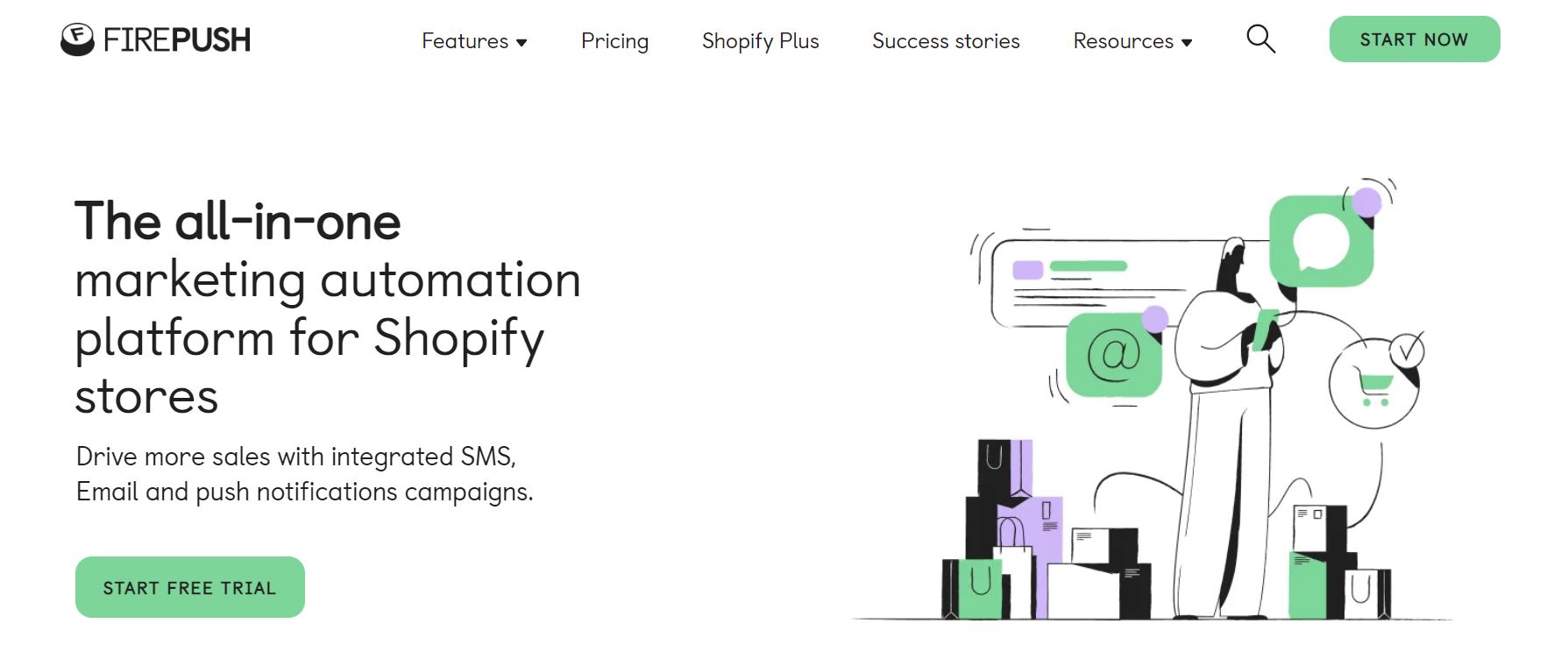 You can send as many SMS messages to your consumers each month if you subscribe to the pro plan. Your company has a potential to grow as long as you continuously use text messaging to engage with your clients. Cart abandonment is a problem that e-commerce companies frequently face. According to a survey, the average percentage of abandoned carts is up to 69.57 percent. But one way to do that is through SMS marketing.
Firepush reminds customers who left their carts unattended through SMS and implores them to finish their purchases. You can use Firepush to send a variety of SMS message kinds.
Features why we have recommended it as one of the Best SMS marketing Apps for Shopify.
Greeting SMS

SMS for new products

SMS delivery update SMS Restock SMS Order confirmation SMS

SMS notifications for abandoned carts, among other things
Pricing
With a $1 credit, Firepush is free to download and send up to 60 SMS. External fees could be incurred.
One of the most popular SMS marketing for Shopify tools is SMSBump. With 2308 reviews and a score of 4.8, it has a high level of confidence from more than 90,000 businesses. You may connect this app with your Point of Sales and Shopify store (POS). It is ready after only a brief period of setup.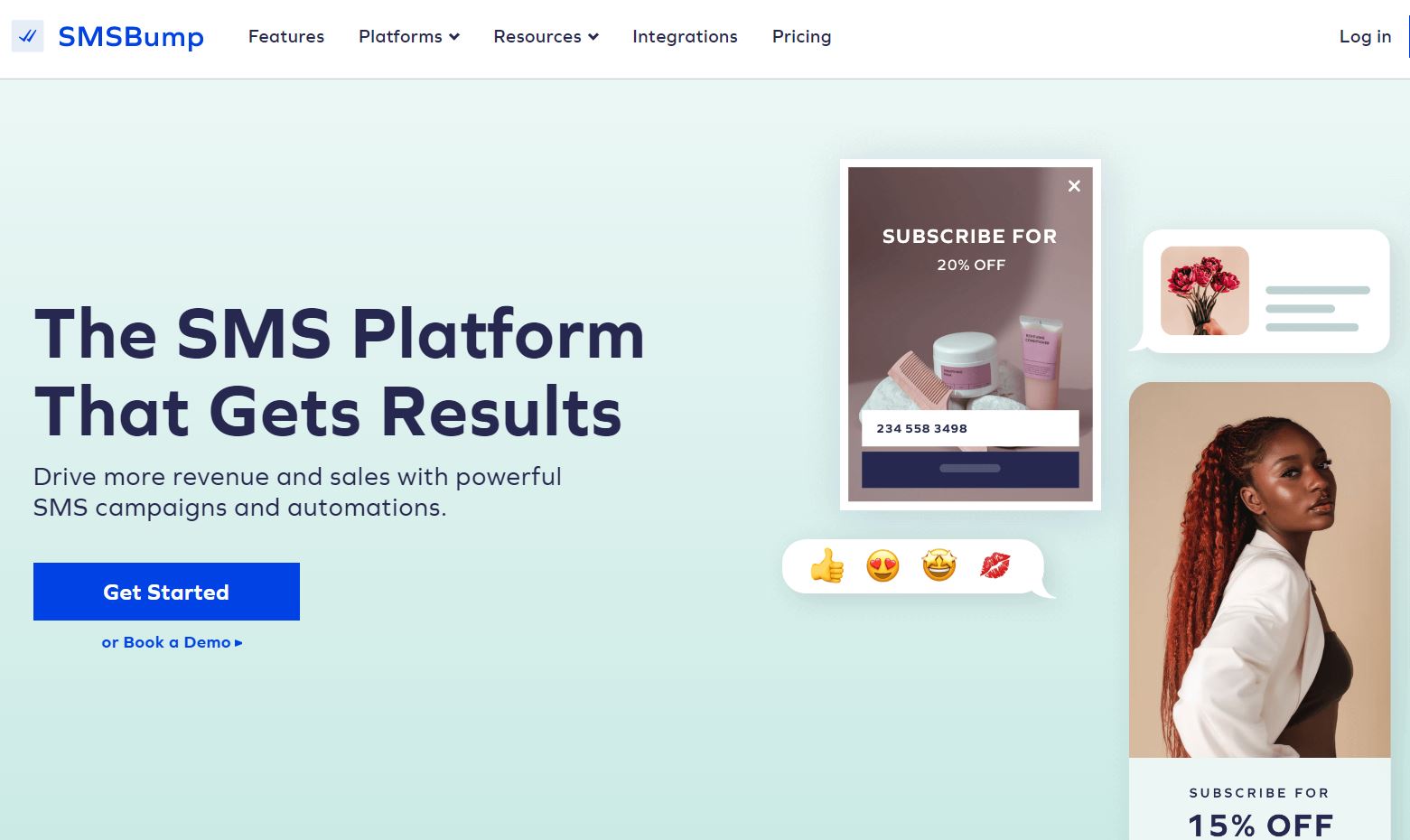 The software offers the resources you need to expand your SMS list. Automated SMS messages are designed to produce observable results. With the appropriate message, you can bring back abandoned carts, increase sales, and keep current consumers. Yotpo, ReConvert Klaviyo, Recart, Privy, and other applications are integrated with SMSBump. Forging a connection with your customers, you must use effective communication.
The SMSBump software allows you to;
Create appealing messages by using an SMS template.

Configure automated messages to send at the appropriate time.

Have a conversation with your customers that flows well.

Learn which automatic text is more effective.
Pricing
Installing SMSBump is cost-free. However, the paid plan ranges in price from $19 per month to $199 per month.
TCW, a Shipway product, is an SMS, Whatsapp Marketing: TCW solution that is used directly on a Shopify website. It interacts with Judge.me, Aftership, ReConvert, Whatsapp Chat, Klaviyo, and SMS Notification. Utilize WhatsApp chat and text messaging to follow up with your consumers and ensure that their orders are completed.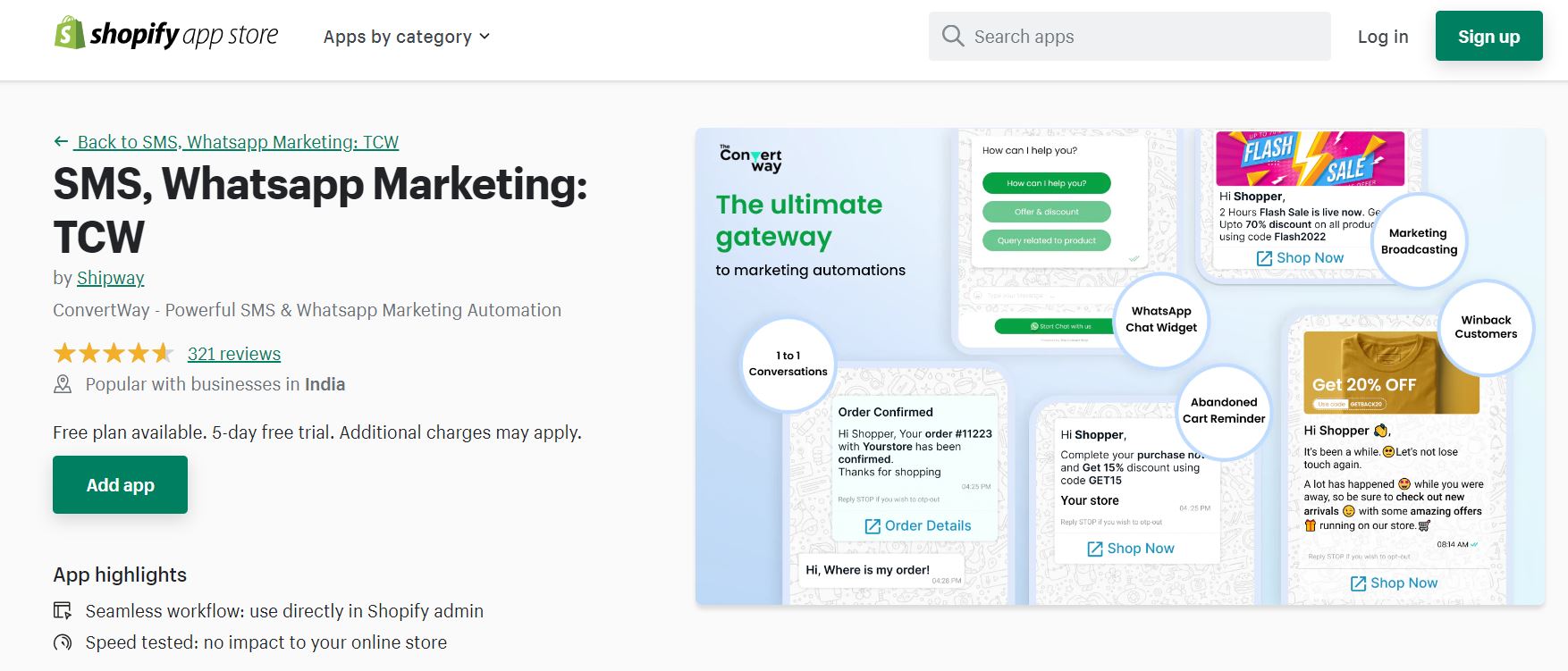 The automated follow-up communications are sent at least three times. You may connect with clients all over the world using ConvertWay. It is accessible in 220 nations worldwide. Through WhatsApp, you can speak directly with your audience. Direct communication is a potent tool for improving client relations and growing your organization.
Pricing
Installing ConvertWay is cost-free. It provides a premium package for $49 a month. The cost of SMS and WhatsApp chat, however, varies by nation.
Do you want to use SMS to increase your Shopify sales? You ought to use postscript. Other SMS marketing programs lack some functionalities that Postscript provides. Thousands of companies all over the world rely on this software to help them grow. Shopify and Shopify Plus stores integrate easily with Postscript. The majority of your other Shopify marketing applications are compatible with it.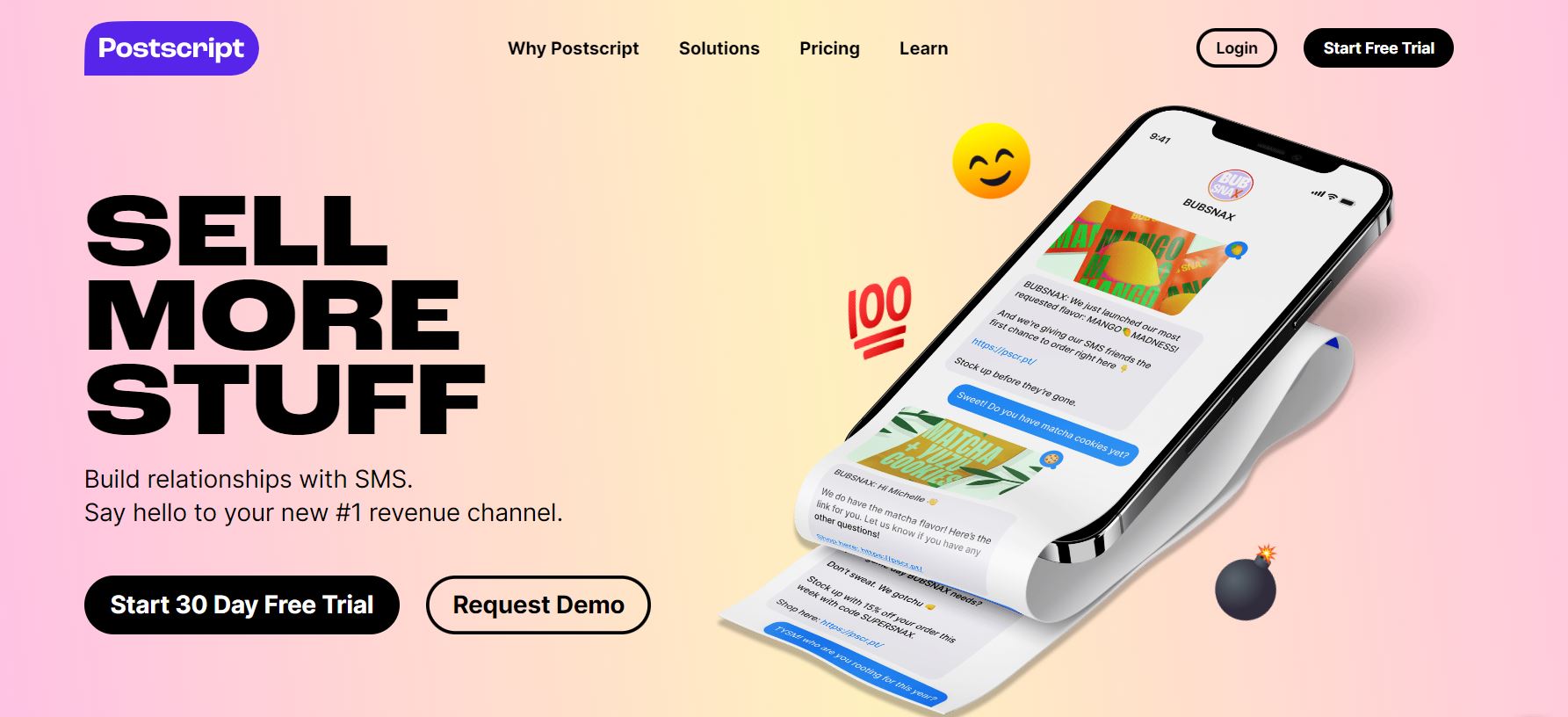 Customer Segmentation Features
You can identify and group your consumers based on their preferences with the aid of Postscript. Your sales may increase if you send consumers or store visitors tailored messaging.
If there are no records, how can you determine whether your SMS campaign was successful? By logging and examining your business data, Postscript makes it simple to track your revenue.
Your customer can decide to discontinue receiving SMSes at some point. This process is quick thanks to Postscript. Simply text "STOP" to the specified number to stop.
Pricing
Installing Postscript is free, however the free trial period for premium plans is 30 days. The monthly cost for the growth or professional programmes is $100 or $500, respectively.
You can utilize the SMS marketing software Automizely without paying anything extra. It complies with the GDPR and the TCPA. You can recover abandoned carts, convert website visitors, and improve business promotion with its aid. Recovery of a dropped cart is no simple task. It may take significant persuasion to persuade customers to reconsider dropping their order at the checkout stage.
You may use Automizely to design enticing text messages that encourage your consumers to finish the checkout process. The appropriate message is necessary, but it's not enough. Equally important is reaching out to your customers at the appropriate time and in the appropriate manner.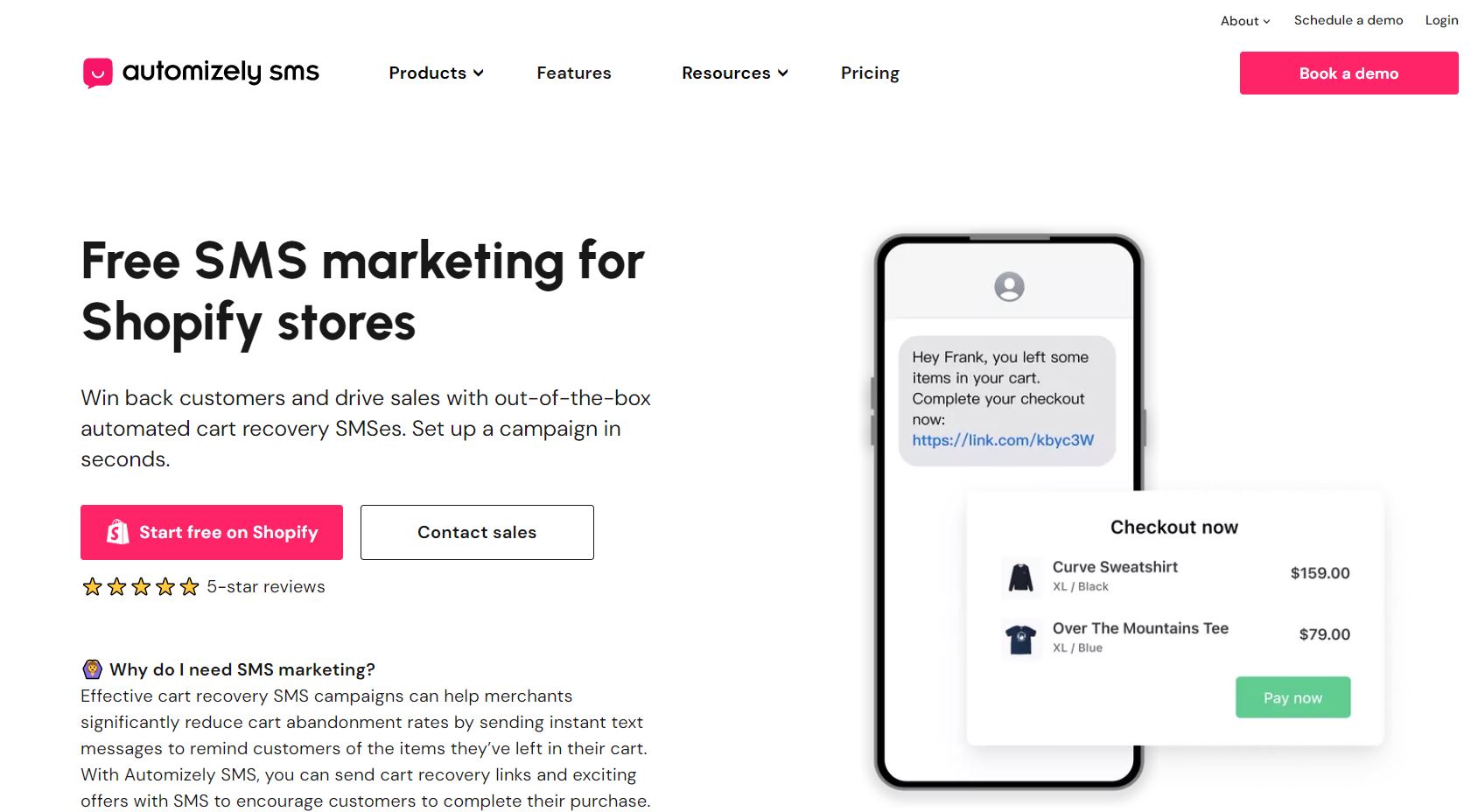 You can configure the app to alert you when a consumer leaves their cart unattended. After that, text them to ask why. Prior to sending the message, you must verify that the recipient's name and contact information are correct.
Customer Service
To help you, Automizely offers a support staff that is available around-the-clock.
Related Article: 9 Best Shopify Email Marketing Apps (2023)
One of the top Shopify SMS marketing apps is Cartloop. It enables you to have direct conversations with your clients in order to establish a solid rapport. Shopify, Shopify Plus, and other CRM applications like Zendesk, Klaviyo, Gorgias, Cartloop, and others all integrate well with Cartloop. You can expand your email list, engage with your customers, send promotional messages, recover abandoned carts, find out why customers are leaving, and more with the app's support.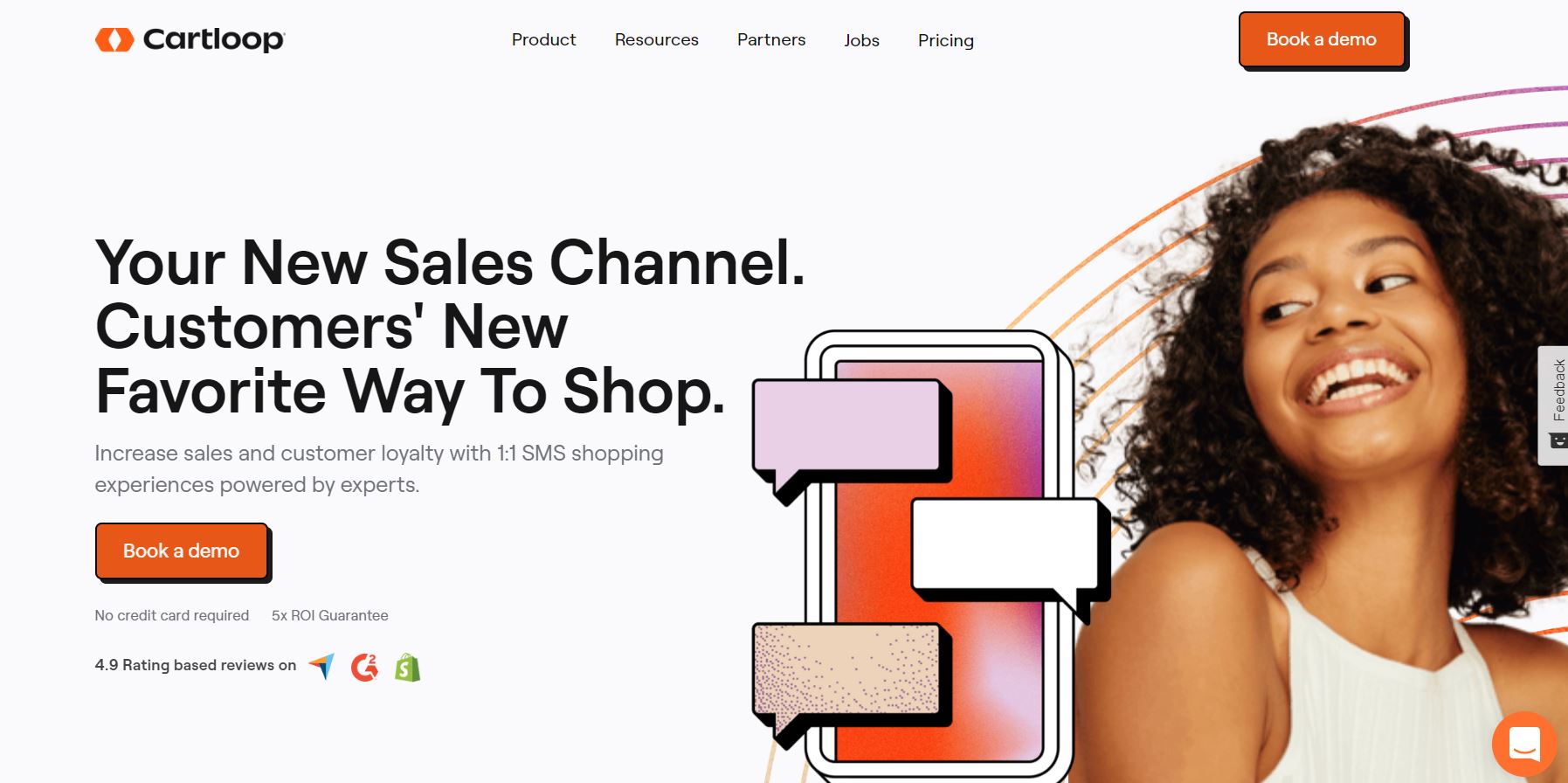 The aim of a business owner is to reduce expenses and increase revenue. You don't need to spend a fortune on marketing that generates little to no returns when you have Cartloop. You only pay for the platform when it generates results. Cartloop complies with the TCPA and GDPR. Opting out is processed instantly and takes less than five minutes. The support staff is on hand around-the-clock to take care of your needs.
Pricing
Cartloop has two premium options available.
The monthly fee for the expansion plan is $99

The Pro plan has a monthly cost of $299.
Conclusion
SMS marketing is a potent campaign tactic, but it is vastly underappreciated. One method to step up your SMS marketing game is to use the proper app. We have included the top Shopify SMS marketing apps in this article. We hope these were helpful to you.
Are you still having trouble making sales for your company? Adoric is useful.
Adoric has a tonne of features and tools that are intended to assist you in turning visitors into subscribers and paying customers. To see Adoric in action, register for an account.
I hope you found some gems when it comes to setting up your performance marketing campaigns powered by above SMS apps and plugins. Do you have other recommendation to this list of Best SMS Marketing Apps for Shopify? Do share with us in the comments section below.
Recommended Next Read: Shopify Vs. WoooCommerce – The Best Ecommerce Platform Comparison