WooCommerce is a hugely popular WordPress plugin that turns the well-liked blog CMS platform into a fully functional e-commerce store. By going one step further and using the following WooCommerce dropshipping plugins, you may direct-ship goods from other distributors that are sold on your website and save on massive inventory costs.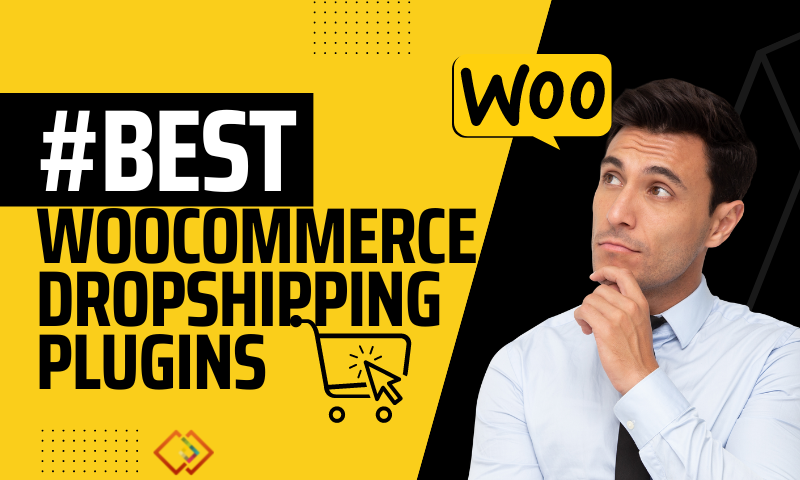 What is Dropshipping?
Defining each stage of the dropshipping process is the simplest method to explain the business model:
As the retailer, you choose a market niche for your products.

You choose the best things to sell in that market.

These need not always be from your own nation. In fact, many dropshipping companies buy their goods from AliExpress, a Chinese online retailer that is a part of the enormous Alibaba Group.

You track down one or more of those providers and form a partnership with them. On the cost, the terms of payment, the branding on the box (if applicable), etc., you both agree.

You list the products in your online shop (or even on Amazon, eBay, etc.)

A consumer orders the product from your store and pays you for it. Your supplier's price plus your profit and overhead costs will make up the final price.

You provide your supplier with the order and pay them the previously agreed-upon amount.

The vendor then packages the product and sends it straight to your consumer.
Does that sound revolutionary? The idea of dropshipping, however, has been around since the 1960s, when home catalog shopping was popular. You might not be aware of it, but despite Amazon selling very little itself, it is one of the largest platforms for drop ship products.
Why Use a Dropshipping WooCommerce Plugin?
Compared to other forms of eCommerce stores, dropshipping stores have a number of benefits:
It is unnecessary to purchase and store inventory, saving money on storage, shipping, and handling fees.

No bulk purchasing is necessary because you only pay for the goods when a consumer purchases them; nevertheless, you may not be able to take advantage of bulk discounts as a result.

There are no logistical problems involved in having to deliver goods to customers.

If the products don't sell, you won't have any extra inventory.

Although WooCommerce is great for standard eCommerce stores, dropshipping is not supported.
10 Best WooCommerce Dropshipping Plugins
For instance, you'll need a mechanism to get a customer's order to your supplier when they purchase something from your store. Additionally, the store must be updated with product descriptions, pictures, and reviews, which might take a long time. While you could certainly complete each task manually when the following Woocommerce dropshipping plugins can accomplish the majority of them for you?
The top 10 plugins for automating your WooCommerce dropshipping store are what we'll share with you right now. Therefore, fasten your seatbelts, and let's begin.
1. AliDropship
The AliExpress marketplace is one of the most well-known locations to find products for your dropshipping company. That provides a dizzying array of goods from producers all around China. You can access that product pool by using the AliDropship plugin, which greatly automates the dropshipping procedure.
The cost of the plugin is $89. It works with WordPress without WooCommerce, yet we advise it because it turns WordPress into a legitimate dropshipping store. You receive the following benefits for your money:
One of the most well-known places to shop for goods for your dropshipping business is the AliExpress marketplace. This offers a bewildering variety of products from manufacturers throughout China. The AliDropship plugin, which substantially streamlines the dropshipping process, allows you access to that product pool.
The plugin is $89 in price. WooCommerce is not required to operate with WordPress, but we still recommend it because it turns WordPress into a legitimate dropshipping store. For your money, you get the following benefits:
Tools for automation include search and import, automatic updates to product information, auto-pricing, order fulfillment and tracking, an ePacket shipping filter, and inventory management.
List as many goods and variations as you want.
Image editor built-in
Combined themes
Tools for marketing include product reviews, email list builders, and coupons for discounts.
Add-on for abandoned carts
Google Analytics real-time statistics
Payment gateways integrated (PayPal, Stripe, etc.)
Inventory control
Cashback program with up to 8% in commissions for sales.
Updates and assistance
You may want to read: Shopify Vs. WoooCommerce – The Best D2C Dropshipping Platform?
2. Dropified
One of the eCommerce systems that Dropified interacts with is WooCommerce is the dropshipping platform. Similar to AliDropship, it aids in automating many of the routine operations required to run a dropshipping store, giving you more time to concentrate on business development. The plugin's free version has the following features:
A Chrome add-on that makes it fast to add items from supplier websites to your store
An intuitive dashboard
Access to a vast product selection from vendors like Alibaba, AliExpress, eBay, etc.
Five hundred products can be saved to bespoke product boards.
Margin marking automatically
Image editor built-in
A single user only
Extensive training resources are available.
There are two premium plans available. While "Build" costs $564 annually with no percentage deducted from transaction fees, "Grow" costs $228 annually plus 3% of your transaction fees. There are also monthly subscriptions available. Given the option, we would select the Grow plan due to its fixed annual pricing and additional features, which include:
No limits on orders
Four user accounts and three stores
Add and save products with a single click (save up to 10,000 products)
Automatic order fulfillment in one click
Order tracking and management
Inventory and product synchronization
Individual product descriptions
Sophisticated photo editing
Gains dashboard
Create an unlimited number of product listings for Google and Facebook.
Evaluate imports from AliExpress
Downloads authentic product details and pictures
No affiliate commissions on AliExpress
Updates and assistance
14-day risk-free trial
While Dropified's free version will help your store start, we believe it won't be long before you long for its premium versions' capabilities. As a result, it would be a good idea to include the cost of it in your business plan, especially if you decide to go with the Build plan with its slightly changeable charge structure.
`
With the help of the affordable plugin WooDropship, you can add, modify, publish, and sell products from AliExpress in your WooCommerce store. With WooDropship, you receive the following essential features for a one-time fee of $49: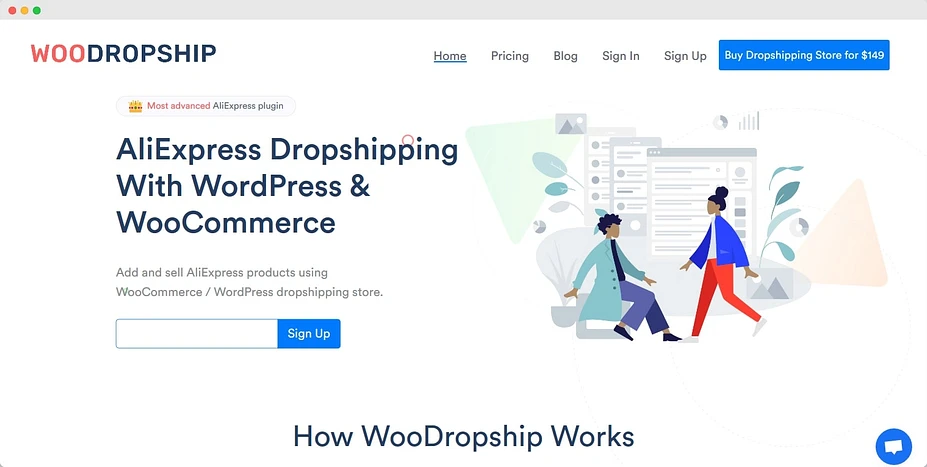 Import an infinite variety of goods
No limits on orders
An add-on for Chrome that makes it simple to import products, complete with pictures, titles, descriptions, and prices
Customize the product information and costs.
Automatic order completion
Support for variant mapping
WooDropship can set up a dropshipping store for you if you don't currently have one. Starting prices for those packages are a fairly fair $199.
4. Ezusy
A freemium plugin called Ezusy will automate dropshipping for your WooCommerce store. You may import goods from AliExpress's enormous selection with only a few quick clicks.
Although Ezusy's free version is quite rudimentary, it does offer the following advantages:
Import up to 150 items
50 AliExpress orders maximum
Chrome add-on for quick product addition
Before submitting a product to a store, edit its details.
Sales statistics

That level of functionality will be great if you wish to mix dropshipping with more typical selling strategies in one store. Three premium options cost between $9.90 and $29.90 a month. These include the following extra characteristics:
A range of 400 to an unlimited number of items (depending on the plan selected) between one hundred and countless AliExpress orders were filled (depending on the plan chosen) (Subject to the selected plan)
Automatic adjustments to stock and pricing
tracking data for automatically issued orders, such as automatically completed orders
7-day money-back guarantee
5. DropshipMe
Instead of automating your dropshipping store, DropshipMe makes it easier to identify the right products to sell there. It streamlines product research to the bare essentials, assisting you in locating the best items and suppliers and possible development niches. Additionally, it cuts down on time needed to change product information before submitting it to the retailer. The cost to import more than fifty products ranges from $29 to $199, depending on whether you wish to import 100 or 1,000 products.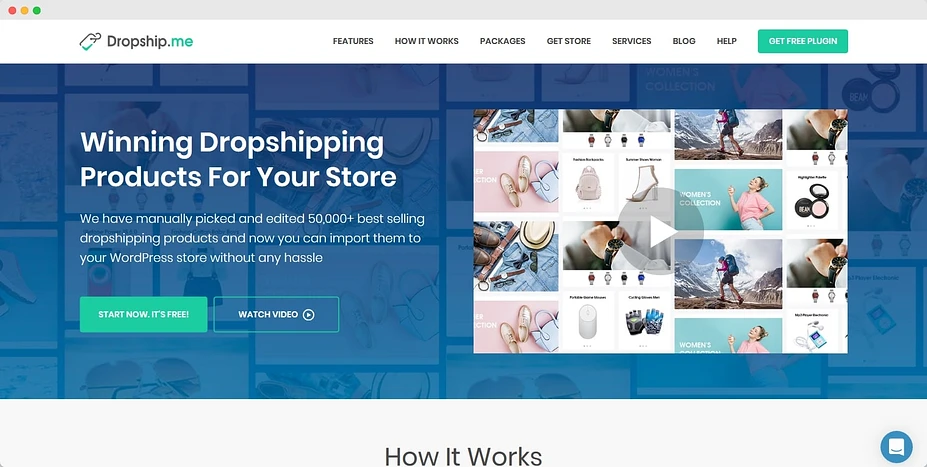 The main attributes of this plugin are:
Access to carefully screened and hand-picked suppliers to guarantee high-quality goods and dependable service
More than 50k high-quality options available Effective search and filtering tools
Recommended markup on prices
Quickly add products with a few mouse clicks
Product names and pictures have been expertly modified.
We adore DropshippingMe because it allows our worries about the reliability of Chinese manufacturers and suppliers. Additionally, it makes sure that the product details and descriptions are not simply poor Chinese to English translations, which frequently undermine a store's credibility.
6. ALD Aliexpress Dropshipping and Fulfillment for WooCommerce
ALD is a freemium plugin that provides outstanding value for money, even in its premium edition. For any AliExpress products you sell in your WooCommerce site, it offers automated dropshipping and order fulfillment. An astonishing number of standard features are available in the ALD free edition, such as:
Products can be imported from either category or individual product pages.
Importing global or custom characteristics, product status, catalog visibility, product tags, etc., are all configurable rules for products.
flexible principles for product pricing
After clients pay for their orders, there are configurable options, such as carrier company selection, AliExpress order notes, and show action.
Create basic product features
Management of import product lists
Order management and tracking
Swatches of different products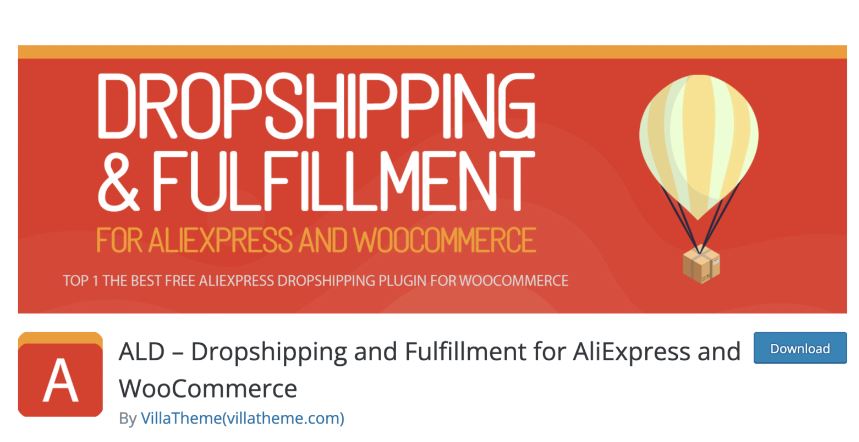 The Pro package is now available for $16 (down from $49). You get the following benefits as a result:
Customer shipping options on the front end
Order management on a separate page for AliExpress
Fulfilling orders in bulk rather than individually
Product pricing and quantity are updated automatically
Numbers for automatic tracking
Automatic updating of exchange rates
Updates and six months of support (which can be extended to a year for an extra $4.13)
The ALD plugin has a user rating of 4.4/5.0 stars and is active in about 12k stores, according to the WordPress plugin directory.
7. Ali2Woo AliExpress Dropshipping Plugin
You can download any number of products directly into your WooCommerce store with Ali2Woo, and orders will be immediately filled. Additionally, it is simple to import customer evaluations and product descriptions, which will save you a tonne of time. You can get all of the features listed below from Ali2Woo for just $21: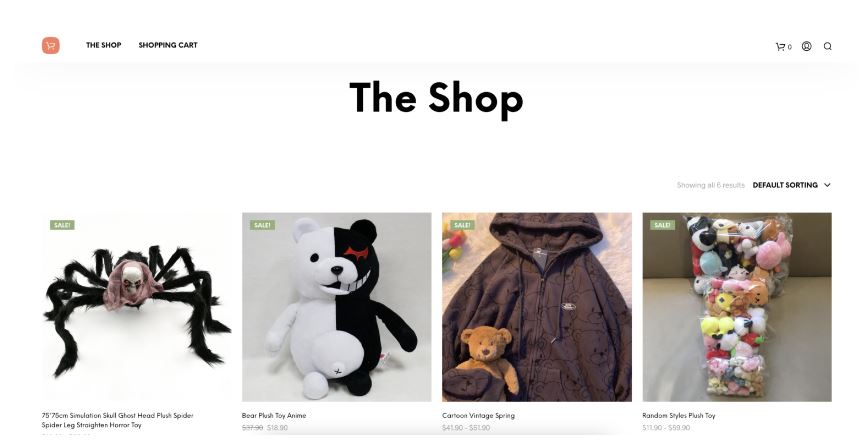 Reviews and product variations (size, color, etc.)
Delivery options
Bulk orders and automatically placed orders
Automatic order tracking and status updates
Change or override suppliers, for example, if you find a better source or there are items that are out-of-stock
Filtering content on AliExpress and customized product information
email notification of product changes
automatic inventory and price synchronization
a built-in picture editor
programmable price guidelines
filter for ePacket products
Chrome add-on
Currency conversion
System of cashback and affiliate commissions
Updates that are ready for translation and six months of support (which may be extended to a full year for an extra $6) . There is also a basic "Lite" version of the plugin in the WordPress plugin directory. However, because the commercial edition offers an astounding capability for only a few dollars, we advise sticking with it.
Clients of Code Canyon, the website that sells the plugin, give Ali2Woo a 4.75 out of 5. The number of active licenses is around 6,000. Ali2Woo is a strong candidate for the title of top WooCommerce Dropshippers plugin, thanks to its outstanding feature-to-price ratio.
8. WooCommerce Dropshipping Suppliers Pro
WooCommerce Dropshipping Suppliers Pro is a plugin that assists you in managing your dropshipping suppliers, as you might have inferred from the name. It is also feasible to automatically generate and send packing slips to suppliers whenever a consumer orders an item through your store, making lists of those and assigning various products to each. This premium plugin's additional significant features include the following:
Automatically notify allocated suppliers of shipments.
Configurable and individualized email notifications to suppliers, such as when their products sell
Adding packing slips in PDF automatically to alerts
Updates to the product inventory status imported from a CSV file
includes compatibility with shipping extensions created by the same developer (UPS Drop Shipping Pro, Fedex Drop Shipping Pro, and USPS Drop Shipping Pro)
Price-wise, WooCommerce Dropshipping Suppliers Pro ranges from $59 (for one business) to $149 for a year's worth of upgrades and support (for 25 stores).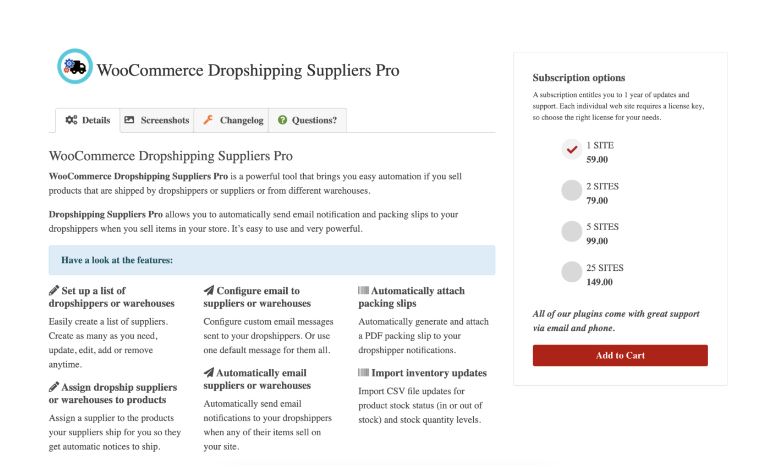 9. WooShark for AliExpress, eBay, Amazon, and Etsy
WooShark significantly expands your selection of products by covering eBay, Amazon, and Etsy, in addition to AliExpress, where the majority of dropshipping plugins available concentrate their attention. This user-friendly plugin is offered in both free and paid editions. The free version's capability is somewhat constrained, as you can only import items and their associated information from AliExpress and eBay.
Therefore, we believe that starting with one of the two premium plans is preferable. Up to three retailers and one user are covered by "Silver," which costs $39.99 (one-time payment), while five stores and three users are covered by "Gold." Both strategies comprise:
Unlimited direct imports from the websites of AliExpress, eBay, Amazon, and Etsy
Over 52 languages and currencies are automatically supported.
Product stipulations, descriptions, ratings, and reviews can be imported and customized.
bulk import from eBay and AliExpress
Picture editor
It is possible to alter, remove, or amend variations.
Calculating prices automatically
Automatic completion of the AliExpress checkout form
Product imports into particular product categories
Synchronization of AliExpress and eBay stock levels and prices for specific products or all products
Chrome add-on
WooShark has more than 1,000 running downloads at any given time. Unfortunately, consumers give it a rating of only 3.9 out of 5. However, most of the grievances it has received are pretty outdated and typically concern the limitations of the free version as opposed to the advantages of the premium one.
10. Importify
Importify is a comprehensive, high-end dropshipping solution. Most of the process is automated, making it easier to conduct product research, upload products, manage suppliers, and fulfill and track orders.
Importify doesn't have a free version; therefore, budget between $14.95 and $37.95 a month to have it. Depending on the plan you choose to purchase, you may receive the following features:
Keep an eye on other Shopify sites to spot hot products

Import products with a single click from over thirty vendors, including AliExpress, Amazon, Alibaba, Etsy, Walmart, etc.

Semi-automatic order fulfillment for Dhgate, Wonify, Amazon, and AliExpress

Product individualization

Programmable price guidelines

Being able to switch suppliers easily

Product automatic assignment to store collections

Connect to and control current products

Support for Chrome extensions
What Is Your Favorite Dropshipping WooCommerce Plugin?
Do you operate a dropshipping company? If you do, please let us know which plugins, if any, you are using to automate it and which ones are your top choices. And if you haven't started one yet, do you anticipate using any of the recommended plugins?