A quick and easy approach to starting an online store is with Shopify. It offers lightning-fast hosting, payment processing, and options for scalability as your store expands. However, the page-building choices can be limited and the default themes and templates it provides can sometimes be sparse. And so, you may more simply develop the website you want with Shopify page builder software instead.
What is a Shopify Page Builder App?
A third-party plugin called Shopify page builder software makes it easier for you to create new web pages for your store. These apps offer more options than Shopify's default page builder and have fewer limitations than the pre-built themes on the platform. By dragging and dropping pieces onto a template, you may construct your own headings, photos, buttons, and lists for your website.
Why Utilize A Shopify Page Builder Application?
Although Shopify is a very adaptable eCommerce platform, its website builder and templates fall short of alternatives like Big Commerce in terms of usability and flexibility. You can use Shopify's hosting, payment processing, and plugins by using page builder software without having to deal with its limited design tools.
Usefulness – With drag-and-drop editing, you can add an element to the page directly from the library of an app. The margins and paddings can then be customized so that your site appears amazing on all devices. You can then add your text, photographs, and other information.
Choice and personalization -The greatest element libraries are found in the best apps, and each piece can easily be altered to fit your store's needs. Building the ideal website can take a while, but Shopify's top page-building apps make it possible.
Integrations – You can conveniently add the components your website needs using the top page builders. Occasionally, this entails including a third-party service, such as a Shopify Social Proof app, trust badges, embedded forms, or a platform for user evaluations. For this reason, a separate library of "third-party elements" is frequently available.
Professional help-You can encounter issues at various points as you create your store. The email, live chat, and telephone help that the finest apps provide will come in handy if that happens.
Enhanced design – User experience spending can yield a substantial return on investment. In fact, 48% of respondents to a poll by the marketing firm Blue Corona stated a website's design was the most crucial aspect in determining its legitimacy.
Bounce rate reduction – A better user experience leads to a lower bounce rate, which improves your store's visibility on Google. The top Shopify page builder tools can assist you in achieving the desired bounce rate for e-Commerce, which is usually between 20 and 30%.
Increased conversion rate – Trust-building is the key to raising your Shopify conversion rate. A well-designed website can boost a customer's faith in your business and, as subsequently, the conversion rate it generates.
SEO-friendly: An excellent program takes care of SEO elements like titles, descriptions, photos, and page load to optimize your Shopify store for higher search engine rankings.
Data tracking: How many of your site's visitors browsed but did not stay? Utilize third-party connectors to track their client journey and increase lead-to-customer to customer conversion (Google Analytics, Facebook Pixel, etc.).
Customer service: You will undoubtedly require expert assistance when a problem arises. For you to solve unforeseen issues, you must have access to help at all times.
What Constitutes a Shopify Page Builder's Core Features?
A page builder must, first and foremost, be simple to use. It must also produce stunning pages with a range of components. Here's our list of the most important features after evaluating the various page builder applications for Shopify and developing numerous stores and hundreds of pages:
Drag-and-drop page construction

A huge library of components

Various professional themes

Integration with other apps

Advanced/expert coding editing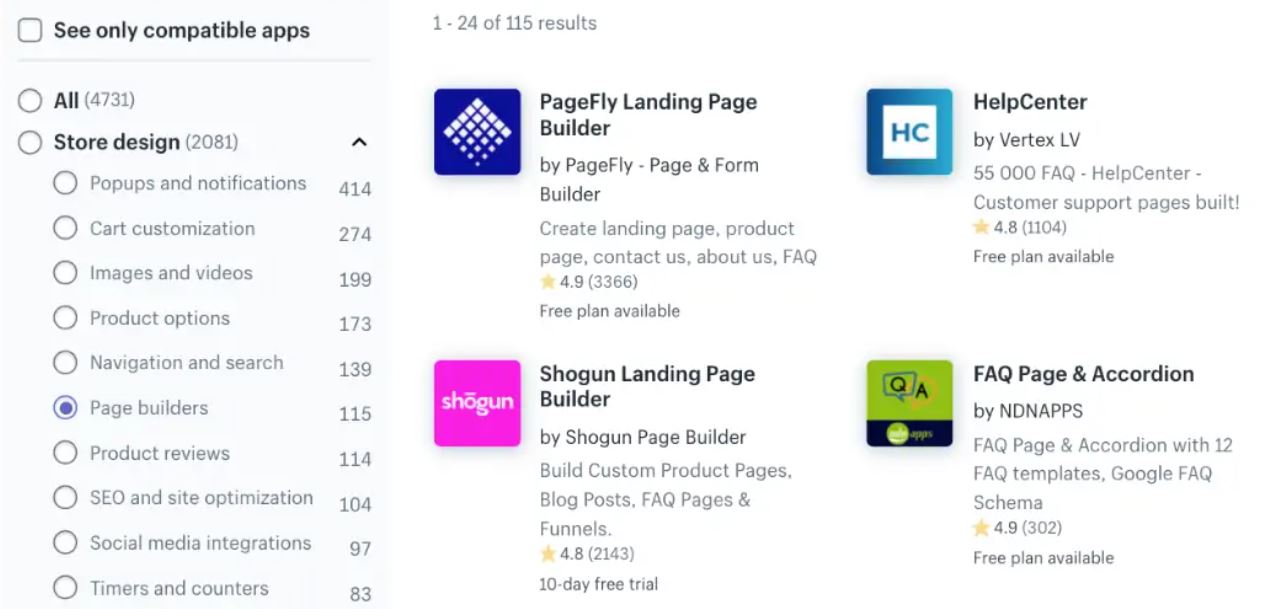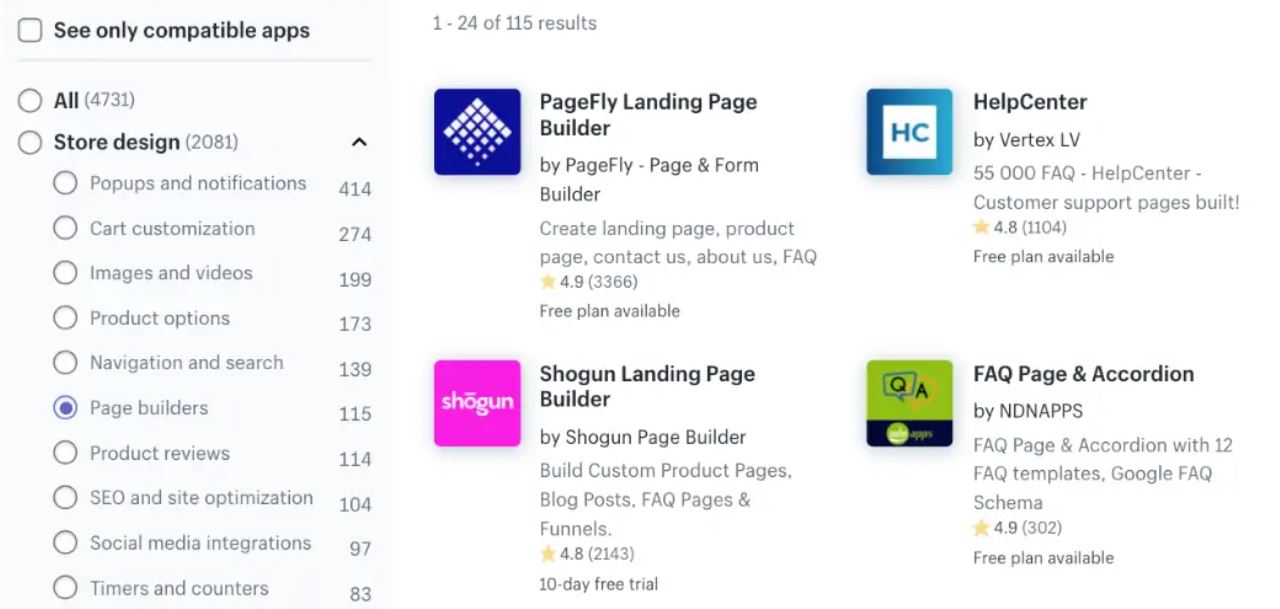 Depending on where a web page enters your conversion funnel, it needs to perform distinct tasks. Considerations for design should also include things like device compatibility, picture quality, copywriting, and SEO. Some Nice-To-Have Features for a Shopify page builder include the following:
Personalized ranking criteria (meta tags, image attributes, etc.)

SEO enhancement

Seamless interface in Shopify

Optimization of image compression and loading times

Cutomization features like dynamic text or geolocation
We've reviewed each app in the Shopify app store keeping these features in mind.
While these are our 5 favorite Shopify page builder apps in 2022, it's worth noting that the best option for your website will depend on your situation. Since all five of these apps offer a free trial or a free plan, it's best to put them out for yourself. The top 5 Shopify page builder apps are listed below.
PageFly stands apart from majority of its rival apps because of its sleek and polished appearance. Thousands of customer evaluations have given it an amazing 4.9-star rating, and many of them point to the product's adaptable and user-friendly UI as a selling point. It is one of the most widely used page-building interfaces in the world, having created over 53,000 pages for thousands of eCommerce companies.
With a user-friendly UI that offers you control over every aspect of your store, PageFly is convenient to use and amusing to explore. This is a fantastic solution for both novice and experienced designers because you can change your pages with code.


Key Elements
Simple drag-and-drop interface Vast collection of more than 50 items

Large template collection with expert themes

Complete compatiblity with other leading applications like Yotpo, Mailchimp, and Loox

Capacity to fine-tune using coding

Detailed assistance center, live chat available 24/7, and YouTube support channel
GemPages is one of the most effective page builders for creating, designing, and optimizing Shopify store pages for everyone without restrictions or coding. Over 30,000 active retailers worldwide currently trust GemPages.
With GemPages, you can create a page from scratch by dragging and dropping elements or you may choose one of the existing templates to your particular requirements. Every gorgeous, high-converting store page begins with its broad collection of templates, page elements, and features.
Key Elements
No coding is necessary for a more fluid and seamless drag and drop experience.

60+ templates, 100+ page elements, and more for every need

Marketing toolkits and conversion enhancers

Feature for scheduling pages for more effective workflow

30+ best Shopify app integrations

committed customer service
Block templates are used by LayoutHub to design your store. The software focuses on an easy-to-use UI and pre-built templates and is targeted at smaller companies and Shopify newcomers. Although the programme is simple, there are significantly fewer options than other page builders. Similar to PageFly, LayoutHub offers a 14-day free trial with its free basic plan.
LayoutHub offers a variety of templates to help new users get started and has a nice appearance that makes it feel like a natural extension of your Shopify interface. These templates do not, however, offer nearly as many customization choices as other Shopify page builder applications. LayoutHub is an excellent option if you want an attractive, out-of-the-box website.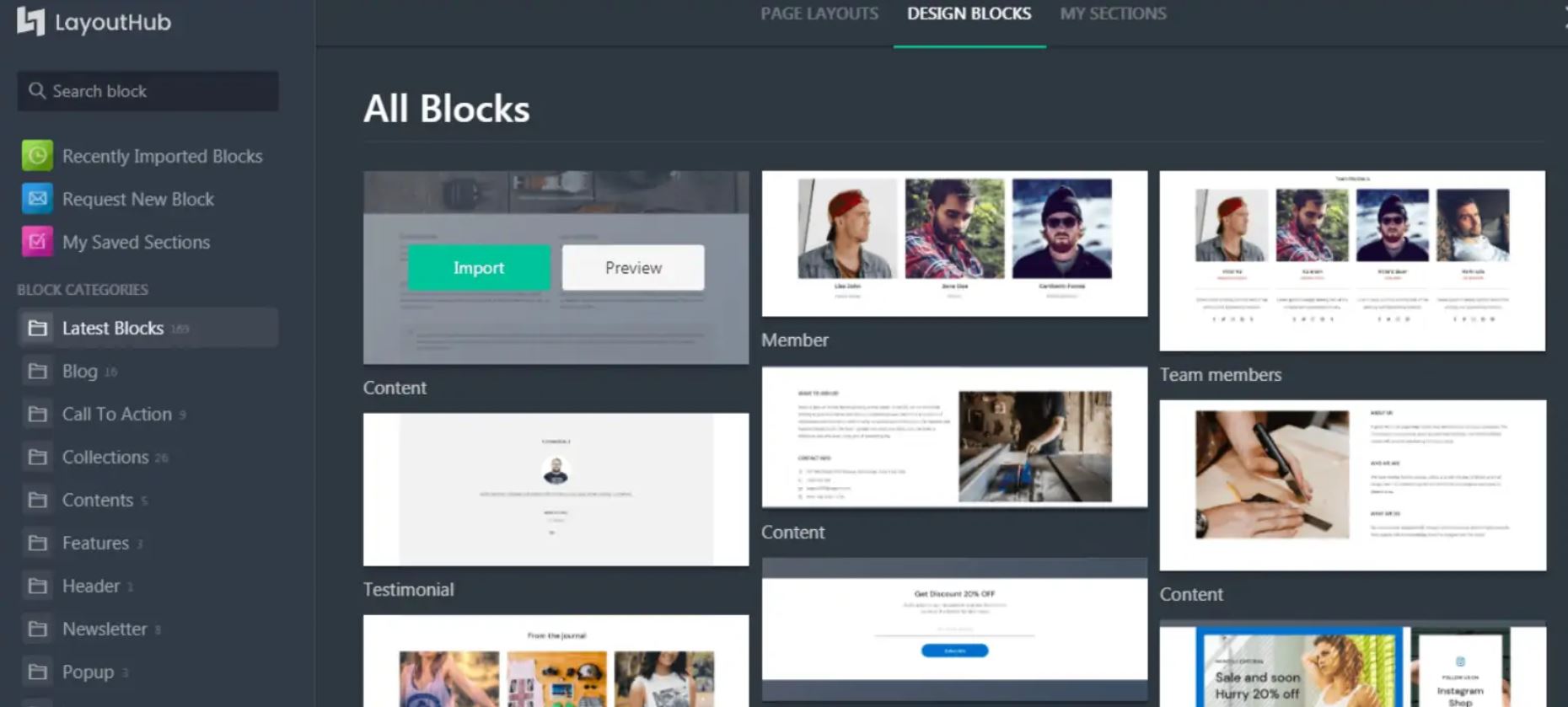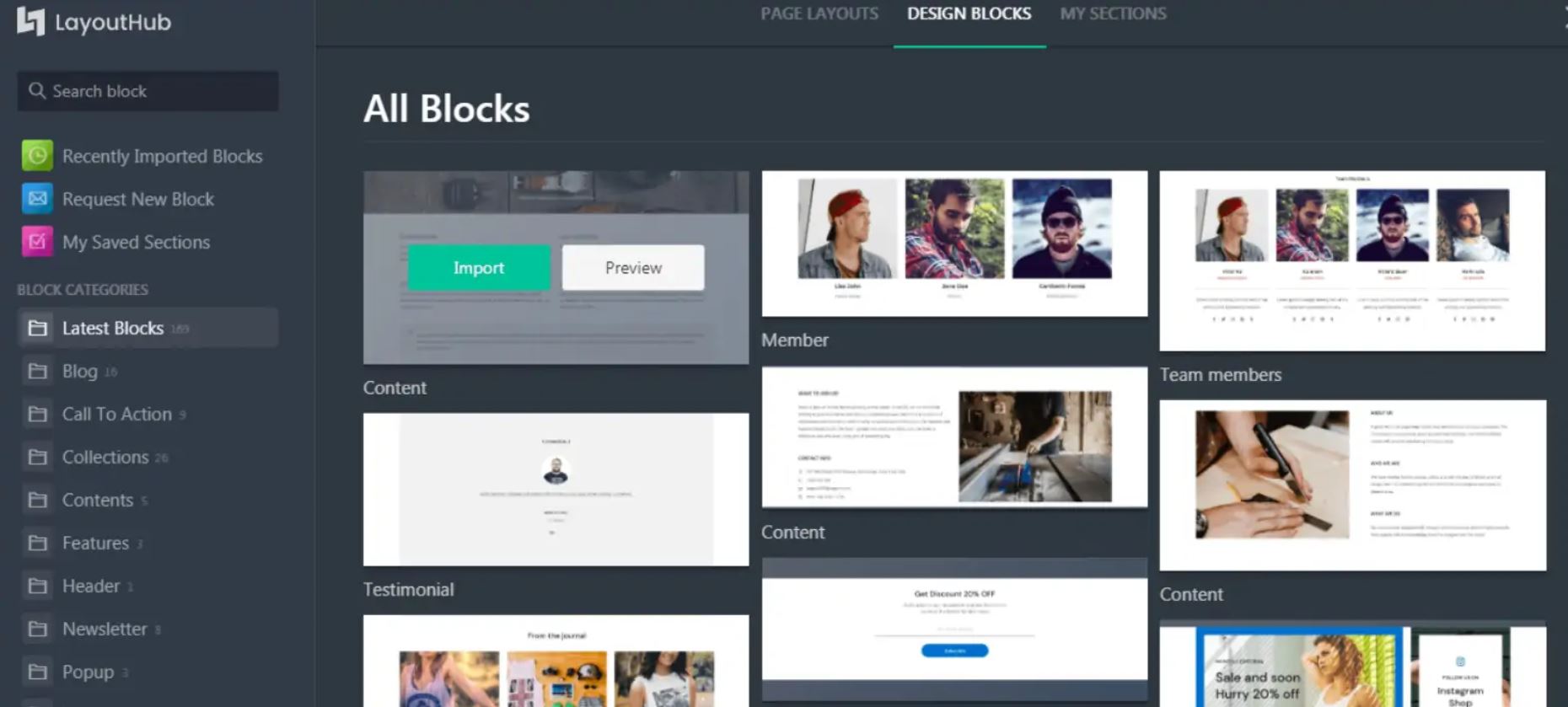 Key Elements
Vast collection of templates with excellent designs

Template blocks to import onto your page Support via email, live chat, and the help center

Affordable PRO plan with all the essential features
Shogun enables you to make stunning, responsive pages. It focuses on conversion rate optimization and is targeted at more established companies and Shopify users. The most expensive plans include A/B testing, while advanced plans allow customers to track the performance of their pages through click-through rates, conversion rates, bounce rates, and other metrics. These features are, regrettably, rather expensive.
Shogun offers a superior solution for an eCommerce website with outstanding performance. The page builder enables you to design high-converting pages to any specification, and the customer service is well-regarded. However, smaller businesses might not be able to afford to invest in such a powerful tool. Combining a straightforward Shopify page builder app with an A/B testing tool would be a more cheap solution.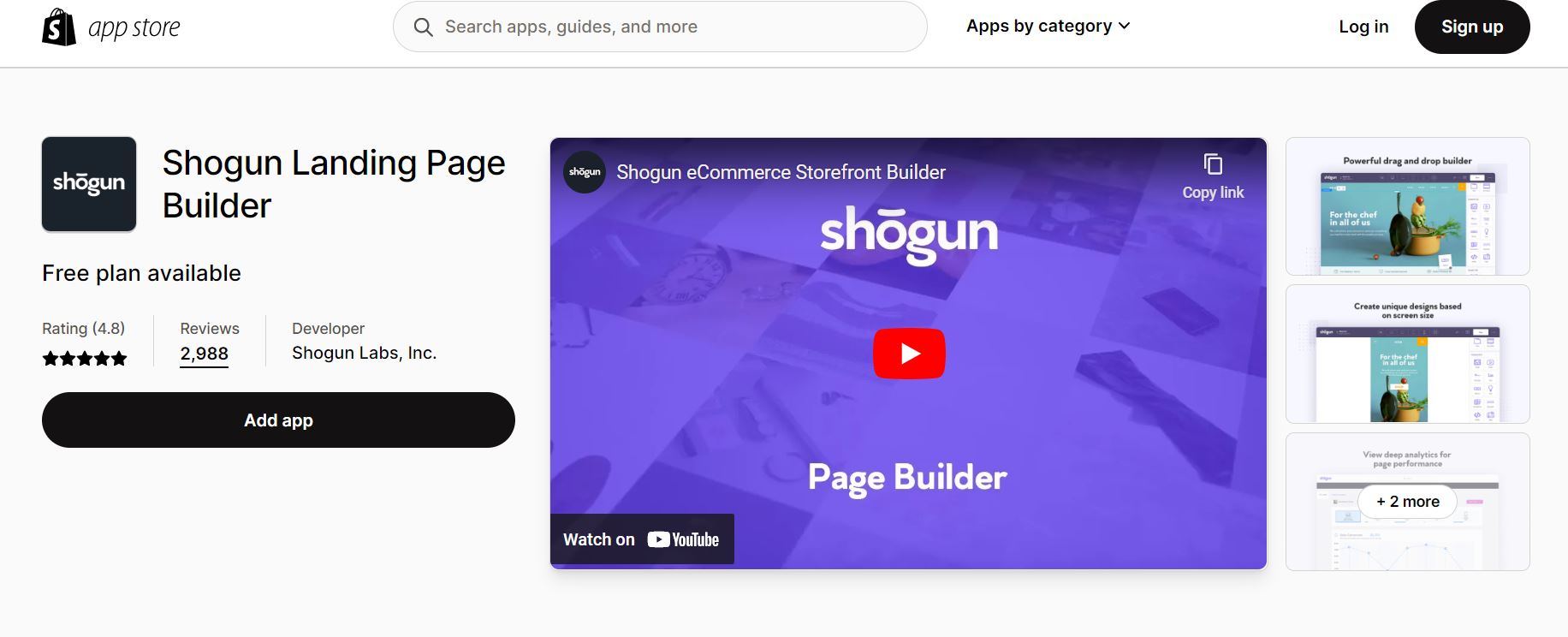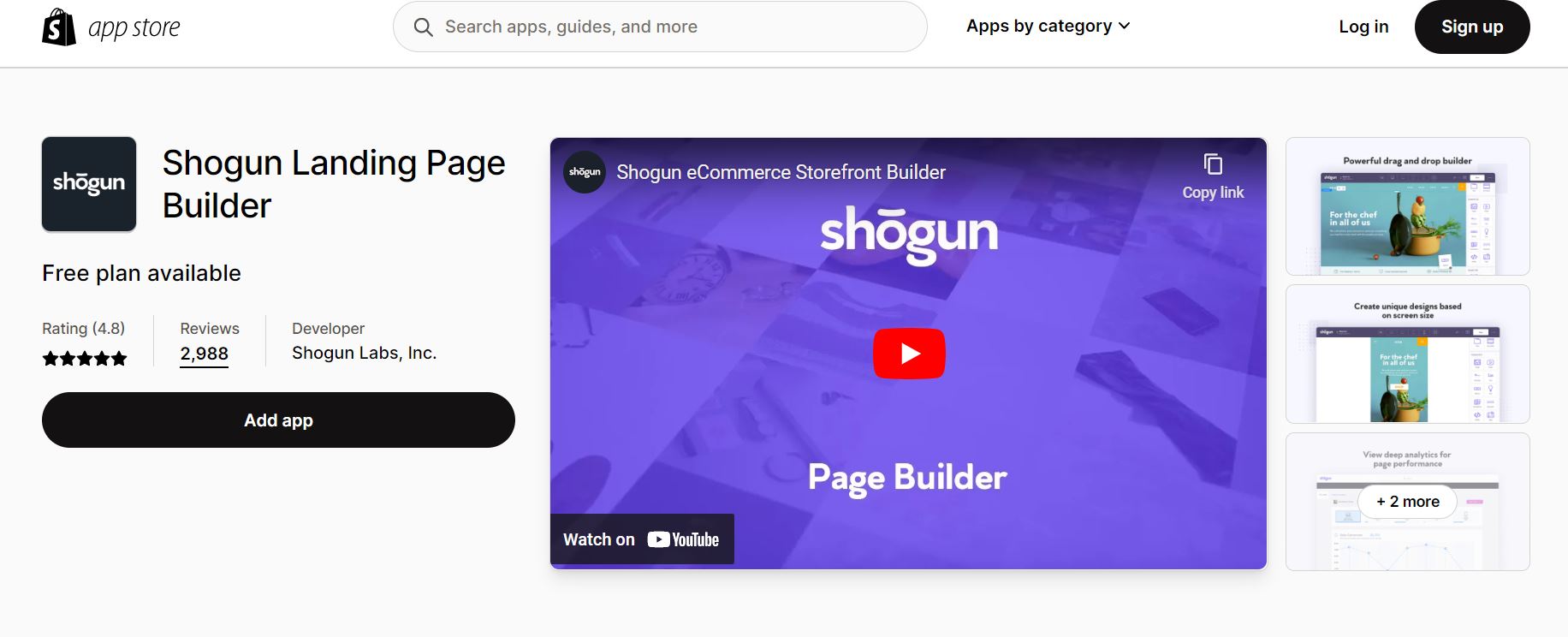 Key Elements
SEO tools with a drag and drop system

Integrated analytics

Cellular optimization

Scheduling page publication

Separate testing

Support by email and constrained live chat
Although Zipify is undoubtedly one of Shopify's less popular page builder applications, it provides store owners with a more technical choice with an emphasis on optimization. You can select templates from the builder's "ever-growing" library and still make detailed changes to your pages.
With the help of Zipify, you can edit minor aspects like the breadcrumb navigation and include extras like countdown timers and "purchase boxes" (which compare product bundles and highlight the best offers on your store). Unfortunately, this Shopify page builder tool is one of the more pricey ones.


Key Elements
Drag-and-drop method

Purchase boxes to display product contrasts.

For "Plus" users, pages load quickly for A/B and split testing.
Similar to LayoutHub, Hypervisual strives for simplicity to make the process of developing Shopify pages as simple as possible. Hypervisual advances all the components you need to create your own Shopify store, such as videos, photos, or product collections, rather than just providing a tons of the accessible templates.
Other elements like data tracking or SEO are quite helpful. Direct connections between your store and Google Analytics and Facebook Pixel ensure that Google will be able to index all of the page content.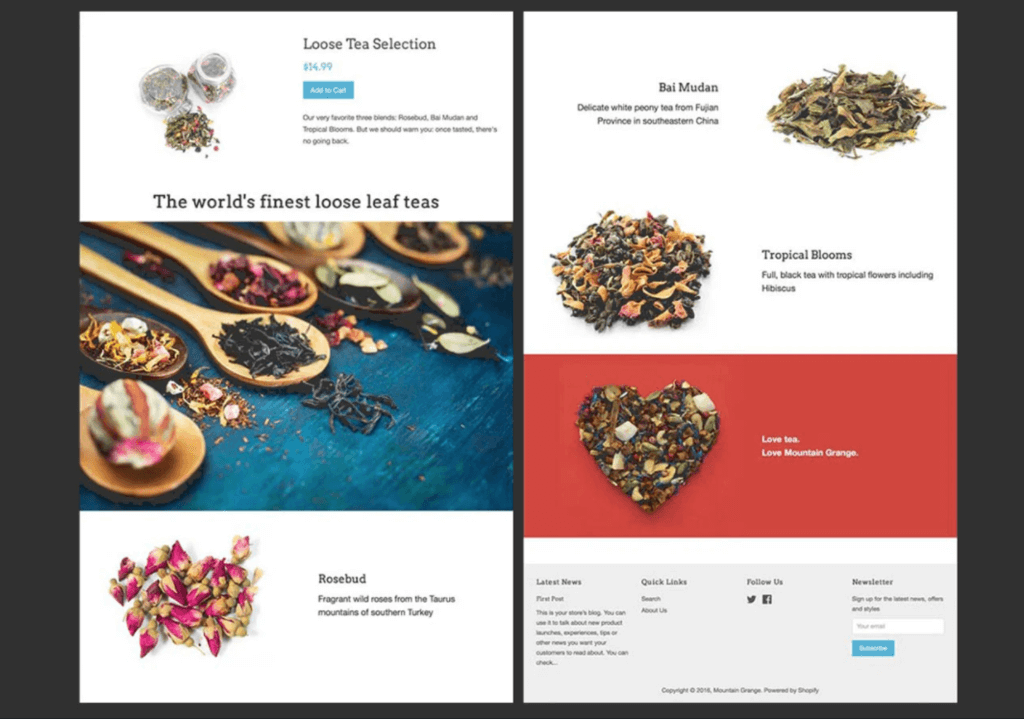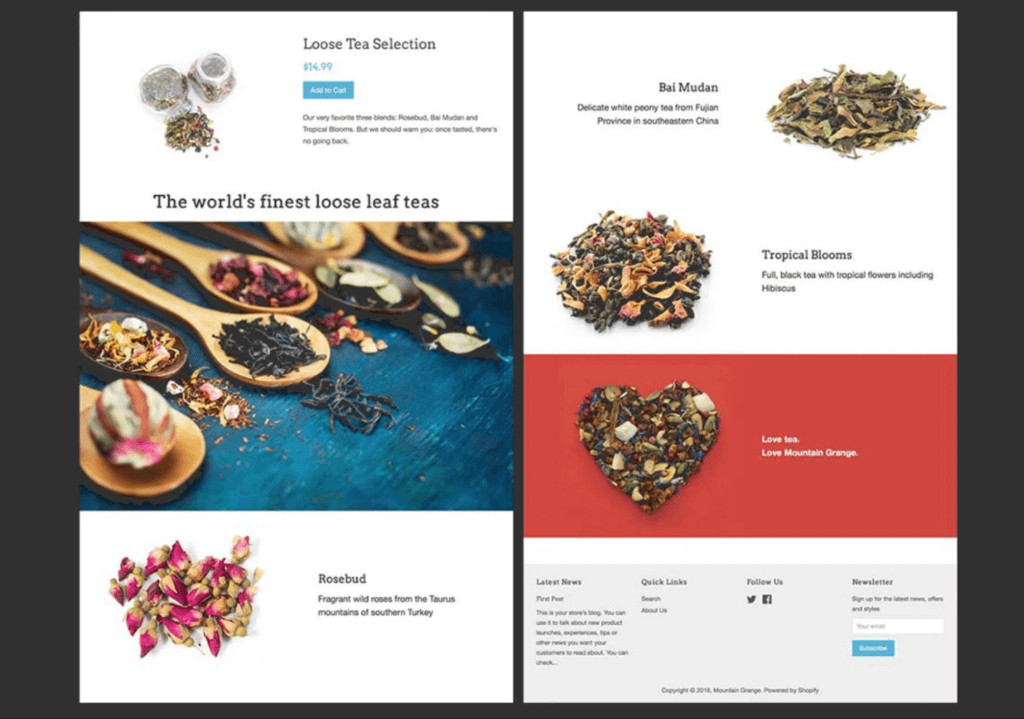 Amazing qualities:
Add-to-cart forms for items or entire collections can be embedded

Good for SEO

Opt-in email forms built-in

Integration of Facebook Pixel and Google Analytics

No branding using hypervisuals
Price:
Trader: $9.95 per month

Pro: $24 per month

Maximum: $49 per month

4.9/10 (more than 120 reviews)
The Top Apps for Shopify Page Builder
Each of these five Shopify page builder applications offers unique features for your store. Of course, the best way to figure out exactly what works for you is by trial and error, but here are some simple rules to get you started:
PageFly is the best all-purpose Shopify page builder

It features a large library of elements and layouts, is absolutely free to use as a trial, and is one of the most cost-effective page builders for Shopify.

GemPages is the best Shopify page builder for beginners

It has features that can help you get a competitive edge, is competitively priced, and is simple to use.

Shogun is the best money-no-bar page builder

There are more features than you will ever need, superb support, and an interface that is just as lovely as the templates.
Why is a Shopify page builder necessary?
Shopify is one of the most effective eCommerce systems for businessmen, particularly those in the B2C sector, to create an online store with a variety of tools and built-in features. Shopify is not, however, the magic tool that enables you to easily construct your website from start to finish. The number of themes and templates available for page development is fairly small, and the default choices are occasionally constrictive.
Because of this, the Shopify page builder will turn into a useful tool that you must use to improve the appearance of your Shopify business. You can effortlessly drag and drop any Shopify page type (landing pages, homepages, product pages, story pages, etc.) as you choose using the Page Builder App.
Without any knowledge of coding or design. Additionally, it provides you with many extra capabilities to aid in tracking data and conversion rates on your store pages, as well as access to a large number of gorgeous pre-made templates to save you time and effort.
Conclusion
You may have to go through multiple trials and errors before choosing the best app because there isn't perfect software that works with all Shopify stores. We hope you can choose the best WordPress page builder that significantly enhances your storefront and helps business growth at your Shopify store from absolutely free to somewhat expensive options.