Steam Deck is one of the most powerful consoles available right now; in terms of graphical performance and total quantity of supported titles, it even outperforms the Nintendo Switch. On the negative side, the massive 7-inch screen is prone to scratches and damage. Although coverings for the device are readily available, it is always critical to select a dependable screen protector. The smartphone gets incredibly flimsy with the 7-inch diagonal screen. Valve Corp's Steam Deck is the next new-release console that will undoubtedly rock the gaming market. Yet this isn't your typical game console. It's basically a PC in a little package with a lot to offer. Although it appears to be similar to a handheld portable like the Nintendo Switch at first appearance, the Steam Deck provides much more. Users can connect directly to a monitor or television, connect gaming controllers or a mouse/keyboard, and even install Windows! Also, the system can halt and resume games. Needless to say, it has plenty to pique the interest of the typical gamer. The options we'll look at today are all made of tempered glass, which is the best material for impact and scratch resistance. We'll investigate each alternative and provide our thoughts and opinions on each. Finally, we'll select which screen protector is the greatest fit for your new Steam Deck console. Here is the list of best screen protectors for Steam Deck as listed below:-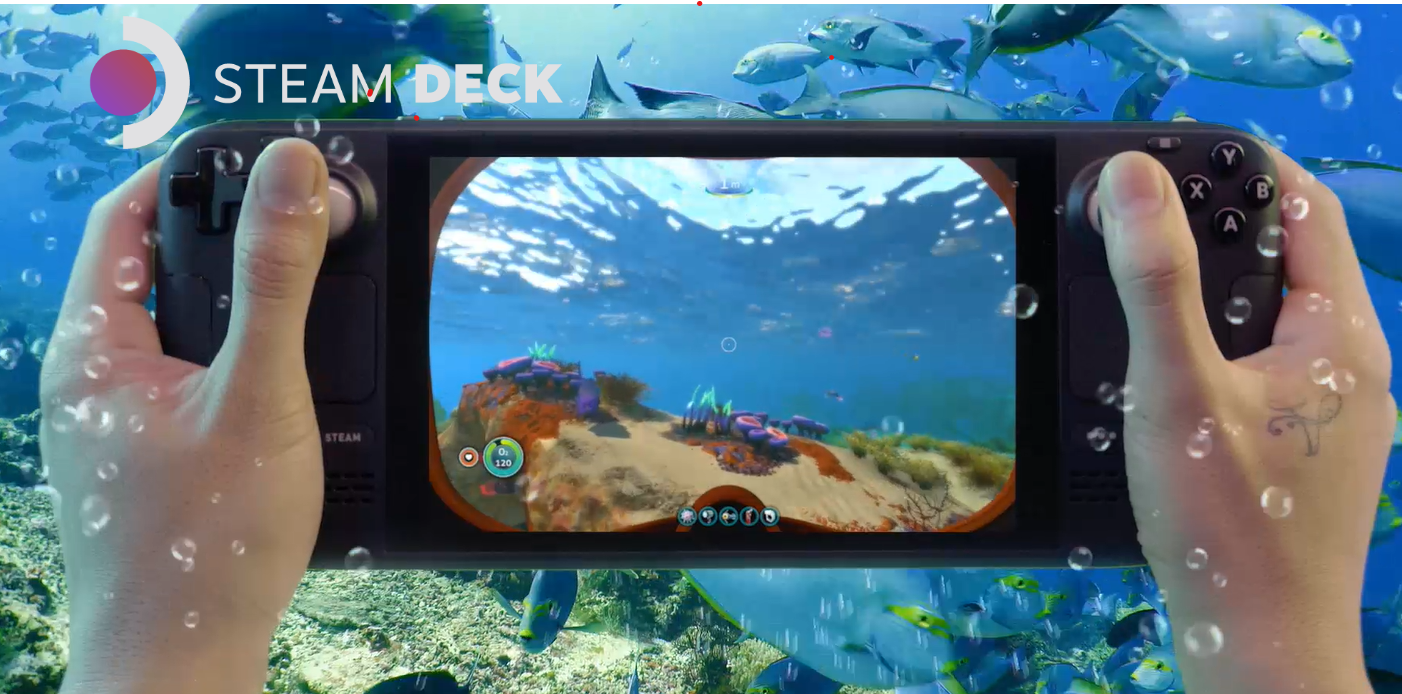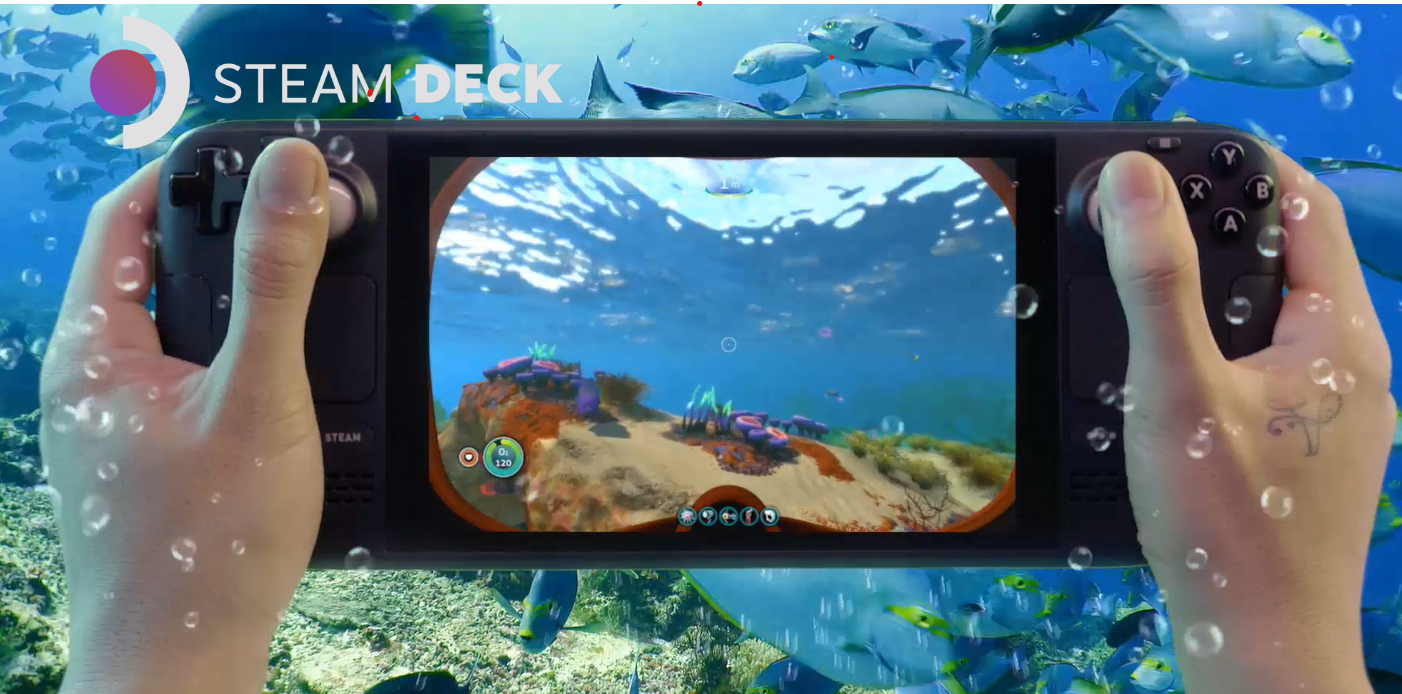 The Benazcap Premium Steam Deck Tempered Glass Screen Protector is the next item on our list. Although it is offered separately, this is a screen protector labeled "Premium," but is it? When you first take it out of the box, you'll find that it has the same build quality and functionality as the iVoler. Sadly, no installation instructions are supplied.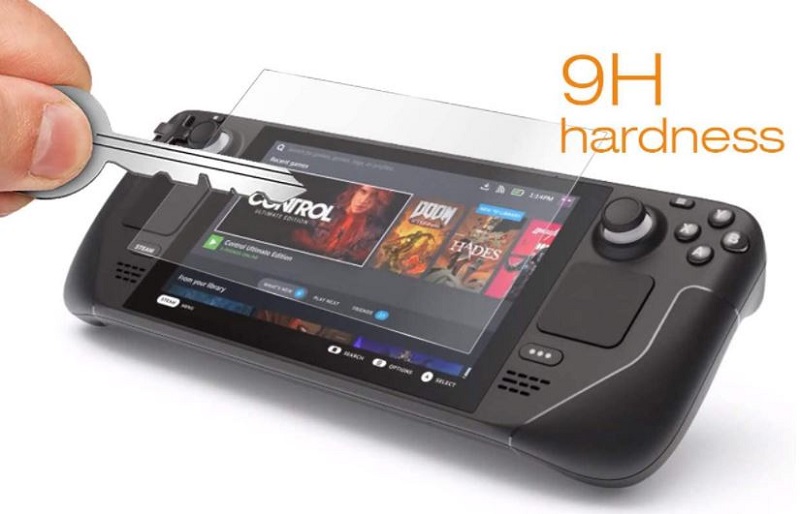 The Benazcap screen protector is only 0.3mm thick. Furthermore, it has a 9H hardness level, which is the gold standard for excellent tempered glass screen protectors. Most of all, it's been treated with a long-lasting oleophobic coating to add another layer of fingerprint and smudge resistance. This makes cleaning sticky fingers, dampness, or small bits of debris a breeze.
The Ailun Steam Deck Screen Protector is the next product we'll look at. Available in a 2-pack, this tempered-glass screen protector, unlike the others, is labeled as "case friendly". As a result, you can be confident that whichever case you chose to put on your Steam Deck will work perfectly. Ailun created their protector with laser-etched accuracy to fit the Steam Deck's 7-inch screen. Yet, the edges appear to be more "gradual" or curved in a way that makes them taper towards the edge. Instead of a harsh edge, this edge ensures a smooth transition between your case and the screen protector; really clever!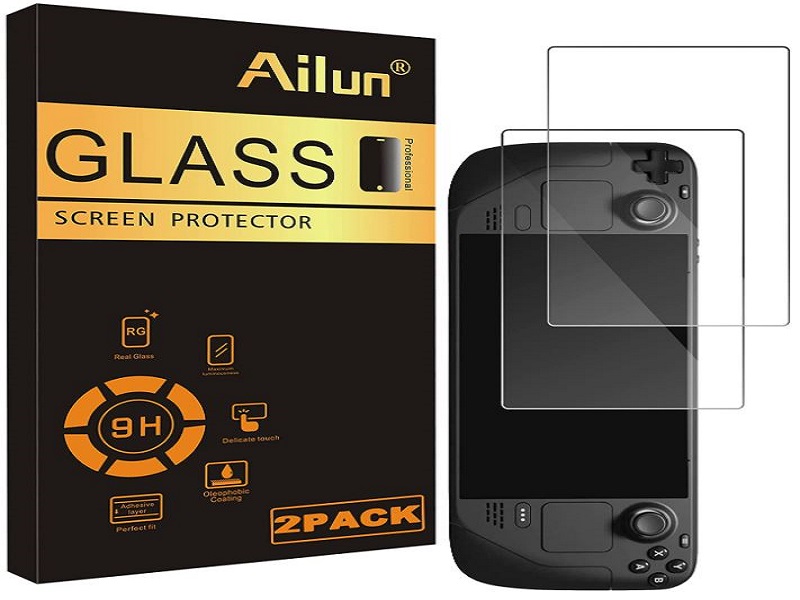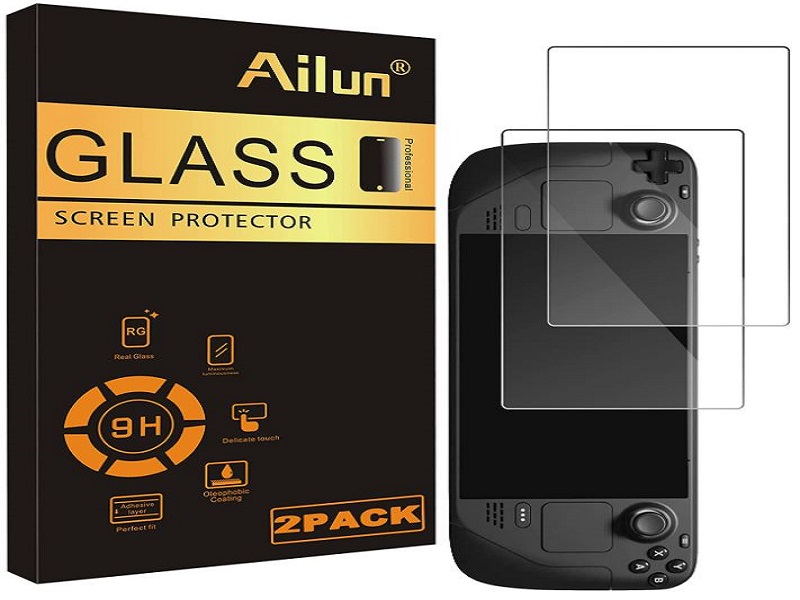 When we discovered the best grip case for Nintendo Switch OLED a few months ago, we tested JETech's solution and were satisfied with everything it had to offer. We knew we had to check them out when we learned that they now provide screen protectors for the Steam Deck.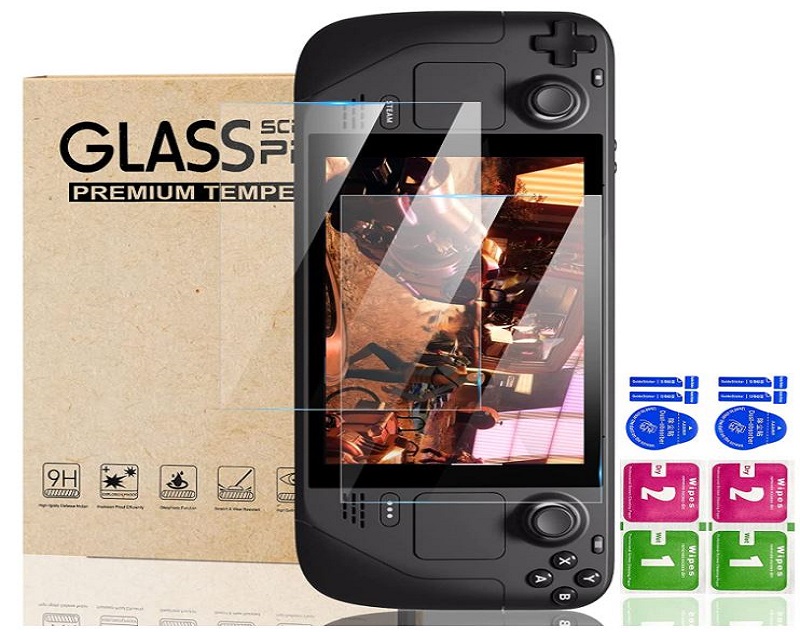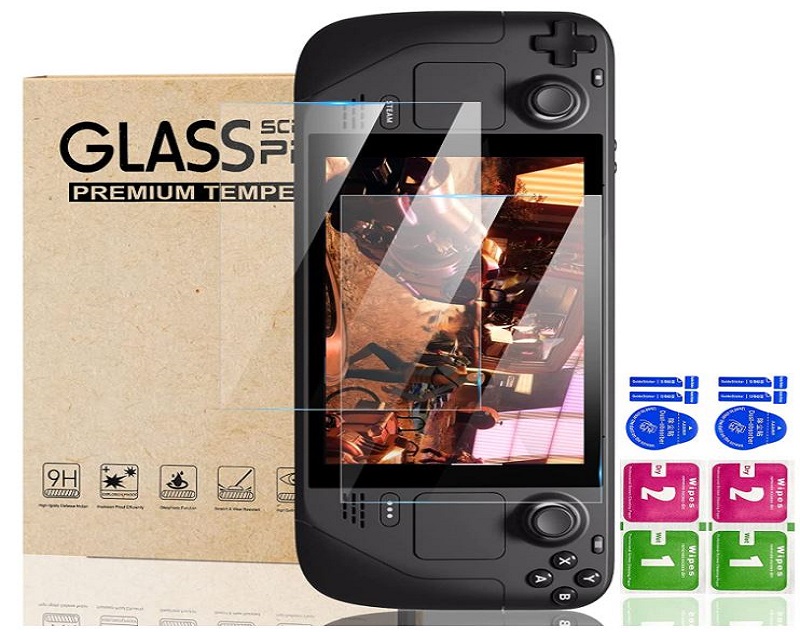 The JETech Tempered Glass Steam Deck Screen Protectors come in a 2-pack and appear to be well-engineered. They provide great protection with edge-to-edge coverage that has been laser-cut for accuracy. It's clear from the start that these are designed for lifetime and impact resistance. The same 9H hardness rating and 0.3mm thickness provide a favorable balance of protection without harming the touchscreen in any manner.
AmFilm Screen Protector Steam Deck Screen Protector
The amFilp Screen Protector is another excellent screen protector for your steam deck; it has a 9H hardness, is scratch resistant, and has an oleophobic coating. The box contains two screen protectors, two wet wipes, two microfiber cloths, one installation guide, and two large dust removal covers. The biggest feature, however, is the auto-alignment frame, which allows you to install the protection in less than 60 seconds. However, after applying the protection, some customers have noted that the touch is not as responsive as stated. While some users have had no complaints regarding the protection, it is possible that some have had installation issues.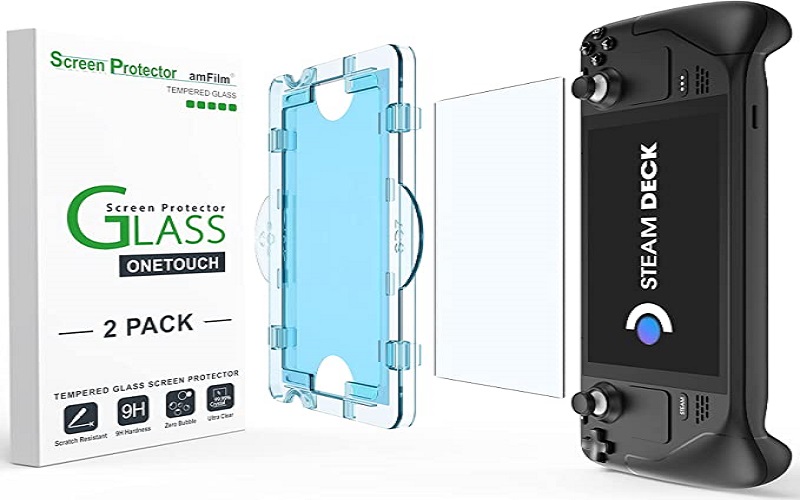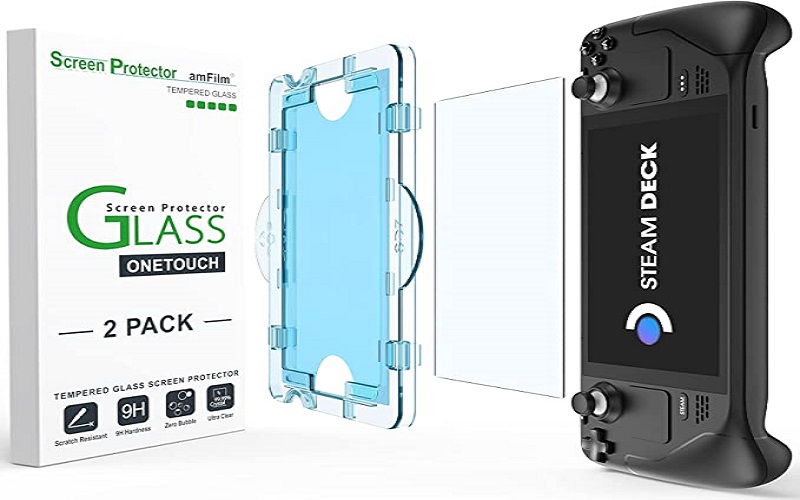 The JSAUX Extra-reinforced Tempered Glass is made of the most robust tempered glass material, which is stated to be Extra-reinforced at 500°C for several hours, ensuring 5X greater durability than other normal screen protectors. The hardness grade is 9H with a thickness of 0.33mm, which is the same as Benazcap. The finest aspect is that it comes with a guide frame that allows you to correctly and once fit the glass. It also comes with two units in the pack. If you want the most powerful defence, your search should end here. A 99% high transparency gives the greatest possible viewing quality.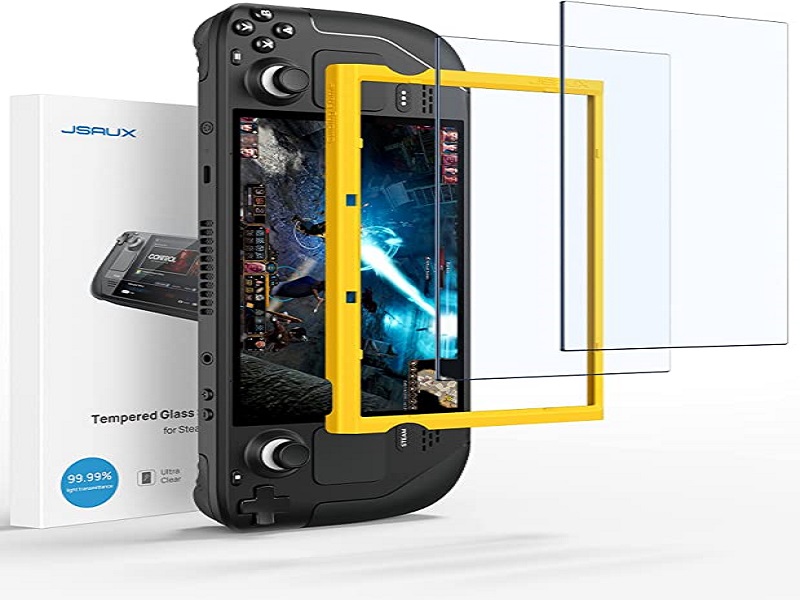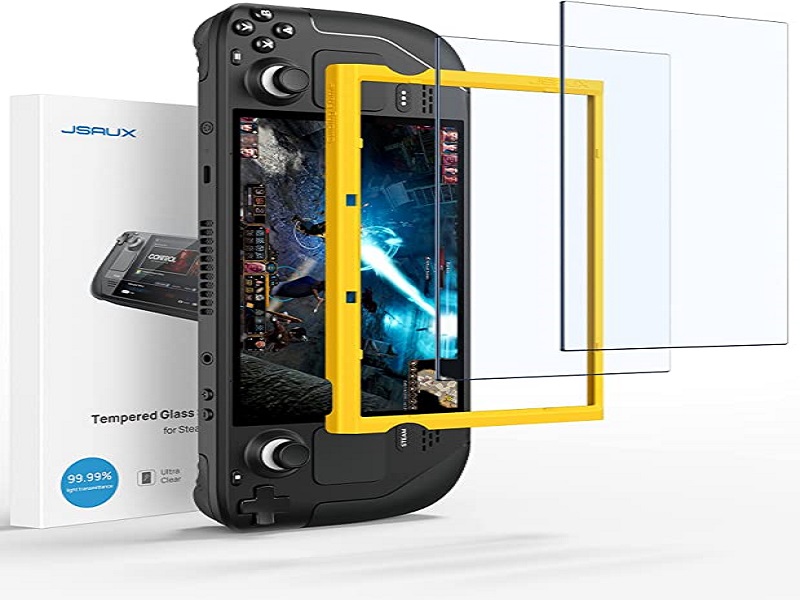 We thoroughly tested iVoler's Switch OLED screen protector here at NerdTechy in the past and were delighted with what it had to offer. As a result, we thought the iVoler Tempered Glass Screen Protector for Steam Deck would be a sure thing. Screen protectors from iVoler are sold in a 3-pack and are laser-cut for the Steam Deck's 7-inch screen. But, using the provided toolset for quick installation ensures a precise edge-to-edge. The iVoler was easy to attach, with no bubbles, fingerprints, or bad alignment.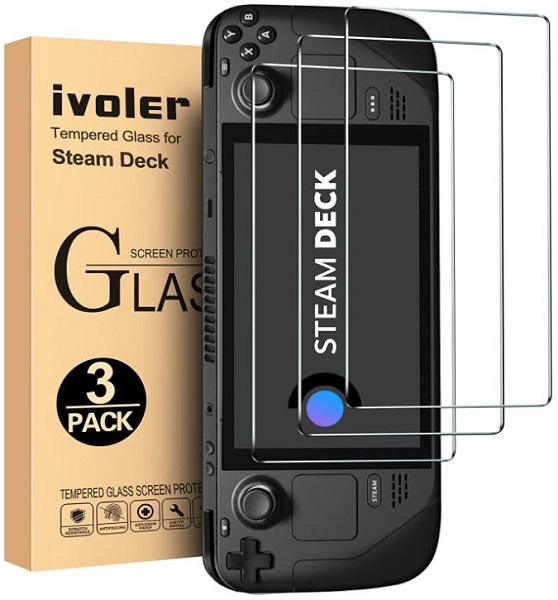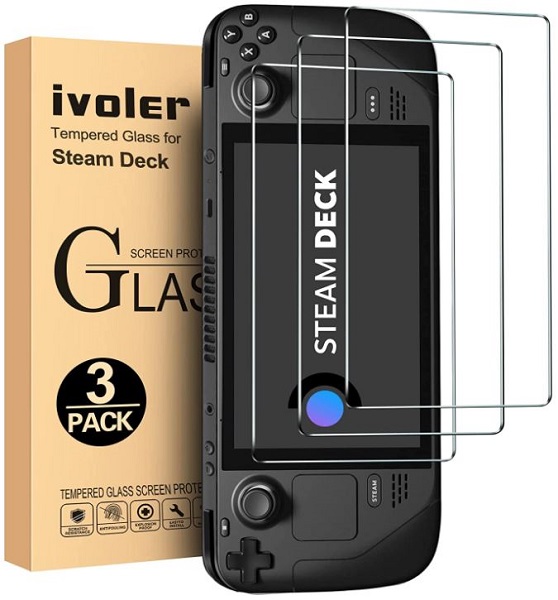 The directions are straightforward to follow and written out in such a way that applying a screen protector is quick and painless, even if you've never done so before. Just clean the console with the provided wet/dry wipes before positioning the frame/guide and toughened glass protection. You may rest confident that the screen protector will lay straight and square as long as the guide is properly oriented.
Also read – 14 Best Steam Deck Accessories for Gaming
Installation Instructions for a Steam Deck Screen Protector
Although each screen protector comes with its own set of instructions, we have some pointers for putting your own together.

Wipe your Steam Deck's screen numerous times. First, generously massage the screen with an alcohol-based wet wipe.

Wipe away any dust or small particles that are barely visible with a microfiber cloth (but still on your screen).

Peel off the protective film on the back of your new screen protector, taking care not to glue it to anything else.

Use the given installation "frame" or "guide" if available, or carefully align the protector to the top, bottom, and side edges of your Steam Deck.

Put the screen protector onto your console, beginning in the middle and working your way outward.

If bubbles are evident, simply continue pushing them with a microfiber cloth towards either edge.

Make an effort to get it properly the first time. Although you may be able to unstick the protection, it will most likely not adhere as well when reapplied.

Take your time and double-check all directions to ensure correct installation.