Every Shopify store owner is constantly looking for the best Shopify plugins out there to increase average order value, marketing automation, and keep their store modern with various new functions. But which plugins should you pick for the best outcomes? It can be difficult and time-consuming to sort through Shopify's tens of thousands of add-ons, time that would be better spent developing critical parts of your business.
We conducted the research for you. With the key features, reviews, and prices of each extension, we'll present the battle-tested and the best Shopify plugins for all your needs.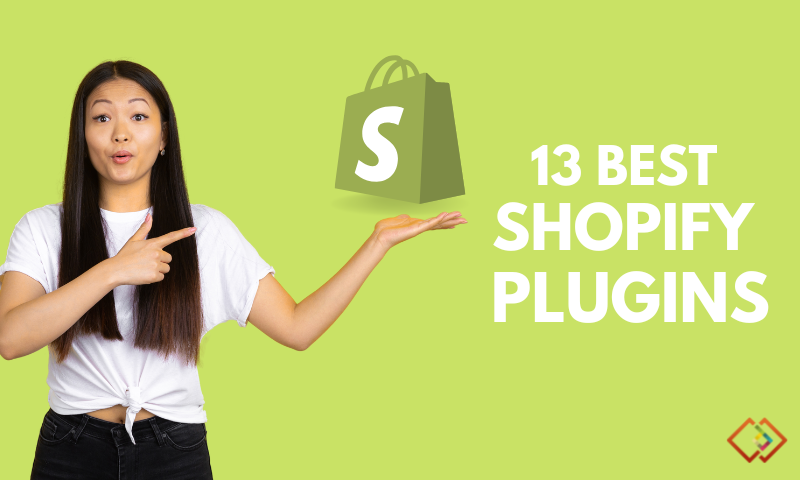 You can install Shopify plugins as software add-ons on your Shopify website. Users can add more features and functionalities to their online store with these add-ons. Shopify extensions can aid store owners in various ways, including boosting sales, gathering more leads, and improving customer happiness. Finding the right plugins for your company may be very challenging given that there are over 7360 distinct plugins accessible in the Shopify App Store. Consider what you want the addition to assist you with. To choose the finest plugins for this ecommerce platform, consider the features it offers and see what other users think of it.
13 Best Shopify Plugins For 2023
1. Tidio – Live Chat with Store Customers
You can save abandoned carts, boost sales, and enhance customer interaction with the aid of this Shopify plugin. It provides live chat software with AI chatbots to speed up and improve the effectiveness of your customer service. Create a mailing list, offer discounts, segment your website visitors, and delight your customers, all with a single chat plugin for your website. It includes AI chatbots, a live visitor list, and a view visitor typing option. Additionally, it offers multichannel interaction and a chat-based CTA with a buy button.
2. Growave – Sales Booster Plugin Shopify
You may add a Wishlist to your Shopify store with this plugin so that website users can save items they like before making a purchase. By doing this, you can boost sales and lower cart abandonment rates. You can offer incentives to encourage prospective customers to share their wish lists on social media. Growave provides round-the-clock help, so you're never left in the dark about a problem. It is also multilingual, speaking French, Spanish, Chinese, and Korean. With the help of this Shopify add-on, you can enhance the shopping experience on your website, send customers personalized emails with wishlists, and expand your referral program.
3. Recharge – Subscriptions Plugin
You can connect subscription programs to your client's preferred payment methods on your checkout page using Recharge. They can manage their subscription independently thanks to the customer portal that is provided. With the help of robust APIs, you can also modify this add-on to your desire and design unique workflows and checkout processes. You may use the Shopify plugin's actionable insights to serve your consumers better. It can be used to monitor product performance and gain a better understanding of your customers. Additionally, it enhances the subscription experience and lets you draw attention to the discounts to entice new customers and increase sales.
With the rechargeSMS feature, customers can update their orders via text message, and it has powerful APIs for creating custom checkout flows and workflows. Additionally, it offers Skip and Reschedules delivery options with in-depth analytics. The most popular payment processors, such as Stripe, Braintree, and Authorize.net, are supported.
Also read Shopify Vs. WoooCommerce (2023)
You can choose whether to display certain material, goods, prices, or other things using this Shopify e-commerce plugin. Everything will rely on the website visitor's membership level. From liquid templates, you may also create distinct pages for members and non-members. Therefore, when members visit your site, they see something entirely different. Because it has built-in payments, you may collect recurring fees for memberships and offline services. But you're not required to! Simply tag customers to change restrictions for each of them without requiring payment from them. In this way, you can grant your best customers exclusive access to special deals and products. Furthermore, you can manage all of this from a single, user-friendly backend admin dashboard.
It can create various member tiers and manage memberships from your dashboard. It offers memberships for offline services as well as recurring memberships. Additionally, both members and non-members can use Liquid templates.
You already know how effective Amazon's product recommendation system is if you've used it. This is due to the recommendations being pertinent to the purchases you're making. The Shopify version of this feature is this plugin. You can add Recommended Products to your e-commerce website, and it employs AI to build bundles that will help you further boost sales. As a result, it might assist you in raising the average order value and expanding your firm. For better outcomes, this add-on uses data mining to do AI analysis of prior purchases and creates memory graphs containing commonly purchased items. This is another one of the Shopify plugins that can be used to engage customers and increase sales of your goods or services. It provides a variety of recommendation algorithms to suit your company.
In addition to automatic discounts for bundles that include percentage savings, fixed amounts, and free shipping, it has AI algorithms for recommending products. Additionally, it provides product bundles and has a customizable user interface. It also includes manual recommendations to hone the product options.
6. Tipo – Booking / Reservation
Tipo helps you to automate your booking procedures and provides 24/7 appointment scheduling for both individuals and groups. This can drastically lower the number of employees you need to fill reservations and raise the number of customers entering your virtual doors. Additionally, it syncs with Apple and Google Calendars to make scheduling for clients and staff members easier. You may track booking details like date, time, and status as well as send automated email reminders for appointments. For simpler management, you can also filter views by month, location, and the various representatives. One of the best Shopify plugins, it makes it easy for both existing and potential clients to schedule appointments on your website.
In addition to Google Calendar syncing, it provides booking management, appointment monitoring, and full booking information. There are also several items, personnel, and locations that may be added, as well as automatic email notifications.
You may also like to read: Zendrop Review – The Best Dropshipping Ecommerce Solution
7. Klaviyo
– Mail and SMS Automation Plugin for Shopify
An integrated customer platform called Klaviyo provides targeted segmentation results for SMS and internet advertising operations. In order to enhance the tailoring of client communications, it provides your company with complete ownership of consumer information and exchanges. Additionally, it provides a range of built-in automation for welcome messages, price decrease alerts, and shopping reminders. This Shopify plugin provides you with real-time benchmarks based on the information gathered from companies in your sector so you can see how your company stacks up against the competition. Additionally, this will inform you of areas for improvement and provide feedback on your performance. Additionally, you can link all of your past and current data to keep track of every contact with website visitors.
It includes seamless database integration and advanced client segmentation. Additionally, it features pre-built reports for marketing queries and real-world benchmarks for your industry. Additionally, you receive a wide range of customized automation, including welcome emails and price decrease alerts.
8. UpPromote – Affiliate Engagement Plugin for Shopify
Among the top Shopify plugins for e-commerce enterprises engaged in affiliate marketing is this particular one. It offers a variety of commission incentives so you may experiment to see what works best for your company. You can also make and distribute to individuals discount codes and affiliate links. Once you've done so, you can monitor their progress and view reports detailing the sales, orders, and clicks that each affiliate has generated. You can search for possible sponsors who are columnists, influencers, and media companies using UpPromote's marketplace. As a result, it will be simpler for you to grow the network of your affiliates and begin working with them. In order to further entice visitors and potential consumers to make a purchase from you, it also automatically offers discounts to them.
It includes a tool for creating referral and loyalty programs and tracking data on the clicks, sales, and orders made by affiliates. Along with a number of integrations, it also has a marketplace with influencers, bloggers, and content producers and includes MailChimp, PayPal, and Oberlo. Additionally, it produces incentives for referrals.
9. Booster – Page Speed/SEO Plugin for Shopify
One of the top Shopify SEO plugins, this one will make sure your website is ready for on-page technical SEO success. It keeps track of and automatically improves your e-commerce website to ensure you adhere to the most recent Google recommended practices. Additionally, it creates, updates, and uploads your sitemap to Google so that every page is accurately indexed and crawled. You may enhance your metadata, descriptive content, and linked data with Booster, which was created just for Shopify, to raise your position in Google search results. Additionally, it offers an image compression engine to shorten page load times and allows you to monitor progress with weekly SEO health reports. One of the Shopify add-ons that provide live chat help is this one. It optimizes URLs, meta tags, and image alt tags. It also generates weekly SEO health reports. It has an image compressor and rules that may be customized to address SEO difficulties, and it automatically develops, updates, and publishes sitemaps to Google.
10. Instafeed – Instagram Feed Integration
Ever wished you knew how to display your social network feed on your website? That's why this Shopify plugin was created. To increase the number of website visitors who become customers and followers, you can display your Instagram content and generate social proof. Additionally, this will broaden your Instagram reach and aid in the discovery of your online business. This Shopify Instagram plugin updates your website's social media feed automatically, keeping the content of your store current. In order to concentrate on the consumer and boost conversion rates, it removes distractions and delivers your feed in a simple yet elegant manner. Additionally, it is totally editable, allowing you to integrate Instagram content with your online store seamlessly. Your posts can be displayed in a grid or slider format, and the number of likes is also displayed. It has filters for posts, including hashtag filters, and is completely customizable. Shoppable Instagram feeds are another feature.
11. Judge.me
– Product Review Management
Customers can rate and review your goods and services from inside their emails, thanks to Judge.me. You can also use it to display consumer reviews online. The Shopify review plugin provides a widget, SMS, and push notifications to nudge website users into leaving reviews for your products. In order to encourage people to give honest feedback and ideas, it also offers discount coupons. Additionally, this Shopify reviews plugin enables you to display your review stars in Google Shopping and rich snippets in search results to increase website traffic. Additionally, it enables your customers to include text, pictures, and video content in their product reviews to describe their entire interaction with your company.
12. Gempages
– Landing Page Builder Plugin for Shopify
One of the top Shopify plugins for creating unique pages for your e-commerce website, such blogs, and landing pages, is this one. For quick and simple page building, it offers a drag-and-drop page editor and a selection of templates. Additionally, slow loading can be used to guarantee that your website loads quickly. GemPages can help you boost online sales and increase user engagement on your website. With on-site components like stock levels, countdowns, pop-ups, and reviews, it aids in boosting sales. With the help of this Shopify add-on, you can use Google Analytics and A/B testing to monitor the performance of your page.
13. SendOwl – Digital Products Plugin
Do you provide any digital products for sales, such as music, video, or ebooks? This Shopify plugin is the ideal enhancement for both your product pages and website. Additionally, you can use it to distribute your digital content across a number of platforms, including social media, Linkpop, and Shopify POS. And if you run into any issues, their customer support team is made up of system developers who have extensive knowledge of it. Additionally, to strengthen the security of your material, this Shopify plugin integrates with the built-in fraud system and a selection of third-party fraud apps. In order to sell your goods easily, it also provides custom purchase buttons, a shopping cart, and shipping capability. The strongest point is that your consumers can download their purchases right away using the order email and the order completion website.