Maximize your e-commerce success with the best Shopify email marketing apps, vital for customer retention, increased order value, and effective brand communication.
You naturally want to utilize the best Shopify email marketing apps if you are running or marketing an ecommerce store. The first and most crucial element of any ecommerce plan is email marketing. It enables you to maintain contact with both present and potential clients. Email marketing creates tremendous value for D2C business in terms of customer retention, increase average order value and effective your brand communication with segmentation.
The ideal email marketing platform for an online store should offer transactional emails, marketing automation, promotional email campaigns, and personalized messaging. The top email marketing tools for Shopify business owners have been compiled to assist you in implementing your e-commerce email strategy.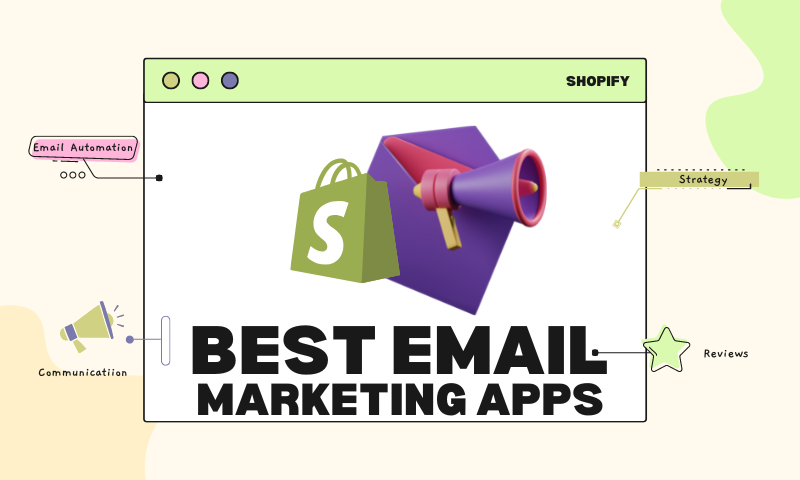 Best Shopify Email Marketing Apps (2023)
1. Sendinblue
For Shopify stores, Sendinblue is a potent marketing platform. It provides marketing solutions that major players utilize but at a lower cost. Simply assisting businesses in expanding is Sendinblue's goal. You can easily access all of Shopify's features with Sendinblue's email plugin, allowing you to promote sales from a single location. Transactional emails, Shopify newsletters, marketing campaigns, Shopify abandoned cart emails, automation campaigns, and automated workflows are all available.
You also get a CRM, customer tracking system, signup forms, and a landing page builder, in addition to SMS marketing and automation.The integrated platform's functionality is its greatest asset. Starting your multi-channel approach is simple. To establish specialized consumer groups, segment based on any behavior or characteristic. As needed, target these groups via email, SMS, and Facebook. On the basis of consumer behavior, you may also automate sophisticated engagement programs.
Plans and Pricing
Downloading and using the Sendinblue Shopify plugin is free. 300 emails per day and unlimited contacts are both included in Sendinblue's free plan. Paid plans are available for as little as $25 per month for 20,000 emails sent. It costs $1.34 to send 100 SMS texts.
Sendinblue is a standout among the best Shopify email marketing apps, offering comprehensive features for e-commerce success.
2. Klaviyo
Within the Shopify app store, Klaviyo is a significant player. It provides push alerts, CRM, SMS, and customised automated processes in addition to email marketing.
Plans and Pricing
Up to 250 email contacts and 50 contact numbers on Klaviyo are free (SMS). They charge based on the size of the contact list, so 20,000 stored contacts (not including emails sent) can cost $400 per month, comprising 150 SMS texts. 
Klaviyo stands as a top contender among the best Shopify email marketing apps, renowned for its powerful e-commerce-focused features.
3. Drip
Another email marketing tool available on Shopify is Drip. You can use it to manage SMS, automations, and email campaigns. Opt-in forms, lookalike audience sync, and rich segmentation tools are also available.
Plans and Pricing
Drip charges for using the integration after a 14-day free trial. Additionally, it costs $289 per month for 20,000 subscribers. 100 SMS sends are included with this pricing. 
Drip is a leading choice among the best Shopify email marketing apps, known for its robust automation and personalized customer engagement.
You may want to read: 13 Best Shopify Plugins For 2023
4. Mailchimp
Notably, Mailchimp re-launched their collaboration with Shopify and is now providing a direct interface. Users of Mailchimp can do this to link their accounts to their Shopify storefronts and exchange data between the two systems.
Plans and Pricing
500 contacts and 2,500 emails are included in Mailchimp's free email marketing plan each month. It's likely that you will also want transactional emails, which are offered in blocks of 25,000 monthly emails for $25, if you intend to use their Shopify integration. It costs money to use a third-party paid integration for SMS marketing with Mailchimp. 
Mailchimp remains a reliable and popular option among the best Shopify email marketing apps, offering a wide range of features.
5. Omnisend
Omnisend is a different program that is listed among the finest email marketing tools for Shopify. It provides segmentation, A/B testing, SMS, and personalized and transactional emails. Additional tools include web push notifications, landing sites, and pop-up windows. They also have a ton of reports.
Plans and Pricing
Installing the Omnisend-Shopify integration is free. Paid plans begin at $16 depending on the number of members after the 14-day free trial. For instance, 20,000 subscribers and all of the capabilities provided cost $350 per month for 23,333 SMS and unlimited email sends.
Omnisend is a top pick among the best Shopify email marketing apps, known for its comprehensive e-commerce solutions. 
6. Privy
Privy began with pop-ups and later expanded into email. Signup forms, bars, banners, and landing pages make up their main product line. Additionally, they have campaigns for SMS and emails that can be automated.
Plans and Pricing
Up to 100 contacts can be mailed using Privy without cost. A 20,000-name list would cost $300 per month. This price includes SMS for 100 contacts. 
Privy is a trusted name among the best Shopify email marketing apps, delivering powerful tools for lead generation and conversion optimization
7. Marsello
With email marketing campaigns, automation, reward point programs, SMS, lead capture forms, and segmentation, Marsello joins the list. It also includes feedback forms for gauging consumer satisfaction.
Plans and Pricing
Installing Marsello is free, and the cheapest plan is $99 for 1000 subscribers. With Marsello, our benchmark of 20,000 contacts on your list will run you $289 each month. For an additional $25 per month, you can add 700 SMS credits. 
Marsello is a standout choice among the best Shopify email marketing apps, excelling in customer retention and loyalty programs.
Also Read: 7 Best SMS Marketing Apps For Shopify (2023) 
8. Constant Contact
Constant Contact is another well-liked option for Shopify email marketing. It's a solution that combines survey functionality, automation, list-building capabilities, posting and advertising on social media, and email marketing services. Moreover, a website builder is provided.
Plans and Pricing
For all paying customers, Constant Contact integration is free. Then, with restricted functionality, prices start at $9.99 per month for 500 email subscribers. $225 per month covers unlimited features and 20,000 contacts. 
Constant Contact is a well-regarded option among the best Shopify email marketing apps, known for its user-friendly interface and marketing capabilities.
9. Campaign Monitor
Another choice for Shopify's e-commerce stores is Campaign Monitor. It focuses on email marketing, including registration forms, transactional emails, personalized emails, and email automation.
Plans and Pricing
Installing Campaign Monitor is cost-free. Then, prices start at $9 per month for 2500 emails to 500 clients. $399/month would get you 10,000 contacts and unlimited emails.
Campaign Monitor is a trusted choice among the best Shopify email marketing apps, offering versatile features for successful email campaigns.
Every tool has user-friendly drag-and-drop editors and at least a few automated workflows. The rest is up to your ecommerce marketing plan and the results you're after. Make the switch to a more all-encompassing solution if you don't want to have too many marketing tools. Just be careful because some of these solutions can quickly become rather pricey as your email list expands, which hinders growth.
We hope you found our guide on the best Shopify email marketing apps helpful. With user-friendly features and automation options, the choice ultimately depends on your e-commerce strategy. Streamline your marketing efforts wisely to avoid scalability issues as your business grows. Happy email marketing!