When it comes to gadgets, Chromebooks are durable and offer great value. Most significantly, they are less prone to bugs than Windows systems. But occasionally, different problems do arise. For instance, your camera can occasionally refuse to switch on or suddenly display a dark screen. It can be frustrating when your camera breaks down right before you want to join a Zoom, Google Meet, or Microsoft Teams online meeting.
To solve issues with the camera on ChromeOS, follow the troubleshooting instructions listed below.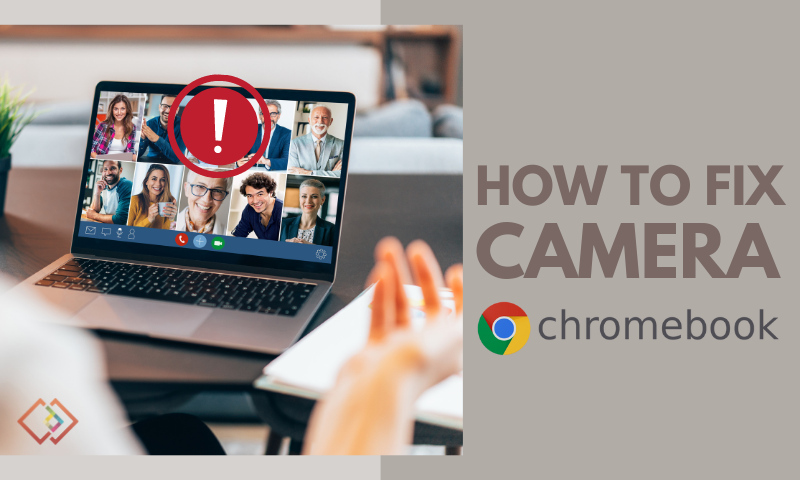 Fix Chromebook Camera Not Working Error
1. Restart and check for updates
Make sure your computer is running the most recent ChromeOS release. If a software flaw is the root of your camera problem, updating your program should immediately resolve it.
To do this, select About ChromeOS from the Settings menu. Install the most recent updates by clicking the Check for Updates button. After that, turn off your Chromebook. Don't simply start it over.
Completely turn it off, then wait a minute. Start the device to fix the Chromebook camera not working issue.
2. Try and use another Chromebook App for Video Calls
If a certain app prevents you from utilizing your camera, try a different app and see if the problem still exists. Remove the problematic app from your device if your camera functions properly with another app.
Reinstall the app in question after restarting your Chromebook. See whether installing a new version of the application fixes the issue.
Also Read: How to Save Battery on Chromebook
3. Reset Hardware of Google Chromebook
Check to see if hardware resetting your Chromebook solves the problem. Shut down your Chromebook to begin. Next, hold down the Power and Refresh keys. In a few seconds, your laptop should begin to operate.
After your Google Chromebook has started, let go of the Refresh key to see if your camera is operating as it should.
4. Contact Chromebook manufacturer
Get in touch with your Chromebook's maker if the issue continues. Tell them about the ways of troubleshooting you've already attempted. Conversely, if you're using a school-owned Chromebook, get in touch with your IT administrator for more assistance.
Reset your hardware and upgrade your laptop to the most recent version if the Chromebook camera stops functioning. Additionally, restart the app whose camera isn't working after uninstalling it. Contact your Chromebook's manufacturer or IT administrator if the problem continues.
Next to read: 14 Best Games You Can Play on School Chromebook