[paragraph] Kingston placed itself as one of the finest gaming headset makers with the launch of HyperX Cloud and Cloud II headsets. Being a professional gaming accessory, Cloud series missed out on entry level gamers or youngsters who are tight on budget. So here is the Kingston Cloud Core Headset, that target the gamers on a budget. [/paragraph]
As most budget variants cut-off many features and technical specifications, can HyperX Cloud Core deliver the performance at this impressive budget? – Let's find out in my following review.
Kingston HyperX Cloud Core Gaming Headsets Review
First Impressions
Computer accessory brands don't invest much in great packaging, but on the other hand gaming, accessory makers compete for delivering a great experience right out of the box. With Cloud core, Kingston has a done the exceptional job at packaging with a nicely designed case made out of a premium foam to fit the headphone itself and the rest of accessories.
The HyperX Cloud Core has 53mm neodymium drivers that respond incredibly well to 5Hz-45kHz frequency range and provide a great 2.0 sound experience.
The headband is made out of leatherette and the stitches in red are visible which provides a much-needed gaming look with the black color contrast of the band. The ear cups are made out of foam and are big enough to cover any size of ears. The entire frame is built using aluminium which makes HyperX Cloud Core lighter in weight and durable as well.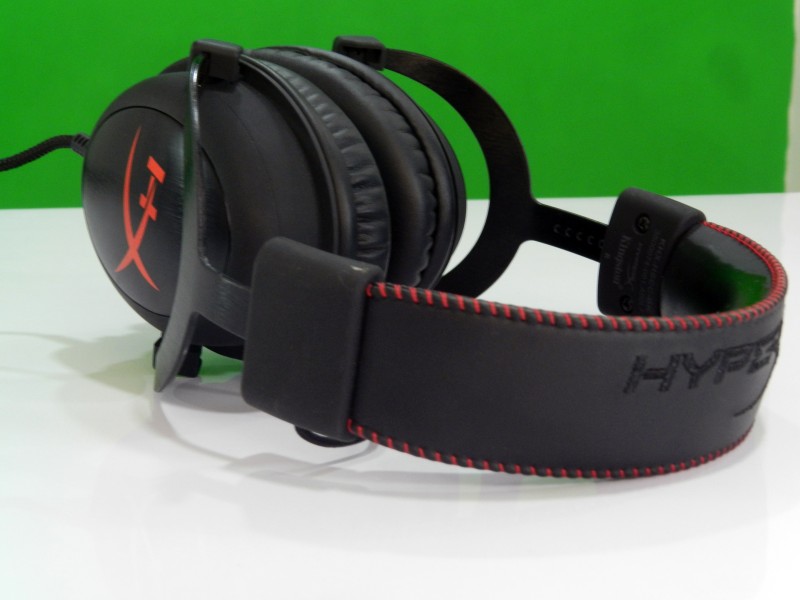 A very sturdy detachable microphone is also present in the box, which you can be used for an in-game chat in your favourite multiplayer or MOBA titles.
If you are not used to with gaming headphones before, you will realize that Cloud Core is bit heavier than regular over-the-ear headsets. Despite the fact that they weigh about 320gm, you wouldn't even feel half of it when you wear them, thanks to the outstanding design. The great quality foam and leatherette used in this headset provide your ears with good comfort and you feel safer to carry around these headset thanks to the sturdy build quality achieved with the aluminium frame.
Connectivity And Specifications
You can connect this headphone a via 3.5mm jack with a short cable to any of your gaming laptop or extend it with the 2-meter long extension cable to use it with your PC or gaming console.
But to use the both headset and the microphones at the same time, you need to use the extension cable, as it splits the 3.5mm jack into two separate ports.
[metaslider id=15287]
Unlike the HyperX Cloud II, these headsets not have a USB connection so forget about the 7.1 sound experience at this price point. It responds to frequencies of 15Hz – 25 KHz, an impedance of 60 Ohms and you get a maximum output power of 150mW.
All these numbers can get you a clear idea of the kind of sound quality and output you can expect from HyperX Cloud Core's headset cans, considering it's one of the cheapest devices in Kingston's Cloud series.
Sound Quality
As these are gaming headphones, it's only fair to play some games and talk about the performance & experience. So, I played the Witcher III and Counter Strike GO a lot, as I have played them hundreds of hours before on normal over-the-ear headphones. As far as the game genre of Witcher III is concerned, there is always a background score which keeps playing and you don't need to focus on the enemies sound to as much to track their location, so the headset did not help me much here. But while playing CS:GO, is where it outperformed anything I have used to before. I could easily make out where the enemies were coming from by listening to their footsteps which show how accurate sound these headphones produce. The game felt more immersive and lively thanks to the precise soundstage this headset delivers.
[metaslider id=15287]
If you live in a hot place, expect some warming and uneasiness with the over-the-ear design of Cloud Core, if you are into prolonged gaming sessions. Yet, compared to any generic or even good over-the-ear headsets you are used to before, these provide quite a comfortable experience. What I did most times was take it off and place it on the back side of my ear for 5 minutes, and put them back again for another hour.
Apart from gaming, I also played some music and movies and the sound quality was very good if not great as they are meant for gaming and not particularly designed to do wonders with music.
Verdict
If you are looking for gaming headsets, for the price of under Rs. 4000, HyperX Cloud Core offers exceptional sound quality, something you can literally expect for headsets ranging from Rs.5000 to Rs.8000. The sturdy aluminium built quality will last significantly longer than any other normal over-the-ear headsets, and you do not have to sacrifice quality even at the strict budget.
I will highly recommend going for these dedicated gaming headsets as they are the most value for money accessory you can own with your gaming PC or laptop.
Buy Now on Amazon ( Price in India: Rs. 3325)
Buy Now on Flipkart (Price in India: Rs. 3750)