Finally, here comes the era once dreamed of by men of old – an era in which almost everything is portable. For instance, we had the mainframe computers, then the desktop computers, then laptops, netbooks, palm tops and incredible mobile devices. The same was not the case with projection until the recent breakthroughs that came as a result of technological advancements saw the invention of newer projecting devices that can comfortably fit into a person's pocket inconspicuously. These type of projectors termed as pico, micro, and mini projector.
These new, smaller devices have successfully ousted the bulky, fidgety, noisy projectors that overheat if no proper ventilation exists while making live displays so easy that you hardly need an AC outlet. What is more? They also give you the opportunity of projecting from other portable devices like smartphones or tablets. So if you stumbled upon this article and have finally learned that there are projectors that can make life a whole lot easier, and are easy to carry about, I will you find at least 5 of the very best in this category.
Best Mini Projector

It is by far the world's brightest battery-powered mobile projector by cubic volume. It has an optical engine that produces an amazing 900lumens at peak power (in bright mode) and 500lumens in battery mode. Measuring 6''6''1.8'' and weighing 1.95lbs, the M5 projector can project up to 70'' screen size in moderately light rooms and more than a 10feet screen size in controlled lighting. It is one of the highest in native resolution (1280800pixels)otherwise known as HD and is the base for Blu-Ray movies.
It is powered by a 28-watt lithium battery that supports70minutes of operating time and produces three times the brightness of other battery-powered projectors. It is an all-in-one projection uplift that allows a wide array of inputs. Its powerful media player decodes files directly off a USB stick or Micro SD card and is capable of handling high-resolution videos, movies, and high megapixel pictures. The M5 employs a solid state LED that lasts up to 20,000hours, creating more vivid colors and are more durable that conventional projector lamps. So, you could enjoy a singled power display from a self-powered device to deliver your presentations, play videos and literally do everything that projection has to offer if you have this projector.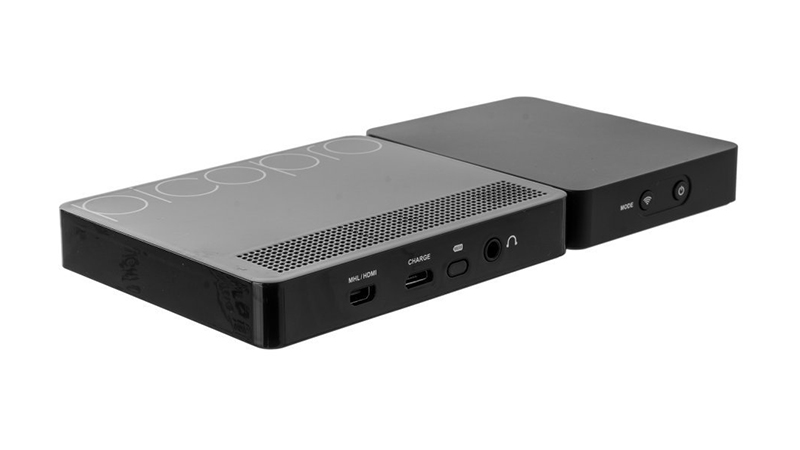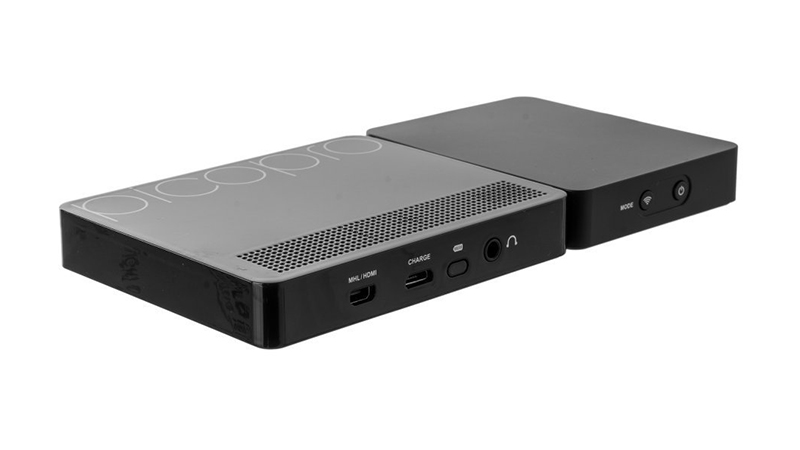 This projector particularly rocked the markets from 2015 to 2016. Though it lacks the ability to show images stored in memory, it definitely makes up for it by its use of laser technology (MonoVision's) as a light source instead of the normal LED bulbs. This among others makes it stand out from others, combined with the fact that it needs no focusing of the image. Its edge to edge focus of image with uniform brightness is remarkable especially from such a small device that can stay so cool for quite a long time without needing a fan or cooling device.
The design of the Cellulon is like that of the Samsung Galaxy S5; just a bit longer and only twice as thick (0.5''5.9''). Picopro comes with a power block but can get power from a cable connected to a USB port of a computer. It spans about 2hours connected wirelessly and over 3hours when connected through a USB which is time enough compared to other projectors that do not use laser sources. It works on a 32lumens image brightness rate; bright enough for a 14-15inch image under ambient light. 32lumens may seem reduced, but its brightness is roughly equivalent to a 50-60lumen brightness of the AAXA P4-X pico projector. So yea, it is the summary of a few mini projectors of LED sources and you need not bother about the speckle effect laser light is known for as this projector tones it down.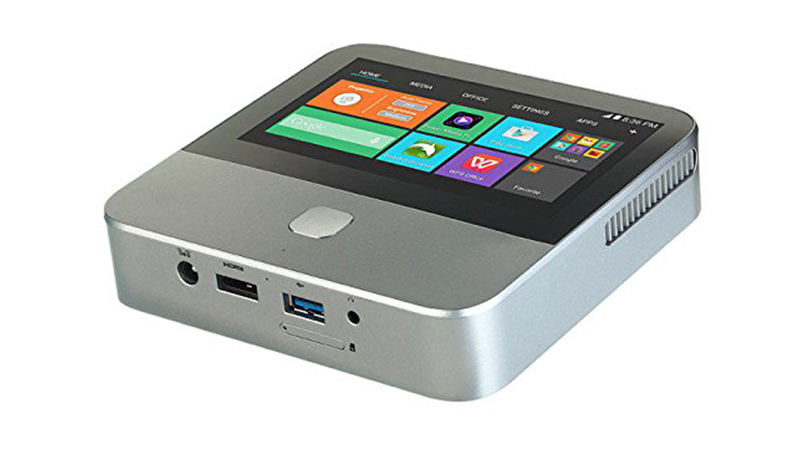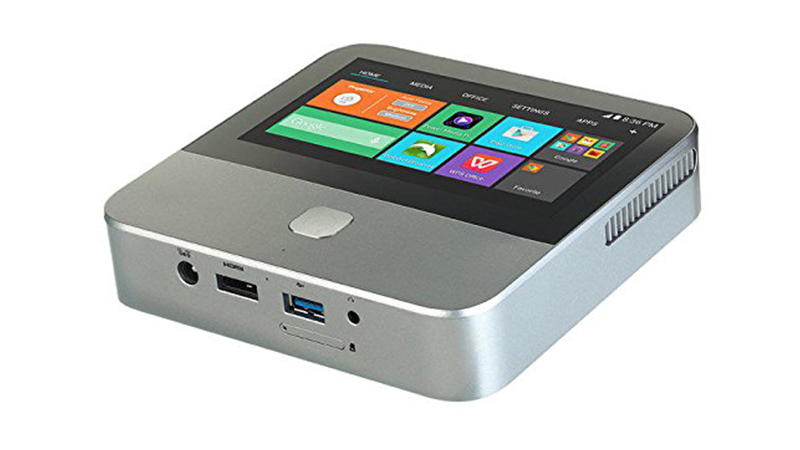 Allow me to introduce to you one of the firsts among 4G LTE projector that runs on android software (KitKat, 4.4). This projector has a Wifi hotspot that can connect up to 10devices and has an internal memory of 10.57GB. It can be so handy especially as regards projecting business presentations and even project online videos (YouTube for example). It operates a LED projection light source with a native resolution of 720p and a rated brightness of 200lumens that drops to 100 when in use to conserve power.
Its operation is run from the 5'' touch screen that has a projector icon as a button. The data source can be switched on by touching any of the three buttons – screen, HDMI or miracast – while the hotspot is turned on by clicking a blue widget on the home screen. It allows for projection of videos, PDF documents directly from the internal memory or on the internet while still stabilizing the image contrast and brightness; all these barely noticeable. For many, this, indeed, may be one of technologies finest.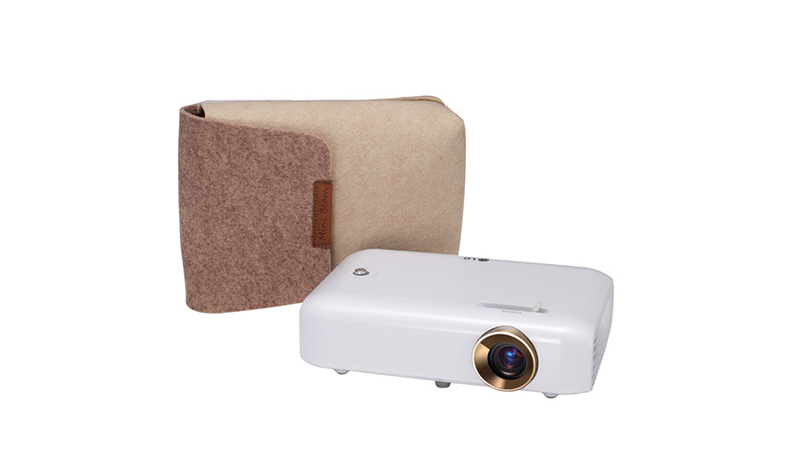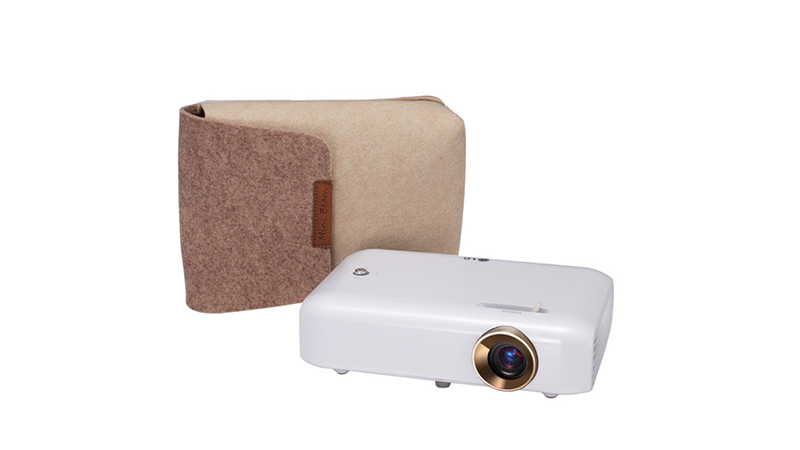 Have you ever heard of a portable big-screen TV before now? Well, consider thinking about that whenever you see an LG Minibeam projector. Though the word TV may cast an image of a really big screen in mind – and yes, it actually has a TV part – we are focusing on the compact size, light weight and the rechargeable nature of its battery. As with most TVs today, assorted ports and wireless options allow for connections to other sources like tablets or PCs. It has a native resolution of 720p with a LED light (550lumens) source meant to last the life of the projector. It has 5 customizable color modes; standard, vivid, cinema, sport, and games, helping you adjust the raw vibrant colors according to what is required. There is actually more: it is a Bluetooth compatible projector for headphones or portable speakers to match the loud sound with the big viewing experience.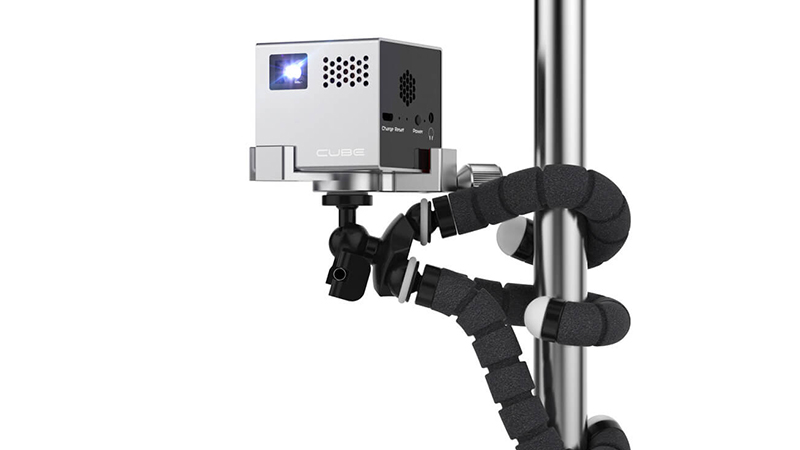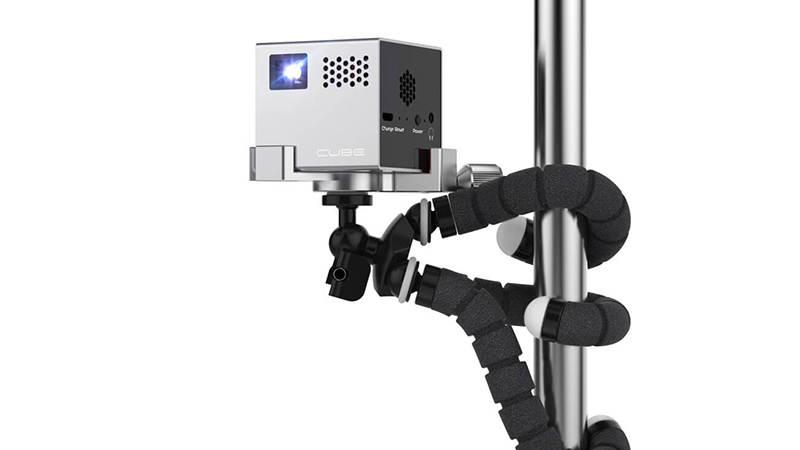 This is a 2" cube-shaped portable mobile projector that has the ability to transform your surrounding into a mind-blowing cinema. It has a 120'' display compatible with all HDMI devices. It removes limitations imposed by screen size hence allowing you reconsider a mobile media. The RIF6 has 20,000 hours of bulb life and a 90minutes battery life. It weighs slightly below 1.6lbs and its small size means it only has a small sub-HD of 854480p resolution.
The RIF6 utilizes a tripod solution to suspend the cube onto projection aimed at the wall, ceiling or anywhere else you wish to project on. Very noticeable is its small size also makes it easy to fit into tight spaces even as its 50-75inch image screen size ensures better quality. This definitely serves as one of the basics of projection, considering its very minimal setup requirement
In conclusion, it is of great importance to note that a few of these mini projectors have remote controls because some even are smaller than them. So, if you do not have room for a TV or you travel a lot or often get involved with different presentations, then your best bet would have to be any of these picos obtainable at affordable prices ranging from $150 to $700. Enjoy your world of mini presenting!
Related Articles about Projectors
Best Home Projector Buying Guide
Best Portable Projector's for Geeks