There has been recent release in Cydia for Jailbroken Apple iPhones which can help you a lot for changing you Wi Fi Network quickly. YFiSelect4 is the name of the tweak which can be very useful to you if you are having multiple Wi Fi connections around you.
After you install this YFiSelect4 you can very quickly change the Wi Fi network through Activate or SB settings on jailbreaked iPhone.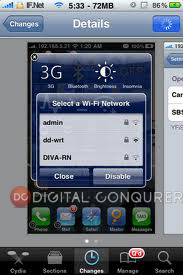 How to Work with YFiSelect4 ?
YFiSelect4 gets activated on your iPhone when you hold the SB-Settings wifi icon or else you can also use the Activator to open it. Connecting to hidden network is not supported yet in this application but it can be very helpful to you if you switch between Wi Fi network frequently.
You need jailbroken iPhone because YFiSelect4 is only available in Cydia. If you have not done Jailbreaking on your iPhone before & wish to do it then here are the step by step instructions to
Jailbreak your iPhone on iOS 4.2.1 with Redsn0w
Cost of YFiSelect4 : $1.49 USD