As we always post outstanding giveaways after every few days, I am here with the another outstanding software for PC that can convert, edit, add effect and manage your images very efficiently PearlMountain Image Converter.
This image converter is basically a photo converter that can even edit images in batches. I always face issues while editing images all together for this website and personal projects and well, PearlMountain Batch Image Converter does all for me very easily.
Before I give in-depth review, check out how you can win and download this $29.90 value software for Free by using content details below. (Total worth close to $600!)
PearlMountain Batch Image Converter Giveaway
The contest is damn simple to participate in and all you have to do is like us on Facebook and you can additionally share it for earning more entries.
WINNERS ANNOUNCED!
Following are the name of the winners of Pearlmountain Batch Image converter Licenses –
Winners are contacted separately with prize details.
Uday W.
Sunny N.
Mitali P.
Zubin R.
Mohit S.
Kiran P.
Prateek D.
Praveenkumar Y.
Chetan C.
Mahesh P.
Parimal K.
Neha W.
Madhura K.
Pankaj H.
Rashmi J.

PearlMountain Batch Image Converter Review
Whenever I review any software, rather than its major capabilities I would first look for its user interface and its overall usability to general computer user.
PearlMountain Batch Image Converter is an excellent tool you must have on your PC and no doubt its interface is very clean and simple to use.
This image converter supports popular image formats like BMP, JPEG, TIFF, RAW, PNG, GIF, TGA, and PSD and lets you convert it very easily.
Another important feature it have is resizing of images & it lets you edit the images in bulk very easily. The interface let you import the images in bulk and then you can edit it all together really fast.
The overall process of editing, resizing and converting takes really small time and it does not slows down your PC at all! The efficient interface design lets you drag images directly to the image panel very rapidly and can then be processed further.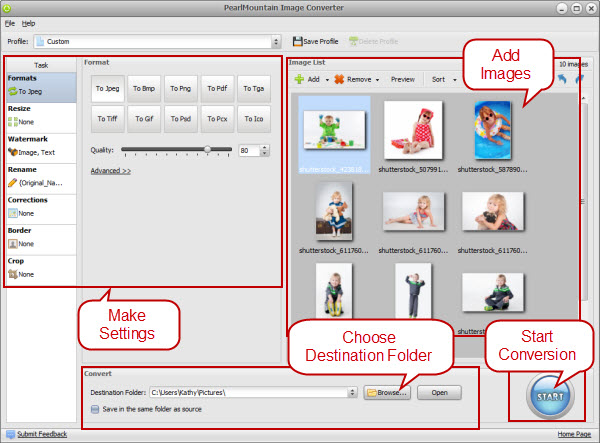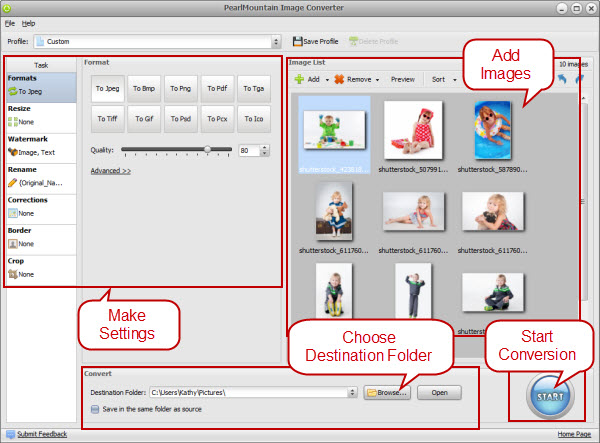 The major features of PearlMountain Batch Image Converter are resizing, cropping, watermark and adding effects and border which is performed very fluidly.
Other features includes –
• Save operations that you usually use as profiles and bring convenience with you in the future.
• Convert between many different image file formats.
• Resizing image for any different use, such as for web, e-mail, photo printing, Facebook, MySpace, mobile phone, iPod/iPad/iPhone, etc.
• Add image and text watermark for Image Copyright Protection
• Adjust image brightness, contrast and saturation in batch to make your images look more special.
• Apply border to images.
• Crop photos, removing unwanted areas.
Click Here get more information about the PearlMountain Batch Image Converter
Click Here to Download Trial version of PearlMountain Image Converter Free