The whiteboard is the standard piece of equipment for teachers. It serves as the focal point of any physical classroom and serves as a visual and mnemonic tool to help pupils organize, comprehend, and recall new information. Unsurprisingly, when setting up a virtual classroom, it is the first tool teachers search for. So, after doing some research, we created a list of the best free and paid online whiteboard applications for teachers.
What Is An Online Whiteboard, And Why Does Remote Teaching Require One?
Teachers and students may work remotely and in real-time by writing, using smart board software for PC, drawing, and pinning photos on an interactive app or browser-based whiteboard. Online or web-based whiteboards are frequently used in online meetings and virtual schools because they are designed to look and function like a traditional whiteboard.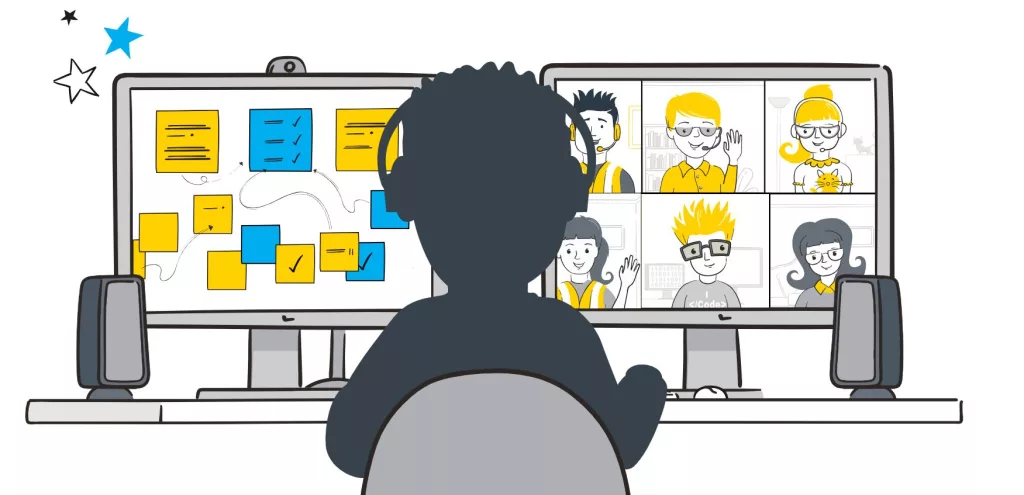 An interactive whiteboard is a great tool for teaching, just like a regular whiteboard.
Clarify points
Note important information and structure discussion points
To perform the activities or tasks.
Cooperate and make mind maps
Online classroom whiteboards: free vs. paid
An online whiteboard is easy to use, adaptable, participatory, and economical. It is a crucial tool for online training and cooperation since it is also very engaging and visually appealing. Here are the top free and paid online whiteboards for teaching if you're serious about doing any remote teaching.
If there are free alternatives, why would you pay for an online whiteboard? You may often receive all the necessary resources from the free online whiteboards to start teaching right away. You'll have access to pens and shapes in a variety of thicknesses and colours, and some solutions, such as Google's Jamboard, will even include virtual sticky notes and laser pens.
But freemium plans come with compromises and a plethora of missing capabilities, as we have all grown accustomed to in this era of apps and web-based companies. Free online whiteboard apps sometimes include advertisements or watermarks and are deficient in necessary functions like PDF or media uploads, permission control, and download or save choices. The number of whiteboards you can create, the number of items you can add to a whiteboard, and the number of viewers per whiteboard are almost always limited by your free choices.
Smart board software for teachers' demands is best fulfilled by approaches that we have always known and utilized when we begin to adapt our teaching and learning practices online. For one thing, the whiteboard has never lost its importance for both teachers and students. A suitable environment for visualizing concepts and freely discussing ideas is an excellent way to learn, and it may also make classes more fascinating and engaging. As a result, we've compiled a selection of free smart board software for PC that may assist you in taking your teaching to the next level and maximizing the abilities of your students.
1. The whiteboard. fi: a fantastic Smart Board Software
For instructors and their students, Whiteboard. fi offers immediate access to a platform for interactive learning. With just a link, room code, or QR code, you can create a class and invite your students to participate in the fun. Each student will have a personalized whiteboard with tools including drawing tools, text boxes, picture notations, and arithmetic calculations.
Additionally, you can monitor student's progress in real-time while they only see their own board and yours, making it possible to include everyone, including those who are occasionally reluctant to respond to questions. With Whiteboard's cutting-edge toolset, you can start using formative assessment right away and improve cooperation.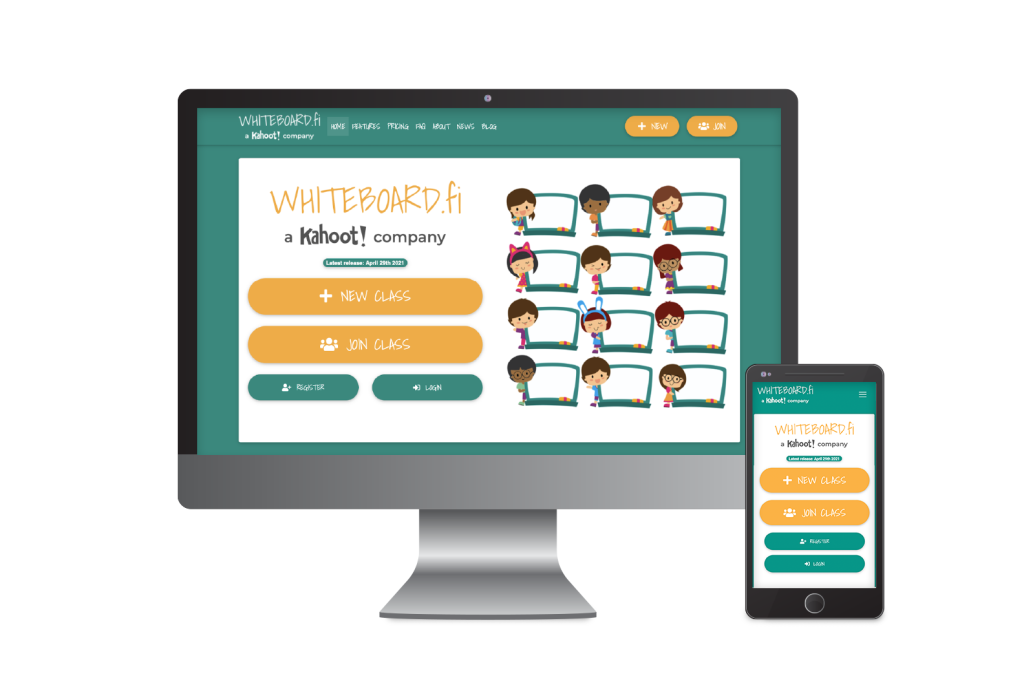 Why I enjoy using the whiteboard
With just a link, room code, or QR code, you can create a class and invite your students to participate in the fun. Each student will have a personalized whiteboard with tools including drawing tools, text boxes, picture notations, and arithmetic calculations.
Additionally, you can monitor student progress in real-time while they only see their board and yours, making it possible to include everyone, including those who are occasionally reluctant to respond to questions.
Utilize formative evaluation right away while improving teamwork with Whiteboard's cutting-edge toolset.
Temporary spaces that don't require registration let you quickly set up a collaborative learning environment where your students can practice their grammar and vocabulary.
Using:
By accessing each of their unique whiteboards, teachers may see their student's progress in real-time. Teachers may also make additional boards and share them straight from their own boards. These boards can include photographs, worksheets with text and emojis, and drawings.
Experience the brilliance of The Whiteboard.fi: Your ultimate Smart Board Software solution.
2. Whiteboard. Chat: working collaboratively in a virtual classroom
Regardless of the device students are using, Whiteboard. chat makes it simple and comfortable for teachers to review their work, communicate with them individually, and maintain their attention during sessions! has access to a variety of digital manipulatives and interactive widgets.
Whiteboard. chat offers limitless customization choices for free, ensuring that students receive individualized feedback during each course.
The Pros and Cons of Whiteboard Chat:
Work on all platforms: All internet-capable devices, including Chromebooks and mobile phones, may use Whiteboard Chat. Free connection from any device.
Makeup classes as you go: You can quickly construct highly interactive courses using one of the biggest collections of live widgets, gadgets, and manipulatives that have been digitally preserved.
Engage pupils one-on-one: Join a student's online whiteboard right away to offer them individualized comments and make sure they are adhering to instructions.
To get pupils' attention, the instructor exercises the following control: Using the instructor controls that let you pause or muffle pupils, you may quickly get your students' attention back.
You'll get access to a lot of features with the Educator (Free) plan. Make up to 10 boards with a 7-day lifespan! When necessary, manually refresh them and prolong their expiration date. Although advertisements may appear on the Teachers' board, you can be sure that no kids utilizing our services will be exposed to any commercial material.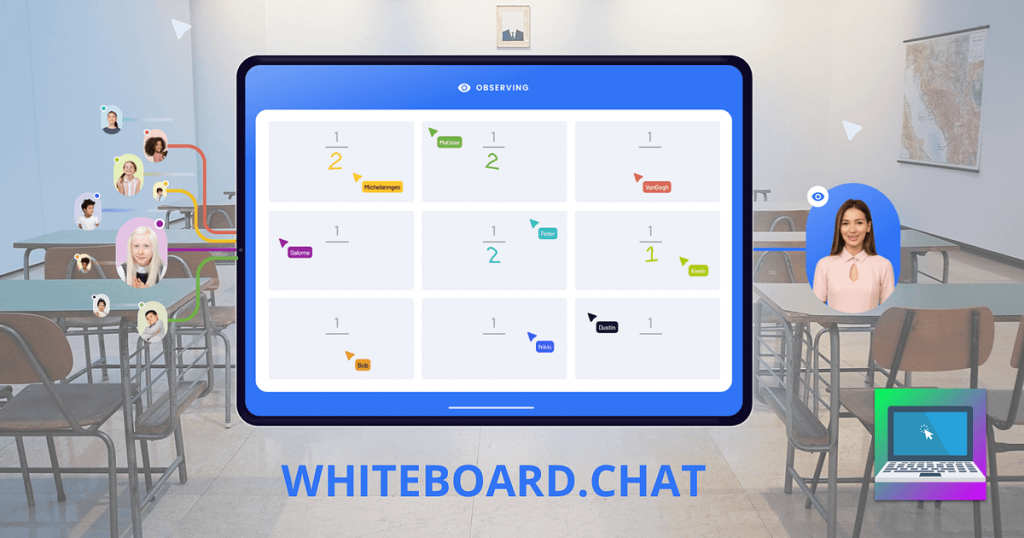 Using:
Teachers may design a highly dynamic learning environment using the sophisticated but simple platform provided by Whiteboard Chat. There are two major options: a collaborative worksheet mode for monitoring progress with a group or individual work, and the traditional whiteboard function for explaining courses in real-time. Whether students need assistance with resolving chemical equations or understanding continents, you may track their progress step by step while providing them with insightful comments.
Elevate your teaching with Whiteboard. Chat
3. Smart Notebook: a startup that makes connections
Utilize the innovative features of SMART Notebook, an interactive Smart Board Software, to elevate your learning experience. With Spotlight and annotation capabilities, you can engage kids in ways that have never been possible. These features extend across several web browsers and applications while integrating smoothly with Smart Ink. No matter what model of Windows or MacOS you use, backward compatibility ensures the greatest performance. It also lets you import PowerPoints, PDF files, and other curricular resources for a dynamic classroom environment. However, the benefits don't end there. Teachers may gain essential insight into their students' learning journeys through the use of game-based activities that are simple to incorporate into student devices and formative assessment tools.
Why I Enjoy Using a Smart Notebook:
Flexible and Easy Lesson Preparation With simple interactive tools, it's flexible and simple to give your students enjoyable and engaging learning experiences.
Automatic touch, gesture, pen, and rubber detection eliminates the need for menus, tool selection, or mode switching.
Longer-lasting features that keep students interested. Use interactive tools that easily connect with SMART ink to highlight, annotate, and interact with content to extend your teaching resources across online browsers, apps, and more.
Give students the tools they need to present and workshop their work using a range of media-rich tools to artistically demonstrate their understanding.
With the aid of choice boards, language manipulatives, and other technologies that make learning tactile and multisensory, you may assist students in honing their 21st-century abilities.
Using:
Simply download Smart Notebook- Smart board software for free from their website, along with any necessary add-ons, to get started. After downloading, use the program to open a new window with a variety of tools for building your boards. From this point, you may create engaging lessons with text, pictures, videos, audio, and other media. The pen tool also allows you to sketch freehand. Once it's finished, you may email it or link it to your board and distribute it to your students or coworkers.
4. Educreations — Smart Board Software
The secret to a simplified, structured educational experience is Educreations. With features like voice recording for tutorials, an import system for documents or photos from storage systems like Dropbox or Google Drive, instant sharing via email and social media platforms, and cloud sync capabilities that preserve any finished videos, its most recent version makes it even simpler and more powerful. Continually educate yourself without pausing.
Why I Enjoy Educreations:
Share and record lessons. The ideal technique is to record your ideas and thoughts while they are still fresh. Share without difficulty with friends, family, coworkers, or even the entire globe.
Tools for a whiteboard. Errors are easily removed when writing with a pen or your finger on a virtual whiteboard and drawing on it.
Make yourself available and join classes. group instruction and interactive collaboration with students or coworkers. Everybody is free to participate at their own pace.
Keep draughts. You won't lose your work, so don't worry. Your most recent lesson is automatically saved by Educreations as a draft so that you may return to it later.
Using:
Teachers and students may easily produce educational movies using the whiteboard and annotation capabilities on the Educreations platform. By using this interactive method, teachers may show off the app's features as students create their own video lessons for use in assessments or in-class presentations. Scientific ideas might also be illustrated through visuals and animation techniques, similar to how arithmetic problems could be presented through drawing, movement, and narrative.
Transform classrooms with Educreations: Embrace the future of Smart Board Software
5. Doceri — simple to manage
You have never had more freedom and control than with the Doceri Classroom Presentation Management System. Access AV systems with your iPad from anywhere in the room. This programmable system, which is built in the USA, enables remote control of campus-wide projects from a central site or district office, guaranteeing that all presentations go off without a hitch and projector shutdowns are timed appropriately. Automatic use recording and email notifications make it simple to keep tabs on activities, while emergency warnings guarantee constant security.
What I enjoy most about Doceri:
Plan project terminations. Teachers may now set up automated email notifications for projector shutdowns.
Get email alerts automatically. Never again will you forget to switch off the projector. Get an email message with a link to turn off your projector at the appointed time.
Projectors are simple to monitor. The status of each projector, including whether it is on or off, can be easily seen by teachers.
Using:
Teachers may use iPads or other devices in the classroom to quickly access interactive tools that help them advance slides, circle and highlight important ideas, and quickly create diagrams while supporting class discussions—all without having to stand at the front of the room. Additionally, tracking student development is simple! Additionally, these robust functions have user-friendly interfaces, making it simple for anyone to pick them up quickly.
Also read: 9 Best Smart Boards for Classrooms
6. Miro — several teams
Utilize the whiteboard-like Miro application, which competes with Google Docs, to unleash the potential of frictionless collaboration. Allow your team to collaborate in real-time, online meetings so they can wireframe and test ideas as if they were on a single physical board. Imagine combining brainstorming with project management. An easy platform designed to unleash teams' creativity to new heights makes it all possible.
What Miro Has That I Like:
Real-time collaboration is key. There's no need for lengthy email threads or attachments. Collaboration is simple with Miro since you can see what your team members are working on in real-time.
Wireframe, prototype, or mockup without effort. In real-time, a creative team may collaborate to wireframe, prototype, or mockup a project.
Virtual conferences. It functions as a whiteboard, project management tool, marketing tool, and brainstorming tool all in one. Work together in a real-time virtual meeting with Miro.
Using:
With Miro, you can rapidly gather ideas in one location and vote on which would work best, elevating your professionalism to the next level. Alternately, have some fun with it during breaks by picturing a game of "Google Image War," in which teams battle it out through the use of photos! Copying information onto its boards from anywhere is simple because of a variety of features that promote collaboration without creating visual clutter.
Empowering educators through advanced Smart Board Software capabilities- Miro
7. Ziteboard-Live Collaboration Smart Board Software
Ziteboard is a cutting-edge multi-platform smart board software that enables practically infinite collaboration with users, regardless of the devices they use. Make sure Google Chrome (ideally the most recent version) is operating on all devices in order for users to be able to join. This will allow you to create unlimited workspaces without changing your programs or installing any software.
Experience interactive interactions that are more secure and effective than ever before. Enhance meetings by making mind maps, assisting presentations, hosting conferences, and much more. Basic functions are available for free as long as they are required; alternatively, subscription plans are available that offer extra benefits suited for advanced usage.
Why I enjoy using Ziteboard:
Construct templates for repeat use so that you may construct as many boards as you require from those templates.
Real-time collaboration with your team. With the help of the multi-user application Ziteboard, numerous users may simultaneously edit the same board. Because each user can see what other users are doing on the board, everyone will be aware of the modifications being made by others.
Use it to organize your notes, for meetings or brainstorming sessions, or for whatever else you choose.
A multi-platform whiteboard called Ziteboard works with any device that has a contemporary browser.
Using:
Ziteboard- a smart board software is challenging to locate tools to write on and erase work on, and the other interactive whiteboards I've used in the past were challenging to set up. Additionally, it makes it simple to return to the image's center rather than spending time during class periods zooming in and out to review what you've written.
8. HeyHi — material library
For instructors and students who want a user-friendly, secure digital whiteboard, HeyHi is the ideal answer. Tutoring may now take place in real-time no matter where you are by using devices optimized for Apple, Windows, and Android operating systems.
With limitless people able to contribute to public boards and only authorized users able to access private workplaces, the infinite workspace promotes cooperation. Use HeyHi to improve your conferences, meetings, presentations, or mind-mapping sessions right now. It has free and commercial options if you want access to more sophisticated capabilities.
What I enjoy most about HeyHi:
With video and audio capabilities, the classroom mode of HeyHi is ideal for online classes and seminars. With only a few clicks, you can start the lesson by sharing your screen and inviting students to participate.
Messaging through text that is integrated HeyHi includes integrated text chat messaging in addition to video and audio capabilities, making it simple for you to engage with students.
Class discussion is exported as a high-resolution picture or PDF from the whiteboard. When the lecture is over, save anything you saw on the whiteboard as a high-resolution photograph or PDF file.
Using:
This platform includes a lot of fantastic tools that make teaching and learning easier.
With Drawing by Touch Screen, users may instantly access their touchscreen devices from their computers and utilize them as interactive digital canvases for imaginative drawings and challenging mathematics.
Live tests that instructors may utilize to boost student participation in class.
Automated attendance records that make tracking attendance easier than ever before are particularly helpful in large courses.
A personalized library also offers storage choices, so you'll never run out of lecture materials again!
Finally, during lectures, instant messaging puts students in constant contact with the teachers, enabling them to ask questions without bothering other students.
Unleash creativity and engagement with HeyHi: Your ultimate Smart Board Software
9. Microsoft Whiteboard for Education: shared visual canvas
Microsoft Whiteboard for Education is a potent collaborative tool created to support online and remote learning for both teachers and students. Users may quickly and simply construct multi-dimensional boards on the Whiteboard platform that can be used to exchange ideas, discuss subjects, work together on projects, and even serve as a location for real-time whiteboarding.
With the help of Microsoft Whiteboard for Education, instructors and students may communicate and work together in real-time. Teachers can simply design interactive learning experiences with Microsoft Whiteboard for Education using a single canvas that students can access from any device. It enables easy direct sharing of multimedia content, including photographs, videos, and documents, among teachers.
Favourite Features of Microsoft Whiteboard:
Work together and generate ideas. For mixed work and learning, the Microsoft Whiteboard for Education is the ideal surface. Students and teachers may connect and brainstorm in real time because of its interesting learning features.
engaging education. An engaging and dynamic learning environment is provided by the Microsoft Whiteboard for Education. On the same canvas, students may work together and discuss ideas, while teachers can keep an eye on things and give feedback.
Real-time collaboration is key. The Microsoft Whiteboard for Education enables real-time collaboration between teachers and students. They may collaborate to create, think of ideas, and learn on the same canvas.
Using:
Teams may discuss, interact, and generate ideas in real-time with the help of Microsoft Whiteboard. The software enables a range of methods for staff members to connect with one another using GIFs or sticky notes thanks to avatars monitoring changes made by each team member as well as customizable choices including grid lines, board colours, and text notes. Bring your own viewpoints to a stage that is interactive!
3. Paid Smartboard Applications
After searching the web for whiteboard software, I discovered a number of premium options that are worth considering. Some of them are partially free; therefore, I've mentioned the features that you'll be able to use with the free plan in the review.
1. LiveBoard: a one-stop platform
LiveBoard offers key educational tools for a better learning experience that is available on any device. Students with an internet connection may experience smooth, seamless teaching and learning regardless of their location without the need to download extra plugins or software.
What you will receive for free:
Fundamental Characteristics
1 student per board
1 Board 5 Records
Use with Any Device
Importing Math and Science Whiteboard Content
LiveBoard is the ideal platform for effective remote tutoring sessions. It's a comprehensive platform designed to improve the interaction between instructor and learner, with total control over student access, collaboration capabilities, and a simple one-click connection available on any device. Create a real-time whiteboard where participants from multiple locations may connect while you maintain complete control of your session. LiveBoard has you covered.
2. Lucidspark: -Ideas spark
Lucidspark connects students and instructors remotely via a limitless whiteboard, allowing for project collaboration from any place. Lucidspark helps bring classroom concepts to life by erasing regional borders!
Education enters a new era of collaborative and engaging learning with Lucidspark, allowing students to become active players in their own success. They may securely exchange ideas using visual stickies while documenting peer responses as entertaining emoji reactions. Teachers benefit from being able to swiftly examine student contributions on an easily adjustable shared board, which contributes significantly to holistic learner achievement and fits ideally inside our Lucid for Education Learning Suite suite.
What you will receive for free:
3 Lucidspark boards that can be edited
Each Lucidspark board may hold an unlimited number of forms.
Emoji responses have drawn freehand
3. Explain Everything: Learning Opportunities
Connect, collaborate, and create using current materials to streamline your digital teaching experience. Make the most of hybrid classrooms by moving between remote communication options on a regular basis. In order to increase engagement in video material or presentations, include resources in Learning Management Systems.
Incorporate cutting-edge video lectures into your blended learning strategy. Encourage your students to participate and express their creativity by making a variety of multimedia content types available online, such as feedback, pre-training classes, and summaries. To improve knowledge, digitize textbooks, develop lesson libraries, and utilize template audio and visual resources all in one digital environment. That is true teaching effectiveness!
What you will receive for free:
Make up to three projects.
Use one slide for each project.
Take up to 1 minute per slide.
Use up to 500MB of space to share and collaborate.
Frequently Asked Questions (FAQs)
What is the finest virtual training whiteboard?
Miro is the greatest virtual training whiteboard in terms of capability, pricing, user experience, and capacity to facilitate collaboration in an online context.
Which collaborative whiteboards are the best for online training?
The finest whiteboard applications can enable meaningful collaboration in virtual and remote training sessions. We ranked Miro first based on functionality, affordability, user experience, and comments from our own training provider database.
What are the most effective free online whiteboards?
Many online whiteboard programs, like Miro, LucidSpark, Mural, and others, provide a free plan. The free plan typically includes limits in terms of the number of boards and users, as well as limited functionality.