Have you ever wanted a good storage solution but found it either too pricey or difficult to set up and use? You've decided to try a NAS server. You're probably wondering if that was a good investment. Is it possible to get the best NAS software for free?
Today, we're looking into NAS systems that are free but do the job. If you're unsure what you're getting into, here's a quick rundown of how NAS software works. If you're ready, let's get started.
NAS is an abbreviation for network-attached storage. Does that seem intimidating? It isn't.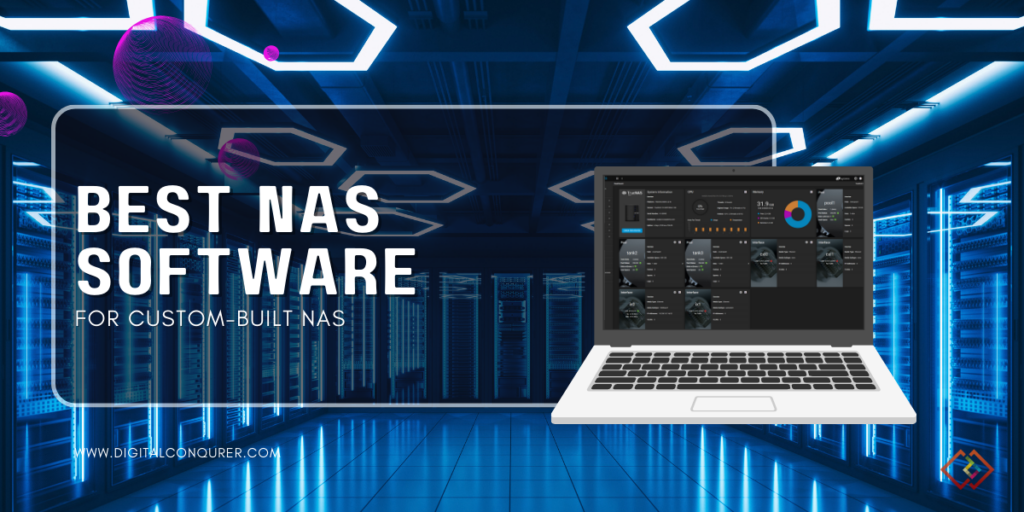 Let's try to simplify: A network-attached storage device is a storage device linked to a network. You've probably heard of cloud computing, ISB sticks, and other comparable storage methods, so you understand how they work. NAS software comes into this category, as well. However, it has a distinct use case:
Locally, NAS OS or software platform stores file-level data for several machines.
This implies you can use NAS as a cloud solution but only on-premises. It's similar to having a virtual storage area that you may retain and use at your business. Any computer on your network can use your NAS device to store, read, or restore data from a centralized location.
NAS is a storage architecture that includes multiple devices, one for executing file access services for other computer systems on the network and one (or more) for data storage.
Many enterprises use NAS to handle data-intensive operations such as digital bookkeeping, video recording and editing, and email systems. NAS is simple to use, inexpensive, and dependable.
What were our selection criteria for the best NAS software?
If you're seeking best NAS software that is also free, the list below has some fantastic possibilities.
Why do we believe these solutions are worth your time? We didn't just muddle them together. We considered factors such as speed, encryption, and backups to guarantee that these free NAS software options deserved spot on our list.
If you're looking for particular, we utilized the following criteria:
Capabilities for versioning
Backups
Capabilities for encryption
File administration
RAID
Security
Storage Space
Operating system capacity
Customer service quickness
Best NAS software in 2023
Selecting the top free network storage software can be difficult. There are hundreds of them, after all.
All of the free NAS software options that were included in this list were put to the test and tried. Some have been used by team members, colleagues, and collaborators. Here it is – the ultimate showdown we created by downloading and analyzing the remaining content. These, in our meager professional opinion, are the best NAS software for 2023.
Rockstar
Amahi
TrueNAS
Openfiler
OpenMediaVault
XigmaNAS
PetaSAN
Turnkey File Server
OpenDedupe
Enterprise Storage OS, or ESOS
Rockstar is successful in being the greatest free NAS software for various applications, providing straightforward answers to challenging issues. It's a wonderful combination of robust, dependable software and sophisticated, configurable NAS servers. We adore that it is non-disruptive yet scalable.
Popular open-source NAS and private and cloud storage solution Rockstar owes its strong base to the openSUSE Linux distribution and convenience features like Docker, Btrfs, and JavaScript. It has several advanced features and integrations, like bitrot protection, compression, asynchronous replication, CoW Snapshots, online volume management, and standard functionality like file sharing through AFP, SFTP, and NFS. It is compatible with ownCloud, Syncthing, Plex, and OpenVPN. Rockstar provides unique solutions for hardware and software projects and gives small and medium enterprises large-capacity storage.
Why is this the best free network storage app?
It can be used as a private cloud or a do-it-yourself personal storage solution.
Features:
Support for the NFS, SFTP, and SMB protocols.
Simple user interface with recommendations and guided navigation.
Data compression, bitrot prevention, and self-healing.
Pool redundancy profiles and shared capacities.
Advantages
NAS deice and cloud storage functionality.
Huge capacity and many RAID setups.
Disadvantages
Several Rockstar parts require payment.
Although Rockstar is commonly known as a do-it-yourself network access system, Amhai has much to teach. This amazing NAS device is a no-brainer for novices; experienced users will find it powerful enough. Amahi's modular architecture is largely responsible for its user-friendliness.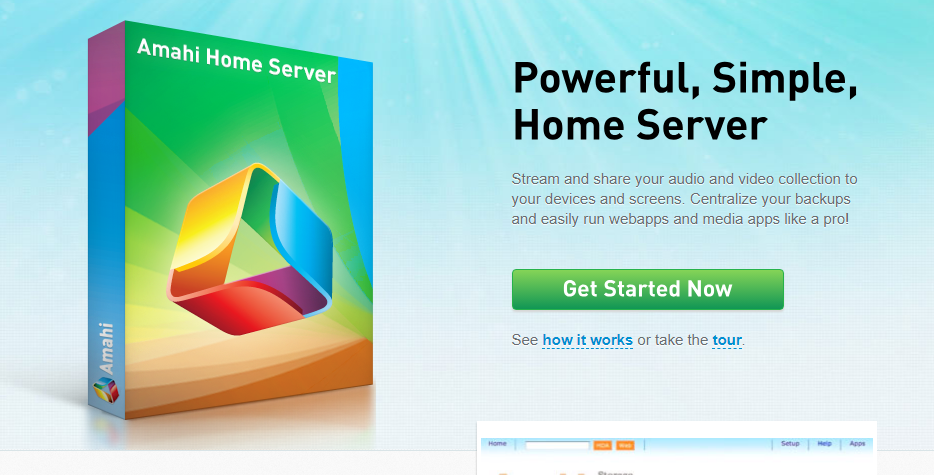 Marketed as a "Home Digital Assistant", Amahi makes networking at home easier. You may use it to share private apps like calendars, control file access, backup your personal computers, and configure a virtual private network (VPN) for your home network. With its cross-platform interoperability and GNU/Linux foundation, you may link your PCs to your Xbox, PlayStation, and other devices.
Why is this one of the best NAS software?
When we gave it a try, we didn't belive it:
You can install Amahi on your computer in less than fifteen minutes with a Linux DVD.
Features:
Excellent backup alternatives (including Amahi Time Machine, SystemRescureCD, Samba, AFP, and periodic).
iCal and Outlook user interfaces; support for disc monitoring; native VPN solution.
Advantages
It can function as a dedicated home server.
Suitable for novices and experts alike.
Disadvantages
Upgrades are challenging for novices.
For those who have searched without success for FreeNAS, this previous option is now known as TureNAS. TrueNAS stands out from the competition because it is the only free network appliance software enabling ZFS volume encryption, which is a significant accomplishment.
This programme is available in three flavours: Linux-based TureNAS SCALE, which includes additional features like Linux containers and clustering, and the open-source TrueNAS CORE, which costs money. With fantastic features like Fusion Pools, native encryption and VPN, and API keys, the free edition is still feature-rich, Zoneminder, Plex Media Server for TrueNAS, and NextCloud for TureNAS are among the plugins in the list.
Why is this one of the best NAS software?
Features:
Clones, snapshots, and local or remote Linux ZFS applications with a integrated REST API for reporting and analytics apps.
Protocol support for WebDAV, ADP, FTP, NFS, SMB, and Rsync.
Support for iOS, macOS, Windows, Linux, and Android among users.
Advantages
Powerful, adaptable and customizable.
Dependable encryption of ZFS volumes.
Disadvantages
Setting up calls for expert assistance.
Insufficient or out-of-date support materials.
The feature overview of Openfiler is lengthy. To top it all off, to add even more remarkable detail, there's a disclaimer indicating that the functions listed are only a few now available.
Several sophisticated products are divided into five groups that offer robust virtualization of block storage, a wide range of share management functions, account administration, resource/quota allocation, and an industry-standard suite of protocols. We firmly believe that Openfiler is a reliable tool that meets its expectations.
Why is this one of the best NAS software?
Openfiler is trustworthy and packed with features.
Features:
Complete support for Fibre Channel and iSCSI targets is one of the block storage virtualization capabilities.
Replication and synchronous/asynchronous volume migration.
Active Directory, Hesiod, NIS, LDAP, and NT4 domain controller.
File and space quota management per-volume group.
Advantages
Reliable software that is simple to install and configure.
Protocol support and compatibility are extensive.
Disadvantages
When browsing for volumes, the UI looks practically ancient and slow.
Openfiler goes a long time without receiving software upgrades.
If you're seeking good free NAS software for Linux, go no further than OpenMediaVault. It is frequently praised for its next-generation usability, which is ideal for solopreneurs and small businesses. It is built on a modular architecture, making it versatile and scalable via plugins.
Why is this one of the best NAS software?
Because of its simplicity, we rate this NAS solution five out of five stars.
Features:
Web-based administration allows for scheduling, user management, and ither features.
GPT, RAID, quota, ACL, M.A.R.T, SNMP, email, and monitoring options are available.
SSH, FTP, NFS, SMB/CIFS, and RSync support services.
Advantages
Include simple implementation, ease of use, and simple management.
Numerous plugins are available, including antivirus, USB backups, and Microsoft OneDrive.
Disadvantages
If you are a first-time visitor, you may find it difficult to navigate.
There aren't enough alternatives for sharing files.
XigmaNAS is a rebranded version of NAS4Free that offers feature-rich NAS software and numerous added services not found in many other solutions. This one-of-a-kind free NAS software solution is excellent for large organizations with many servers, devices and workstations.
XigmaNAS is a FreeBSD-based solution that allows you to create your own bespoke storage solution that can be as powerful as you require. Unlike many other systems, it receives regular updates emphasizing simplicity and stability.
Why is this one of the best NAS software?
If you require centralization, we believe XigmaNAS is the finest free NAS software for Windows.
Features:
Management and support for iSCIS targets are virtualized.
Portioning with GPT, MBR and ZFS as well as disc encryption.
HAST stands for highly accessible storage for networking.
Works with NAS hard drives, USB flash drives, SSDs, and LiveUSB and LiveCD.
Advantages
Simple deployment, regular updates, and community support.
Shares data between Windows, Apple, and Unix-like systems.
Disadvantages
This isn't a good fit if you've never used Linux before.
Complex navigation and a somewhat perplexing user interface.
PetaSAN uses two free components to build an extensive storage system that is half-NAS. This distinguishes it as a complex hybrid among solutions aimed for simplicity, even better, given its adaptability and scalability.
PetaSAN is built on the Ceph storage engine, a cutting-edge cloud solution. Ceph, which is described as a fault-tolerant, self-healing, and self-adopting system, provides a solid foundation for cloud computing; PetaSAN is a fantastic alternative for large-capacity backups, database servers with numerous simultaneous transactions per second, and MS Hyper-V installations because of this and many other advantages.
Why is this one of the best NAS software?
You've found the greatest free NAS software for businesses and big data analytics.
Features:
Storage clusters can be scaled up by adding more nodes.
Consul service mesh platform and Ceph storage engine.
A system that is fault-tolerant, self-healing, and self-adapting.
iSCSI, CIFS/SMB, NFS, S3, and native Ceph storage are all supported.
Advantages
High-capacity storage that uses the cloud for more space and dependability.
Forums and documentation provide vital community support.
Disadvantages
A sophisticated system that necessitates professional installation and maintenance.
Not suitable for home offices or small-to-medium-sized organizations.
Turnkey File Server is another free NAS software for Linux that we recommend for personal usage. It has an easy-to-use UI and a web-based management that almost anyone can utilize.
Turnkey File Server is built on WebDAV CGI and Samba, and it combines the capabilities of Windows-compatible network sharing with the simplicity of web-based file management for both private and public use.
Why is this one of the best NAS software?
If you run a home office or a small business, we highly recommend Turnkey.
Features:
All popular compression types are supported.
Allows compression of Unix and DOS files.
Automatic data migration and restoration.
SMB, NFS, WebDAV, Rsync, and SFTP are all supported.
Advantages
There are no configuration requirements.
Security updates are released daily.
Disadvantages
There is no iSCSI target support.
Capacity is rather limited.
Although OpenDedupe has been around for over a decade, it is now more relevant than ever. The main advantage of this NAS device is that it can be used for local and online storage. OpenDedupe is built on the SDSF filesystem and can manage massive volumes of data.
Aside from backup, some of the top OpenDedupe use cases include virtualization, long-term retention, and scale-out storage.
Why is this one of the best NAS software?
If you require an effective inline deduplication file system, look into OpenDedupe.
Features:
Variable block deduplication and compression inline.
Cloud storage integration, including Amazon S3 and Glacier.
Optimized replication prioritizes blocks not previously placed on the distant SDFS volume.
AES-CBC 356 Bit encryption for on-premises and cloud storage.
Advantages
You can use it as both local and cloud storage.
Scalable and able to protect large amounts of data.
Disadvantages
It could be complicated to grasp if you are a beginner.
ESOS, as its name suggests, is a "quasi-Linux distribution based on the excellent SCST project". Does that make sense? It is ESOS is not suitable for beginners or corporations seeking a self-managed solution. Nonetheless, it is a powerful free NAS software that many high-volume administrators would appreciate.
The fundamental benefit of ESOS is that it allows you to convert any server with the appropriate hardware into a disc array. This is especially valuable for enterprise San users because it enables sharable block-level storage volumes. The features of ESOS are constantly being added to.
Why is this one of the best NAS software?
For Linux discs, VLFS datastores, Windows NTFS, and VMware ESXI, ESOS is excellent.
Features:
Production and Debug Enterprise RAID controller CLI configuration tools.
Most corporate RAID controllers and Tier-1 server hardware are supported.
Configuration of advanced back-end storage block devices
Advantages
Based on the SCST project, which allows you to convert a server into a SAN disc array.
Regular updates and widespread community support.
Conclusion
Finding the finest free NAS software amid a sea of accessible options can be difficult, especially if you don't know what characteristics you're searching for. It would be best if you now better understood what NAS is, what to look for in the best free NAS server software, and how to choose the best one.
Remember that even the greatest NAS solutions are susceptible to data loss.
You may also read:- NAS Processor/CPU For DIY Custom NAS Home Server