Are you seeking the best product management courses to improve your product management abilities? The challenging responsibilities of product management, project delegation, and product strategy all require specific knowledge about product leadership, a dedicated product team, and continual training. The digital product management courses online can help you gain deep insights and degree to boost your career.
The finest product managers are those who never stop learning. Just because you are a skilled product manager doesn't mean you are an expert in all aspects of product marketing. It is an ongoing process, much like the creation of products. Being a great product manager is more difficult than some people would have you believe. However, if you take a course like the Product Manager Certification Course from PMHQ, you'll at least learn everything there is to know about the basics of product management.
Having a formal certification might increase your chances of landing the job you desire as product management has become a highly sought-after expertise for many firms. There are several online product management courses available that let you learn at your own speed at a reasonable price if you're on a tight budget or timetable.
The top online product management courses give a broad overview of the subject area and include exercises and real-world examples. The teachings should also be equally interesting and accessible on various devices. We assessed more than two dozen courses to whittle down the list based on our primary rating criteria.
How We Picked The Best Product Management Courses?
The Standard Ranking Parameters
There are several things you should think about before enrolling in any online course. The length of the course and whether or not you'll get a certificate at the end are two. When compiling our list, we considered the four following factors.
Time to finish– Online courses come in a broad range of lengths and levels of involvement. Our range of courses includes those that may be completed in a few hours and others that call for weekly study sessions of up to eight hours. To prevent you from enrolling in more courses than your schedule can handle, we've included the approximate time commitment for each course.
Prerequisites are necessary– Although most courses on our list don't require prior knowledge, not all of them are designed for beginners. To help you choose whether a course is appropriate for your objectives or skill level, we've noted who should enroll in each one.
Adaptable timetable– We concentrated on programs with flexible schedules so that you may study at night, on the weekend, or whenever it is most convenient for you. You do not need to be present for any live-streaming sessions or test days because all of the lectures have been recorded in advance.
A completion certification– Some product management certifications online include a completion certificate you can add to your LinkedIn profile or résumé. It is important to ascertain in advance whether your desired job or sector will accept the certificate.
Enhanced Ranking Parameters
While the aforementioned requirements are important to keep in mind for any online course, there could be some extra things to consider while taking an online course in product management. To narrow down our choices, we applied the following sophisticated rating criteria.
The curriculum offers a thorough overview of product management or zeroes down on a particular subject, such as digital product management.

Professors from universities or experienced business people with a background in product management serve as lecturers.

The course incorporates exercises or a practical project for students to practice their product management abilities.

Students gave the course favorable reviews (at least four stars).

The platform used to offer the course is user-friendly.

To guarantee that the course's material is in step with current industry trends, it was recently (within the last five years) created or revised.

The training is useful for test preparation, job seekers, and professionals considering a career change.

For easier study, the course offers transcripts and/or subtitles.
There are, however, a variety of other courses you may look into as well, and we have put together a list of the best product management certifications online listed below.
Best Product Management Courses Online In 2023
Because it offers an introduction to product management that covers everything from product strategy and design through launch and development, this course is our top choice. You may enroll in the course for $599 upfront for four months of access or pay $399 each month to complete it. One of its most distinctive features is this course's inclusion of access to a student community, mentor assistance, and career services, such as resume evaluation and LinkedIn profile optimization. You will receive individualized feedback on your assignments to ensure that you understand the topic effectively. Although the Nanodegree program does not grant academic credit, it was developed by professionals in the field and is available to candidates from all academic backgrounds.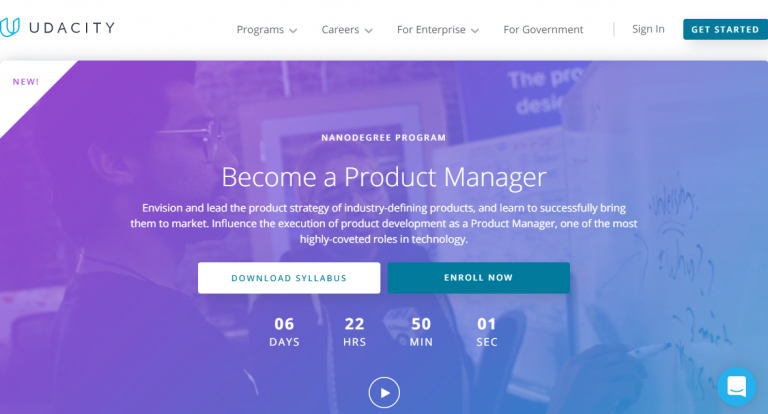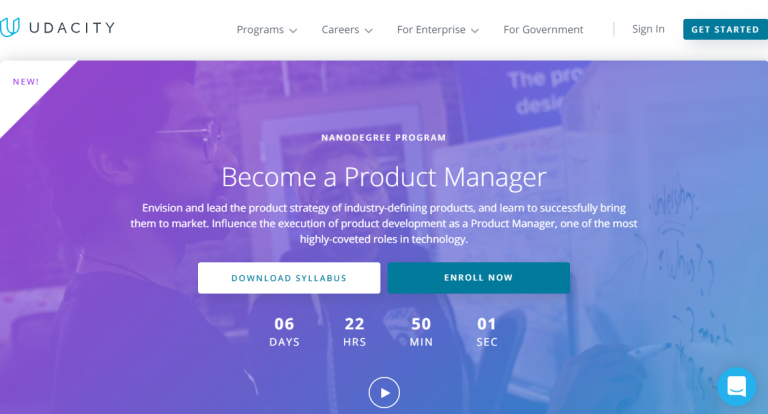 Course Fees: $399 monthly
Course Duration: 10 hours each week for 4 months.
Any pre-requisites: No
Flexible Schedule: Yes
Does this Product Management Course Offers Certification: Yes
The regular cost of this course is $19.99, but you may frequently find it on sale, making it the most reasonable product management training we've listed. It is part of Udemy for Business and intended for those with some product management expertise, making it particularly helpful for upskilling current personnel. With chapters on market information, strategy, new product creation, and lifecycle management, the course covers the whole product lifestyle. You'll get five hours of video content to watch along with a number of practice exercises. How to handle price, sales support, growth hacking, and product obsolescence are further themes.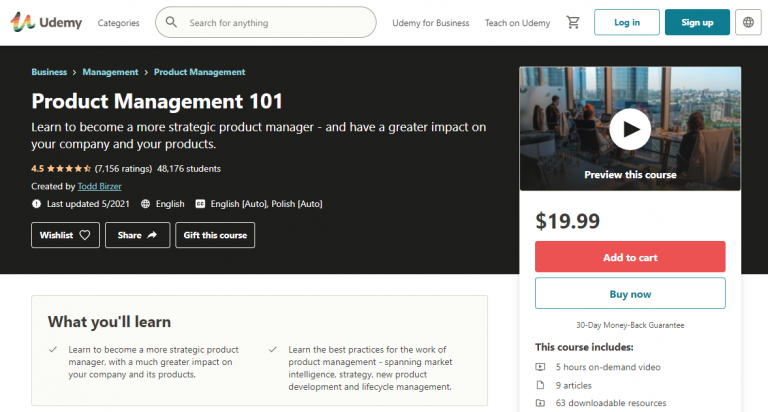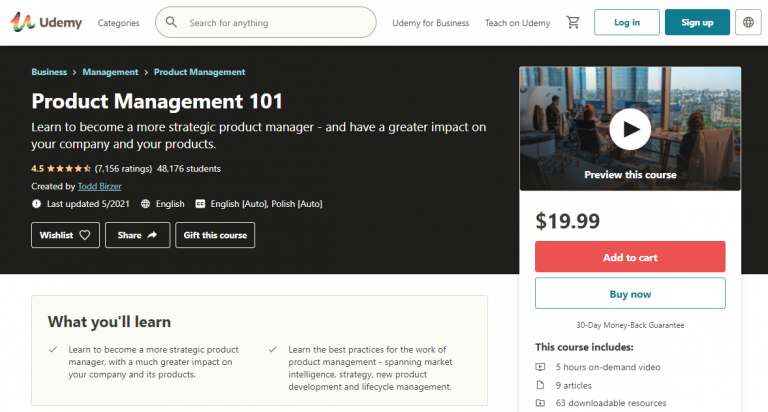 Course Fees: $19.99
Course Duration: 5 hours of video training
Any pre-requisites: No
Flexible Schedule: Yes
Does this Product Management Course Offers Certification: Yes
It was chosen expressly for the Udemy for Business collection to include this product management course. With over 13 hours of content, including videos, interviews, and learning exercises, it is aimed at job seekers and other industry experts. The instructors assert that more than 1,000 course graduates currently hold position as product managers at significant corporations, making this the greatest course on our list regarding professional outcomes. You will gain knowledge of the customer development process, the product life cycle, and the job of a product manager. There are no formal requirements for this course, however the teachers do advise having some familiarity with "basic business concepts".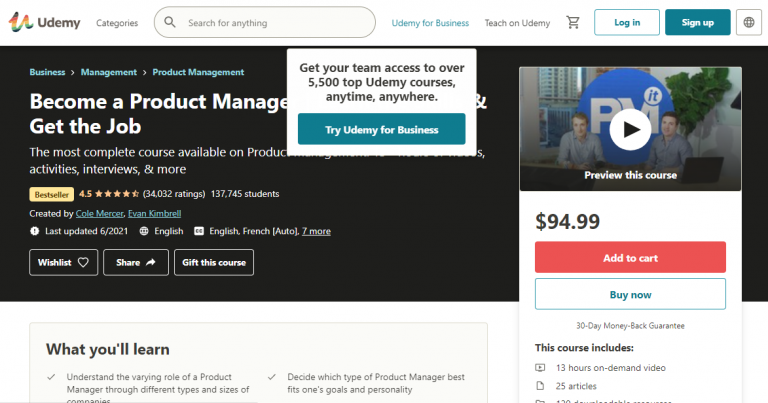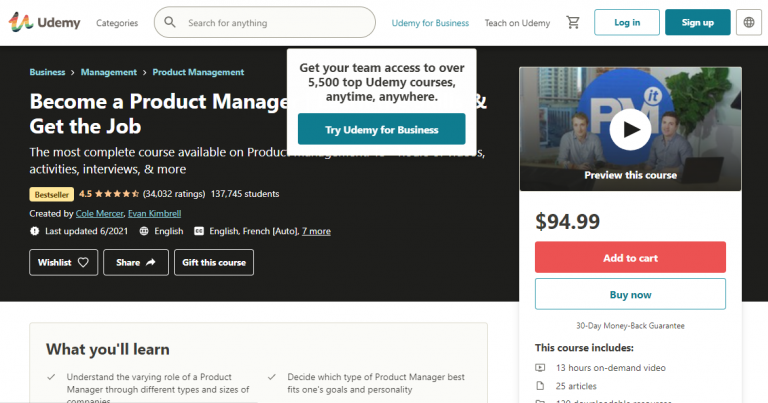 Course Fees: USD 94.99 (Lifetime access)
Course Duration:12 hours and 49 minutes of video training.
Any pre-requisites: No
Flexible Schedule: Yes
Does this Product Management Course Offers Certification: Yes
Professionals who wish to learn about contemporary product management techniques and become Agile Product Owners should take this course. For you to learn from real-world examples and apply them to your ideas or products, the teacher uses case studies from well-known businesses like Apple, NASA, and Getaround.
You'll discover how to leverage product management technologies like Workflowy and Axure and swiftly evaluate your ideas and translate thoughts into product specifications. Other issues are building a product portfolio and managing the product management interview process. There is only "a passion for designing products" as a requirement. To demonstrate your abilities, you'll produce wireframes and an interactive prototype.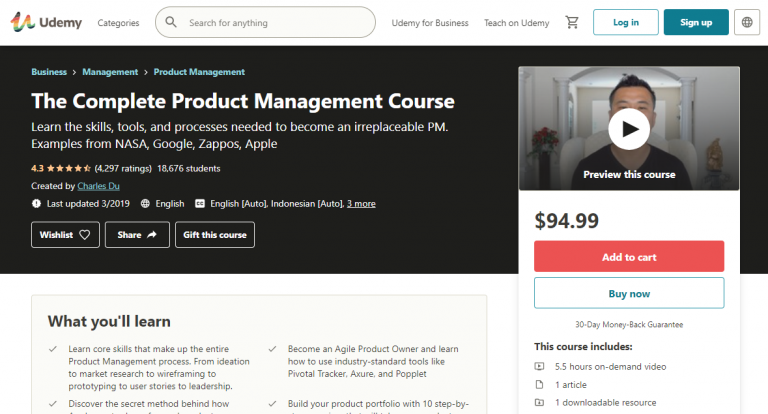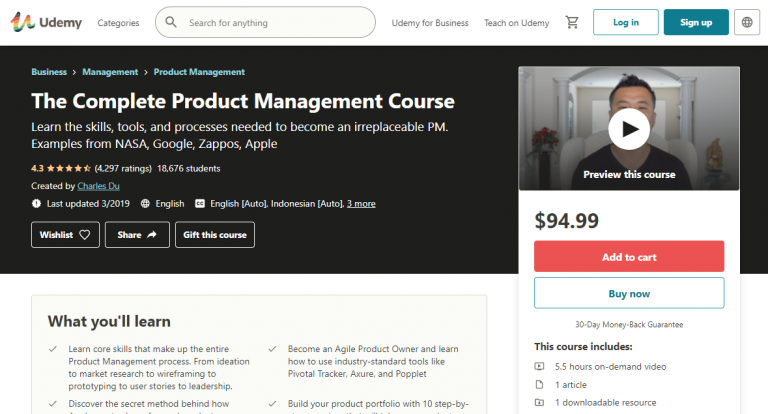 Course Fees: 94.99 USD (Lifetime access)
Course Duration: 5 hours and 54 minutes of video training
Any pre-requisites: No
Flexible Schedule: Yes
Does this Product Management Course Offers Certification: Yes
This course is a wonderful option for people who have completed a product management course and want to strengthen their employment prospects because it focuses especially on interviewing for a product management role. You'll discover the most typical PM interview questions (and how to respond to them) as well as how to create a product portfolio that will awe potential employers. The use of job search websites, upgrading resumes, and learning about a company's goods are further themes. A 30-day money-back guarantee is offered along with the course's five hours of lectures, mock interviews, email templates, and other materials.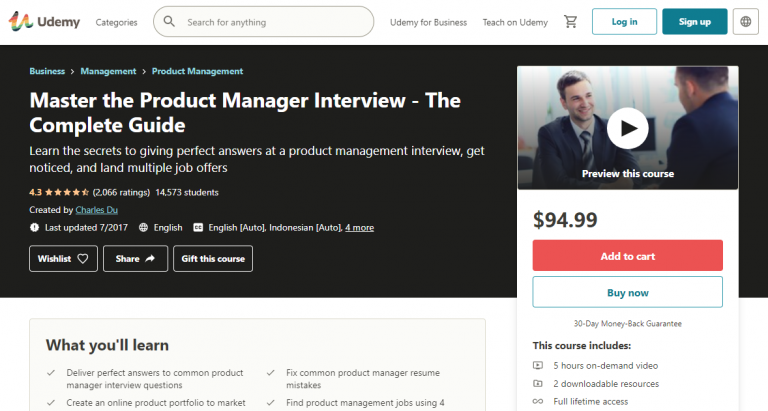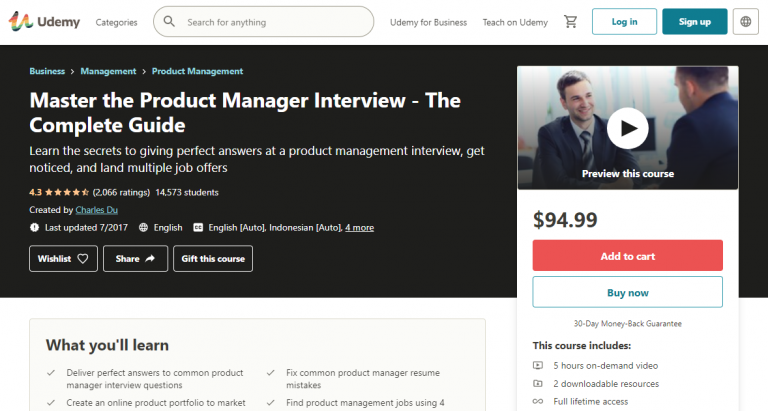 Course Fees: 94.99 USD (Lifetime access)
Course Duration: 5 hours of video training
Any pre-requisites: No
Flexible Schedule: Yes
Does this Product Management Course Offers Certification: Yes
This is the shortest course on our list for students new to product management or unsure if they want to commit to a longer program, and it serves as a solid introduction. With practical projects along the road, you'll learn everything from creating an MVP to A/B testing, assisting you in getting ready for a PM job interview.
User journey mapping, Agile techniques, and usability testing are further issues. The course offers case studies and exercises based on real-world businesses like hotel booking applications and a doctor search tool, despite not being as extensive as some other courses on our list. All 28 lectures may be seen in about five hours.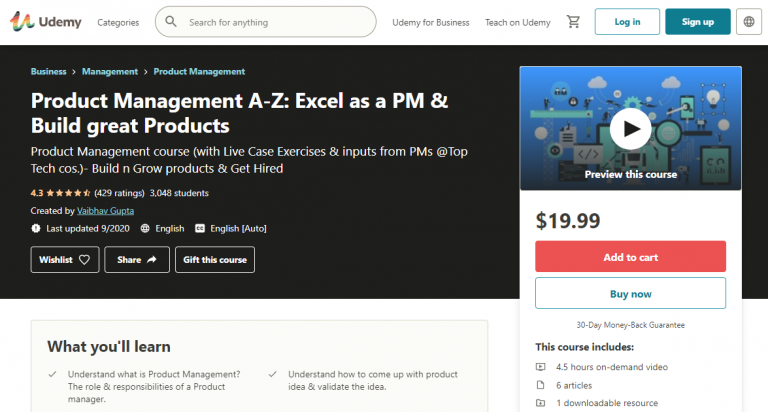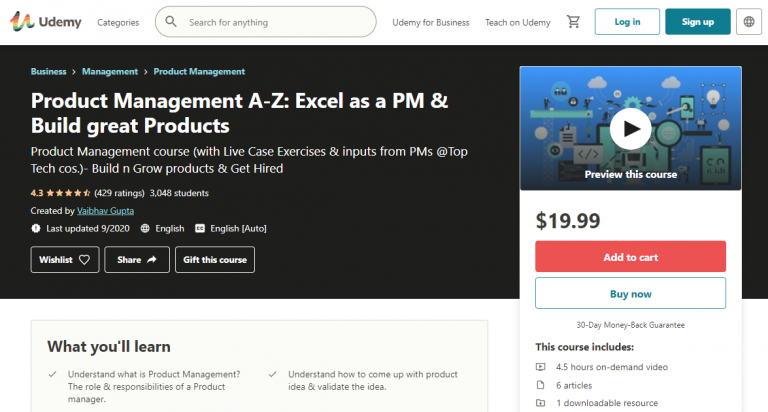 Price: $19.99 – Unlimited use
Time needed to finish: 4 hours, 51 minutes
No prerequisites are necessary.
Schedule flexibility: Yes
Course Fees: 19.99 USD
Course Duration: 4 hours and 51 minutes of video training
Any pre-requisites: No
Flexible Schedule: Yes
Does this Product Management Course Offers Certification: Yes
The University of Virginia's Professional Certificate program includes this online course, making it the most scholarly choice on our list. Enrollment is free. However, a monthly cost applies if you want a certificate; you can post it on LinkedIn or add it to your résumé. Additionally, financial help is offered. Although the course offers flexible deadlines so you may fit it into your schedule, it takes 11 hours to finish.
Topics covered in this course include "Exploring a New Product Idea" and "Amplifying an Existing Product," emphasizing managing digital products that demand regular upgrades. Although the course material is appropriate for beginners, the professors advise having some prior knowledge in software development.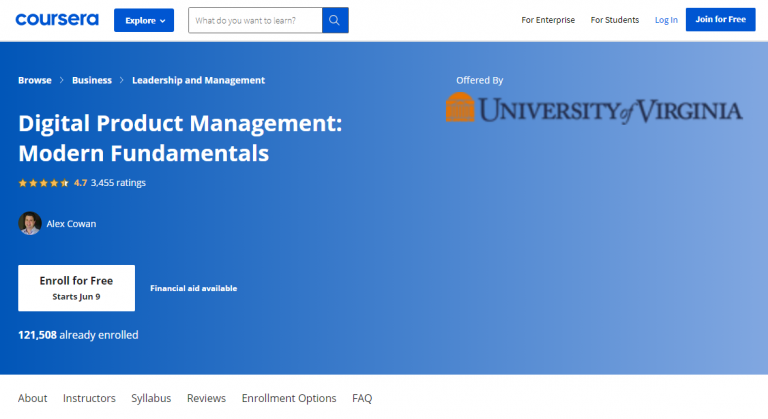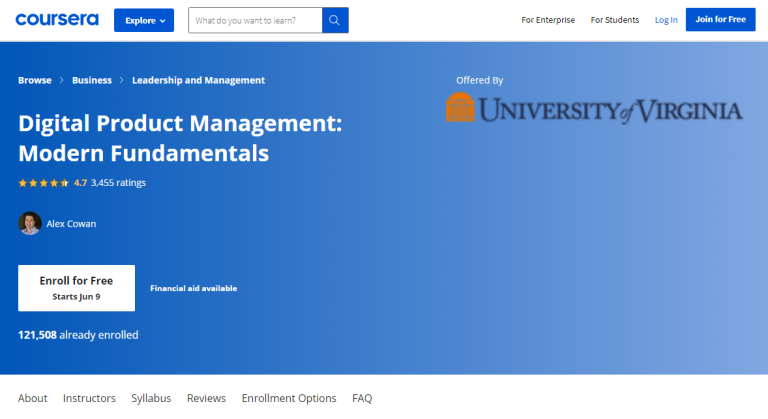 Course Fees: Free to Enroll, Certification Cost: 79 USD / Monthly
Course Duration: 1 Month (15 hours/week learning. You can choose a slower pace with higher pricing)
Any pre-requisites: No
Flexible Schedule: Yes
Does this Product Management Course Offers Certification: Yes
Professor Luis Rodriguez Baptista from the IE Business School in Spain is the instructor for this course. One of the few courses on this list that covers brand planning and development in addition to product management is the first of the five courses in the Marketing Mix Implementation Specialisation.
14 hours of information are available to you, along with video interviews with experts in the field. Nearly 40% of students started new careers or "got a tangible career benefit" after taking the course, claims Coursera, while 19% obtained promotions or salary increases. Enrollment is cost-free, but the whole experience—which includes a certificate of completion, graded assignments, and peer feedback—requires an additional price.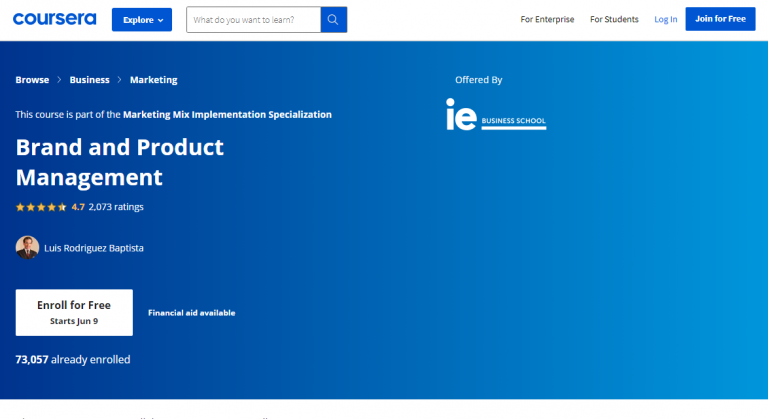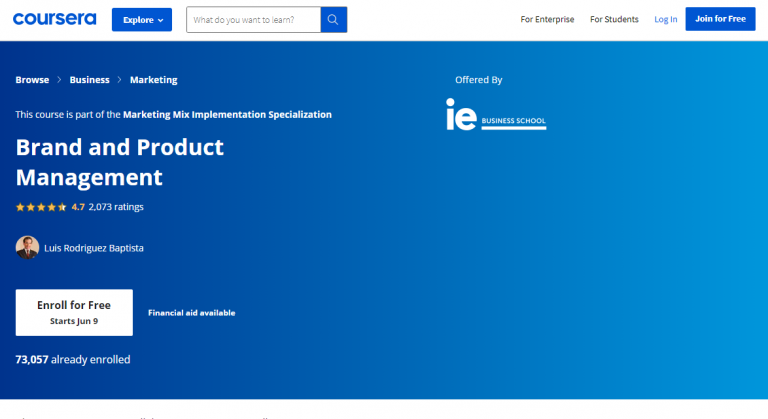 Course Fees: Free to Enroll, Certification Cost: 49 USD
Course Duration: 8-10 Hours
Any pre-requisites: No
Flexible Schedule: Yes
Does this Product Management Course Offers Certification: Yes
This University of Alberta course emphasizes software development utilising Agile approaches. In order to create successful products, you'll learn how to manage your development team and collaborate with customers.
This course lasts around six months, with a suggested weekly workload of three hours. You can audit it for free, but a certificate of completion costs money. You'll also be required to complete a Capstone Project based on a "realistic" product management situation, unlike many other courses on this list. According to Coursera, 27% of students obtained a promotion or a rise in income after completing the program, while 60% started along a new professional path.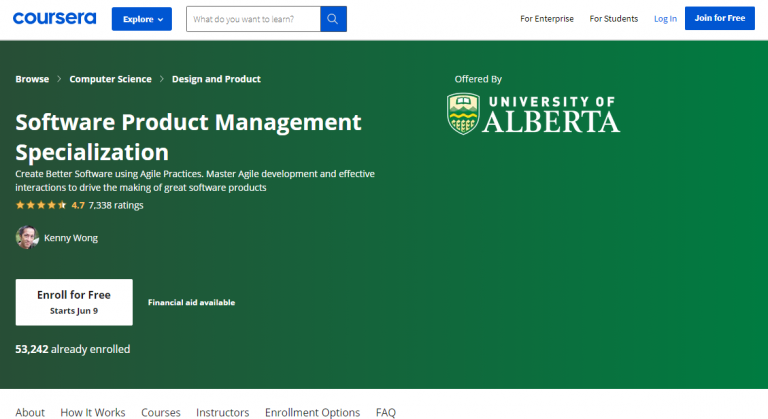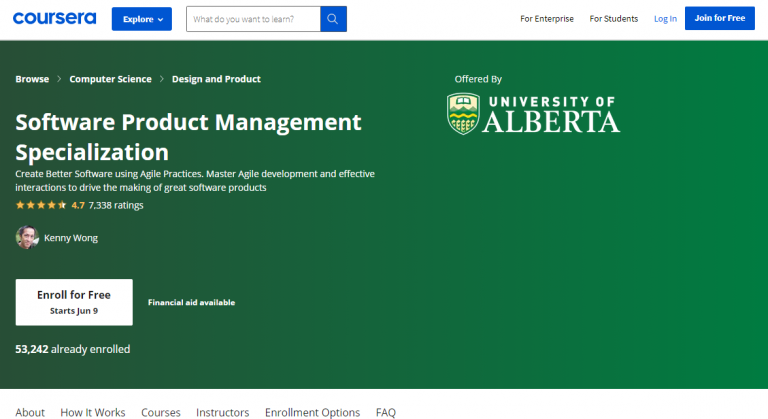 Course Fees: Free to Enroll, Certification Cost: 49 USD
Course Duration: 6 Months (3 hours/week learning. You can choose a slower pace with higher pricing)
Any pre-requisites: Yes
Flexible Schedule: Yes
Does this Product Management Course Offers Certification: Yes
On our ranking, this MicroMasters program's product management course is the most costly, but it's also the most sophisticated. It is provided by Boston University as part of a Master of Science in Digital Technology degree programme, and it can be paired with on-campus instruction. With five graduate-level courses included in the curriculum, the entire programme lasts eight months to complete. The programme, which includes subjects including Driving Digital Innovation via Experimentation and Strategic Social Media Marketing, has the support of well-known companies like Fidelity Investments and Boston Globe Media. You can study the courses in any sequence, but to fully understand the content, you'll need some familiarity with product management and mathematics at the high school level.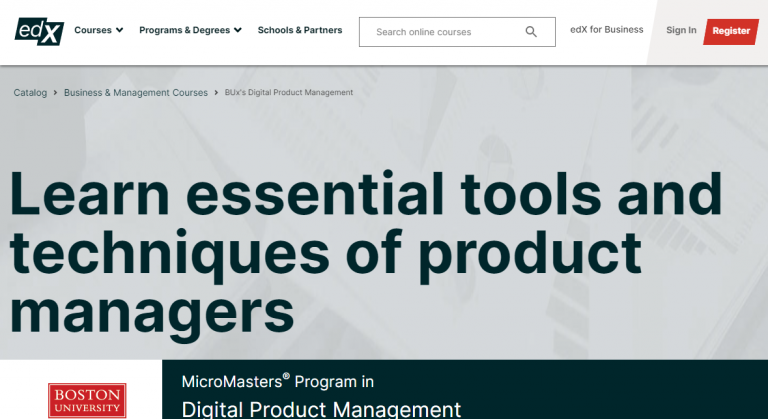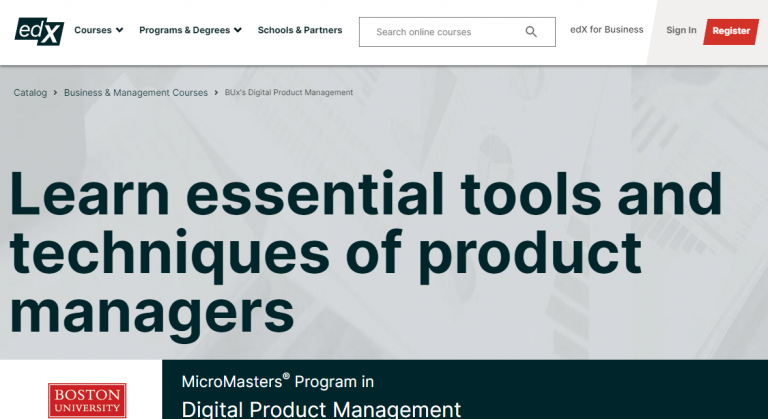 Course Fees: Free to Enroll, Certification Cost: 1995 USD
Course Duration: 8 Months
Any pre-requisites: No
Flexible Schedule: Yes
Does this Product Management Course Offers Certification: Yes
One of Lynda's top product management courses is Becoming a Product Manager. You must register with LinkedIn Learning in order to access the course as Lynda is now part of LinkedIn Learning. The good news is that once you join up, you can access a huge selection of other project management courses and videos on Lynda and LinkedIn Learning.
This course teaches students how to use the tools and procedures for efficient product creation while summarizing all product management principles. Additionally, you study product life cycles and methodologies such as Scrum, agile, and Kanban. You also learn how to do MVP trials, respond to user requests, approach customer development, collaborate with stakeholders, and create mobile apps, among other things.


Course Fees: USD 29.99 / month
Course Duration: 11 Hours.
Any pre-requisites: No
Flexible Schedule: Yes
With a somewhat different approach, this edX course teaches you the fundamentals and frameworks of making decisions based on organizational and economic concerns. You will become an expert in user-centric development utilizing digital tools and comprehend the requirements for customer co-creation.
The training also teaches you how to effectively participate in designing a product and how to comprehend product roadmaps. System design thinking, experimentation, and competitive consideration are used to teach this, and previous roadmaps are consulted for insights.
The training also sets the foundation for developing a go-to-market plan and launching a product. Additionally, it teaches how to create ideas, do customer demand analyses, and define and validate the minimal viable product.


While assisting you in discovering and learning about various ways to agile, lean, and waterfall development, it also offers tools for evaluating projects, businesses, and task risk at scrums or other phases. You will receive a completion badge after finishing several graded tasks. Additionally, there is an abundance of reading material and movies. There is an extra charge to include the certification. The MSc in Digital Innovation program at Boston University may be accessed with the aid of this course.
Course Fees: 900 USD
Course Duration: 6- 8 weeks
Any pre-requisites: No
Flexible Schedule: Yes
Advice on completing an online product management course successfully
1. Think about the price
WHAT IS THE COST OF ONLINE PRODUCT MANAGEMENT CLASSES?
Most of the programmes on our list have a price tag under $100. The quickest is $19.99, which takes five hours, and the longest is $1,995, which takes eight. The length and depth of a course are often what determine its cost.
You might be able to access many courses for the cost of a single subscription because e-learning sites like Coursera and Udemy provide some of the courses.
DO I HAVE TO PAY FOR THE COURSE OR WILL MY EMPLOYER PAY?
Considering the value of professional growth, many firms may have funds set aside for staff education. Ask your supervisor or the HR department in advance, and be prepared to explain to them how it would benefit you to attend this training. They will be more likely to cover it if it is directly tied to your profession.
2. Set up your tech and learning enviornment
No specialized equipment is needed for online product management courses, but you will need a computer with a steady Internet connection that can stream video. If you wish to watch movies at a faster or slower pace, consider installing a browser extension (such as Video pace Controller for Chrome).
3. Select the appropriate study tools
Many books are available to support your course content, but many online courses will provide you with all the study tools you need in the form of slides or downloaded files. For instance, My Product Management Toolkit serves as a good introduction, while Cracking the PM Interview may be beneficial while looking for work.
Frequently Asked Questions(FAQs)
1. What positions are available to graduates of a product management course?
Although the duties of product managers vary greatly from business to business, they often choose which goods are produced and oversee their development. Digital product managers may make up to $100,000 annually, although some employers might prefer candidates who also have a certain degree, such as an MBA or a degree in computer science, in addition to their product management certification.
2. Are there any free online courses in product management?
Of course, free product management courses might not offer a credential and might not be as thorough as paid ones.
3. How long does a typical online course in product management last?
While some courses may be finished in one sitting, others call for a commitment over the period of several weeks or months. A basic product management training should last about 12 hours on average.
4. Are technical skills necessary to be a product manager?
A variety of business, communication, marketing, and other abilities are needed for product management. Product managers don't need to be experts in technology or know how to code, but they do need to have enough technical understanding to discuss digital products with their whole team.
5. What exactly does a product manager do all day long?
Product managers are involved in everything from high-level planning to user research. They can be required to work on technical documentation, present a product plan to the entire firm, and keep an eye on customer input on each given day.
6. What is training in product management?
People who take product management courses learn how product managers carry out their duties. The course includes customer experience design, business analysis, project management, internal and external communication, and understanding the market for your product so that it fills a need in the marketplace.
7. What are some illustrations of training courses in product management?
When you look for product management training programs, you have a lot of choices. Some provide lectures on software process principles or specialized skill training programs to manage organizational change. Others provide more comprehensive certificate-level education programs that enable students to gain practical experience in all facets of product creation, from ideation through development and execution.
8. What kind of product management education is the best?
Based on your experience, the abilities you need to develop, and the priorities of your position, the finest product management training is the most efficient for you.