Spice mobile have revealed the new dual SIM Spice View D which can proudly claim to be the first mobile with 3D display launched in India. Spice View D will be an affordable phone with 2.4-inch 3D screen display, Video player, 3.5 mm audio jack, internal memory and expandable memory up to 16GB. The Spice View D mobile phone comes with a 3D image and video viewer and even the user interface has got the 3D effect. The phone houses a 2 megapixel camera, FM radio, MP3 player, Bluetooth with stereo options and also supports Dual SIM (GSM+GSM).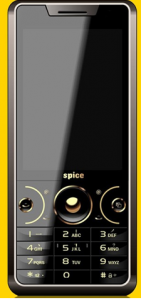 There is not much information available as to if the Spice View D 3D phone camera can capture images in 3D mode, highly unlikely, but if it can would be an added advantage. The View D can also be used as a modem. If this phone gets stolen or lost using the remote wipe option the data can be erased remotely.
According to Spice Mobility Vice President (Marketing) Naveen Paul, the 3D mobile market remained untapped, until now, they are really excited about the launch. Indian markets demand innovation that are also reasonably priced. 3D is getting popular in India and more and more devices will soon support 3D which will in turn give rise to more 3D contents.
Spice mobile have also launched a TV commercial for the product along with other activities. 750 Spice Hotspot retail stores will soon start selling this 3D mobile handset along with more than 50,000 retail points. Now users can enjoy images and videos experience in 3D without the 3D glasses through Spice View D. The Spice View D 3D Phone would be available through more than 50,000 retail points, including 750 Spice HotSpot retail stores.
Spice View D Price in India:- Spice View D 3D Phone will be available for Price of Rs. 4299 in India.
View full specification here