Do you want to buy a decent earphones on a tight budget? There are so many options available online which makes the decision even harder. Well, we have got your back.
Today, we will be sharing some of the best earphones under 500 INR that you can easily opt for its best music quality.
We all know that music makes us feel good in sadness and live in happiness, right? Well, you need to get a perfect sound quality earphone in order to take your music experience to the next level.
Here are the six best earphones under 500 Rs. you will love!
| | | |
| --- | --- | --- |
| Best Earphones Under 500 Rs. – 2021 List | Our Recommendation | Price & Where to Buy? |
| pTron Tangent Lite Bluetooth Wireless | Best Performer 🎖️🎖️🎖️ | Rs. 499 |
| Xiaomi Mi Earphone Basic with Mic ( Wired) | Best Buy 🏆🏆🏆 | Rs. 429 |
| Ambrane Stringz 29 Wired Earphone with Mic | Value for Money 💵💵💵 | Rs. 399 |
| Redmi Hi-Resolution Audio Wired Headset with Mic | – | Rs. 399 |
| Boat Bassheads 102 in-Ear Wired Earphones with Mic | – | Rs. 399 |
| Boat Bassheads 100 in-Ear Wired Headphones with Mic | – | Rs. 379 |
1. pTron Tangent Lite Bluetooth 5.0 Wireless Headphones
If you want to buy the cheapest Bluetooth earphones, pTron is the brand you should be looking for. Their Tangent Lite Bluetooth 5.0 Wireless Headphones comes with a lightweight and stylish design. The earphones are strong, stable, and comes with optimum power optimization.
It is worth noting that the ergonomic sports design of pTron Tangent Lite makes it sweat-resistant, which means it is also helpful inside the gym. Some of the worth-mentioning features of these earphones include 6 hours of music and talk time, passive noise cancellation, and 200 hours standby time. It is compatible with all sorts of smartphones and tablets.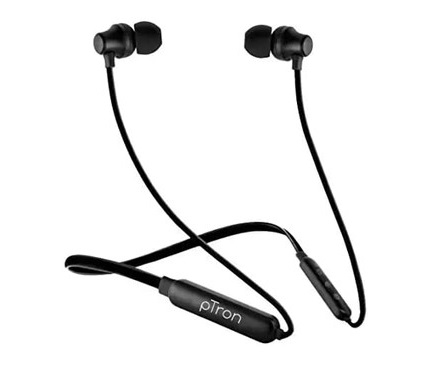 Moreover, the micro USB charging lets you charge the earphones and you will also get a charging cable. In the box, you will receive a Bluetooth neckband, a USB charging cable, and a manual. Lastly, the product comes with seven days replacement offer and a 1-year-warranty.
Pros
Long battery life
Magnetic earbuds
Button controls and microphone available.
Cons
It isn't splash-proof.
Terrible bass
Price
You can buy the pTron Tangent Lite on Amazon for 499.
2. Xiaomi Mi Earphone Basic with Ultra Deep Bass and Mic
Xiaomi is a renowned brand and it presents its quality budget earphones in the Indian market. Trust me, the sound quality of Xiaomi Mi Earphone Basic is superb. It comes with deep bass and a good treble.
Moreover, the mic quality is amazing, the earphones come with an aluminum casing, and the length of the cable is 1.25 meters. It is worth mentioning that no other brand is offering aluminum casing at this price range. Moreover, the company has specially customized these earphones for Indian customers.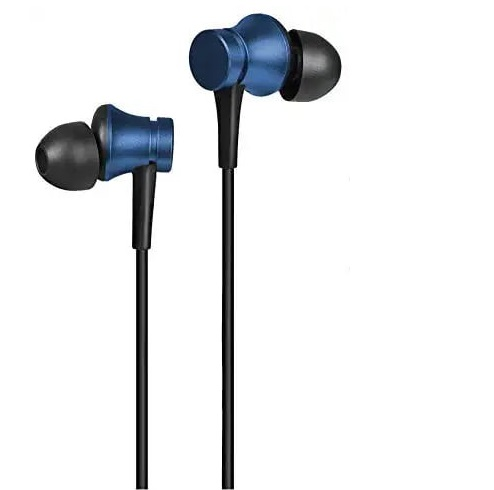 The silicon earbuds have been specifically designed to fit without compromising comfort. The Mi Earphone Basic is compatible with Android as well as iOS devices, and of course, Xiaomi smartphones. The product comes with six months warranty
Pros
Super extra bass
Inbuilt mic
Anti-slip design
Outclass look
High-quality silicone earbuds
Tangle-free cable
Strong L-shaped Aux
Cons
Limited colors available
No Volume control buttons
No Bluetooth
Price
The price of Xiaomi Mi Earphone Basic is 429.
3.   Ambrane Stringz 29 Wired Earphones with Mic
It is one of the most pocket-friendly earphones with powerful music performance providing High Bass with powerful HD audio for outclass experience. Its Ear Fit design allows you comfortable long-hour usage.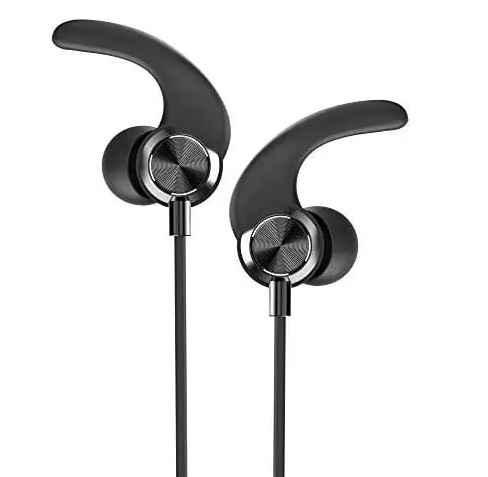 It has Integrated Multifunction Control so you can Play/Pause music, Accept/Reject calls, and control volume according to your comfort. The Ambrane Stringz 29 in-line mic allows you disturbance-free conversations. Moreover, it carries a user convenience design with soft silicone ear tips, 3.5mm Jack for easy connectivity, and 1.2mm tangle-free cable for easy usage. These music earphones offers ear hooks in its anti-slip design to provide a durable hold in your ears even when you are on the move. This product is available on 6 months warranty.
Pros
High Bass with HD audio
Integrated Multifunction Control
Volume Controller
2mm tangle free cable
5mm Jack
Silicon ear tips
In-line mic
Anti-slip design
Cons
No Bluetooth
Only available in Black color
Price
It is available on Amazon at 399.
You May also like: Best Budget Laptops under 25000
4. Redmi Hi-Resolution Audio Wired Headset with Mic
Redmi presents its high-resolution audio wired earphones which are lightweight (13g) and provides you lively audio experience. These budget earphones under Rs.500 has an Aluminum sound chamber and 90-degree angle Audio Jack to assist its durability and connections. It provides dynamic bass with crystal clear vocals.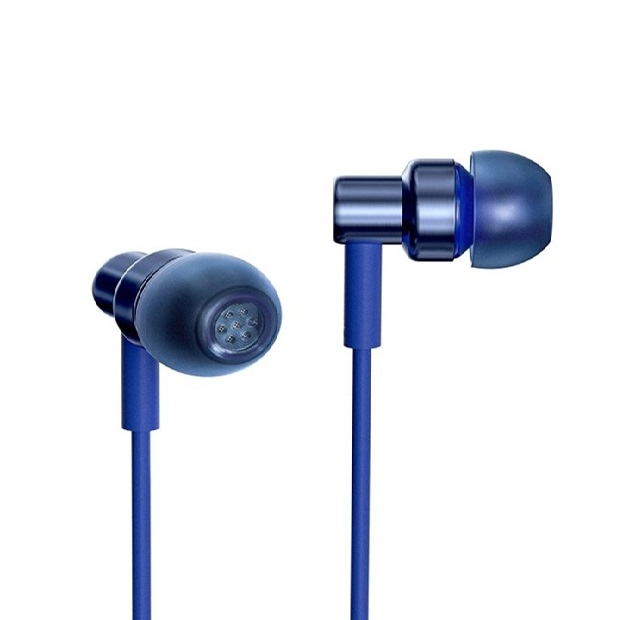 Moreover, it has a 1.25m Y-shaped strong and flexible cable and Anti-wax Earplugs for a clean and smooth experience. It carries an In-built Mic to enhance your call quality and In-line Multifunction Button which provides outclass experience. It is available in Blue, Red, and Black colors with a sleek design. 6 Month Warranty is offered on this product.
Pros
High-resolution audio
Aluminum sound chamber
Lightweight
Reinforced 90-degree angle audio jack
In-built Mic
In-line Multifunction button
Anti-earwax Earplugs
Three color choices
Cons
No Bluetooth
No anti-slip design
No volume control button
Price
Redmi Hi-resolution earphones are available right now for only rupees 399.
5. Boat Bassheads 102 in-Ear Wired Earphones with Mic
We all know that the Boat is a well-known brand which is popular for its earphones, speakers, and headphones. The Bassheads 102 in-Ear Wired Earphones with Mic by this brand is one of the best earphones under 500 available in India. It comes with 8mm drivers to give you an immersive sound experience.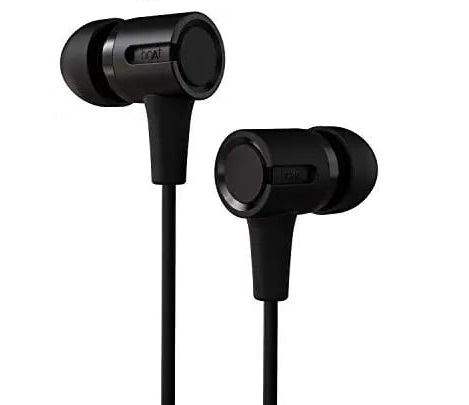 As the name suggests, this product also features an inbuilt mic. And we cannot forget to mention the buttons available to control the flow of music. Using these buttons, you can answer a phone call with just a single tap. The length of the cable is 120 cm which means these earphones are perfect if you want to plug music and keep your smartphone in your pocket. It is worth noting that the earbuds are made of plastic and perfectly fit your ear.
Pros
Immersive audio
Shiny detailed finish
Equipped with a 3.5 mm angled jack
1-year warranty
Durable PVC cable
Comes with additional earbuds
Cons
The design is not so attractive
Bad build quality
Price
You can get these amazing earphones for just 399.
6. Boat Bassheads 100 in-Ear Wired Earphones with Mic
Lastly, we have another product from Boat. This headset comes in several colors and the sound quality of this product is decent enough for the price. The earbuds are made up of plastic and the design of Bassheads 100 is simple and functional.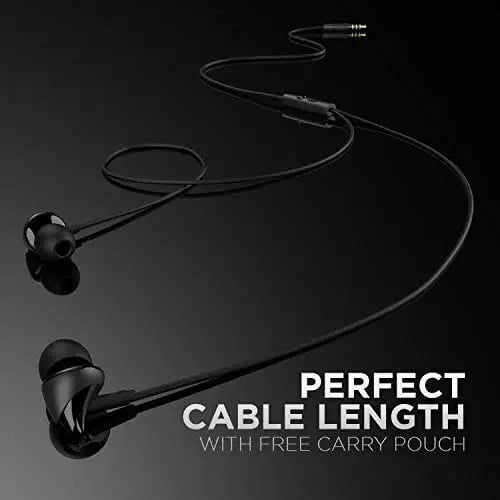 It is worth noting that connectivity is through a standard 3.5mm plug. Moreover, the sharp edge makes it look beautiful and the sound quality is also soothing. In simple words, it is a durable, good-quality earphones under INR 500 that offers deep bass.
Pros
Good design
Plenty of colors available
Clean sound
Good soundstage
Good value for money
Cons
Cable noise is significant
Dull-mid range
Price
These earphones are available at an affordable price of 379.
Verdict
The under 500 Rs. earphones market is over-crowded, and its get lost on sea of offerings on Amazon and Flipkart. However the list of headphones we have handpicked are tried and tested by our team, and you won't make a bad choice buying any of the six..
These budget earphones are best in all aspects such as build quality, sound quality, etc. You might have a preference of pure music or call centric headphones, wired or non-wired earphones, so you can cherry pick the most suitable ones by using our Pro's and cons.