Nowadays, a laptop is necessary for everyone and buying one that fits your requirements can be confusing. Moreover, the best models are available at higher prices. Are you looking for the best budget laptops under 25000 in India? If yes, you are have arrived at the right place.
Today, we will be telling you about some of the best budget laptops in India under 25000. When we are planning to purchase a laptop, budget is a constraint for most of us. However, you don't need to worry. There are many options available out there in the market.
How We Selected The Best Laptops Under 25000 For You?
Instead of going after core i3 or AMD equivalents which are all priced above INR 30,000, we have found laptops that offer higher performance per rupee instead of generation of the laptop or its number of cores. As we're left budget laptop processors, we've preferred the laptops with SSD or flash storage. You get less storage but 3-5X higher speed i.e. faster bootup, faster application loading times and superfast data copying. You'll also find some unique laptops like mini-size 10.1-inch notebooks as well touchscreen ones. 4GB is the minimum and maximum RAM of all of the selected laptops under Rs. 25000 available in India as of February 2022.
Quick Recommendations
In a rush? – Check out our quick comparison below based on price and short recommendations.
| | | | |
| --- | --- | --- | --- |
| LAPTOP | PRICE | OUR RECOMMENDATION | WHERE TO BUY? |
| LENOVO IDEAPAD D330 | RS. 23,570 | BEST BUY 🏆🏆🏆 | BUY NOW |
| ASUS VIVOBOOK 14 (2020) | RS. 24,990 | BEST PERFORMER 🎖️🎖️🎖️ | BUY NOW |
| HP CHROMEBOOK 14A-NA0003TU | RS. 24,983 | – | BUY NOW |
| LENOVO E41-45 (82BF000JIH) | RS. 22,410 | – | BUY NOW |
| ASUS EEEBOOK 12 | RS. 17,990 | VALUE FOR MONEY 💵💵💵 | BUY NOW |
| COCONICS ENABLER LAPTOP | RS. 21,009 | – | BUY NOW |
Best Laptops Under 25000 in India
The first one on our list is a laptop from Lenovo, one of the most trusted brands in the market. This laptop features a touchpad underneath the keyboard. And on the left side, the company has installed a standard headphone jack.
It is worth noting that the battery life is outstanding, the laptop comes with a 10.1-inch display, and it is powered by an Intel Celeron N4000 processor. 4GB RAM and 128 GB ROM along with the front as well as the rear camera make it one of the best options under this price range. Moreover, the IdeaPad D330 comes pre-loaded with Windows 10 Home and a 1-year-warranty.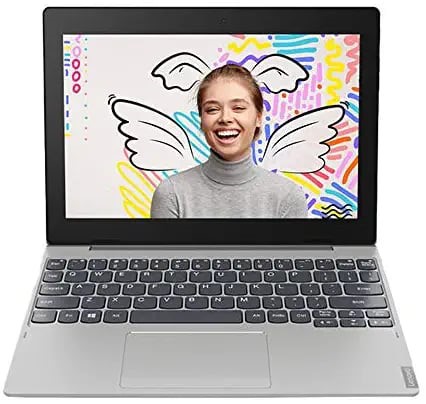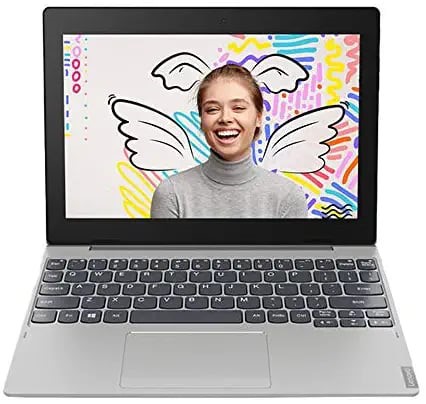 Pros
Bright IPS display
Impressive Battery life
Pen support
Cons
Only on USB Type-C port
No keyboard backlighting
Price
Right now, it is available at a price of 23,570 INR.
In simple words, this is a compact and slim laptop with just the right amount of storage and power. Overall, the VivoBook 14 has an amazing performance. The 14-inch laptop features 4 GB RAM, 1 TB HDD, integrated graphics, and comes pre-loaded with Windows 10 Home.
The company has used a plastic chassis, which feels very sturdy due to the high-quality plastic. It is powered by Intel Pentium Silver N5030 Processor and comes with a 2 cell Li-ion battery. It is worth noting that the Intel Optane memory support help speeds things up even more. In the box, you will receive a laptop, charger, and user manual. The product is also lightweight, weighing just 1.5 kilograms.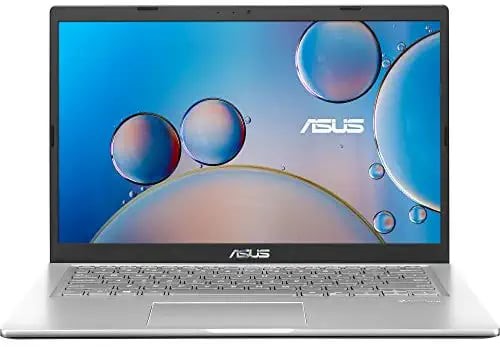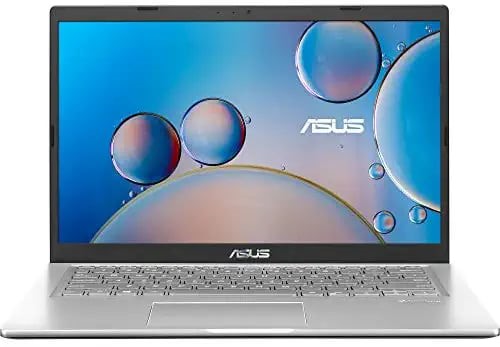 You can buy this as the Best Performer from our selected list of best laptops under 25000 Rs in India.
Pros
Available in multiple colors
Comfortable keyboard
Fast SSD
Cons
The display has weak colors
Battery life is short
Price
The price of ASUS VivoBook 14 is 24,990 INR.
You might also want to check out – Best laptops under Rs. 35000 (2022)
If you are looking for a laptop with a powerful battery, then the HP Chromebook 14a-na0003TU is the right choice for you. Why? This laptop comes with a battery life of up to 12 hours. And talking about the audio quality, the product features dual speakers and audio by B&O PLAY, so you can expect an amazing sound quality.
Moreover, it features built-in voice-enabled Google Assistant and since it is powered by Chrome OS, the software will be automatically updated. Now, the most important part of a laptop is its processor, right? This laptop is powered by Intel Celeron N4020 and has a 1.1 GHz base frequency and up to 2.8 GHz burst frequency. Lastly, it has 4GB DDR4-2400 SDRAM along with a 64 GB eMMC hard drive. Don't worry about the hard drive, it is expandable up to 256 GB.

Pros
Responsive for light web tasks
Sufficient USB ports available
Excellent battery life
Smooth matte finish
Cons
Colorless low-res display
Cannot handle multitasking
Price
You can buy HP Chromebook on Amazon for just 24,983 INR.
Here's another laptop from Lenovo that makes it to our list of best laptops under 25000. The Lenovo E41-45 comes with a big 14-inch screen, one year warranty, one TB HDD, 4 GB RAM, and is powered by Pentium Dual-Core Processor.
Moreover, graphics are powered by Intel HD Graphics. It is worth mentioning that this laptop is suitable for multitasking and comes pre-loaded with Windows 10 Home.
However, you might want to note that it is a heavyweight product, weighing around 2.48 kilograms. Compared to other laptops featured on this laptop, Lenovo E41-45 doesn't have a good battery. It comes with a 6-cell Li-ion battery that can last up to four hours. However, it is still a powerful laptop with lots of storage available, so it had to be added to this list.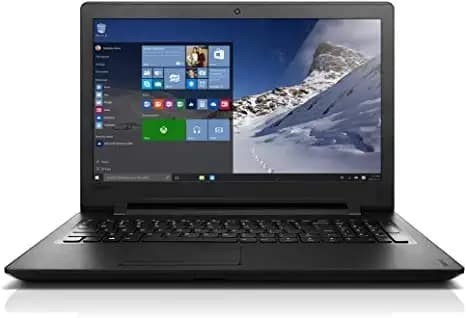 Pros
Backlit keyboard
1 TB Storage capacity
Dolby sound
Cons
No optical drive
No anti-glare screen
Price
You can buy this powerful laptop for just 22,410 INR.
This laptop is noted for its long battery runtime and noiselessness. And it is also lightweight. Surprisingly, the device weighs less than one kilogram. This slim laptop comes with an 11.6-inch display and is powered by a Celeron processor belonging to the Apollo Lake generation.
Powered by Intel HD Graphics 500, the laptop is made of plastic with a matte finishing. Overall, the build quality is convincing. It offers good connectivity, has three USB ports that support the USB 3.1 Gen 1 standard, and there is also a video output available. The memory card reader is installed on the device and the laptop utilizes a Wi-Fi chip by Qualcomm.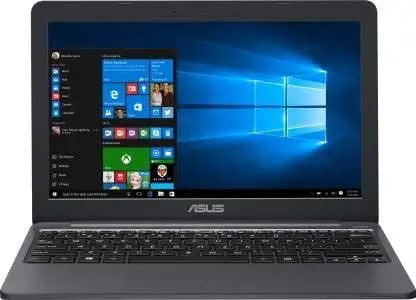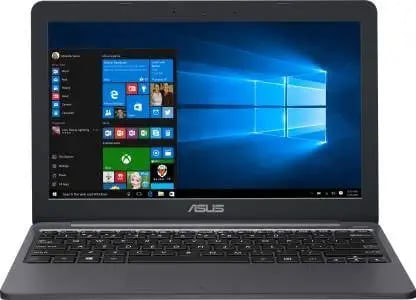 The processor works at a base speed of 1.1 GHz which can be boosted up to 2.3 GHz via Turbo. It is worth mentioning that the processor works at full speed in AC as well as battery modes. The combination of its CPU and GPU can smoothly run various games at a low resolution and on low-quality settings.
We have selected this as a Value for Money buy when you're considering to buy laptops under 25000.
Pros
Bluetooth available
Weighs 0.99 kilogram
Long battery life (up to 10 hours)
Cons
64 GB SSD capacity
No fingerprint scanner and optical drive
Price
The price of the ASUS EeeBook 12 Celeron Dual Core is 17,990 INR.
And at the very last of our thoughtfully curated list of best laptops under 25000 Rs., we have an OEM brand laptop with an Intel Celeron N4000 processor, which is a double core SoC. To offer the best quality sound, this device features a built-in amplifier as well as two implicit speakers. We would say that this laptop is best for student use, watching videos, web browsing, and basic tasks.
This highly portable device fulfills all the basic needs of a laptop user. However, since it is a budget laptop, you cannot expect heavy tasks such as gaming. The laptop features an 11.6-inch FHD display, the Intel Celeron Processor N4000 runs the device with the variable frequency from 1.1 GHz to 2.6 GHz, and the Coconics Enabler Laptop C1C11 has a 64 GB eMMC SSD storage as well as 4 GB RAM.
Coconics is an OEM manufacturers now into retail manufacturing under the Make in India initiative pushed by the PM of the country.
Pros
Lightweight
Feather in touch
FHD Display
Decent battery life
Decent processor
Cons
Weak camera
Less storage capacity
Price
The price of the Coconics Enabler Laptop is 21,009 INR.
Verdict
So, these were some of the best laptops under 25000 in India. Which of these did you like the most? And which one you are going to buy? You can follow links given in this article to buy these laptops on Amazon. These are some of the best yet affordable options available.
We can surely say that a laptop is now a necessary household item in this modern era, right? This indicates that buying a laptop which fits your requirements is essential. It is recommended that you first check the features of a laptop and see whether these features fulfill your requirements or not.