Discover the "Best UX Designer Courses Online" meticulously ranked for their value and quality. Secure your future in the booming field of UX design.
Here, we rank the top UX design programmes. Our staff evaluated the instructor's knowledge, the breadth of the course material, and the overall value. Why are these UX design classes valuable, then?
Through 2031, the Bureau of Labour Statistics projects that employment in web design will increase by more than 20%. This includes lucrative UX design positions. The same source lists wages that are much higher than the national average. Therefore, how can one learn UX design? We looked at a few of the top programmes for UX designers.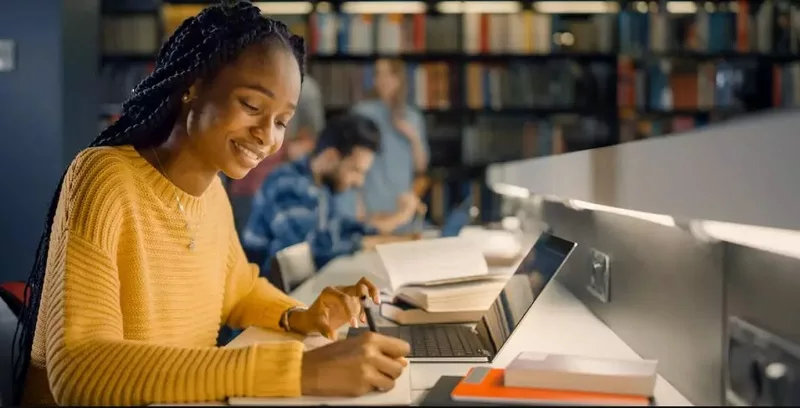 Below, we review each program's worth and suggest the best UX designer courses online to take in 2023.
Why Is User Experience (UX) Important?
UX is the term used to describe how a person feels overall when interacting with a service or product, such as an app or website. User Experience includes all facet of a user's interactions, from the product's branding, functionality, and usability to its visual design and look. There various types of courses for ux design, degrees for ux design are available online.
UX is obviously quite important, so let's look at some of the major factors that will make it so crucial in 2023:
It provides a memorable experience: A company may define a client's journey on their website, app, or product with the aid of excellent UX, leaving a positive first impression and boosting the likelihood that the consumer will come back or recommend the company or product to others.
It can distinguish a good or service: Businesses that sell the same or comparable goods or services are almost carbon clones of one another. A company may feel distinctive and stand out from rivals in the same sector with the help of excellent UX.
Great UX makes a product or service accessible, approachable, and unintimidating, so people may be more likely to engage with it. This might lead to a rise in user engagement.
It can cut back on development expenses: Early UX investment can save development costs since designers can foresee and fix possible problems before they arise.
It enhances accessibility: UX design is fantastic at making sure a good or service is available to everyone, even those with special needs.
The Top 11 UX Design Programmes for 2023
Key Features
Daniel Walter Scott is the course instructor.
No prerequisites
On-demand video is 9.5 hours long.
Paid or Free: Paid
Authentication: Yes
Students Enrolled: 170,000+
Level: Novice
Score: 4.7/5
Why We Selected This Path
Daniel Walter Scott, a UX designer with 20 years of experience and an Adobe Certified Trainer, is the instructor for this Udemy course. He also manages BringYourOwnLaptop.com, which offers a variety of Adobe classes and tutorials.
Our research reveals that Scott covers the foundations and necessities of UX design in this course, including using Adobe XD. It has a well-designed curriculum and is excellent for novices because it's taught in a pleasant and interesting approach.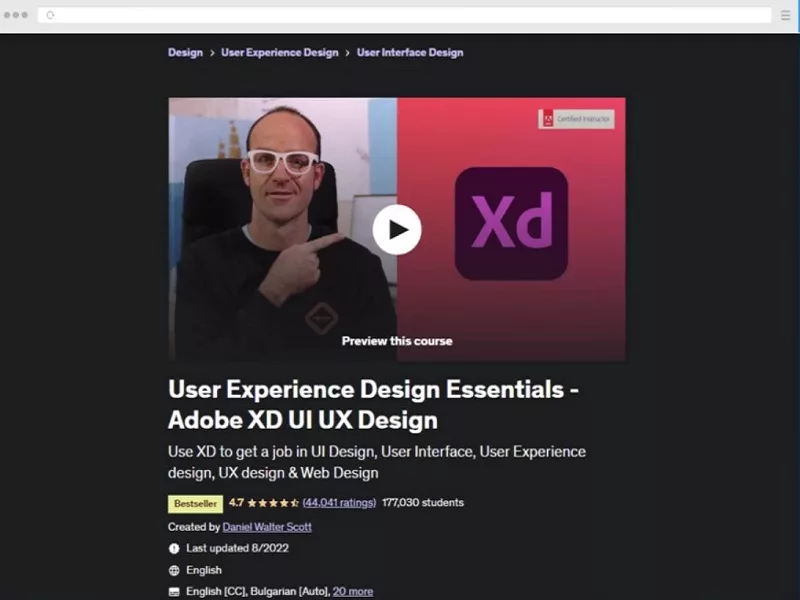 You'll learn the skills necessary to become a UX designer by working with fonts and colors, developing your first UX persona, using premade UI kits, wireframing, creating a mobile app that responds to voice commands, prototyping, and more in the curriculum, which is broken up into several sections spanning 9 hours of content. You're also going to develop and test a whole website before the conclusion of the course!
You must have access to Adobe XD in order to use this programme.
Pros:
coherent curriculum flow
teaches all of Adobe XD's principles
It is beginner-friendly since it is simple to learn and covers the fundamentals.
Many evaluations laud them for their interesting and passionate instruction.
includes initiatives to support learning
Cons:
Lacks a substantial discussion of UX philosophy or practice in favor of teaching Adobe XD.
The coverage of UX theory is fairly elementary.
Key Features
Google Career Certificates, as the course instructor
no prerequisites
Approximately 10 hours each week for six months.
Paid or Free: Paid
Authentication: Yes
Students enrolled: 770K+
Level: Novice
Score: 4.8/5
Why We Decided on This Course
As a part of the Grow with Google Initiative, which aims to help everyone develop their skills, businesses, and professions, Google Career Certificates is offering a series of seven courses through Coursera.
The three end-to-end projects that are part of this course
—a mobile app, a responsive website, and a cross-platform experience
—should enable you to build your portfolio by the time it is through, according to our study of the course.
You'll discover how to adhere to the UX design approach when this programme begins. You'll discover the theory behind user experience principles and how to use them. You'll discover UX research techniques, such as usability tests, interviews, and more.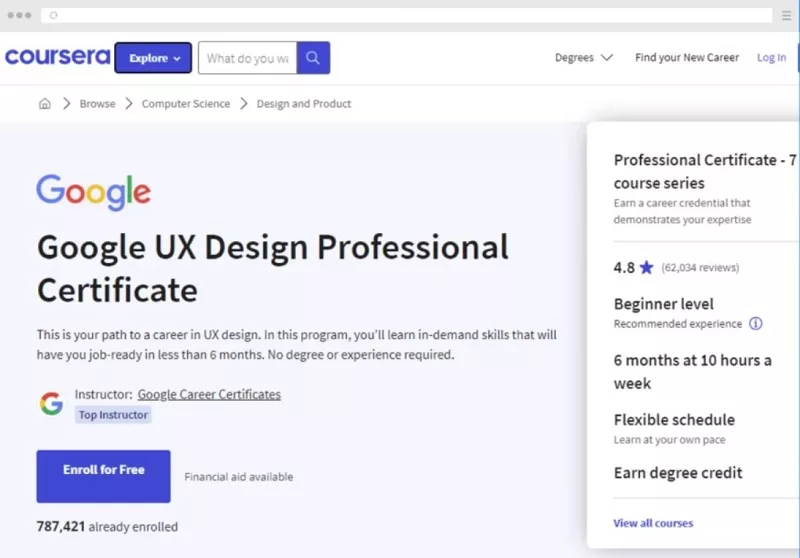 In addition, the training covers how to understand consumers' perspectives and pinpoint their problems in order to come up with solutions. Wireframes, prototyping, testing, and iterative UX design are all things you will undoubtedly learn as well.
You have access to career tools after completing this programme, including resume review, interview practise, and career help.
You must have access to Adobe XD and Figma.
Pros:
Specialized instruction from Google itself
Incorporates projects fit for a portfolio
Google's employer-recognized certificate
When you finish the course, you'll have access to career resources.
Covers UX theory and practice throughout the course of the seven courses, beginning with the fundamentals.
Cons:
Takes more time to complete
Key Features
Shuang Liu, Gabriel Ruttner, Michael Dedrick, and Melissa Hui are the lecturers.
no prerequisites
3 months at a rate of 10 hours each week
Paid or Free: Paid
Authentication: Yes
Number of students enrolled: Unknown
Level: Novice
Score: N/A
Why We Selected This Path
Udacity is a provider of this intense Nanodegree programme, which gives you access to career services, real-time assistance, and a mentor-style learning environment.
You will learn about UX and product design, covering subjects like design research fundamentals, identifying the user and the solutions they need, iterative product design, user research and research planning, prototyping, and using UI kits and plugins. The course was put together by four UX experts, including Shuang Liu and Michael Dodrick (both Google UX Designers).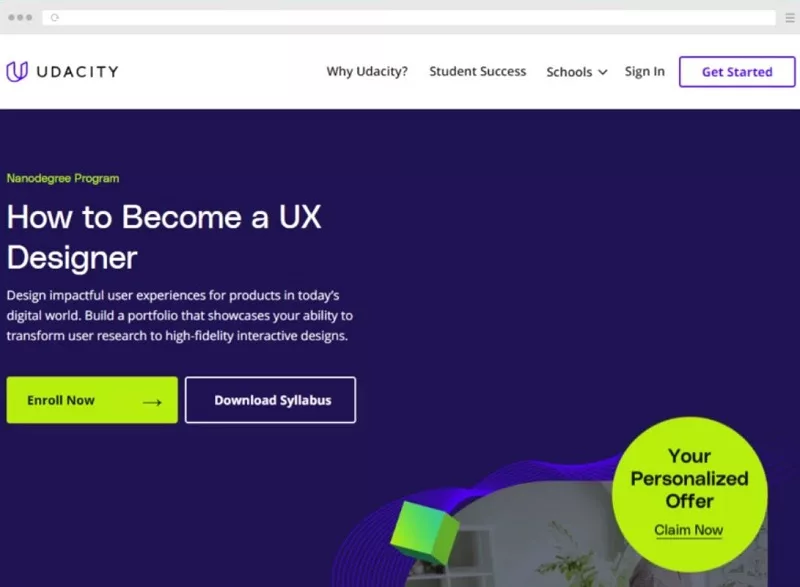 According to our findings, Udacity's programme is a good alternative because their diplomas are acknowledged by potential employers as a result of their many collaborations with significant tech businesses.
Pros:
Mentors are regarded as authorities in their professions.
Fantastic advantages are available to students at Udacity.
Covers the required material without overcrowding the show with information
Detail-oriented, assisting newcomers to understand everything from scratch
Comprises a capstone UX design task.
Cons:
It's not for everyone to use the hands-on method of supervised learning.
Also read- Best Product Management Courses Online (2023)
Key Features
Mentors for the course include Karen Ko, Earl Friedberg, and Ali Rushdan Tariq.
requirements: a bachelor's degree is desirable in any discipline. must succeed in a technical skills test
9 months; 15 to 25 hours each week, part-time
Paid or Free: Paid
Authentication: Yes
Number of students enrolled: Unknown
Level: Novice
Score: N/A
Why We Selected This Path
Although bootcamps are often far more expensive than conventional courses, they are also much more intensive. Additionally, and unusually, this bootcamp offers a job guarantee (verify your eligibility).
If you enroll in Springboard's UI/UX design bootcamp, you'll get access to individualized mentoring from skilled mentors. Along the journey, you can also obtain help from student advisors, career coach counseling, and community cooperation.
Before delving into the specifics of everything a UX designer needs to know, you'll master the foundations of UI and UX design tools, according to our research of this programme. Design thinking, UX research methods, product types, brainstorming, information architecture, guerrilla usability testing with sketches, wireframing, mockups, prototyping, testing, and other topics are covered.
The only bootcamp we've discovered so far that also includes psychology and other specialized material to teach students more about use patterns and human behaviour is this one.
Finally, in order to graduate from this course, students must develop a portfolio and do a capstone project.
Pros:
Intensive Bootcamp Provides advantages for students, such as career support
An outside customer assignment gives you practical experience.
constructed a portfolio over time.
Cons:
1-1 mentoring Not everyone is a good student.
Job guarantees are only available to individuals who meet the conditions.
Key Features
HEC Montréal's Annemarie Lesage is the course instructor.
no prerequisites
6 weeks at a weekly rate of 6–9 hours
Paid; Free to Audit; Free or Paid
Yes, with a paid track. Certificate
Students enrolled: 26K+
Standard: Intermediate
Score: N/A
Why We Selected This Path
This course is provided by HEC Montréal, one of Canada's top business schools, and is instructed by Annemarie Lesage, a full-time faculty member there.
According to our study, if you choose the premium track, you may obtain a certificate from HECx by successfully finishing this course. Though you won't have access to all the features, you may audit this course for free.
In addition to learning about UX research and how to incorporate it into the design process, this course will teach you about the user-centric approach to UX design. Design theory and practice, ideation techniques and outcomes analysis, design thinking, and innovation are among the other subjects addressed.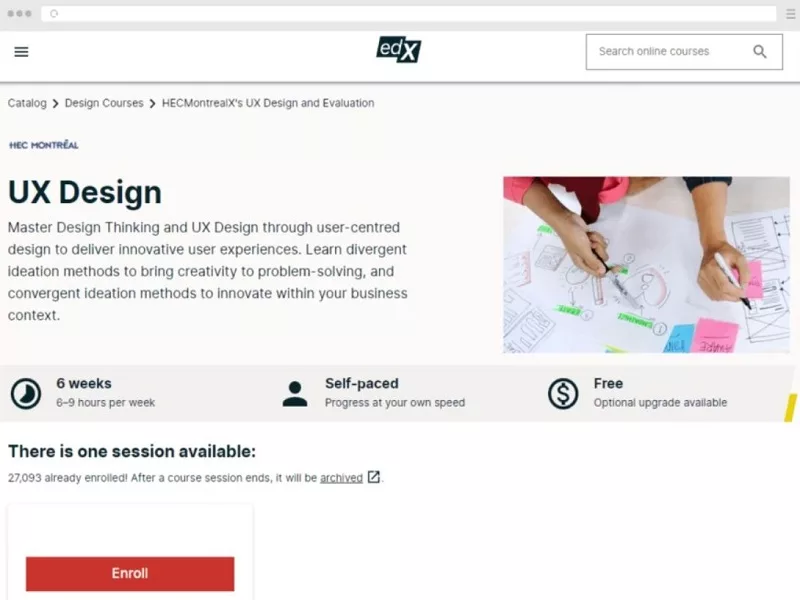 Pros:
No cost to audit
With the confirmed track, receive a HECx certificate.
Learn more about the philosophy and use of design thinking.
study concept generation techniques and outcome analysis
Cons:
There don't seem to be any real-world tasks in the curriculum.
Key Features
Designlab is the course instructor.
Prerequisites: You have to finish the UX Academy Foundations course if you don't have any prior design expertise.
If you have design expertise, you must provide a selection of your most recent designs, including high-resolution files for digital applications or landing sites and wireframes.
Duration:
15 weeks of full-time work at 40 hours each week
30 weeks of part-time work at 20 hours each week
Paid or Free: Paid
Authentication: Yes
Students enrolled: N/A
introductory to intermediate
Score: 4.8/5
Why We Selected This Path
Designlab's UX Academy, like Springboard's UI/UX Design Bootcamp, is more of a bootcamp than a formal school. Although it is much more expensive and intense than a conventional course, if you are admitted, you will receive a tonne of advantages.
For up to six months after you graduate, UX Academy provides employment guarantees, coaching, and career assistance. You'll get a lot of individual and group feedback on your exercises and projects in this intense bootcamp learning environment, and believe us, there are a lot of them. To graduate, you must complete three significant portfolio projects and more than 100 practical exercises.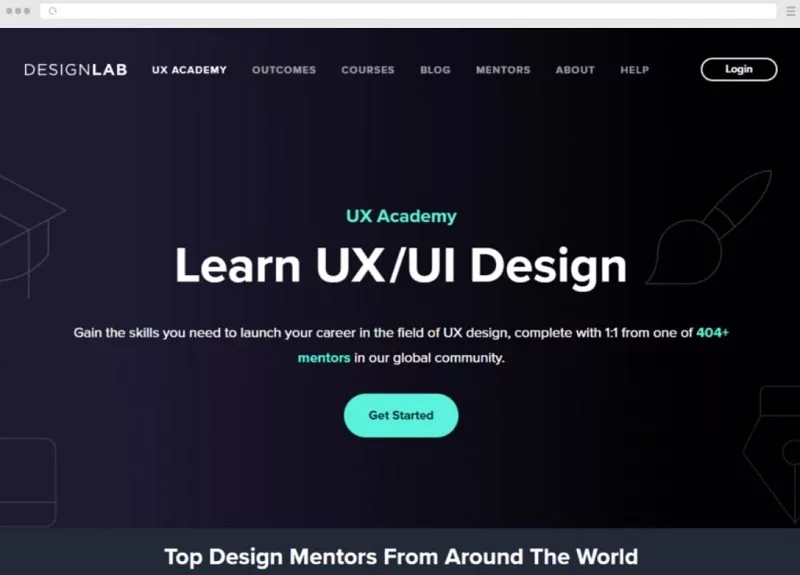 Additionally, one of the 500+ top designers on the site who has years of expertise will tutor you one-on-one. Students get to select a designer from their preferred specialization.
You will study user research, ideation to prioritization, information architecture, interaction design, prototyping and testing, as well as UI design in addition to design foundations and UI and UX design basics.
Pros:
Obtain coaching from renowned designers in many design fields.
Includes thorough community criticism
Visit a lively Discord community
Includes three significant portfolio projects and more than 100 practical exercises.
Following graduation, career guidance and coaching
Cons:
Not everyone benefits from studying in a one-on-one environment.
Fairly difficult admissions process.
Key Features
Chris Nodder, the course instructor
no prerequisites
Time: two hours
Paid or Free: Paid
Authentication: Yes
Number of students enrolled: Unknown
Level: Novice
Score: 4.8/5
Why We Selected This Path
Chris Nodder, a UX expert who has numerous courses available on the site, developed this course for LinkedIn Learning. In addition to sharing usability techniques and writing the UX book Evil By Design – Interaction Design to Lead Us into Temptation, he also conducts Design Thinking seminars.
Ten quizzes are included in this course to help you reinforce what you've learned. Our research demonstrates that the course curriculum includes important topics such as what people seek for when visiting websites, how they discover information, and how learners may organize their material to suit these requirements and habits.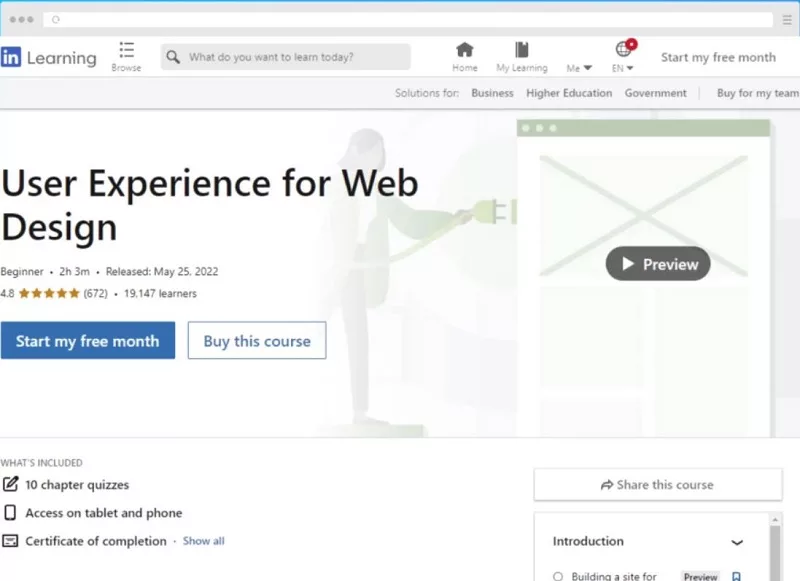 Enrolling in this quick course will teach you how to apply interaction design concepts to your website in order to enhance its user experience.
You will also learn how to integrate media, when to utilise interactive media instead of static, what constitutes excellent content for UX, how to use media to tell your story, how to balance content and adverts, site layouts and navigation, and other subjects in this course.
Pros:
Short and simple to understand
Find out how to make your website's UX design better.
Learn to produce material and include media that is especially geared towards website UX.
Provided by a UX professional
Cons:
Offers only the fundamentals; not suitable for more advanced learners.
Key Features
Codecademy in collaboration with Figma is the course's instructor.
No prerequisites
Time: five hours
Paid; Free to Audit; Free or Paid
Yes, with a paid track. Certificate
50K+ enrolled students
Level: Novice
4.5 out of 5
Why We Selected This Path
Codeacademy developed this course in collaboration with Figma, one of the most well-liked UX tools available today. It serves as an introduction to UI/UX design and demonstrates how to use Figma for prototyping and wireframing. Additionally, it covers what you can do when the training is over.
According to our research, you may audit this course for free, but you'll need to be on the paid track if you want a certificate and access to the exams and projects.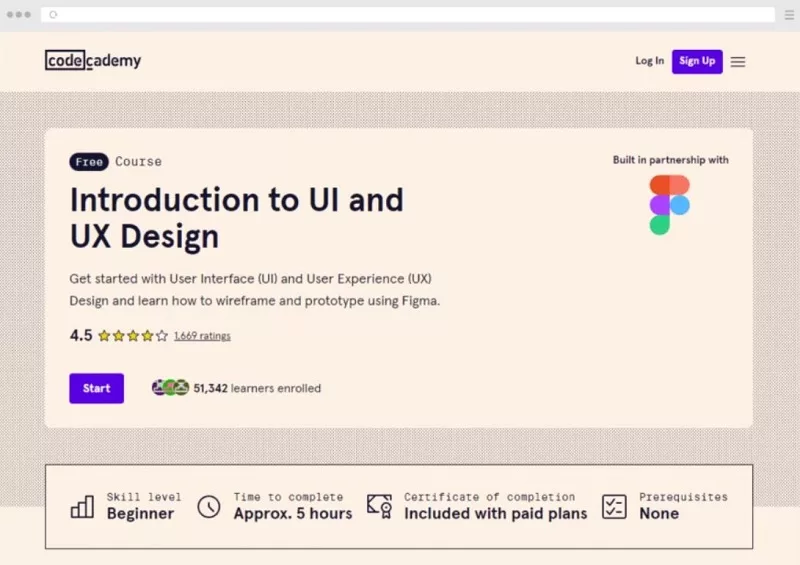 The main UI/UX design techniques, wireframing, prototyping, the fundamentals of utilizing Figma, and other subjects will be covered in this course.
Pros:
Free to audit, however a paid track will get you a certificate.
Wonderful for novices
Learn Figma Interactive platform from Codecademy for hands-on instruction
Consists of two projects
Cons:
Not recommended for highly experienced students
Key Features
Tutor for the course: Simplilearn
Minimum requirements: A bachelor's degree or a high school diploma
4 months at 5 to 10 hours each week.
Paid or Free: Paid
Authentication: Yes
Number of students enrolled: Unknown
Level: Novice
4.5 out of 5
Why We Selected This Path
The master's programmes offered by Simplilearn are not master's degrees. However, these are comprehensive training programs
—almost like bootcamps
—made to assist students in developing job-ready abilities.
According to what we've seen, this programme will teach you the design-centric approach to UI and UX, along with all the key ideas and procedures in both fields.
Following a brief introduction, you will learn about topics like user experience design conventions and best practises, identifying user groups and market segments, creating personas and empathy maps, UI design principles, UI prototyping and styling in terms of aesthetics, UX research and testing, UX prototyping, and more.
Additionally, you'll finish a module on portfolio development and select an elective, however we advise learning about UX/UX design thinking to improve your resume.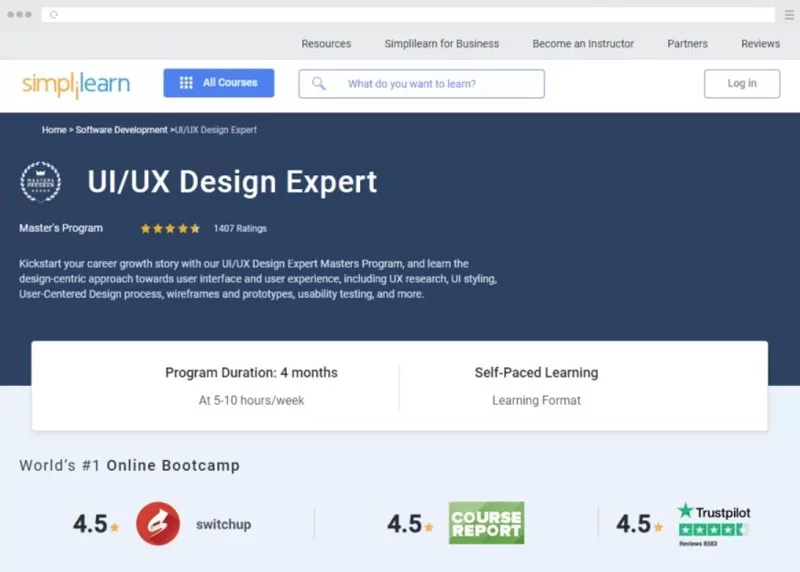 Pros:
The comprehensive course covers all topics related to UX & UI.
includes a section to help you construct a portfolio suitable for a job
Select an elective.
Study theory and application
Cons:
Not as widespread as other programmes
Key Features
Training Provider: Meta Staff
No prerequisites
Time period: 21 hours
Paid or Free: Paid
Authentication: Yes
Student enrollment: K+
Level: Novice
Score: 4.7/5
Why We Selected This Path
The instructors at Meta teach students the fundamentals of UI and UX design in this introductory course. There is a lot to learn in this course, so there are assignments and tests to help you reinforce what you've learned.
According to our study of the course, it covers the principles of user experience design and research. You will become fully immersed in the process of identifying issues, testing designs, and coming up with solutions. In addition to teaching you how to create digital goods that are valuable and address particular customer problems, the course also teaches you how to empathize with people.
You'll gain knowledge about, among other things, some of the best practices for navigation, designing for accessibility, wireframing, prototyping, usability testing, typography, and its best practices.
This course is a component of the Meta Front-End Developer Professional Certificate and Meta iOS Developer Professional Certificate, two additional specializations that Meta offers.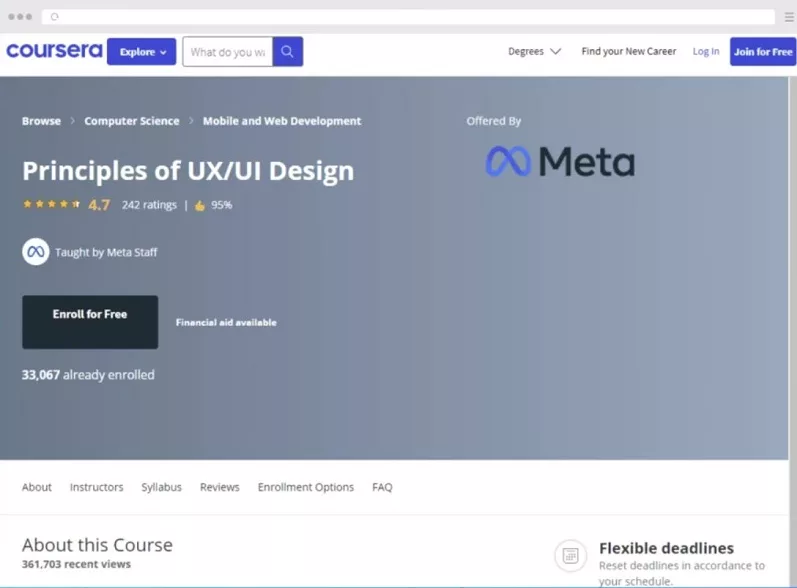 Pros:
Taught by qualified instructors at Meta
Covers the design thought process and UI/UX guiding concepts.
Gain knowledge about and experience with the UX research and design process.
Includes tests and workouts to help you solidify what you've learned.
Cons:
Less difficult for more experienced students
Key Features
Intellipaat is the course instructor.
no prerequisites
Time: three hours
Paid or Free: Free
No certificate
Number of students enrolled: Unknown
Level: Novice
Score: N/A
Why We Selected This Path
We found that this course, which is only three and a half hours long, is a good option if you want to learn about the theory and concepts of UI and UX. We highly recommend taking this course if this interests you, especially since it is free.
You'll learn more about UI/UX ideas as you progress through this course, including design thinking and its significance. How to understand consumers' perspectives and pinpoint their problems is also covered in this quick course.
Other subjects addressed include user research techniques, persona creation, low and high quality wireframing, material design, and more. Quizzes are also available to help you reinforce what you've learned, but they are still limited to the film itself, so don't hold your breath!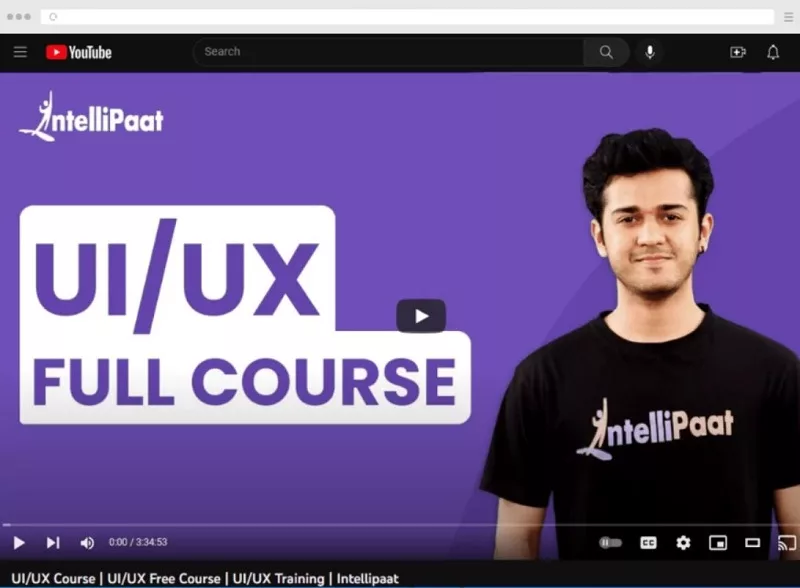 Pros:
Beginner-friendly
explains key topics in great detail and explains the distinction between UI and UX
Study the top UX techniques.
Cons:
Not really interesting
Because there are no chapters, it is challenging to navigate the video.
How to Pick the Best Courses for UX Design
Choosing the top UX courses might be difficult with so many available online. Following thorough investigation on the options, we distilled our results using the following standards:
Course content: To make sure there is something for everyone, we incorporated online UX design courses with diverse curriculums.
Cost: We provide programmes for people of all financial backgrounds.
Flexibility: To meet the hectic schedules of working professionals, we gave priority to courses with flexible learning alternatives.
Practical experience and portfolio development: To assist you start creating your portfolio right away, we sought UX design online courses that offer practical projects and hands-on activities.
Expertise of the instructor: We placed a high importance on courses taught by knowledgeable teachers with a track record of success.
Course Reviews: To assess the calibre of the courses, we looked at prior students' comments.
Conclusion
The need for highly qualified UX designers is on the rise as companies look for novel methods to please their consumers and entice them to use their services again.
UX design may be a lucrative career change for talented designers who wish to stretch out, as UX designers' wages can be double that of a standard graphic designer.
Therefore, whether you're a seasoned designer or a novice who's thinking about working in this fascinating industry, there has never been a better moment to master this important talent.