When it comes to portable computing devices, laptops were the first choice for business users or even students. But with the captivating design and super-performing hardware, Ultrabooks are slowly taking over that segment.
With the incredibly slim form factor, long battery life and elegant 13.3-inch display, I was very impressed with this device at very first day of usage. Following is my detailed review of Asus Zenbook, after using it as my personal device for a week!
Zenbook UX305 Review
Physical Appearance
I received the Aurora Metallic variant, but Zenbook UX305 is available in two more colors – Ceramic White & classic Obsidian Stone. The spun-metal finish looks gorgeous on the UX305, and diamond-cut chamfered edges accentuate the sophisticated shades. Some might call it Apple's Macbook Air Lookalike, but it is different in many ways when you see both of them side by side.
The chicklet keyboard is in black color that contrasts well with the metallic body. The steel colored metallic Asus logo is just below the display and everything else on this device follows the same metallic finish, that offers premium experience.
With just 1.2KG of weight and 1.23 cm thin body, Zenbook UX305 is compelling enough to never ever use the laptops in the traditional form factor. During the week, bike travel with backpack felt almost weightless and guess what, even the charger is super light weight.
The build quality is absolutely superior as well as sturdy. The weight distribution is so amazing, that despite being just 15mm thin the display panel could be opened by a finger.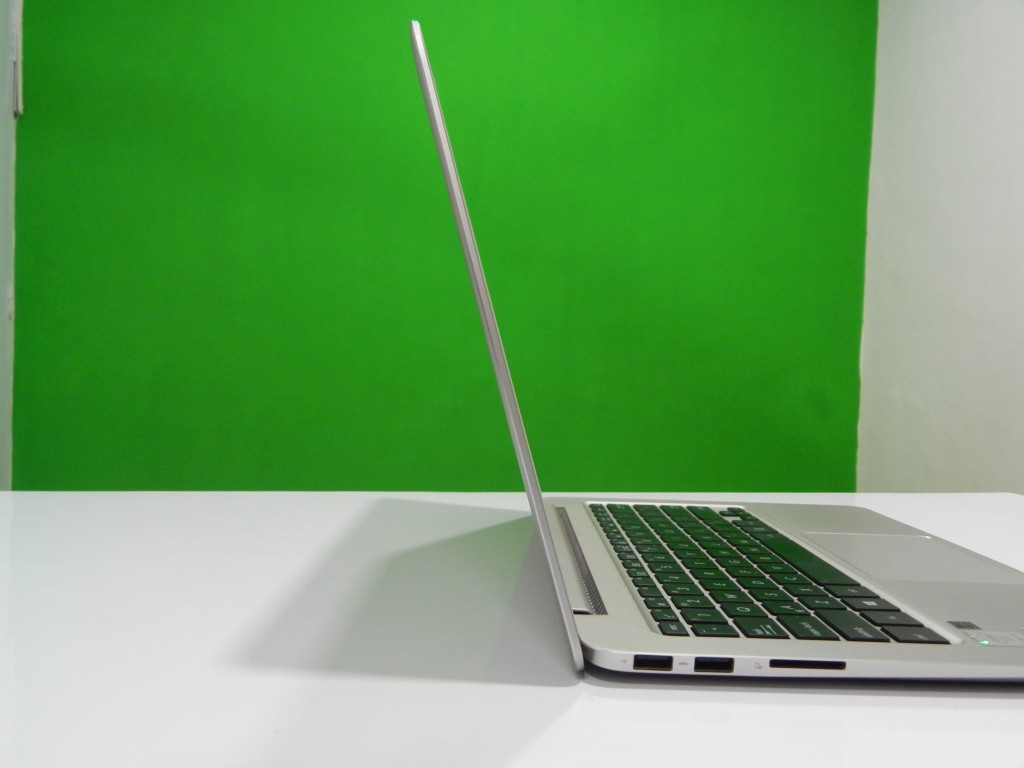 The hinge is very well placed centrally, and its movement is steady. The display can move backward to about 120 degrees, and after crossing 90 degrees, it starts lifting the base panel little up, providing better elevation for typing.
QHD+ Display
Zenbook UX305LA comes with the stunningly-detailed QHD+ display with huge 3200×1800 resolution & 276 PPI pixel density. No matter at what brightness you watch the screen, it feels comfortable.
The HD photos look crystal clear, sharp and maintain the color reproduction on the screen. Watching movies on this laptop is a great experience with decent sound quality, as well though it's not very loud.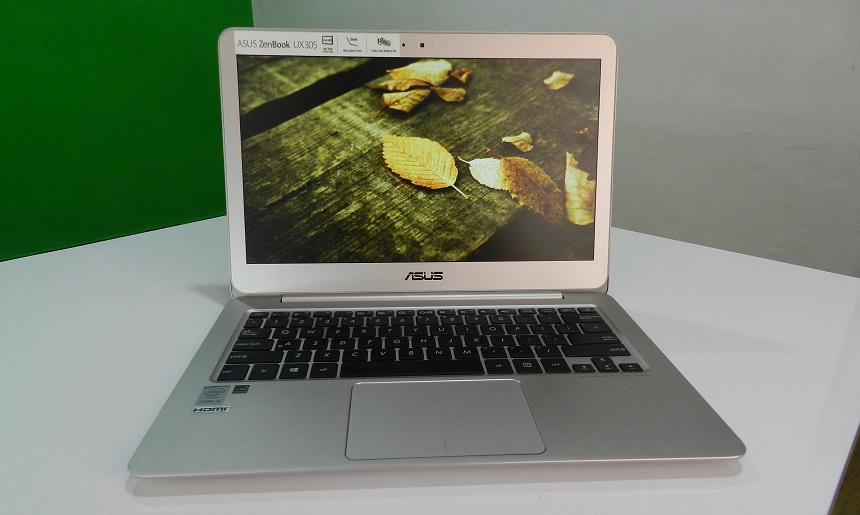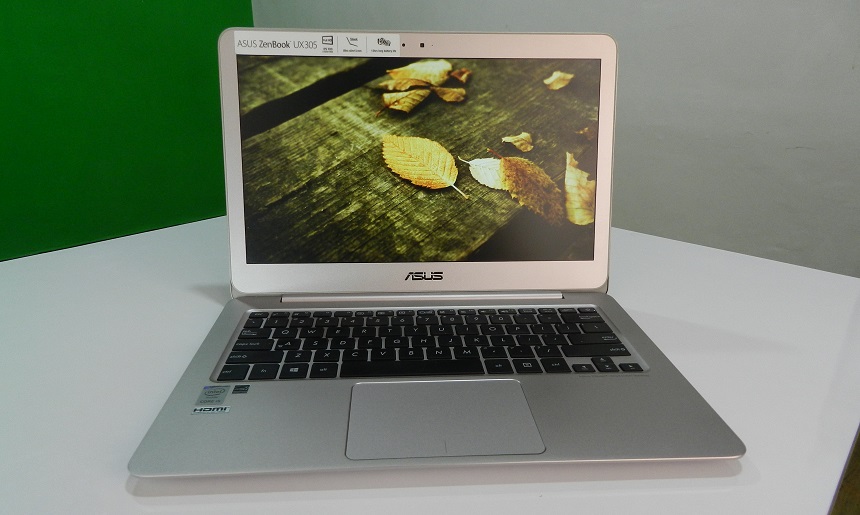 The matte finish display works great even on the overly-lit environment, however, we experienced some blurry text for some applications, but it wasn't noticeable at all time.
The display is an IPS panel, and it looked exactly the same from any angle or side you see it from. The colors are vivid and resembled natural colors, meaning it has very high color accuracy.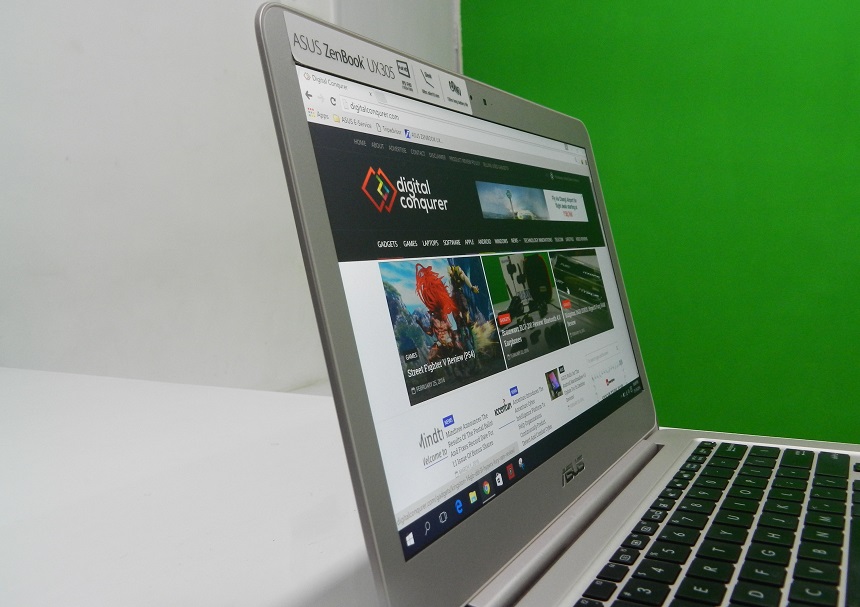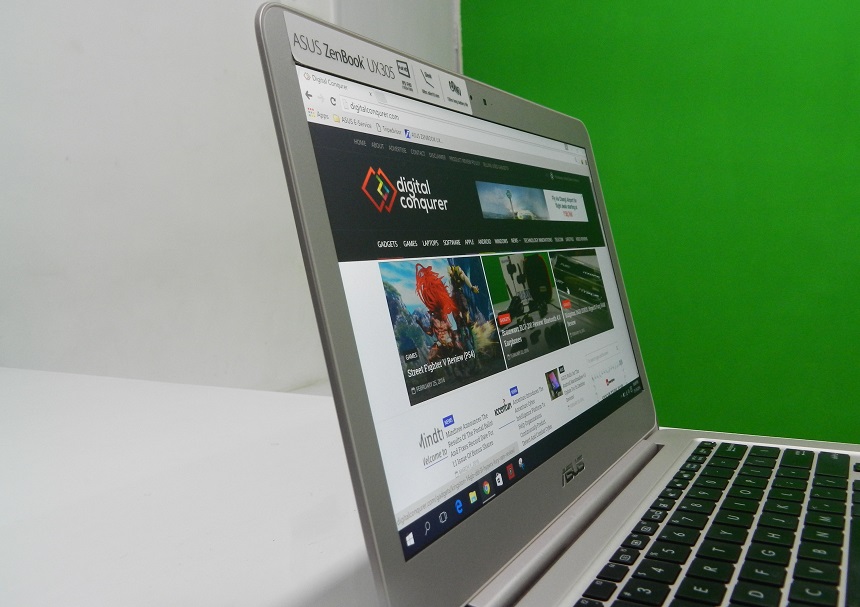 Ports, Keyboard & Touchpad
The one key chicklet style keyboard is one of the most spacious I have used so far with great feedback for clicks and comfortable typing experience overall. The power button is located where generally the 'delete' key is, so it took me a little while to get used to with this drastic change. There is an Auto brightness button combined with the function key + A, which is different yet useful.
The touchpad is big and spacious and so does the room for palm placement. Touchpad basically is a click pad, with very responsive surface, and good click sounds. It supports all special scrolling gestures of Windows 10 and multi-touch works flawless.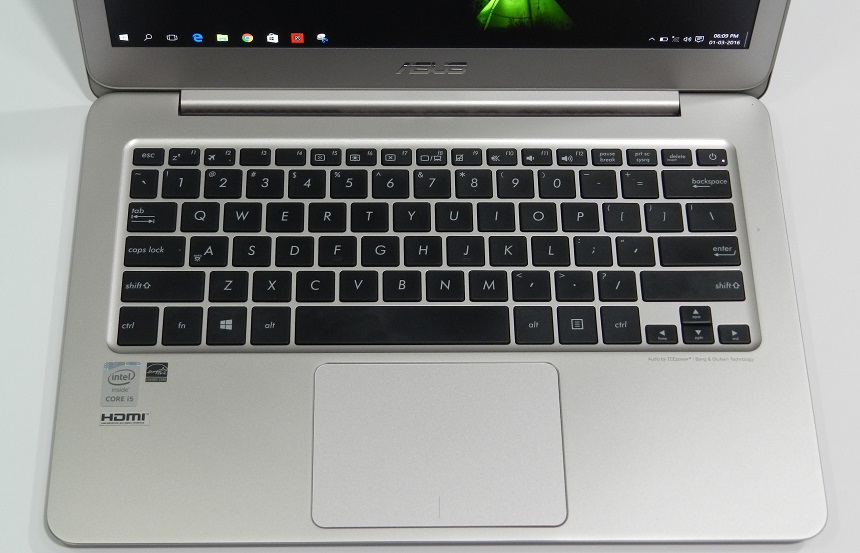 On the left side, we have 2 USB ports with the full-size card reader. On the right side, we get charging port, USB port a micro-HDMI port, 3.5mm audio jack followed by battery and process indicators. And yeah, there is no ethernet/LAN port, but you get one USB to ethernet adapter in case you need it.
Performance
With the Core i5-5200 performance processor & 8GB of RAM, the Windows 10 performed swiftly, no matter how many applications are being multi-tasked at the same time. Power users will love the performance of this ultrabook even for the intensive long day at work.
The boot time for Zenbook UX305 is just 7-8 seconds, which is quite an impressive.
The 240 GB internal SSD operates at lightning speeds for reading and writing data on disk. The AS SSD benchmark showed whopping 482 MBPS read and 443 MBPS write speeds. AS SSD total score recorded 1695, which signifies the internals of Zenbook are very well optimized.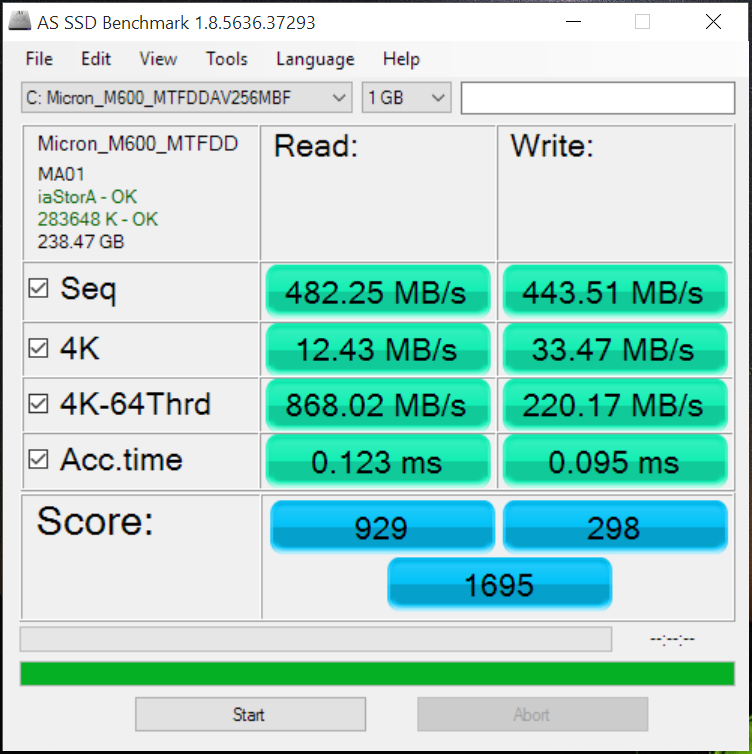 Similarly, ATTO Benchmark recorded sequential data read and write speed almost about 500MBPS, which as fast as you can get with SSDs. So expect superfast boot times, and negligble application load times overall.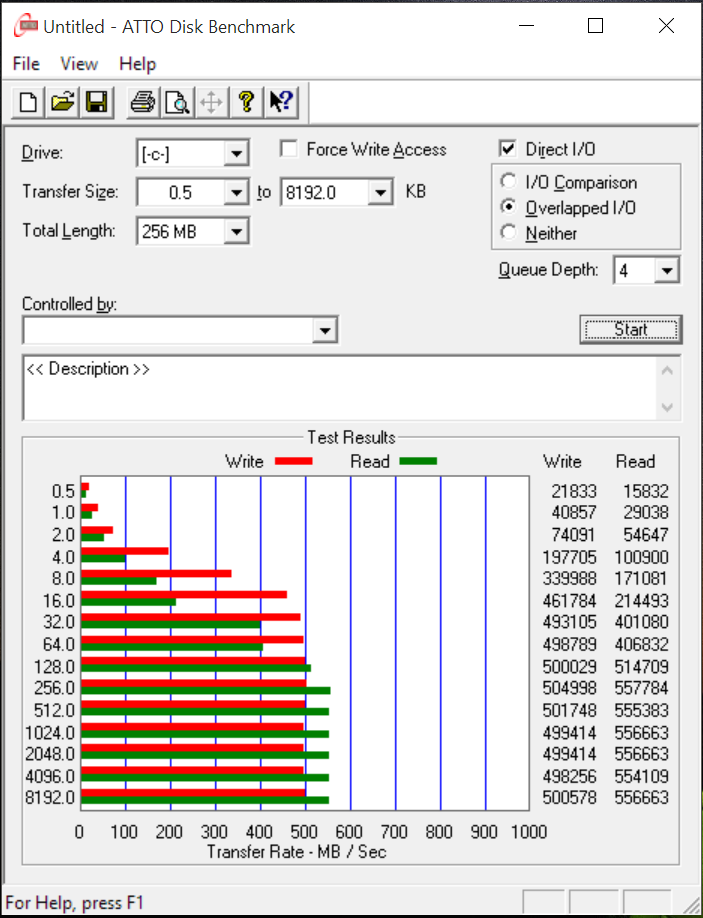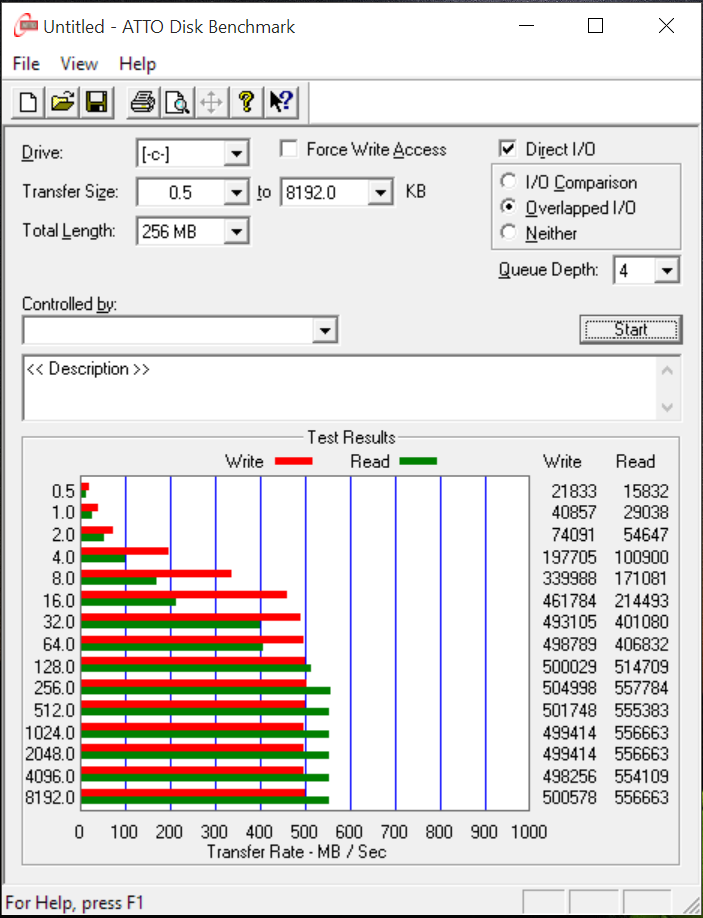 It's not all a gaming PC, but still we tried running Counter Strike Global Offensive on Zenbook UX305, and it was running surprisingly good.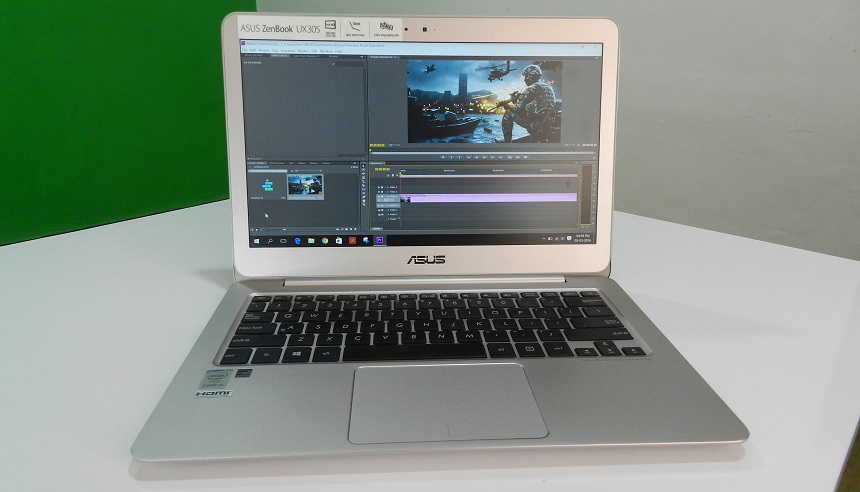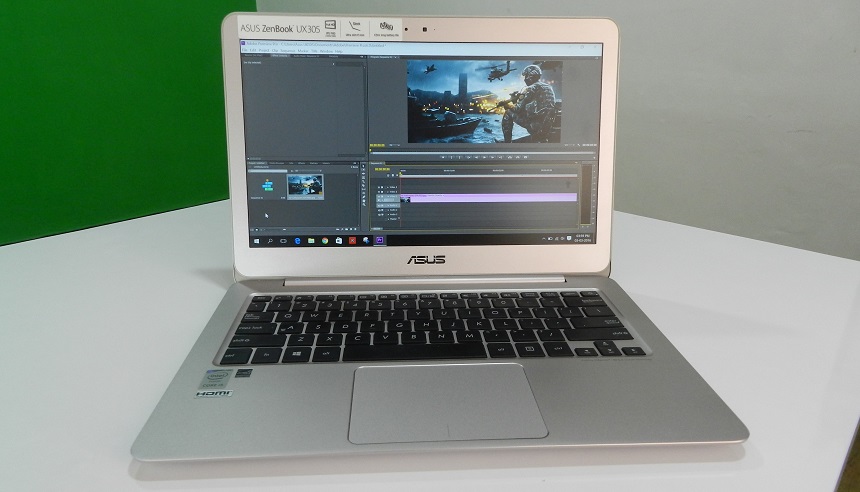 The real power of this ultrabook was visible while rendering a video sequence on Adobe Premier, which was impressively fast and was similar to our dedicated rendering rig. But still, I would not recommend this ultrabook for video editing as the 13.3-inch display is quite small for such tasks.
Battery Life
Ultrabooks are well-known for their strong battery life and Asus Zenbook UX305LA is no exception to the league. In fact, it delivers about 12 hours of battery life for consistent usage on Wi-Fi. The standby time is huge on this thing, and I remember I did not charge this device for frequent use until the second day afternoon. I didn't even carry the charger when I went outside the office, as I was sure it will go easily all day long.
With very portable & lightweight charger, this ultrabook impressed me for its outstanding battery life.
Verdict
I was never a fan of 13.3-inch screen size, nor I was ready to sacrifice the graphical performance for great battery life or ultra-slim form factor. But this Zenbook UX305LA has convinced me not to buy these big bulky laptops anymore.
With the irresistible appeal of the shiny metal body, feather-like weight, 12-hours long battery life and stellar performance, I will highly recommend this ultrabook as its worth its expensive price tag of Rs. 66,000.
Price on Amazon.in – Rs. 71,000 (As of 21st March 2016)
Price on Flipkart.com – Rs. 66,000 (As of 21st March 2016)