If you always wanted to create ebooks, whitepapers or any digital content like that, then you know that something like this is very time-consuming and it has its fair share of challenges. But it can also be just as rewarding. Of course, with a tool like Sqribble, you will find it easier than ever to create your own ebooks, and it's just as efficient and as simple as you might imagine. Our Sqribble review is here to show you what this tool is about, what it can do for you and also how good it really is when compared to the other similar solutions on the market.
What is Sqribble?
Sqribble is a professional ebook building solution designed by Adeel Chowdhury. The creator is a visionary digital entrepreneur and he wanted to create an app that would make ebook creation very simple and convenient. With its help you can finally create the ebook you want, without major limitations or challenges. That says quite a bit, and it certainly pushes the experience to the next level in a great and creative manner all the time. 
How does Sqribble work?
According to our Sqribble review experience, Sqribble is super easy to use. You must first login to it, and then you can choose from one of the many templates on display. These are designed for all kinds of categories, so you can choose the one that suits your needs. 
After you chose the template, you can even preview the ebook. Here you can see the overall feel, template and so on. They have around 50 templates to work with, so if you dislike one, you can easily choose another if you so desire.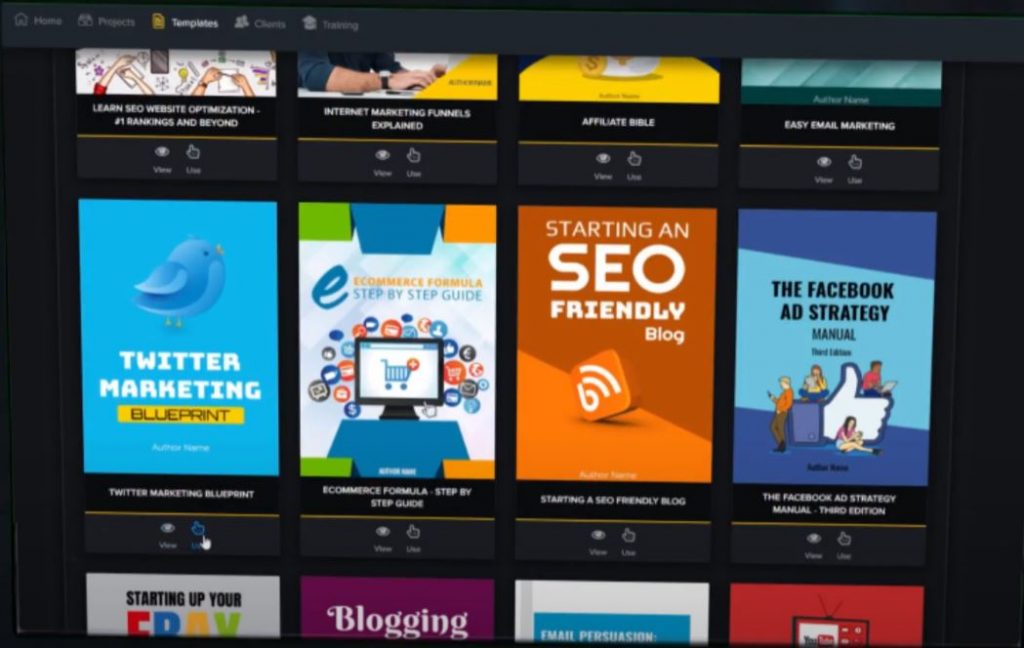 Of course, you need content for your ebook. That means you will either have to start from Article Collection, upload a Word File, copy and paste on your own, start from 0 or just grab content from an URL. The great thing is that you can do all of these things without a problem. For example, if you grab an URL, Sqribble will remove the code and only insert the text. Many use this feature since it's super simple and it conveys the results you want.
Copy and pasting can be time consuming, but it does allow you to format the text the way you want. Starting from scratch or uploading a Word file is up to you, but it does help you create the ebook as you see fit. Sqribble does have a library of private label articles that can be used for free, which is great. 
After you do all of that, you can go to the Editing screen, where you can resize the text, you can edit it right away, add media, a call to action, all kinds of new pages and make a variety of changes the way you want. Our Sqribble review shows that the app itself is very flexible, it works quite nicely, and it gives you all the control and value you need, without any challenges or problems that might arise. Then at the end all you have to do is to press Generate Ebook and Sqribble will automatically start creating your book, all you need to do is wait for a bit. 
Sqribble features you need to know about
What we liked during the Sqribble review is the fact that they have pretty much all you want and so much more. It's a great thing because you can easily access those features on the fly and make the most out of them. The potential is amazing, and you will be heavily impressed with the results and value here. 
The Sqribble software itself is versatile and you are fully guided through the entire process. It delivers the ultimate experience, and you will find yourself impressed with the way it all comes together. It's fast and it can help you generate your ebook very quickly.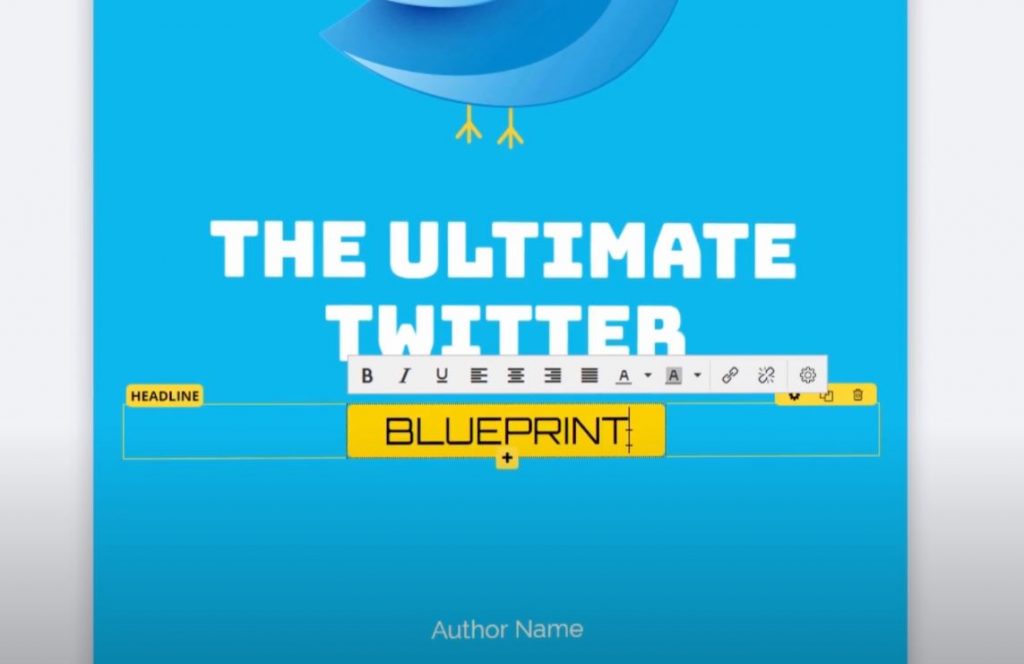 Aside from that, Sqribble has a good range of templates and 15 niche categories you can pick on the fly. They also offer you the ability to work with 300+ Google Fonts and with a stock library of over 1000 items, which is great.
Stellar drag and drop design
For us, the biggest benefit when it came to Sqribble was definitely its drag and drop design. You can easily add everything you want to the ebook, modify and optimize it so it matches your vision. Sqribble gives you basically all the tools you need, and in the end, you will find yourself motivated to deliver an extraordinary and powerful experience. You can have as many pages as you want for the ebook too. That means you're able to create short ebooks, but you can also create some larger ones if you want, depending on your needs. It's a clever idea and one that will help quite a lot in a situation like this.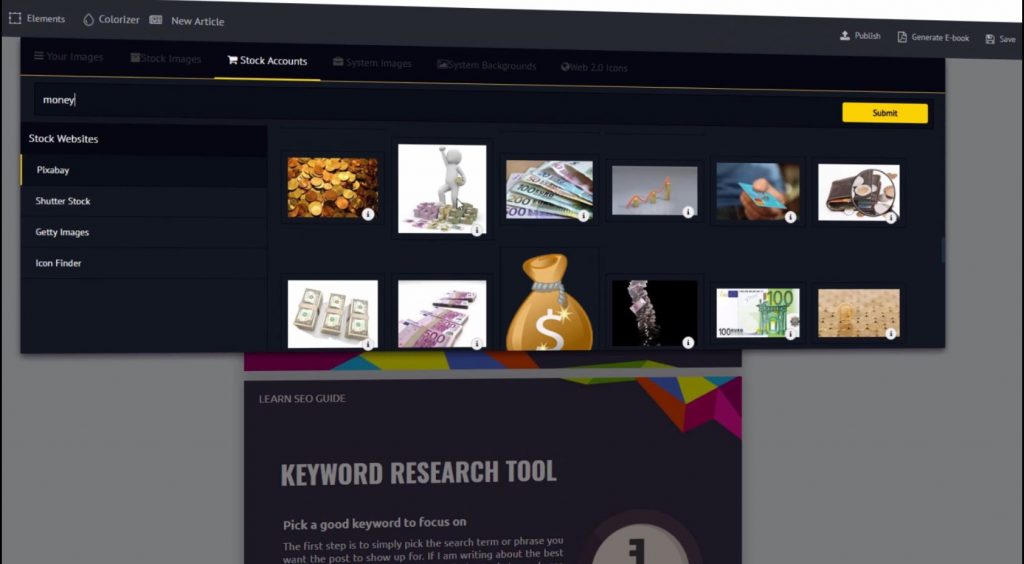 Being able to just drag and drop components within the Sqribble app is amazing, and this tool does automate as many things as possible. For example, they have automatic page numbering, so you don't have to worry about all of that on your own. They also add headers and footers on their own, which is nice. You will also have access to the automatic content engine and the automatic table of contents. Needless to say, it's all built for you, and it helps bring in the engagement rate you want, without any possible problems. 
Free commercial license
This is something we noticed during the Sqribble and it's super important. It shows that yes, you are getting a free commercial license and that you can access everything without that much of a hassle. You can ensure that you have access to everything you need, and then you can publish without copyright complaints. That alone makes a huge difference and it conveys the value and quality that you need at any given time. It's certainly worth it. 
Sqribble also delivers a 1-click feedback engine, so you can immediately access feedback from your clients. You can also create a free agency website in order to further optimize and adapt your brand. All these simple things would cost quite a bit of money. Yet Sqribble does all of that for you, and it conveys the value and quality you need.
Powerful dashboard
The dashboard in Sqribble allows you to manage all your ebooks, and you can also see how well they are doing. It's a nifty idea to have this information, since you get to see the overall performance. Needless to say, not all ebooks will work the same, and that's exactly the thing to keep in mind. It will take a bit of a trial and error to make it work, but if you manage it appropriately and focus on results, the experience can indeed be second to none. 
Who is Sqribble suitable for?
Sqribble is a great tool for a vast range of people. It's particularly good for digital marketers that need additional promotional tools for their website. But it can be just as good for consultants and product creators. If you create ebooks for link building, then this is definitely for you as well. On top of that, Sqribble can also be used by coaches, entrepreneurs, bloggers, for Facebook ads, it's even suitable for authors that self-publish their books. That alone makes it a very good and comprehensive option you do not want to miss. 
Is the Sqribble training center worth it?
During our Sqribble review, we stumbled upon their training center. We like that because it's a complete training program that teaches you the ins and outs of this app. The truth is that sometimes it can be difficult to figure out how an app works, so here you're getting quite a bit of traction and incredible benefits. 
How does Sqribble compare with other ebook creation tools?
Sqribble Vs Canva
Canva is maybe the top ebook creation tool that you can use online. The thing to keep in mind here is in order to create ebooks all the time with Canva, you must subscribe monthly, and this costs at least $12.99 per month for the cheapest tier. With Sqribble, there is only one plan inclusive of all features. When it comes to features, Canva is also good for doing lot of other graphics designs. It has a whole lot of cool templates and tools, as well as its own stock photo library that you can use.
The biggest flaw is its not dedicated ebook creator tool, so you'll have to do away with limited templates and tools that are designed to keep ebook creation in mind.
They also have a drag and drop solution that makes it easy to create a professional ebook. With that in mind, they don't really have a whole lot of categories, you just browse the type of ebook you want and then start optimizing everything at your own pace. It's a great idea, and it definitely brings the experience and quality you want. Canva lacks the ability to add content or anything, you just create the covers and designs. For the content itself, you will need to use another tool.
Sqribble Vs Visme Ebook Creator
This app is interesting because you can easily start creating your own ebook in a matter of seconds. You can start the ebook creation process fast and easy, and the interface is very convenient. We like the fact that they are mostly targeted towards professional users, and you have pretty much all you need to achieve those ideas you have in mind. The designs are quite different from one another,. And you can change everything you want. One thing to consider here is that some of the templates are paid, so not everything is free.
When it comes to pricing, this tool is also coming as a subscription. But even subscriptions limit you to a certain number of projects, storage, and so on unless you go for the Business option where you have unlimited projects. Sqribble doesn't come with such limitations, which makes it a much better option.
Sqribble Vs Designrr
Designrr does a very good job at helping you create cool or very professional ebooks in no time. The system they have in place is very simple, you can source the content from Facebook, any URL, a Word Document or you can start writing as you see fit. Then they have 100+ templates you can use, and once you choose the template you are able to modify everything without any issue. In addition, you can publish directly from the app. The downside is that you still have to pay a subscription, and every tier has limitations, unlike Sqribble.
Sqribble Pricing
Sqribble costs you $37 per month with our exclusive discount (compared $97 per month). If you compare it to Designrr which on average costs about $45+ for similar features, Sqribble offers you unlimited access to its mentioned features, without any pro or basic plans. You certainly have upsells with Sqribble as well, but trust me, I never bought any upsells  for my personal projects, and I am happy with Sqribbles regular plan. There is no free version or free trial for Sqribble or Designrr. 
Our Verdict – Is Sqribble Worth it?
Is Sqribble worth your time and money? According to our Sqribble review experience, this is a powerful tool, it's very reliable and professional, and it doesn't have the monthly fees that other ebook creators have. The 15 niches and 50+ templates are cleverly added to offer you the utmost value, and you will be very impressed with that and the solutions they provide here.
We are impressed with the quality, attention to detail, and incredible experience they offer here. Sure, not all the content is extraordinary and it might need touch-ups, but other than that this is a solid effort and a great way to create your own ebooks very quickly. It's also not very expensive, which is very important. Give it a try for yourself, and you will not regret it!