Chrome extensions are computer apps designed to provide your Chrome browser with additional functionality. How do you pick the Chrome extensions that will save you time and effort when over 100,000 of them are available? You've arrived at the proper location. To ensure you get the most out of your Chrome experience, I've put together a list of the best chrome extensions for Productivity you don't want to miss.
Knowing where your focus is will help you be more effective. Even if your day was busy, was it productive? An average worker needs 23 minutes to restore attention after being distracted. There is no assurance that you won't become sidetracked over that period of time, which is a significant amount of lost time.
Your entire focus is necessary for productivity. The only solution is to adapt the same technology to your needs when you lack the self-control to avoid distractions. Your productivity may be improved by something as easy as the ClickUp Chrome plugin.
The best chrome extensions for productivity are listed here, and you may use them right away.
One of the best Chrome extensions for productivity bringing your preferred project management capabilities into your browser window is the ClickUp plugin. You'll expedite your process and save time whether you do your job on the ClickUp platform or elsewhere.
The best productivity tip is ClickUp!
You can achieve your highest level of productivity with just one ClickUp Chrome extension feature: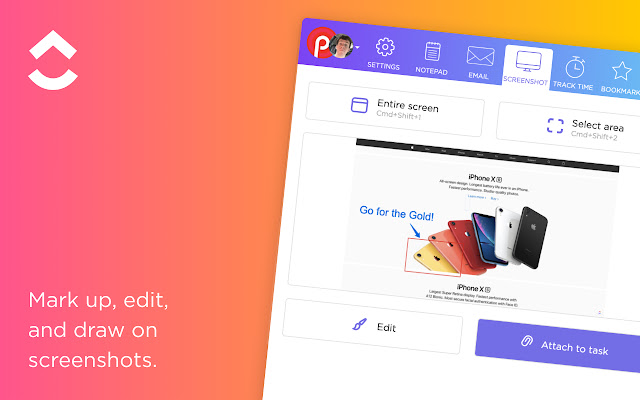 Take notes with Notepad's powerful text editing feature. ClickUp
Save a website as a task and bookmark it.
To add to a task or download to your computer, take a screenshot of the whole tab of your browser or just a portion of it.
To start tracking time, locate your job in the extension and click it. Add emails from Gmail or Outlook to tasks and Create tasks from emails by attaching them to tasks created in Gmail or Outlook.
OneTab can fix tab issues, speaking of which. This Google Chrome extension groups all those open tabs into a helpful list on one new tab page rather than keeping them all open. This makes it simple for you to get all the important connections you need.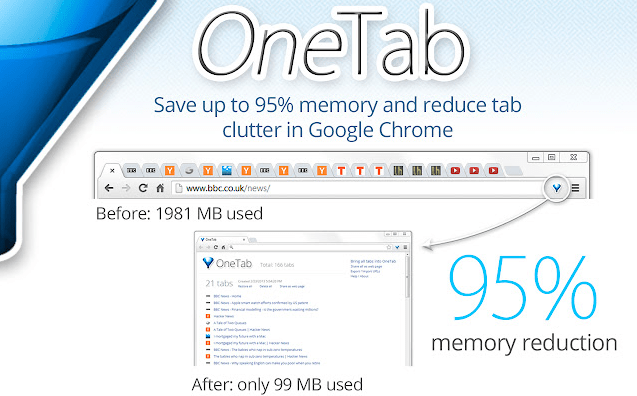 You can conserve up to 95% of the RAM in your web browser because there won't be many open tabs.
No issues; close all open tabs.
This keeps your workspace tidy and you productive.
It's simple to capture video using Loom and then share it with the team.
Stop sending useless emails and instead send a short video explaining yourself more.
It's the ideal web browser add-on for virtual teams that work and need to establish a personal connection.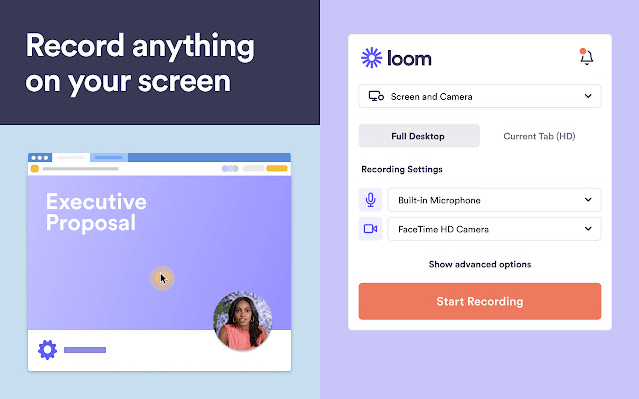 Are you interested in finding out about the finest screen recording software, watermark-free screen recording software, and Loom alternatives?
Examine ClickUp's Clip function to see how easy it is to capture your screen while working on a task.
With each new tab in your Chrome browser, this backdrop will be launched.
You'll find some peace and inspiration on this website to help you be more productive.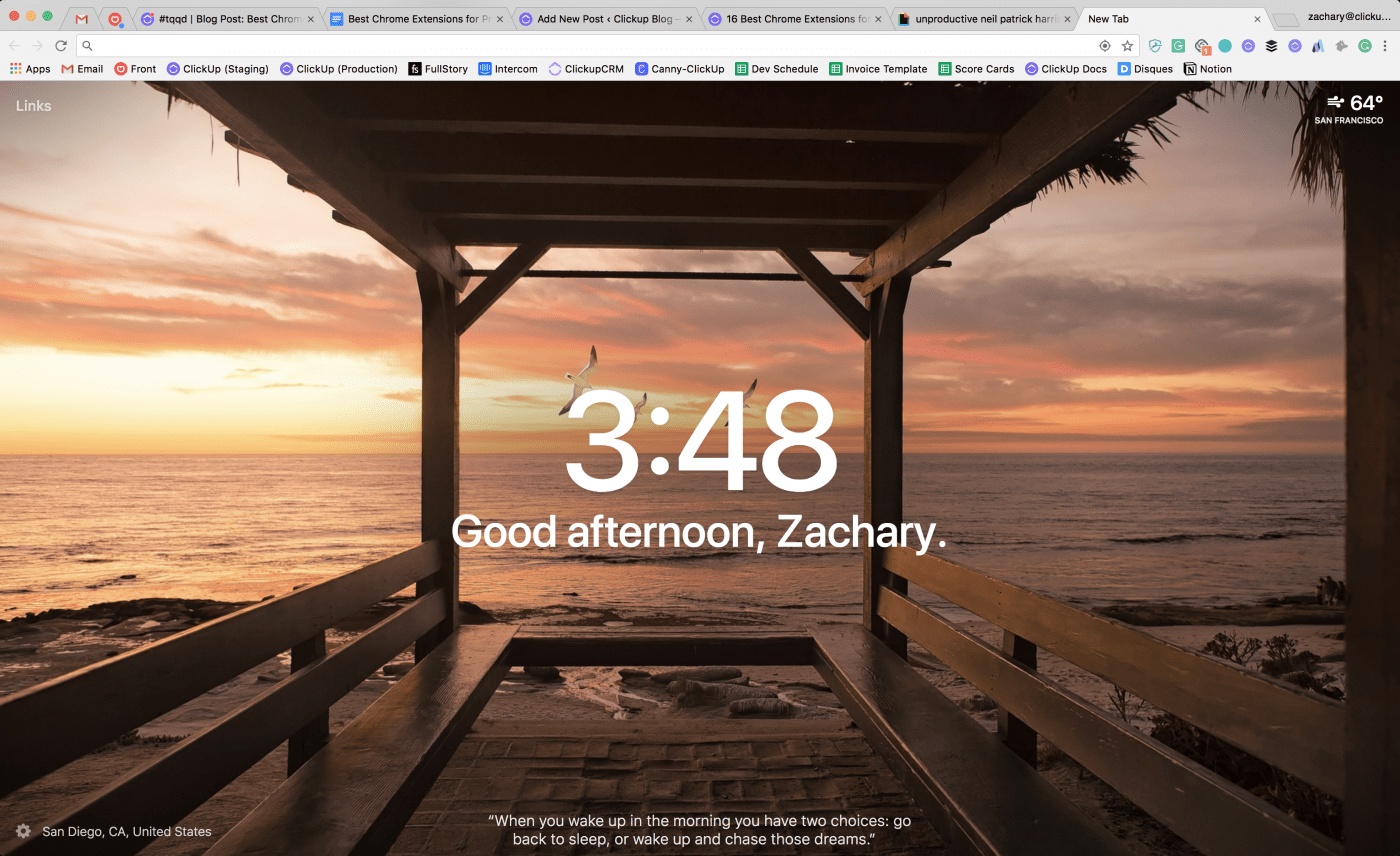 Set a daily goal, keep track of your to-do list, and be motivated by a new image and quotation every day.
By posting a reminder of your daily focus on all your web pages, you may get rid of distractions and defeat procrastination.
Change how you use your Gmail account by installing the Right Inbox productivity extension.
Users of Right Inbox may spend less time checking their email and more time on the things that are important.
It is a need for each email user and has a total of 11 functionalities.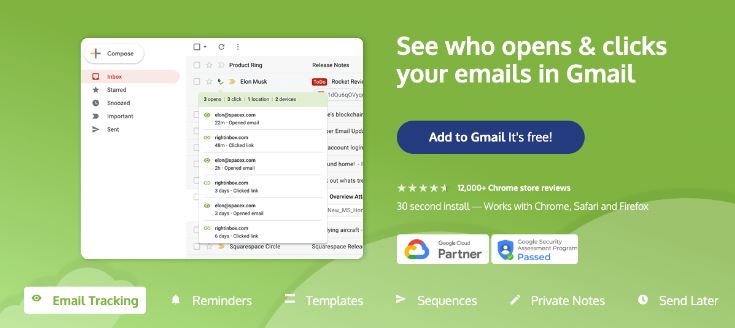 These qualities consist of:
Stop delivering the same message in recurring emails.
Know who opens your emails and when using email tracking
Email chains: Automate your Gmail email follow-up procedure.
Merge Mail: Use bulk emails to increase the size of your email outreach.
I'm not sure how I would manage without Pocket.
Do you have something to alter?
Put in Pocket.
Because of its recommendation engine, fantastic UI, and community features, it has become the finest online clipper site at the present, surpassing Instapaper and others.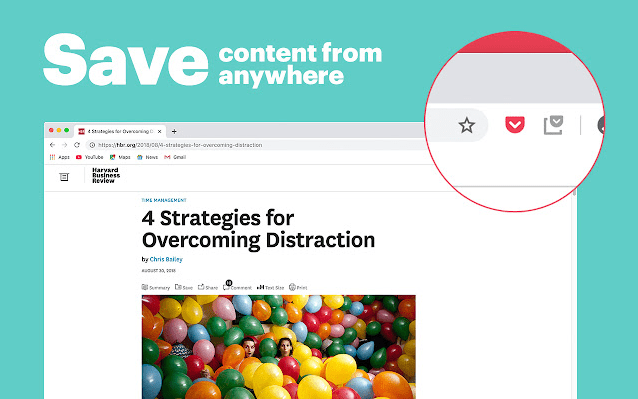 I use the Pocket extension icon to save all the stuff I want to read later and then share it with friends on social networks from my inbox at a later time.
I use this useful Chrome plugin to store stuff I find interesting when exploring the web in my web clipper inbox.
My phone or tablet will then display the text, link, or image, which I may click on. It's a fantastic web clipper inbox for reference, allowing you plenty of time to peruse when you go back.
You point out everything I do (and even some things I do right). Elevates spell checking since it can check your spelling in any application, including Google Docs and WordPress, which are the two places that most pop up for me.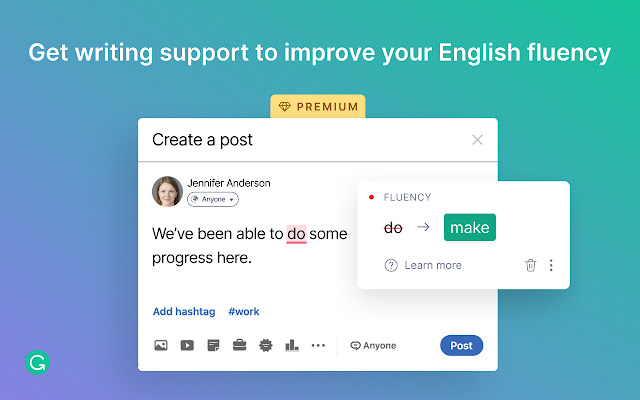 Can fix emails, social media postings, and any other material in your Chrome browser with the plugin. It also serves as a spell check for uploads to the web, keeping us all sane.
Additionally, Grammarly's website offers a spell and grammar checker, and your Google Drive uploads are reviewed for any mistakes.
In order to keep you focused on the work at hand, StayFocusd is a helpful Chrome extension that tracks how much time you spend on various websites and provides you the choice to block the most popular ones, such as Reddit, Facebook, Twitter, or other bothersome social media sites.
However, in order to change your settings, you must respond to and succeed in a challenge that makes going back to your previous habits more challenging.
Dashlane, one of the more practical Google Chrome extensions, is useful if you visit every website but can't remember your password. Your memory isn't the issue; rather, it's the environment we live in (or at least I like to think so).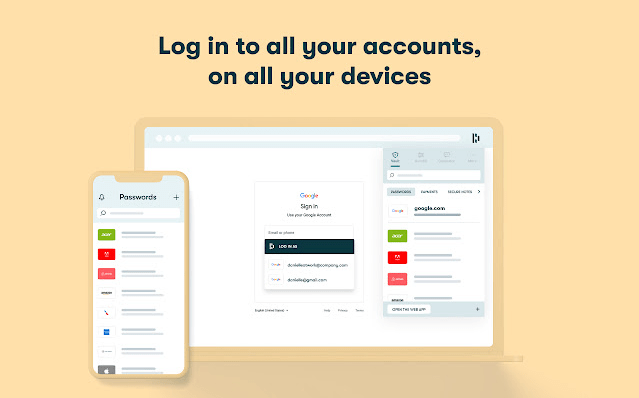 But, things aren't all awful, especially when the Dashlane crew comes to your aid to prevent any nightmares brought on by passwords. The password is shared when you click the Dashlane button. In this article on password managers, you can learn more about Dashlane and other options.
Ever ponder whether someone read your email? You won't need to use Mailtrack. This free Gmail Chrome extension will display: Whether your email was received
If it had been opened
After it was unlocked
How it was opened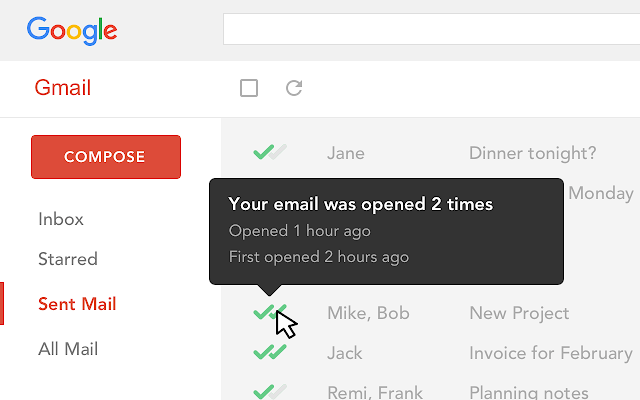 Even better, you can sort your emails based on whether they were opened or not. If you manage clients and need to know whether they have got your email or not, this is wonderful software to have.
Another essential addition to your arsenal of extensions is Fireshot.
The ability to take screenshots on mobile devices is well-known for its usefulness.
Your desktop now has that capability thanks to Fireshot.
You may pick a part to screenshot or take a snapshot of the entire website.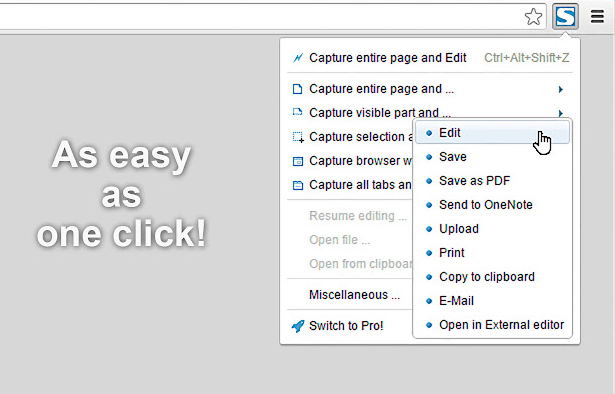 On a website, do you see a recipe you like? Screenshot it.
Need to capture any online info that you found? Screenshot it.
Want to buy a great t-shirt but want a second view first? Screenshot it.
You can take, edit, and save screenshots with Fireshot as PDFs, JPEGs, GIFs, and PNGs.
Even better, you may add them to OneNote or the clipboard.
You may even use these files when offline because they will all be stored.
I hope you enjoyed the recommended list of 10 best chrome extensions for productivity. If you're looking for interesting chrome extensions do check our list of best security extensions for chrome and way to auto refresh chrome webpages.