Google+ has been creating buzz since last month & I see most of my Facebook friends got shifted to this new social network offered by Google.
As you know this is available to login from plus.google.com, it makes it very hard to share profile link that are numbered by some google ID each time. And due to this issue you can not remember the plus ID for sharing anywhere.
So here is way you can create Facebook like shortnames for Google+
By doing this your profile link will look like this – http://gplus.to/username
How To Get Google+ Short Names
1. Open Google+ & Click on your name to view your profile.
2. Then copy this link ID as shown in following picture form your URL of the same profile page.


3. Click here to visit Gplus.to official site.
4. Enter your nickname & Google ID copied in Step 1 as shown in image below.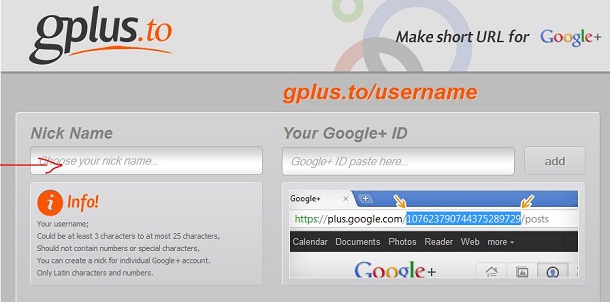 5. Click Add Button
And you're done !!
Now you'll have Google + shortname of yours. Don't for get to add me for more such updates & tricks at http://gplus.to/amolwagh
Note that this service is not made by Google & They have not recommended using the any service that does not belong to Google. But you can use it or edit it later just for fun & quick way of getting short name for Google +.