Since its emergence onto the tablet market in 2010, the iPad has steadily gained popularity to become one of the most popular computer tablets to date. While the iPad is known and beloved for its ability to allow users to tote around piles of documents and hundreds of books and music albums, the device has garnered some negative attention regarding printer compatibility.
When the original iPad was released, only a handful of printers could be used to print information from the device. However, recently, Apple and several printer manufacturers have worked together to provide a wider range of products that are compatible with AirPrint, Apple's wireless printing feature for the iPad. AirPrint is compatible with any iPhone, iPad or iPod Touch devices operating from the latest version of iPad software – iOS 4.2. Today, there are a number of printers that are compatible with the iPad allowing consumers greater choice when purchasing AirPrint enabled printers. Here are our selections for the top 5 compatible printers for the iPad:
1. Canon PIXMA MX882 Wireless Inkjet Office All-In-One
With built-in wifi and a host of printing options, Canon's PIXMA MX882 Wireless All-In-One printer can solve all your iPad printing needs. This powerful inkjet printer allows users to print and scan documents from anywhere within their home or office with just a few simple clicks. The PIXMA MX882 printer can print professional looking images and can manage standard prints or borderless images. The printer also boosts a 2-sided printing option and can also serve as a high-speed fax and copy machine. Perhaps the printer's most-handy features are its mobile printing capabilities. Once users download the free Canon Easy-Photo Print app for iPhone and iPad, they can effortlessly print documents from their iOS 4.2 compatible iPhone, iPad, and iPod Touch. The Canon PIXMA MX882 Wireless All-In-One printer retails from $160-$200.
2. HP ENVY 100 e-All-in-One D410a
HP provides approximately 26 printer models, including the HP ENVY 100, which are all compatible with Apple's iOS 4.2 compatible iPad tablet. This all-in-one printer, copier and scanner sports an intuitive touch-screen menu that provides access to many of the printer's different features. This Energy Star qualified electronic provides standard and double-sided printing, facilitates borderless printing and can accommodate several different paper sizes. The HP ENVY 100 e-All-in-One printer provides seamless wireless printing options from most smartphones, computers tablets and mobile devices and is also enabled to work with Apple AirPrint. The HP ENVY100 printer retails from $200-$250 depending on the retailer.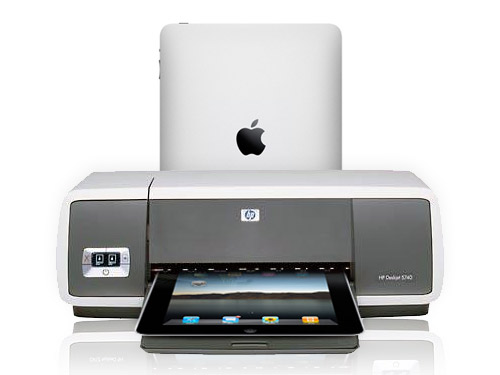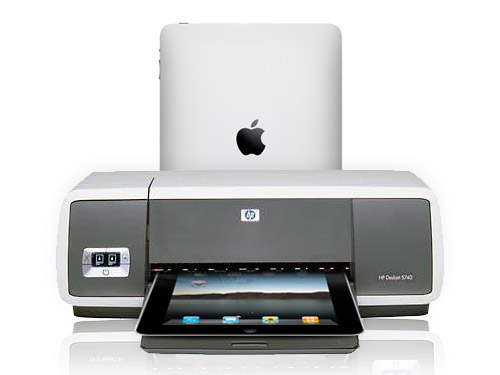 3. Brother Colour Inkjet All-in-One DCP-585CW
iPad users can also opt to purchase the Brother Colour Inkjet All-In-One printer to print documents wirelessly from their iPads. This printer model features a wide screen display that allows users to see a digital image of what they're printing before they commit to putting it on paper. This Energy Star approved printer provides high-resolution prints and borderless printing options to provide iPad users with professional looking printed materials. The Brother Colour Inkjet All-In-One features built-in wireless capabilities that work in combination with the Brother iPrint&Scan app for iPad, which can be downloaded from iTunes for free. The Brother Colour Inkjet All-In-One DCP-585CW retails from $80-$100 in most retail locations.
4. HP Photosmart Plus e-All-in-One Printer B210a
The HP Photosmart Plus e-All-in-One is a user-friendly printer that also includes iPad printing capabilities. This model provides basic one-sided printing capabilities as well as copy machine and document scanning functionality. This model works with iOS 4.2 devices (iPhone, iPad and iPod Touch) that are connected to an Internet connection. This is the perfect printer for the iPad user who only needs basic printing functions for their device and computer. The HP Photosmart Plus e-All-in-One Printer B210a retails from $150-$200 at most retail locations.
5. KODAK ESP Office 2170 All-in-One Printer
The KODAK ESP Office 2170 All-in-One Printer is a 4-in-1-office solution that is compatible with most iOS 4.2 Apple devices such as the iPad, iPhone and iPod Touch. This powerful printer, scanner, copier and fax machine includes a host of features to make printing and sharing images from your computer tablet or smartphone easier than ever. The printer facilitates high-quality, borderless photos and can also print from multiple paper sizes. iPad users can send photos to the printer and then view their image on the printer's 1.5-inch LCD colour display before printing, or can choose to insert their digital camera's memory card to print their favourite images. The KODAK ESP Office 2170 All-in-One Printer retails from $100-$150 in most retail locations.
This is a guest post by James, Working at a company called Cartridge Save in Manchester, England, James started out writing reviews on inkjet cartridges and now writes articles for their blog. If you wish to write a guest post for our blog click here.