BenQ has bought Zowie to enter into the hot segment of e-sports gaming industry. As BenQ already is one of the best monitor and projector brand in the world, Zowie has helped them expand into this growing industry of eSports & gaming peripherals. The BenQ Zowie XL2735 is an updated version of BenQ's flagship gaming monitor of last year, the XL2730Z, and has a similar set of features.
So can this eSports gaming monitor live up to its expectations? Let's find out in our following review.
Zowie XL2735 Review
Design & Features
The first thing you will notice with the XL2735 monitor, are the "Shield". These are the side wings which are screwed to the monitor which according to BenQ, will help you be more focused on your gaming by hiding all the activities happening behind or side of the monitor. They are optional but company highly recommends it. According to them, it takes a while to get used to the shield but is totally worth for a serious competitive gaming.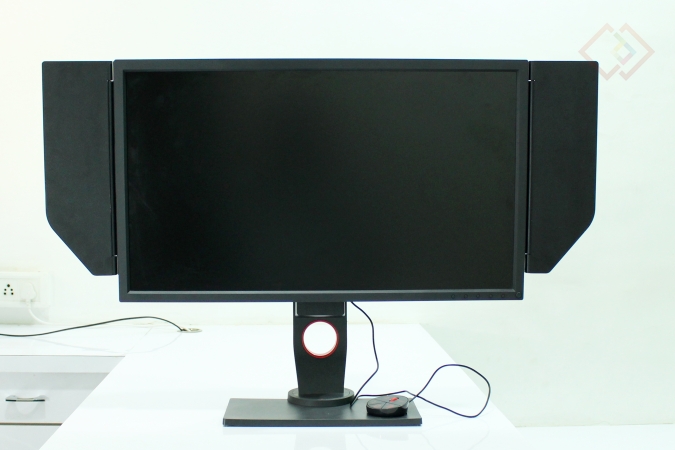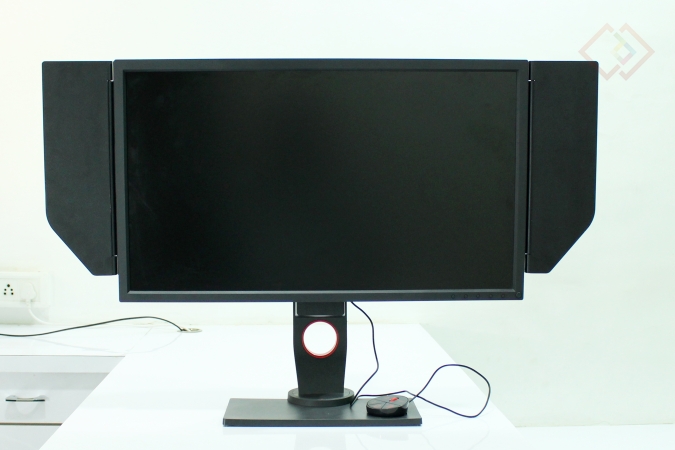 The Zowie XL2735 is a 27-inch monitor sport an outright 'made for gamers' look and has a matte black finish except for the small patch of a glossy rear panel. The bezel is quite thick and you will find red splashes highlighting key that follows both on the display and the stand. Assembling the monitor is extremely easy. The display attaches to the stand through a Vesa mount and there are absolutely no screws to fix the monitor. The base of the stand is equally easy to attach. Kudos to Zowie for creating such a simplistic yet functional design.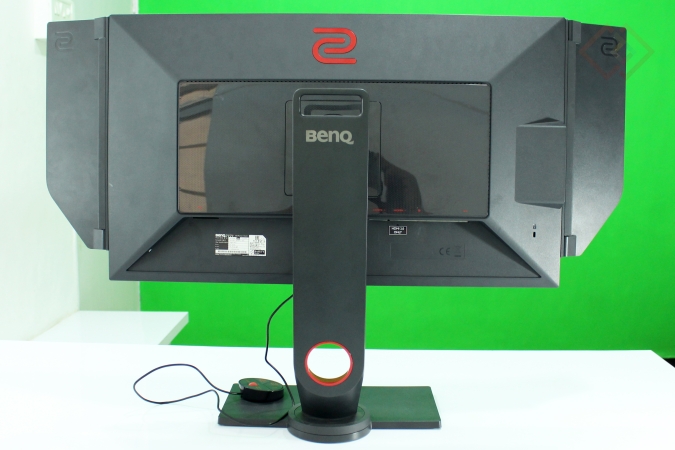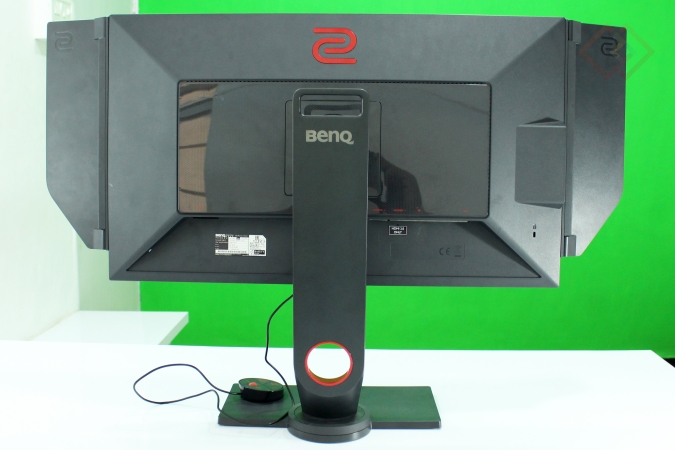 The stand offers height, tilt, rotation and pivot adjustment, so you can effortlessly get this monitor setup just right. BenQ has provided markers on the base as well as on the stand that allows you to mark the perfect rotation or height, so if you ever need to move the monitor to another place then you can get to your earlier settings in no time. This actually shows how much attention is given by the BenQ engineers to the very small details of the monitor. Adjusting the height of the monitor is very smooth, in fact, I managed to do that with just a finger. Also, the display rotates with ease. There is no other monitor available in the market right now that equals to the build quality of Zowie XL2735.
There's also a small circular slot being made on the base which will hold the S-switch. It can be easily overlooked but I found it extremely useful. The S-switch is a wired remote control that allows you to easily control the on-screen display (OSD) settings and switching between profiles is extremely easy. It also has a built-in memory that can store up to three different profiles. Therefore, you can even take the S-Switch with you to use in another monitor and use your own profiles with ease, which is possible if all the monitors around are of the same make.
[metaslider id=19869]
The Zowie XL2735 monitor has several ports including HDMI 1.4, HDMI 2.0, DP 1.2a, microphone and a 3.5mm headphone and microphone jacks, two USB 3.0 ports, and Dual-Link DVI. There is also a pop-up headphone stand on the side which is a great and useful addition. All these additional features are the best thing about the monitor.
Performance
The Zowie XL2735 monitor is a 27-inch Quad HD TN LCD panel that sports a 144Hz refresh rate and has a resolution of 2560 x 1440 pixel. Although TN panels have their advantages, but given the price of this monitor, they could've done a lot better. Image quality is at its best while gaming but as soon as you switch to tasks other than gaming, your impression of the display wares off. The image quality drops and you don't see necessary sharpness in the images and colors appear to be washed off.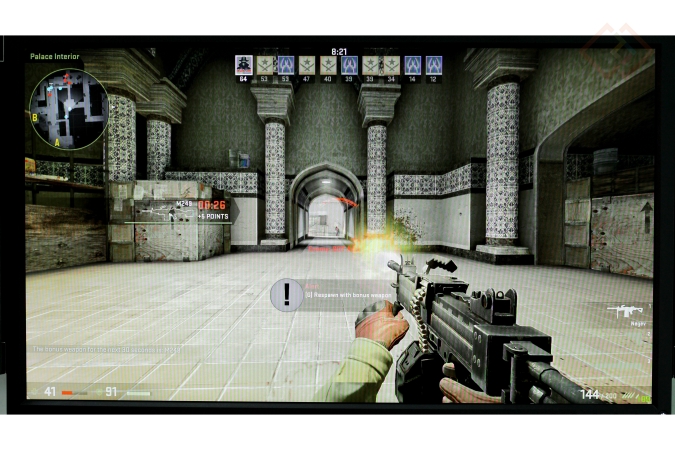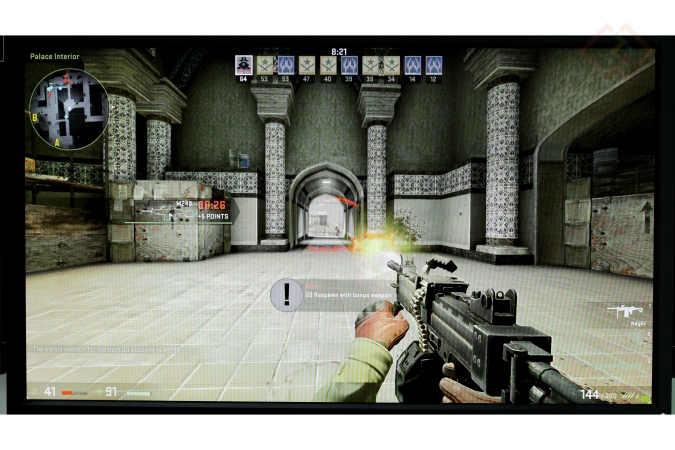 Viewing angles aren't that good due to TN panel. The panels respond a bit faster than even a 165Hz monitor but they aren't that good for anything other than gaming. While gaming, all the scenes looks stunning on this monitor especially the darker ones. There is also a 'Black Equaliser' provided that lets you illuminate the darker scenes without over exposing the brightly lit portions in a game. There are very rare monitors in the market which offer you such fabulous gaming experience.

The Zowie XL2735 monitor doesn't come with G-sync which is quite a bummer but it does help them to add more display ports which can be useful in some situations. Also, there is an Advanced Motion Accelerator, which basically makes the panel response even faster; and an Instant Mode, which bypasses as much image processing as possible to reduce input lag. The result is that you don't get any kind of lag or screen tearing or blurriness while gaming. You can see that clearly in the Dynamic Accuracy Test video below by Overwatch.

Verdict Of Zowie XL2735
BenQ Zowie XL2735 is priced at a whopping Rs. 60,000 in India. Therefore, despite the fact that the gaming experience was absolutely great and it has a wonderful design, the monitor performs subpar on every other thing except gaming. Which means that you have a very expensive monitor that is only suitable for gaming and nothing else.Therefore, this monitor is for pro gamers only, period.
Also, this monitor competes with the Dell S2716DG, Asus ROG Swift PG278Q and Acer XF270HU all of which come with G-sync and are available at a lower price and do offer almost same, if not identical gaming experience.
For pure gaming performance, features & build quality, I can easily recommend this monitor to eSports community, with an obvious downside of being an expensive monitor.