Mumbai, 24th June 2016: e-xpress Interactive Software Pvt Ltd, a leading distributor of games software in India, announced today, that the fans who will pre-order the upcoming WWE 2K17 will win a chance to meet the very famous WWE champion Alberto Del Rio, also a fourth-time WWE World Heavyweight Champion during his India visit this July.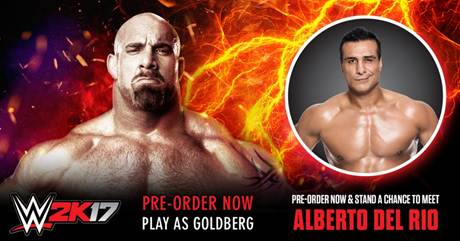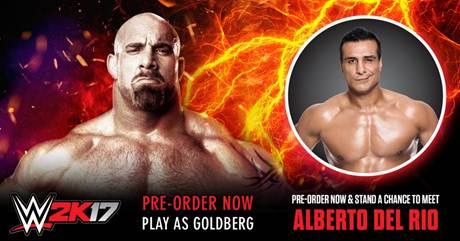 To avail the meet & greet opportunity, customers will have to pre-order WWE 2K17. The Pre-order offer is now live HERE. Also, the offer will soon be available on Amazon.in, Flipkart, and other retailers in India. Offer is valid till 7th July only. Lucky winners & further details of meet & greet will be announced soon through our Games The Shop's Facebook page. Please stay tuned till we reveal further updates!
Additionally, customers on pre-ordering will receive pre-order bonus of 2 Playable versions of Goldberg (WCW and WWE personas) and 2 Classic WCW Arena's (WCW Monday Nitro and WCW Halloween Havoc)
WWE 2K17 is an upcoming professional wrestling game from the WWE franchise. The game this year too has arrived as the reigning and defending flagship WWE video game franchise champion with stunning graphics, ultra-authentic gameplay and a massive roster of WWE and NXT's popular Superstars and Legends.
The game is scheduled for release in October 2016. Pre-order the copy of WWE 2K17 now on PlayStation® 4 & Xbox One for ? 3,499 and PlayStation® 3 and Xbox 360 for ? 2,499 only/-