Express Interactive Software Pvt. Ltd, the leading distributor of games software in India announced today, the pre-orders for one of the most exciting video games – Trials Fusion: Awesome Level Max. The game play is full of awesome adventures where in players get to ride a cat on a beautiful fired up Unicorn.
World recognised publisher Ubisoft, has developed this game for player to take on an unlimited array of platform-racing challenges in the unreal world of Trials Fusion. The game play lets you discover immersive worlds and face new challenges in each of the 6 DLCs composing Trials Fusion's Season Pass which is with the game.
The Trials Fusion: The Awesome MAX Edition also includes the new Awesome Level MAX DLC, which adds a collection of new tracks and gaming content, combined with a unique Trials experience featuring an unexpected hero (CAT) riding a very special bike (The Unicorn). This fresh DLC pack contains levels that are as much tracks as they are adventures!
Key Features

TRIALS FUSION FULL GAME: Rock-solid motocross physics and reality-bending course designs come together for an over-the-top racing experience that no other game can provide. Show your fearless side with the brand new FMX tricks system, and choose your path towards victory on branching courses. The finish line is the ultimate goal, but the challenge is everything before it!
THE SEASON PASS (6 DLC PACKS): With Trials Fusion's Season Pass , you will ride your way through 6 DLCs featuring new tracks, new bike parts and rider gear, but also new items for the Track Editor. On top of that, each DLC will let you enjoy a new Career Mode Event set in a spectacular universe.
THE NEW DLC "AWESOME LEVEL MAX"
Immerse yourself in a unique Trials experience through the 2 themed events of this new content pack:
The Awesome Adventure is a funny and previously unseen Trials gaming experience, including a unique unicorn-riding cat!
RedLynx vs All-Stars is a collection of 22 new tracks, half of them created by RedLynx's track developers and the other half made by the very best track creators from all around the world!
In total, this new DLC pack features 30 all-new tracks plus 10 Supercross tracks, 30 unexpected and various challenges to complete, unicorn bike & cat rider, 5 new garage items and more than 130 fresh new Editor Objects.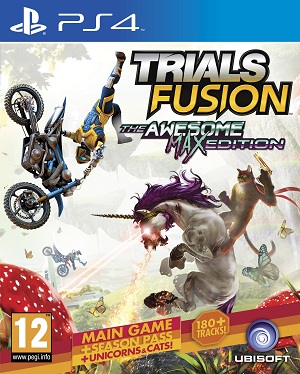 Gameplay Trailer of Trials Fusion: Awesome Level Max.

Release Date
The game is releasing on PlayStation 4 and Xbox One on 16th July 2015, and the pre-orders starts at Rs. 2,499 for both PlayStation 4 and Xbox One.
Availability
Pre-order your copy online here: http://www.gamestheshop.com/Trials-Fusion-Awesome-Max-Edition-for-PS4/1933.
You can also find Trials Fusion Awesome available at all other retailers in India both online and offline stores.
For more gaming, technology and lifestyle news and reviews, join us on Facebook or follow me on twitter at @amolwagh.