When it comes to succeed the smartphone launch in Indian market, Xiaomi has already made its name with three devices like Mi 3, Redmi 1S & Redmi note. But the launch of Mi 4 kind of pissed the value conscious fans, as it is priced at close to 70-80% higher than its predecessor.
Then comes the 'Made for India' variant of the Mi 4, this time named Mi 4i, and guess what, it received instant success in the flash sale format that Xiaomi is well-known for. Despite the over the top specifications that can shake the competitors in the market, can it really survive our real world tests?
Lets find out in the following Mi 4i Review.
Mi 4i Hands-on Review
Straight out of the box, the phone's design is gives a premium feeling compared to anything in the price range, except the newly launched third generation Moto G.  The sharp edges on the sides and the flat at the bottom gives the hint of being similar to iPhone.
The most impressive of all is the glorious 5-inch IPS display, that comes with 1080p resolution. The Mi 4i comes with premium poly-carbonate unibody design, that feels sturdy and well built. It weighs just 130 grams and is very slim (7.8mm), that helps it fit perfectly in your hand. This smartphone has absolutely thin bezel that makes it reasonably easy to for single-handed use, despite the fact that it's a 5-inch device. (The exact dimensions of Xiaomi Mi 4i are 138.1 x 69.6 x 7.8 mm.)
Mi 4i Specifications
This Android 5.0.2 powered smartphone has independent capacitive buttons at the bottom of the screen for menu, recent apps and back functionality. Power and volume buttons are well placed on the right side of the phone. Mi 4i comes with the 2GB RAM, 16GB of non-expandable storage capacity, 13MP rear cam with dual-tone LED flash, 5MP front camera, Wi-Fi, Bluetooth 4.1, USB OTG and a massive 3,120 mAh battery.
Mi 4i is powered by Qualcomm Snapdragon 615 octa-core processor (64-bit SoC) which is a combination of 1.7 GHz quad-core and 1.1 GHz quad-core processor. And like I already mentioned the 5-inch 1080p resolution IPS display is best you can get in this budget.
Physical Appearance
The beautiful white polycarbonate cover hosts all the buttons and ports ar convinient locations. The only different thing with this is, you have to pull out the SIM tray using the pin provided in the box. Note that the back cover of Mi 4i is not removable.
[masterslider id="22″]
Performance
To be very honest, Mi 4i like its predecessor isn't gonna blow your mind by its performance. No it does not lag, or not sluggish as low-end devices, but it's not as good as the Mi 3 or Mi 4.
Gaming experience is quite amazing as the display produces sharp and crisp images with the available on-board graphics. After 15-20 15 minutes of gaming Mi 4i got moderately hot on the top-left corner, but that is expected from a smartphone that possesses this kind of horsepower.

Again, thanks to its eye-popping display, the browsing experience is great. Page loading is fluid, and you can read for longer hours, as the text renders our extremely sharp even on the highest zoom. The usual features like kinetic scrolling and pinc-to-zoom works decently.
Check out the benchmark values of Mi 4i below, that will give you clear idea of what this device is capable of, in terms of performance.
Antutu

Benchmark
The Antutu Benchmark recorded the average score of 27287, which is surprisingly low even compared to even with its very own Redmi Note & Mi 3.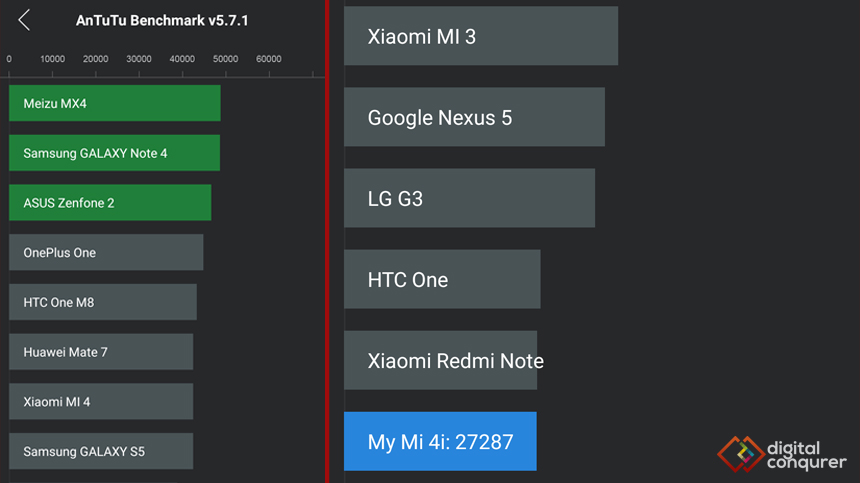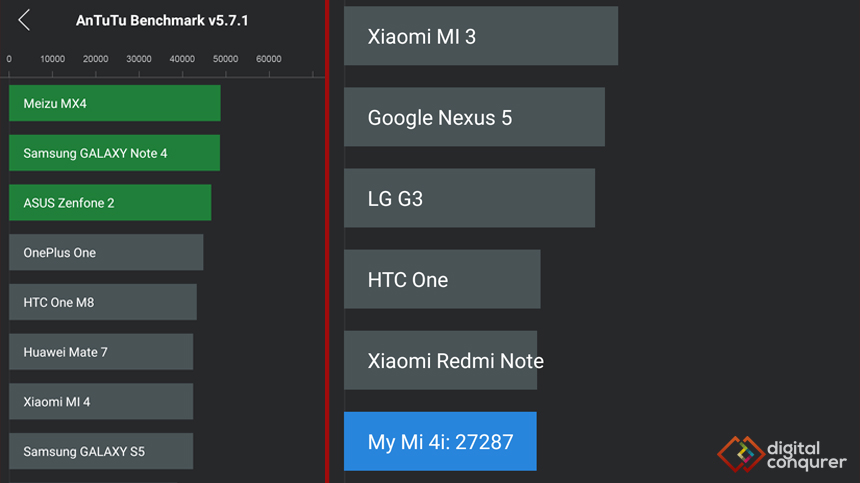 Geekbench Benchmark
This benchmark scored an average of  698 for the single-core performance and 2197 for the multi-core. The performance is somewhat higher than older generation flagships like Moto X, Galaxy S4 but lesser than LG Nexus 5.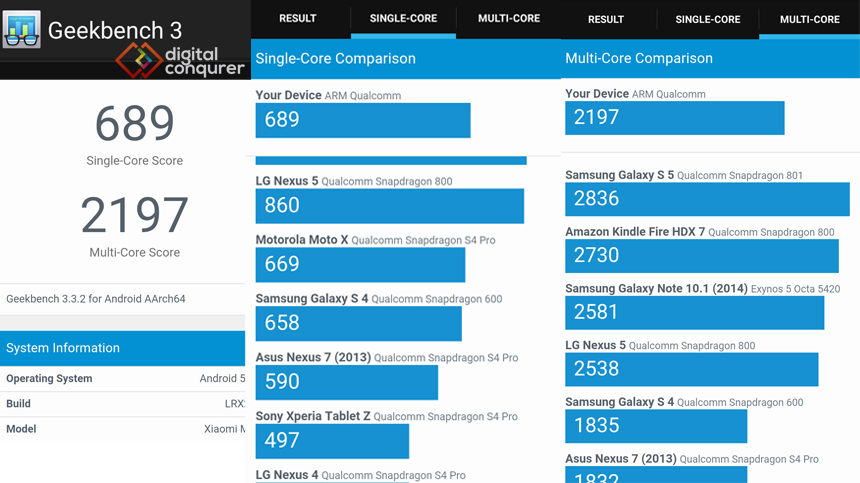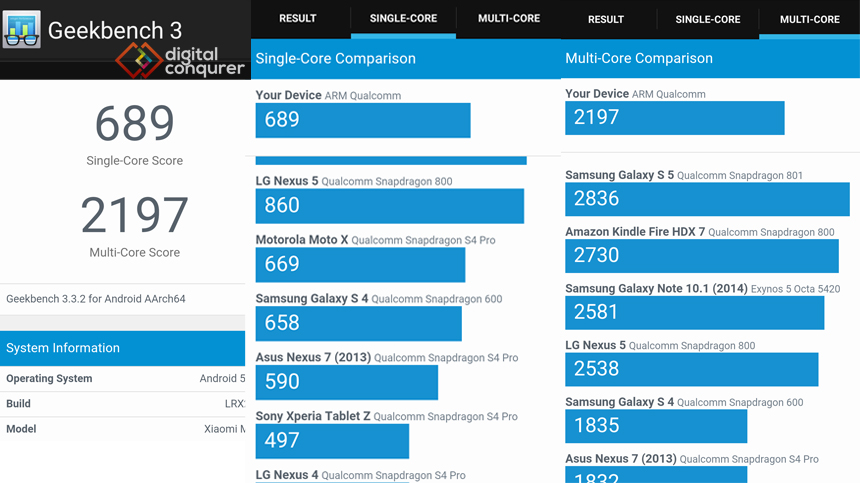 To put all these numbers in simpler words, you can say Mi 4i is decent performer, but not as good, considering the price.
Battery
Mi 4i has a 3,120 mAh battery but still because of its 1080p display and power hungry SoC, it drains out in a day.
Charging time is considerably low, as it uses Qualcomm's quick charge 2.0 feature that gets it charged quickly enough up to 40% which can last you a day with a moderate use (With no gaming and watching videos though. :P).
Camera
The Mi 4i has a 13 MP rear and 5 MP front camera which took decent outdoor shots. You can check some following street photographs we captured.
[masterslider id="21″]
View Full Resolution Photos Here – Photo 1 | Photo 2 | Photo 3
The outdoor images clicked by rear cam were quite good considering it was captured in the low daylight of this cloudy season.
Front camera also takes decent photos, which is quite a great camera for selfies. The amazing MIUI comes with great next-generation features like age detection, face detection and smile detection. The age detection actually predicts your age, that change easily if you keep turning the camera around, but it sure is fun experience. It predicted a good range for me being a 24 year old, the predicted age was ranged from 20 till 31. Cool, right?
You can also use the live grid view of all special effects of camera while clicking a picture. So you can select the best effect suitable to your image even before you click it. Great feature if you are an Instagram buff!
Entertainment
You have to rely on your previously owned headphones as you don't get a headphone with Mi 4i. The speakers, which are at the bottom of the back of the phone, are quite loud and deliver nice audio quality. We played some full HD videos that worked quite smoothly, and quality of display cannot be questioned.
Thanks to the vibrant image reproduction, you would love watching movies or photos for prolonged times.
Verdict
At Rs.13000, Xiaomi Mi 4i is a decent android smartphone, but like I said, it's not as good a performer as that of Mi 3. But it is still a power packed smartphone with exceptional display and audio system. We have other phones in this range like the Asus Zenfone 2 and Moto G 3nd gen, but Mi 4i performs is well-built smartphone performer for the price.
If you are looking for extremely value for money smartphone, check out the [tooltip text="Hands-on Review of Lenovo K3 Note" url="https://digitalconqurer.com/gadgets/lenovo-k3-note-review-hands-on/"]Lenovo K3 Note[/tooltip] smartphone that outright defeated Mi 4i when it comes to benchmarks, and is just priced at Rs. 9,999 on Flipkart.