Norton has always managed to offer the best in class security suites for your PCs & Laptops form long time, So our team decided to get our hands on their newest offerings – Norton Mobile Security for Android Smartphones.

App Testing Scenario
We tested the app for not just one or two days – But for 10 full days This app was tested on variety of Android smartphones that have less processing power as 600 MHz to as high as dual core 1.4GHz smartphone – Just to make sure that how the scanning speeds & performance changes overall.
Here are the results explained with its individual features.
Features & Overview of Norton Mobile Security (Android)
Anti-Theft Security
The first and very importantly, the security comes in play from device getting stolen physically. And Norton Mobile security offers a variety of options to set up Anti-Theft to make sure you device safety. Just in case of your device get stolen, You get the exact GPS location of the device to track down. You can set up a SIM card lock, Erase data remotely to ensure the privacy and some more quick options like SMS from stolen device to you & Remote Lock.
As very few anti-virus out there offer such Anti-theft protection, I would like to give a thumbs up for this feature from Norton.
Anti Malware Security
Now this is where Norton Security is really expert at, You can scan your device memory, SD Card & Apps for potential Malware threats on your device very easily. Let me tell you it performs fairly quickly on any type of android phone even when our devices was loaded up with ton of apps, music & videos. (Not like the boring PC scans for hours !)
You can even schedule the Anti-malware scans weekly to make sure device remains protected. You can also enable Norton Community Watch, that constantly collects and analyses information from Android phones around the world, who are using Norton Security. Because of this your security suits knows which are the latest threats and unsecure apps are creating issues, and protects you from it.
Norton Intelligent Live Updates are done when you are in your 'Home Network' Automatically, So its malware database remains always updated and makes you free from latest threats.
Call & SMS Blocking
Now this is a total add-on function in the security suites, because no other anti malware protection suites offer you blocking the unwanted calls and SMS from specific number you can set up easily. Now that is what we call true security & Privacy, Isn't it ?
You can set up a number and select to block SMS, calls or both. You can monitor all related logs from the Call & SMS Menu to keep track of what's going on with blocked numbers.
Web Protection
This is totally cool function that allows you protect potential virus or malware threats, that comes from Android web browser. It will notify you for insecure sites and block unwanted pop-ups. (note that this protection is only availble for Android browser and not the apps like Dolphin, Skyfire)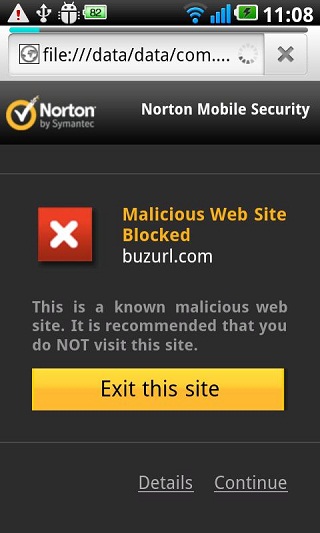 User Interface of Norton Mobile Security
Despite of offering security, this Norton Security for Android offers a clean & great looking user interface. The app loads up pretty quickly and there is no lag of any kind while you are scanning the Android smartphones, or setting up features.
The UI offers very easy to understand navigation, So you don't get confused even when using for the first time.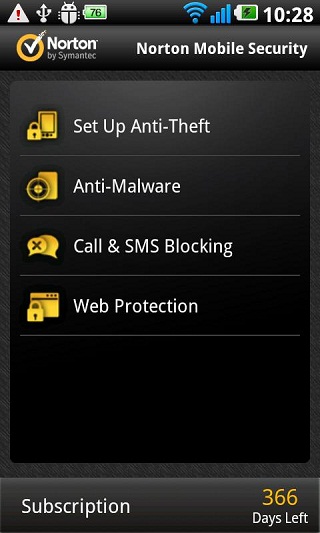 The installation of the Norton mobile security App is very simple & you are ready for protection within 2-3 clicks. Currently there are different versions of the Norton Mobile Security for Android.
Our Verdict & Review
Norton has managed to achieve the every possible security feature in this powerful Norton Mobile Security suite that is crafted for all your privacy needs. They have not just focused on the Malware and Viruses but even from the physical stealing of the device.
This represents a features of true android app that you'll ever need for security & that is why it is worth having for your mobile security. And not that you have to pay now, You can try the lite version and make sure that this is 'The Best' protection app out there.
App Rating – 9.5/10
Download Norton Mobile Security Lite – Free (Android Market)
Download Norton Mobile Security From Official Website
Check out the Introduction Video from Norton: