Notion templates are heavily promoted as administrative tools and productivity solutions for companies, freelance writers, and other experts. However, the note-taking app also offers significant advantages for students who want to successfully balance their personal and academic life. As a student, you may use Notion for everything from organizing your course materials and student loans to keeping track of your grades and homework assignments. Direct note-taking, paper writing, and even group project collaboration are all possible with Notion.
Additionally, Notion comes with tons of templates that allow you to quickly get started with the program without having to invest a lot of effort in creating your workspace and documents and starting fresh.
                                                                       
Notion includes blocks for coding and mathematics and the ability to build databases. Additionally, Notion offers a personal free account for students with a school email address that permits uploads of any size. It is cloud-based and accessible from any location at any time via various devices. The advantages of idea templates are increased further because they frequently combine several elements into one practical digital environment.
The purpose of Notion templates for students is to save time by providing pre-made materials similar to other templates. The most awesome Notion templates for students are a matter of opinion because there are hundreds of possibilities to select from. However, several templates are likely to benefit the daily lives of most people engaged in academic endeavors.
The School Dashboard is a fantastic substitute if you're searching for a dashboard that is a little more attractive than the Student Dashboard and is also completely free. The template includes a thorough assignment database, a course tracker (past, present, and future courses), and an academic planner with ideation tools. All the benefits that come with many other student dashboard templates, such as the capacity to take notes, make to-do lists, and set reminders, are also provided by the School Dashboard template.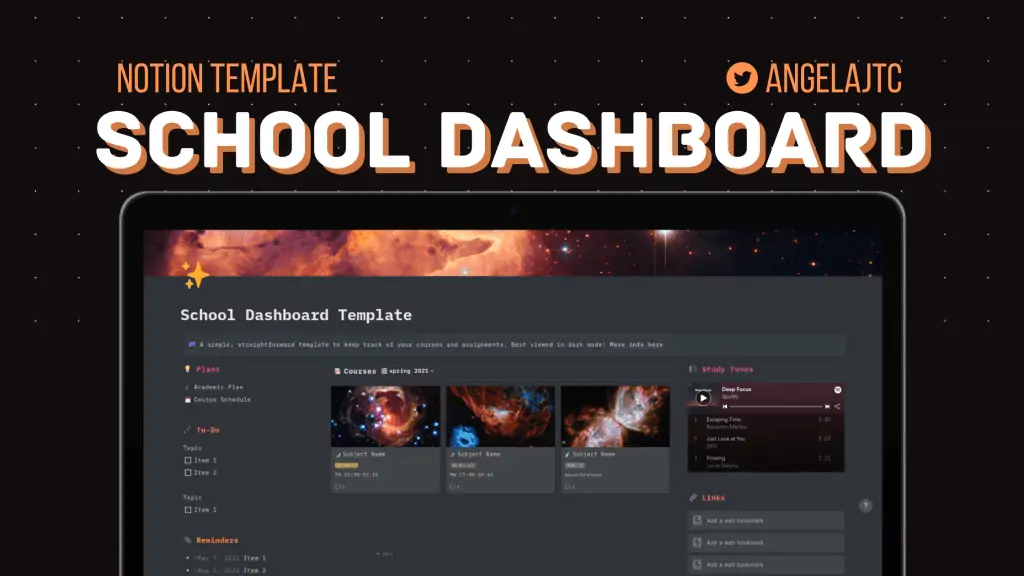 You may also want to read: Best Widgets for Notion (2023)
The Student Dashboard is one of the most excellent Notion templates for students who want to manage all of the associated responsibilities while keeping track of their courses and lesson plans. This template's free version includes the following: Other capabilities include a document archive, book tracker, and bookmark manager, but you would have to pay for the complete version. The Student Dashboard template is beautifully designed, allowing users to write notes and monitor exam results. A revision schedule for each component of the course is available to aid exam preparation.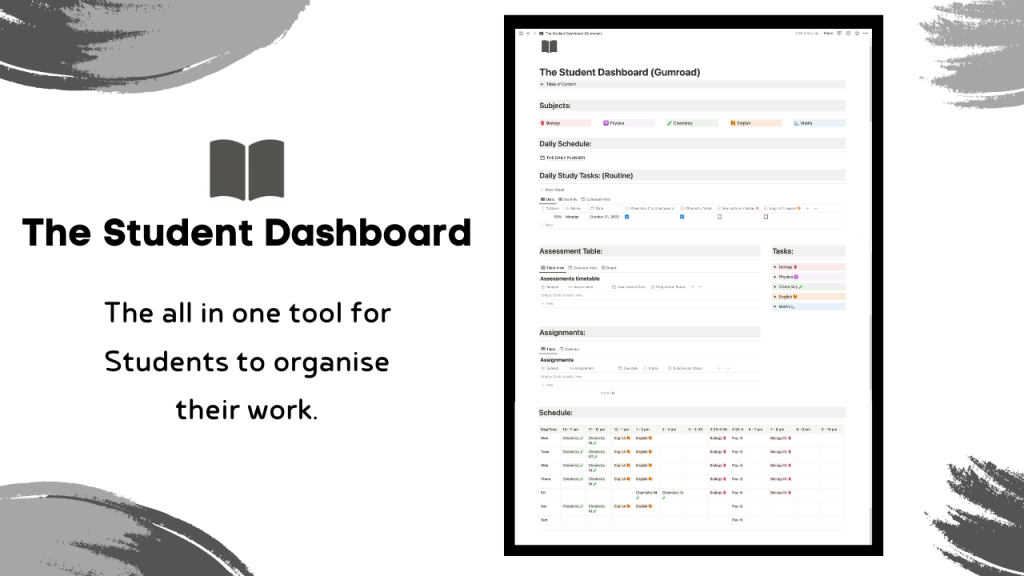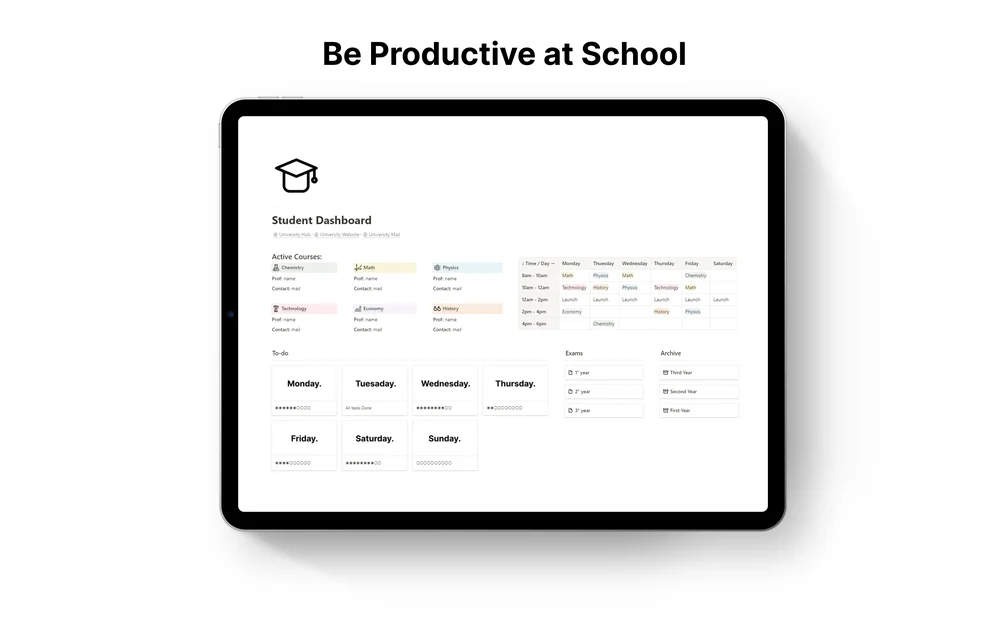 It can be challenging for students to maintain organization with all the moving elements and responsibilities involved in learning computer science. Many of the problems that this free template immediately addresses students of computer science face. The computer science student dashboard can create databases for your learning resources and materials, manage assignments, and keep track of extracurricular activities like internships.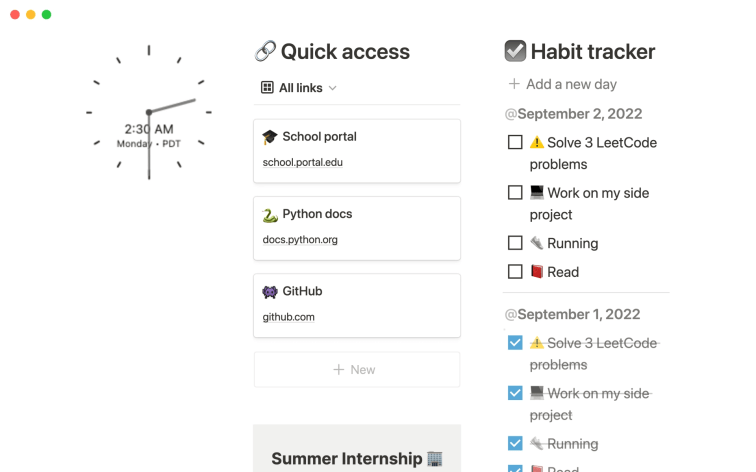 The University Dashboard provides everything users need to organize their activities, take notes, make course schedules, maintain track of upcoming events, etc. It also has a straightforward but lovely look. Utilization of the Notion University Dashboard template is entirely free. Despite what the name might imply, this template could be readily modified to fit any school program, even though it was created mainly for university students. Some of its primary features are a course material filter and organizer, teacher databases, quick reminders, and countdown and impending event views.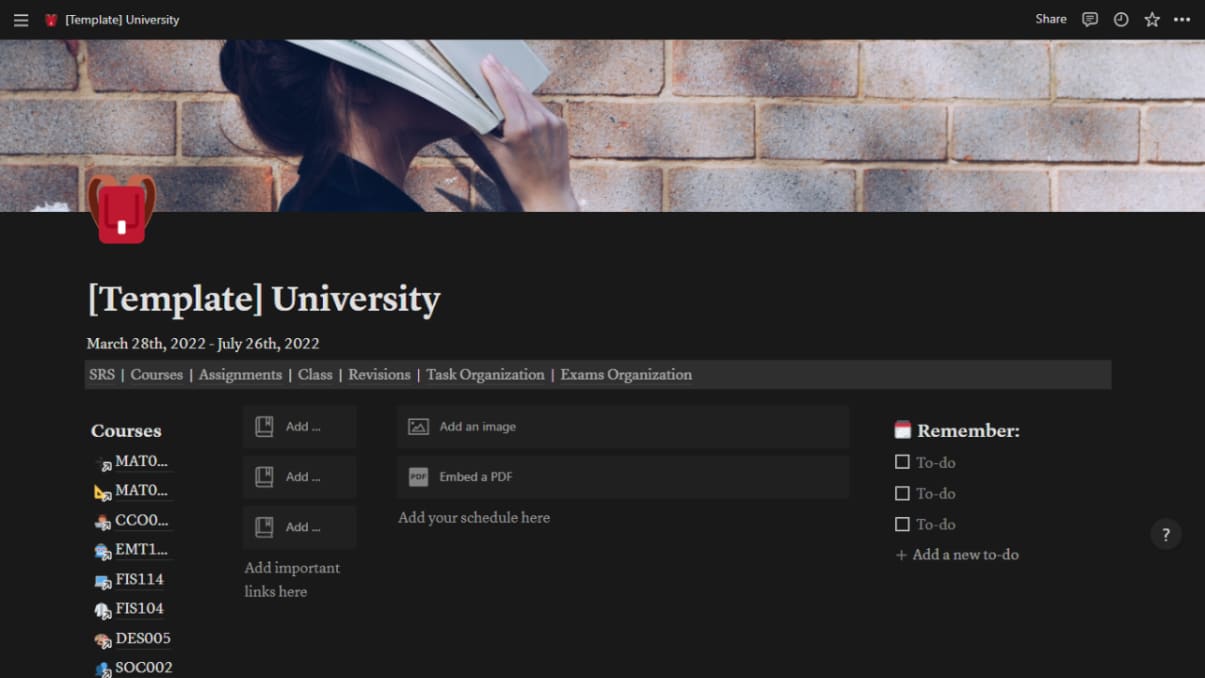 Many tertiary students, not least of all those pursuing medical degrees, find it challenging to balance their studies with their personal lives. The medicine template has a modern, appealing style and provides a variety of databases and trackers to assist medical students in managing their academic and social lives. Some significant features include manuscript and abstract tracking, course and assessment tracking, note-taking templates, and a health tracker. In addition to generating task lists and calendars, among other benefits, the medicine template is helpful for taking notes and doing research.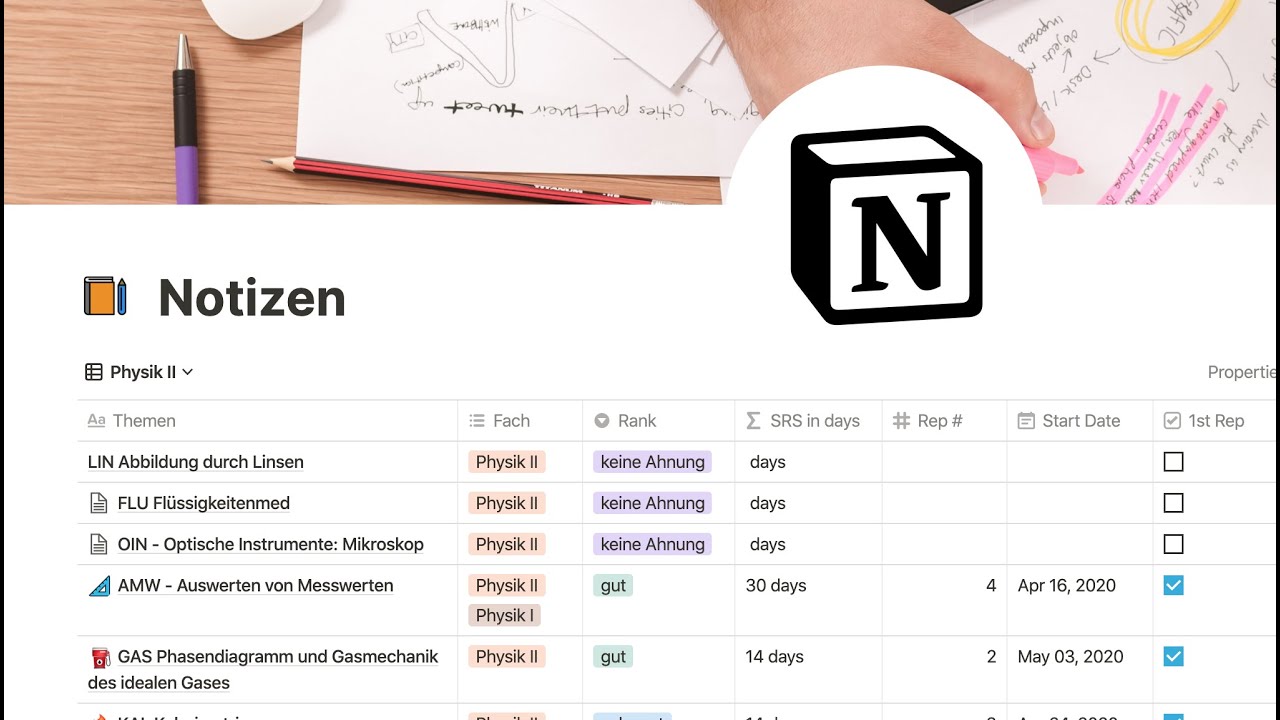 Keeping up with all the requirements of your schedule and mental capacity while pursuing a college degree, takes a great deal of planning and preparation. The College Degree Course Tracker template was created to assist college students in keeping track of all the various aspects of earning a degree during the degree's duration. The template assists with managing your courses, monitoring degree requirements, planning your degree across several years, and calculating your GPA. The design should be pretty simple for users of the College Degree Course Tracker. You may view the instructions for each section once the file has been downloaded.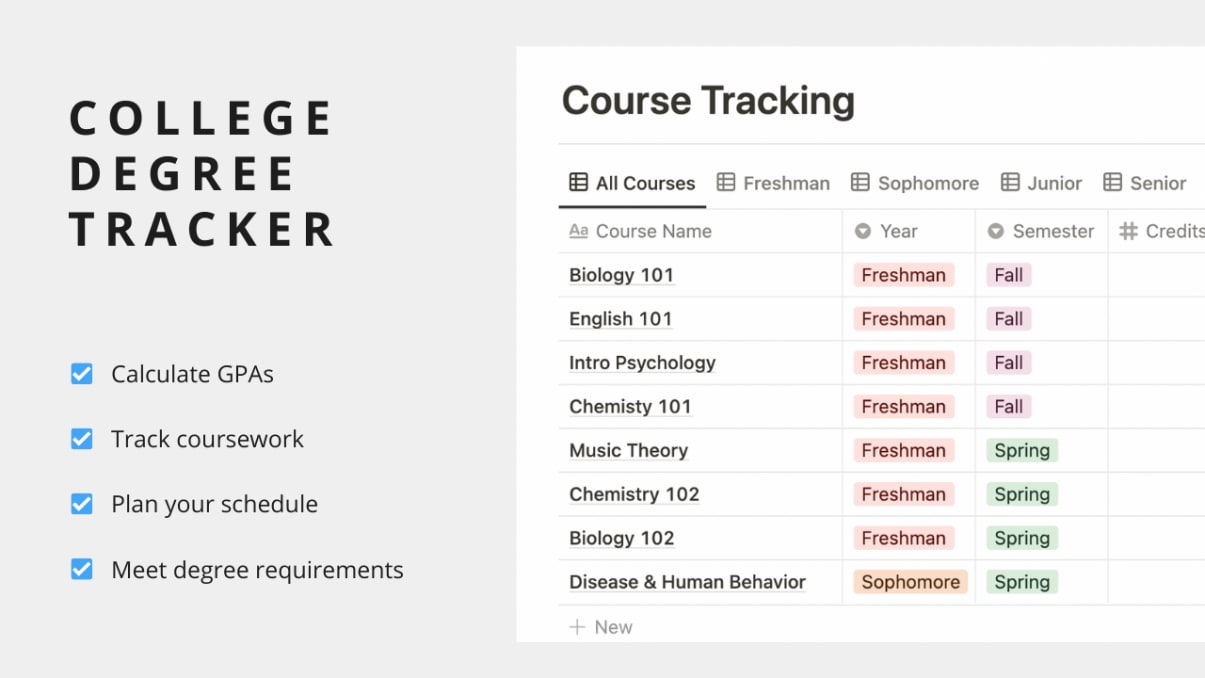 The University Hub is a well-organized, one-stop location where university students may maintain organization up to graduation. Several databases for courses, lessons, lecturers, exams, etc., are included in the template, along with built-in templates for keeping track of every aspect of your academic career. The University Hub template consists of a schedule builder, a to-do list, lesson management, and a lecture system. When it's time to start looking for a job, The University Hub also offers a job search page and a free Canva template to assist you in creating your CV.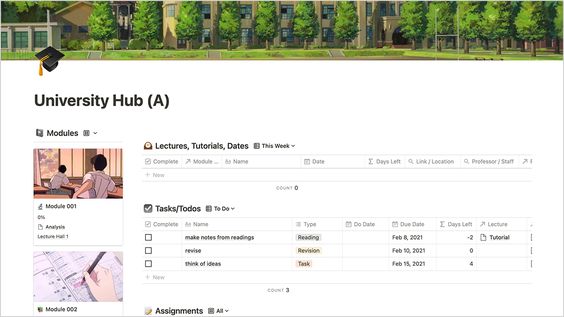 A free Notion template called Student OS empowers students to fully take charge of their academic lives and pursue their objectives. The template helps organize coursework, keep track of assignments, jot down, and make appointments can be used in any aspect of student life. The Student OS Notion template's built-in notebooks, degree planner, task lists, calendars, and course database are some of its standout features. According to its designer, Student OS's clean and straightforward design will make students more productive.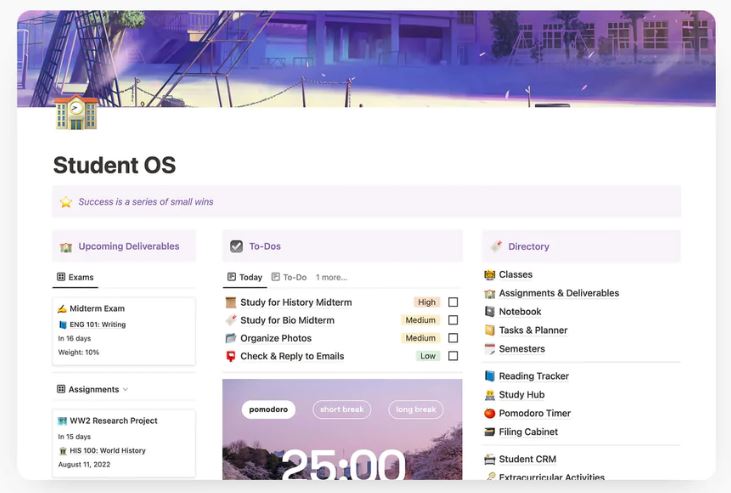 One of the most accessible Notion templates for students is the Student Starter Pack. The fact that the template is only one page long does not diminish its utility. It allows you to store your notes, add calendars, and create various databases for your classes, assignments, and due dates. Using the Student Starter Pack template with a tutorial video included is quite simple. You may even choose between dark and light modes to suit your preferences.