With the growing number of gadgets we carry and use every day, tablets are going away for good sooner or later. But don't underestimate their usability as they are becoming an integral part of our good old laptops & netbooks.
Being one of the first and pioneers in this technology since years, Asus has found some success with the Transformer series in the past, but this time around, they are more focused towards thin, light and more powerful work machines that are also convertibles.
With this new perfected square hinge technology Asus has crafted 360-degrees rotating laptops, that are also great tablet alternatives. The Asus Zenbook Flip UX360CA is a perfect example of all the right things like power, elegance, and performance altogether.
But is this laptop convertible practical enough for everyday use? Let's find out in this detailed review.
Asus Zenbook Flip Review
Physical Appearance
At the beginning of this year, we did the review of Zenbook UX305, and I have to say that the Asus Zenbook Flip looks very similar to it. It has the same brushed aluminum body which looks elegant and the diamond-cut chamfered edges accentuate the sophisticated shades.
Zenbook Flip UX360C looks similar to the Apple MacBook Air (but in better colors), as it has the same display size and has the same width. Without any doubt, its one of the best looking and sturdy Windows laptop in the market.
With the Zenbook Flip, Asus has managed to build a high-class convertible by combining it's thin and light-weight laptops with a 360-degree hinge. Due to this, you get a slim and gorgeous looking laptop which you can also use as a tablet.
At just 1.37cm in thickness and weight just above the 1.2 Kg the Zenbook Flip one of the slimmest powerhouse of 2016. Even with this slender profile, Asus has made no compromise on ports and features by providing bigger ports like HDMI or LAN with the provided extension cables.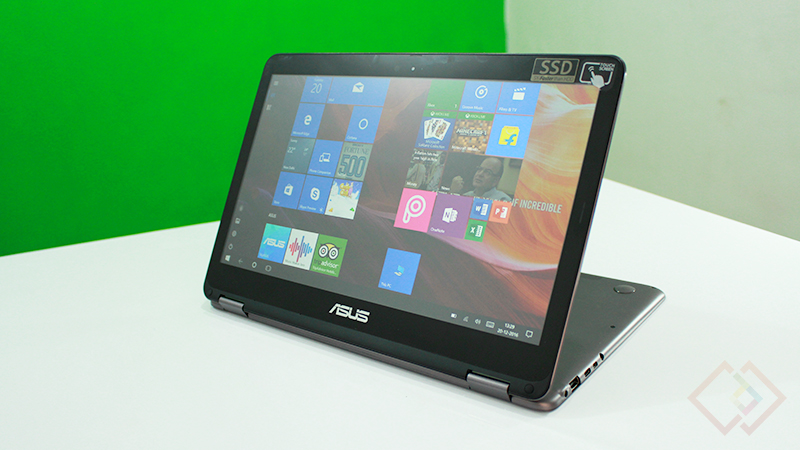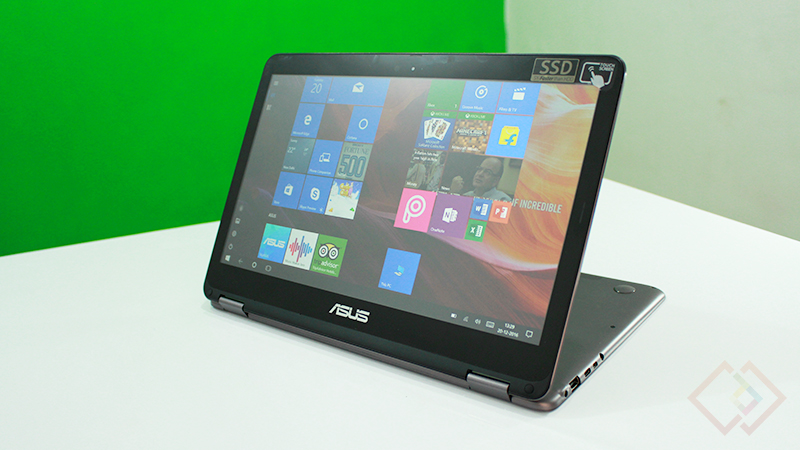 Display & Sound
The UX360C has a 13.3-inch screen which is ideal for portability. The IPS-display is vibrant and color reproduction is brilliant. Viewing angles are great, and its colors are more towards a warmer side by default, that goes easy on eyes. Watching movies on this display is a pleasant experience with the high-quality built-in speakers.
The only downside to this screen is that it is quite reflective. On a prolonged usage, you will find that it just picks up your room lights even in low light conditions. If you are particularly in the well-lit conditions, the problem becomes worse. The maximum brightness of the display isn't able to overcome its glossiness, which I think is the main issue here.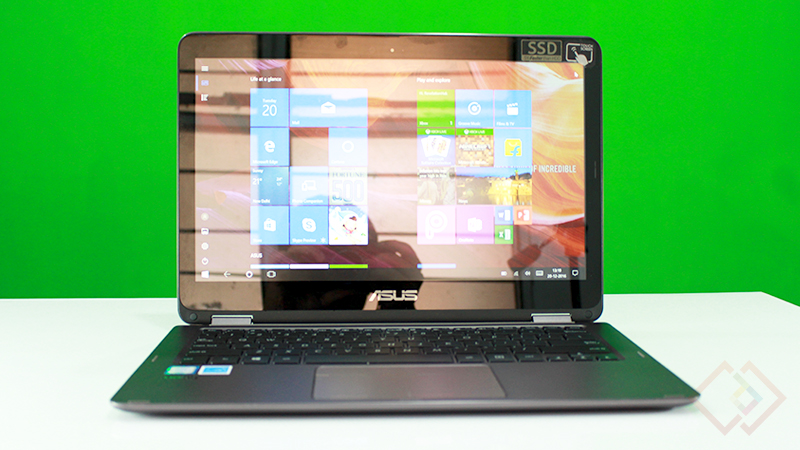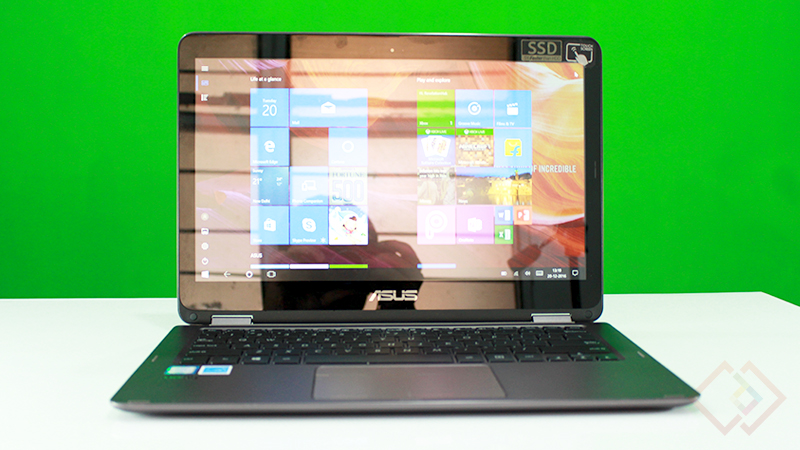 The most prominent laptops with excellent displays have this problem, and if you can manage it somehow, the spending picture quality still impressed me enough to recommend buying this laptop.
The hinge is a bit stiff when compared to the Asus Zenbook UX305 as I was able to open up the screen just by using my finger. In this case, you have to use both hands to open up the laptop. Naturally, you will use this either on the tablet or the laptop mode, and the switch doesn't happen more than 4-5 times in a day, so that isn't a big issue. Compared to what I have seen with some convertibles, this hinge feels sturdy, which is ensures longer life.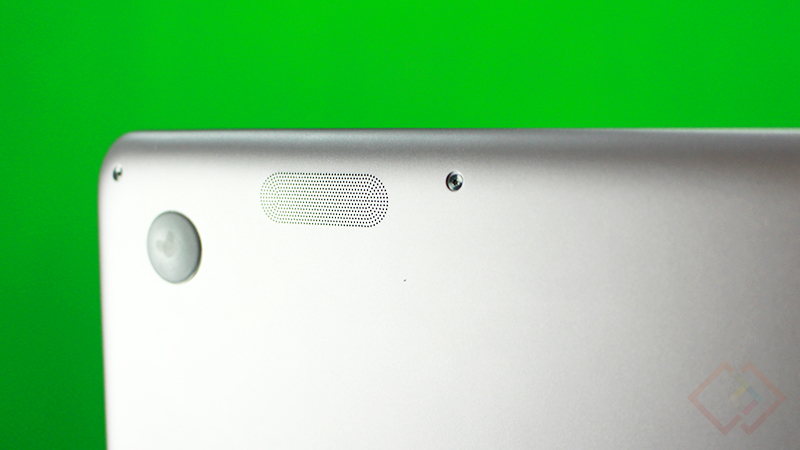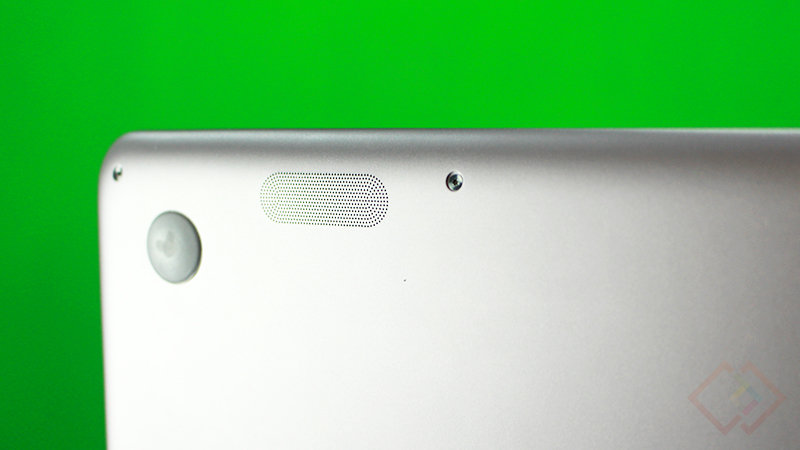 There are two speakers placed on the bottom front side of the laptop. The sound quality is adequate, and the speakers aren't too loud but enough for you to hear it properly in a room. So forget using it in a noisy location without using your headphones. In tablet mode, the speakers get completely blocked, which dampens the loudness even further.
Ports, Keyboard & Touchpad
On the left side of the device, you'll find the power button and volume rocker just like any tablet. In addition to that, there is also an SD card slot and a single USB 3.0 port. Move to the right and you'll find 3.5mm combo jack, Micro HDMI, USB Type-C, USB 3.0 and DC power input slots. It also has Bluetooth 4.1, 802.11ac Wi-Fi which ensures latest standards are in place for faster connectivity.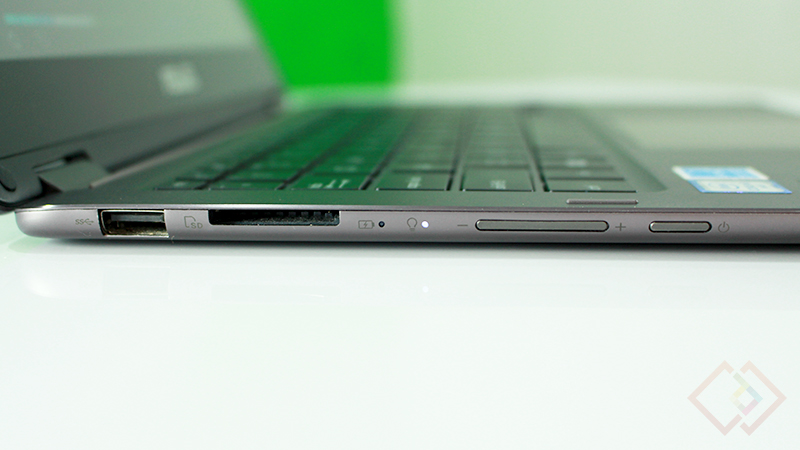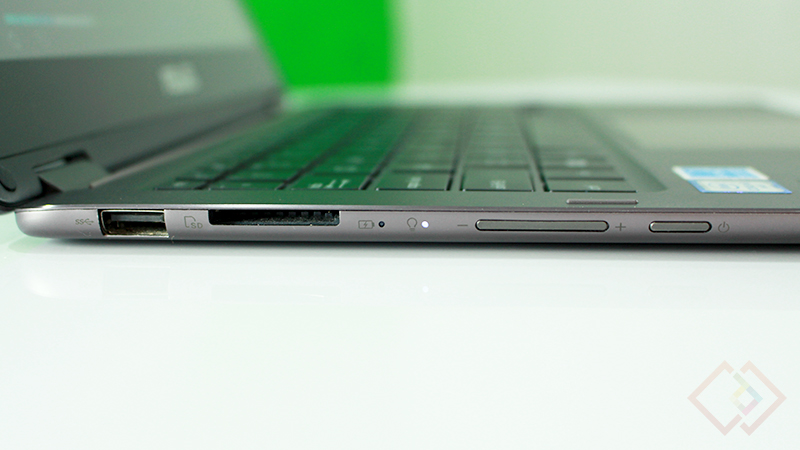 The chicklet keyboard is in black color that contrasts well with the metallic body. It is one of the best keyboards I've ever let my hands on, and trust my word about it, as I type over 4000 words every day as a blogger. The keyboard is spacious, and the keys offer excellent feedback. They are not too bouncy; therefore, typing doesn't get tiresome, and I could write more content with the provided comfort. So a great laptop if you are a student, writer, businessman or in any profession that involves writing.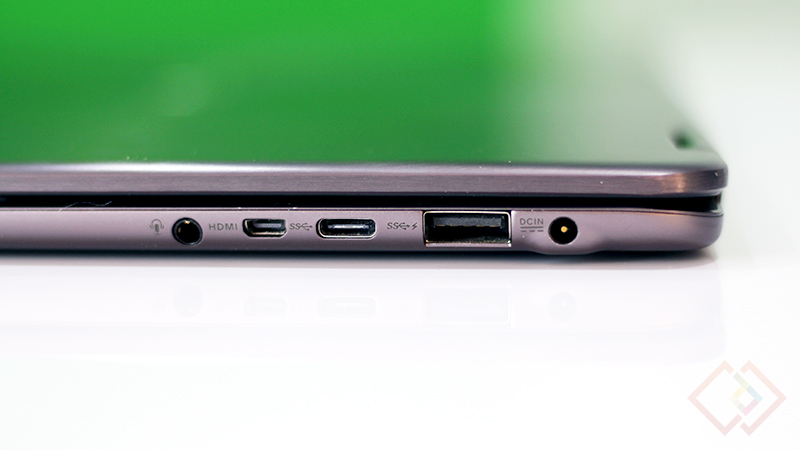 The trackpad is equally spacious and has a smooth finish. Tracking is brilliant making navigating through smaller menus very easy. The buttons on the trackpad also gave a good response. Zenbook Flip handles all the gestures provided in Windows 10 exceptionally.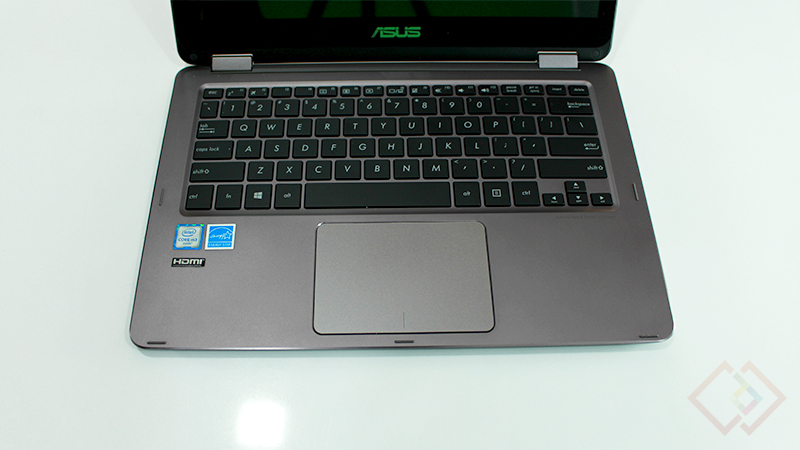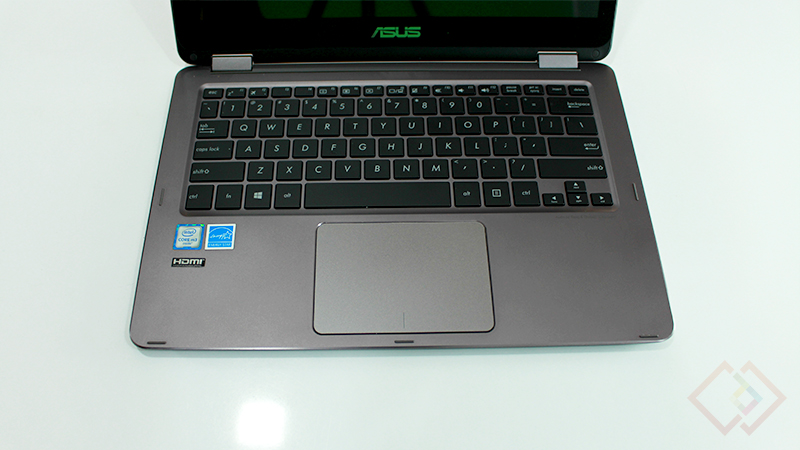 Performance
The Asus Zenbook Flip has a 6th generation Intel Core M3-6Y30 CPU with 512 GB SSD storage and 4 GB RAM. This hardware produces enough juice for the smooth functioning of the laptop. There is absolutely no lag while multitasking between different software's and intense browsing.
The Intel M series processors produce less amount of heat compared to the Core i series processors, that eliminates the need for a cooling fan. The absence of fan offers a portable computing experience without any vibration or noise. So working at a calm workplace feels oddly satisfying with Zenbook Flip.
The keyboard gets automatically disabled when you get it into tablet mode, so accidental keyboard clicks are not registered. The well thought out design and spacing around the keyboard prevents accidental clicks when you are using it as a tablet in portrait or landscape mode.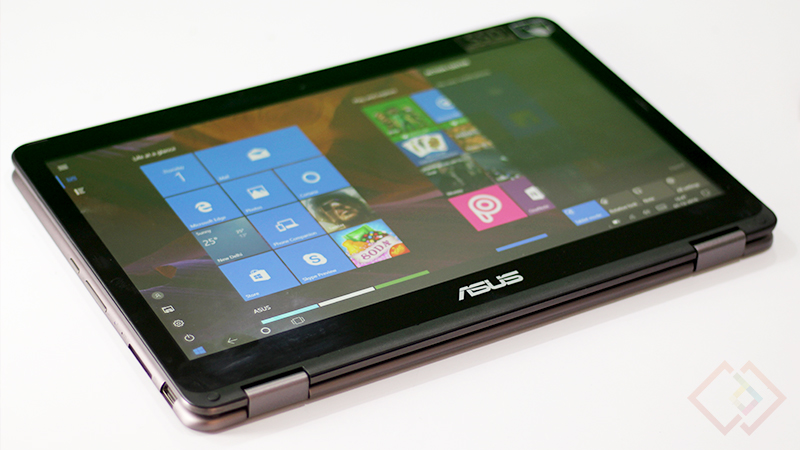 This laptop is intended for light usage like casual browsing or doing office work like word processing etc. It still handles more than twice of work-load than Atom or Baytrail series mobile processors. My personal web usage puts the system to maximum resource usage but using Zenbook Flip for over three weeks never slowed down a system even for a second, which surpassed my expectations from this laptop.
Even though the integrated GPU's are getting better every day, you don't expect it to use it for video editing or rendering, but you can certainly use it for casual indie games like Bastion or Trine.
Multi-tasking with many browser tabs and few small desktop apps running in the background, UX 360CA never generated heat on the aluminum body, which is a surprising performance with the fanless design.
Battery Life
Asus claims the battery of the Zenbook Flip will last longer than 10 hours, which is around 8-8.5 hours if you use it in a real world with the mixed usage of browsing, software, and videos. Considering its superior performance and incredible display both of which required high power, the battery life of Zenbook Flip is remarkable.
If you opt for the top version with the m7 processor and better resolution display variants of this laptop, then you may experience a dip in the battery backup time. The tiny charger is lightweight and very easy to carry compared to any traditional laptops.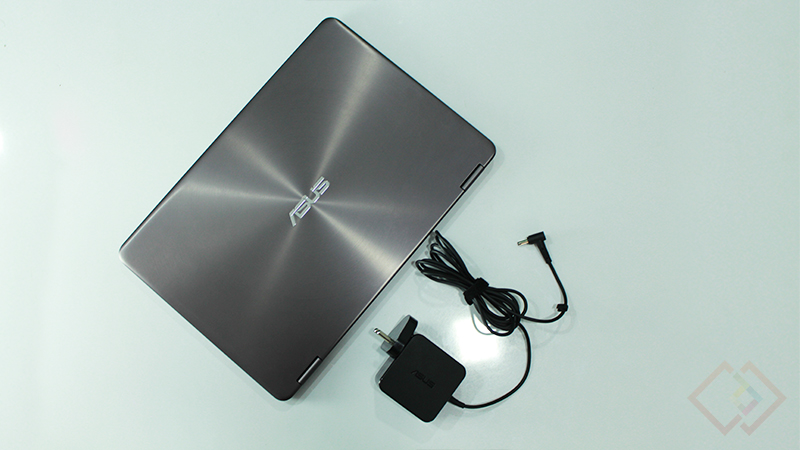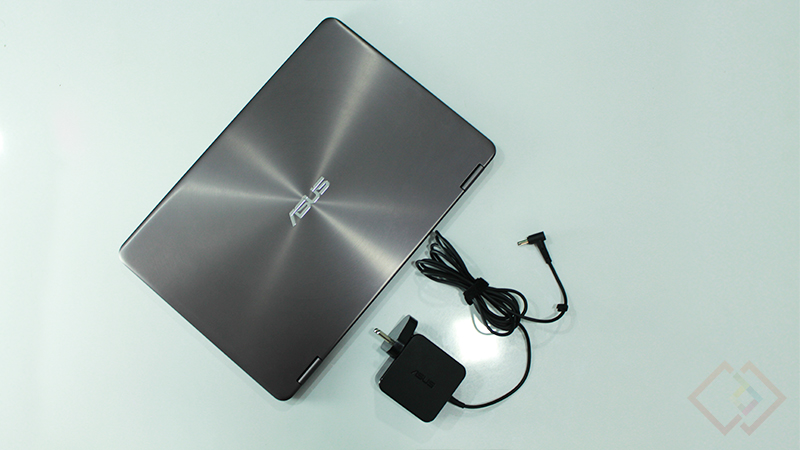 Verdict Of Asus Zenbook Flip
The Asus Zenbook Flip is an elegant device with its classy ultra-thin design and premium feel backed by a solid performance. It does come at a lower price and offers you a lot more than just a laptop. Add to it that it has a 1-year International Warranty with ASUS 1-year Accidental Damage Protection, you get yourself an excellent convertible laptop.
With the comfort of using it as a tablet or laptop, gives it the biggest advantage over the only competitor Macbook Air.If you are a professional who needs a premium device with superior performance and highly portable, then this is a device made just for you.
For detailed technical specifications of Zenbook Flip visit official website.
Buy 4GB RAM version on Amazon for 57,900 – http://amzn.to/2hXE6hV