I bet every iOS user has played must have played handful of running and flying games separately, but this game let you fly, run, surf & shoot all together in this cute little game called – Penkie Pop!
Penkie Pop iOS Game Review
The game is about 'Penkies', a cute cartoony version of penguin that you have to steer through adventure on arctic routes with flying, running and shooting through the icy environmental obstacles.
On your never ending running journey, you are supposed to collect quartz, gems, gold, special weapons, unlock achievement and lots of interesting upgrades.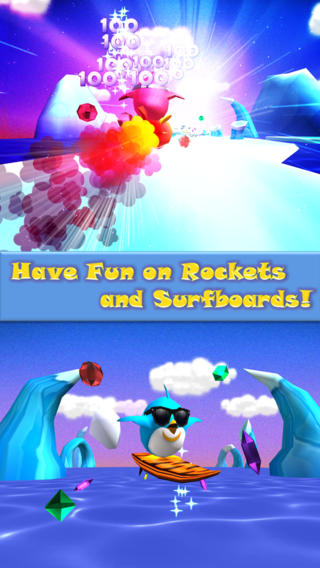 The character can be controlled with 'touch based' or 'tilt based' controls, which you can opt from settings to make the game experience as comfortable as you need it.
Your Penkie can unlock special abilities like Star Bomb, that will destroy your way out of dangerous environments, which is possible to unlock by collecting quartz. Your collected quartz can also help you shop to unlock special Penkie models like "the Ultra Surfer" and "the Rocket Rider" to see Penkie in stylish new get ups. Epic Wind Bullet weapons like the Stone Burster, Twin Cyclone, Fire Squall, Platinum Blizzard are also available from the shop as you move ahead in the quartz collection.
Apart form its vast selection of weaponaries, the game itself is quite an refreshing experience thanks to its beautifully crafted 3D graphics, which will help the player remain engaged for hours. Overall, its a great approach to endless running games, and creative additions to traditional games makes it worth playing for all iOS users.
Note: I will recommend users to immediately, download this game for Free in the current 2013 Christmas sale, which is for very limited time, which is 100% OFF from its regular $1.99 price.
Cost: Free For Limited Time (Otherwise – $1.99)
Ratings: 4.5/5
Gameplay Trailer