After buying my HTC android smartphone I started playing with the thousand of apps available in the market. The thing I noticed is HTC is having such an great keyboard that I never thought about changing it. But, Then I saw a discussion around forums about Keyboards & Thought I should give them a try. At the end I have rolled back to my original HTC keyboard but – I found some interesting keyboards for other android smartphone users – which are kind of Fun, Creepy, Weired but Cool…
Here are 6 Best Free Android Keyboards that You would enjoy typing on – They are not just good as a keyboard but are also fun to use.
8 Pen Android Keyboard
If you have the smartphone with smaller screen & you think that its hard to type on full QWERTY then this 8PEN would be the most innovative & comfortable keyboard to type on. Instead of conventional keys, the app features a small wheel which is used by dragging your finger around the different segments to select each letter.
Because its very conventional in design & something that our eyes and fingers are not used to – It takes very hard practice to type on quickly
Cost : Free | Download 8 Pen Android Keyboard here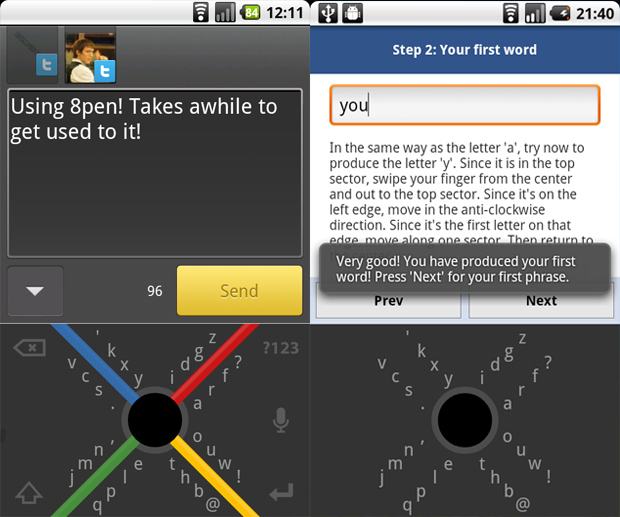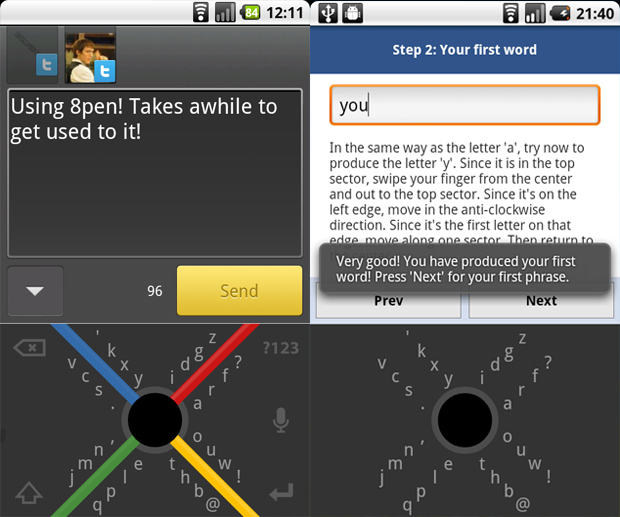 HexBoard Keyboard For Android
This keyboard is also fun to use & have some unconventional key shapes. Its featuring hexagonal shaped keys as shown in image below. HexBoard do not have dictionary or predictive text input – might be a turn off for 70% of android users.
Accuracy lacks due to different shape of keys but you would love to use it for little time.
Cost : Free | Download HexBoard Keyboard for Android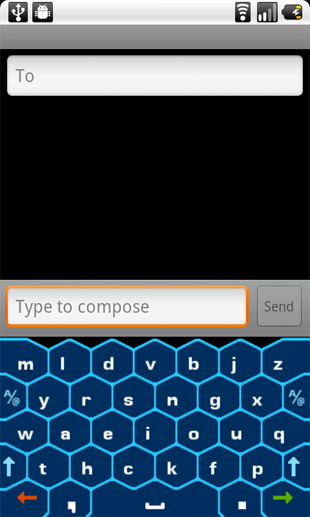 Wi Fi Keyboard For Android
This is not the keyboard you are suppose to install on your android keyboard. Its actually app that lets you connect the keyboard of your PC or laptop to you android smartphone by using the Wi Fi.
Cost: Free | Download Wi Fi Keyboard App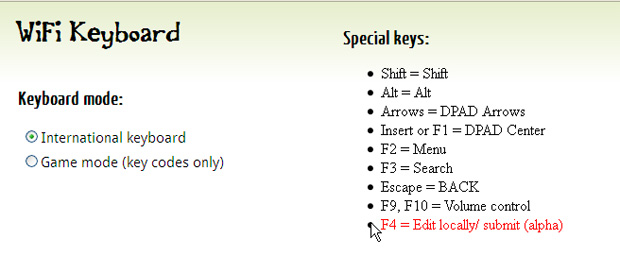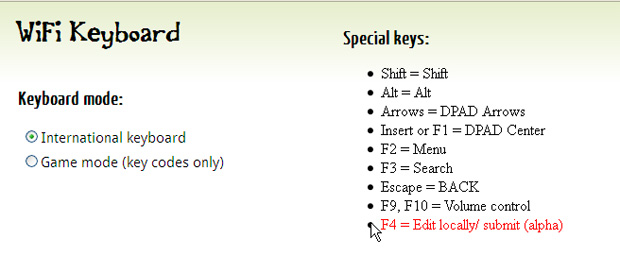 Flit Keyboard For Android
This is another unconventional creepy looking keyboard you would like to use for short time. It is having the 8 big keys on screen & on every key it have 8 different characters you can use to type by sweeping in its direction. So, pretty different isn't it ?
No auto correction is supported in this Flit Keybaord.
Cost: Lite Version is FREE | Download Flit Keyboard For Android

Dasher Android Keyboard
When I mentioned I am showing you some of keyboard you would love to play it this is what the extreme of it. Dasher is an amazingly hard to use but an experimental keyboard which needs to be dragging of some letters for typing any word & it also suggest you in the middle row. You can never understand any of it unless you try using it. Because I didn't find it very interesting at all. Hope you find it weired as I did.
Cost : Free | Dasher Android Keypad Official Site
AnySoftKeyboard For Android
AnySoftKeyboard is like any other standard keyboard you may find on android but the fun part about it is it has great quick buttons for emoticons, numbers & symbols. So easy for guys who love to chat a lot on their Android smartphones.
Cost : Free | Download AnySoftKeyboard For Android