Rendering is one of the most expensive and time consuming task for compositors, animators and every other CG professionals. Many of the small studios and indies couldn't bear the overheads by buying expensive rendering gear in advance, and bigger studios have issues with scalability. Three years back, I remember keeping all our animation institute's computers running for days to render a 2 minute short, I always wished if we could rent out this rendering process.
This problem can be easily solved with Google Cloud Rendering Platform called Zync, and following is everything you want to know about the Zync.
Zync Cloud Rendering Platform: Everything You Need to Know!
Cloud Rendering is Nothing New, Right?
Exactly, Cloud rendering or Render farm is not a new revolutionary concept, it has been there since long time, and all the big graphics, hardware and CG developers are fighting for their piece of pie in the segment. You will see such platforms from Autodesk, Nvidia, RenderRocket and so on.
Google, being the largest subsidies of recently renamed Alphabet (previously named Google Inc), has not only showed promise in their innovative products but has deep understanding of internet. Also, being the richest internet companies of all time, with Zync they can offer a rendering solution for larger studios as well as for indies.
With pricing and internet speeds being the biggest concerns, I think Google's Zync can put competitive pricing for providing custom rendering jobs.
How Scalable and Powerful is Zync's Hardware?
Before I dive into pricing, lets talk about hardware first. The number of CPUs, the virtual cores and memory is never good enough for rendering servers. No matter how much you spend today, with new CPU architectures and developments in graphics technology will make you feel outdated every year. So why not save that one time costs, and pay as you need it?
And when it comes to hardware capabilities, Google Zync offers following four segment of machines you can go for. Each of the segment contains 4-6 machine configuration ranging from 1 to 32 actual and virtual CPUs, Whopping 4 to 208 GB of RAM and 2.75 to 88 Google Computing Engine units.

High-CPU machine types ( High-memory machine types are ideal for tasks that require more memory relative to virtual CPUs. High-memory machine types have 6.50GB of RAM per virtual CPU. )
High-memory machine types (High-CPU machine types are ideal for tasks that require more virtual CPUs relative to memory. High-CPU machine types have one virtual CPU for every 0.90 GB of RAM. )
Shared-core machine types (Shared-core machine types are ideal for applications that don't require a lot of resources. Shared-core instances are more cost-effective for running small, non-resource intensive applications than standard, high- memory or high-CPU machine types. )
Check out all the machine types and their capabilities here.
And talking about scalability, being a cloud platform, you can set up as many machines up and running within a few seconds. Not just that, you can run multiple rendering jobs at once, and check the rendering statistics like progress, machines, usage and respective costs all in real time.
You can never run out of machines, thanks to cloud technology used in the Google's Zync platform.
Zync's Software Compatibility & Zync PC Client
Google's Zync cloud rendering tool support all the latest software used in the industry like Nuke 7 (and higher versions), Maya 2014 & 2015, VRay 2 & 3 and Arnold.
The clients are available directly installable inside your PC, that works in sync with your compositing or rendering software. You can customize your render jobs, chose the number of machines, type of machines, frame ranges, rendering job priority, chunk sizes and the output location and the lot other customization right from your PC.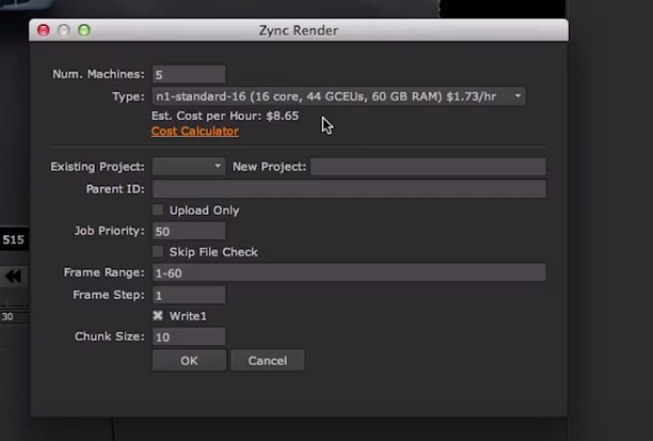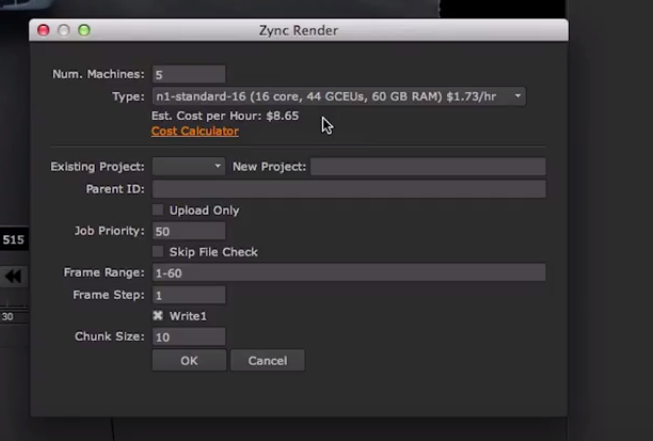 Once this process is started, you can manage the uploading and rendering process from your web client/admin interface, where you can customize the jobs further, or monitor the tasks done by your users.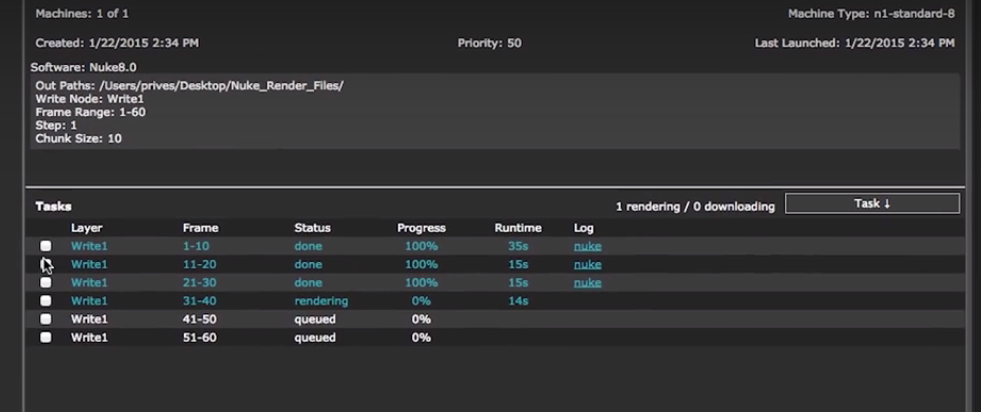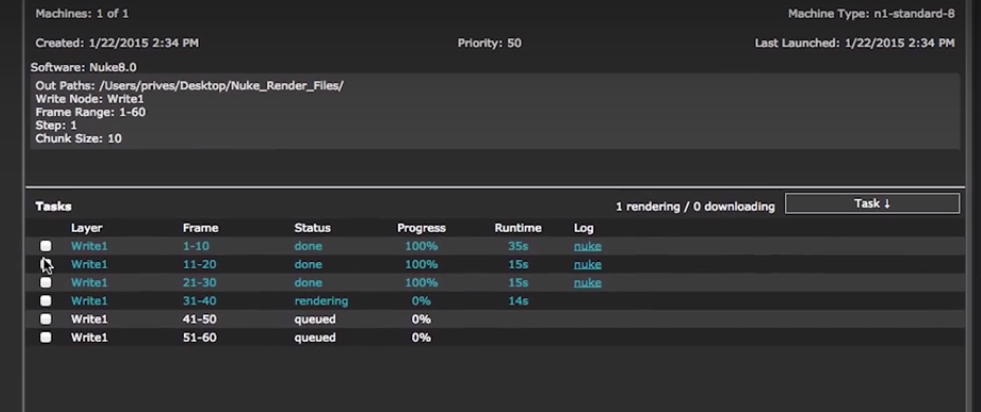 As the Zync cloud solutions deals with only the raw and rendered files, it will consume the least amount of data. As you can see in above screenshots, if the shot is being rendered in chunk of frames, each frame rendered will start populating under your local folder, and by the time all the rendering is done more than half of your files would be already downloaded. The upload will take certain time at first, but with whatever the available demo videos we have seen with Zync beta, we are pretty sure, the whole rendering and local storing process works extremely faster. But sure, higher bandwidth will always help.
Okay, So How Much Does This Really Cost?
When it comes to rendering, we know how much each frame render can take, starting from a few seconds to even may be half an hour. So how expensive or cheap can cloud rendering platform like Zync can get?
Well, its quite simple to calculate and with Zync's online estimate calculator, you get the exact pricing. For just to show you how comprehensive this tool is, I am calculating a rendering expense for a test sequence.
e.g. I have tested 1 frame, that takes about 12 minutes to render in my shot. And have 100 such frames in my animated shot. Sound's Expensive? – Lets calculate using this cloud rendering estimate calculator, and nuke as my rendering platform.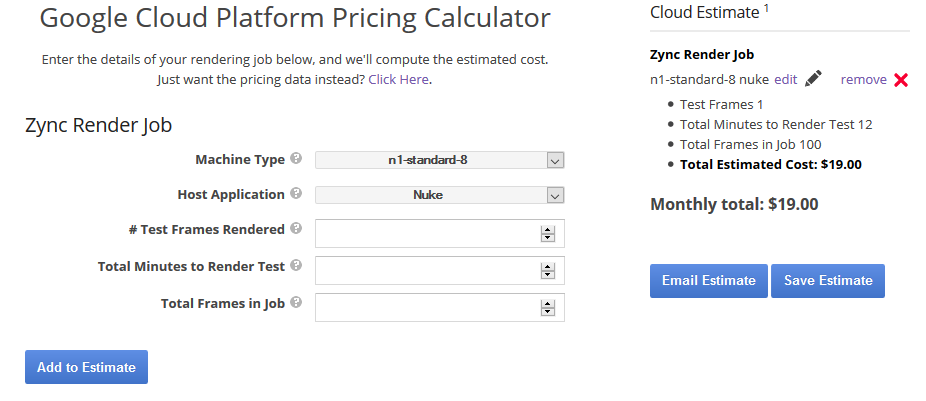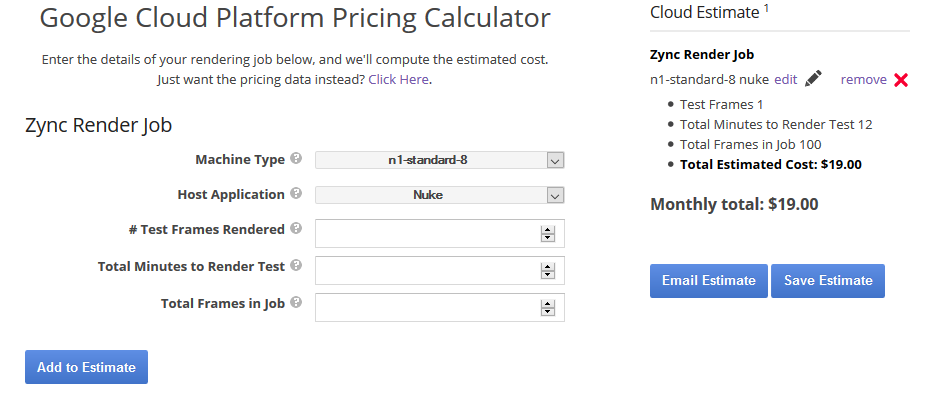 As you can see, I got the quick and exact estimate of 19 bucks, which is pretty slick considering quick rendering process that happens at the remote location.
Even if you are a professional CG artist or own a small studio, you wont need rendering as much on daily basis. And if you can work out the pricing for your monthly cloud rendering needs, it is possible to estimate the monthly budget for rendering in advance.
Note that, you only pay for first 10 minutes of minimum rendering, and then you have to pay per minute. This is great, as you do not have to rely on expensive hourly costs. And apart from using this rendering calculator separately, the software plugins will show you costing in real time, when you add the new rendering job.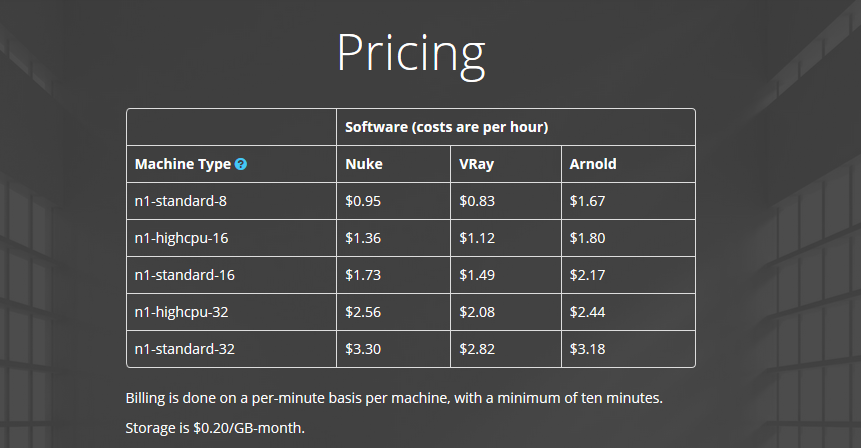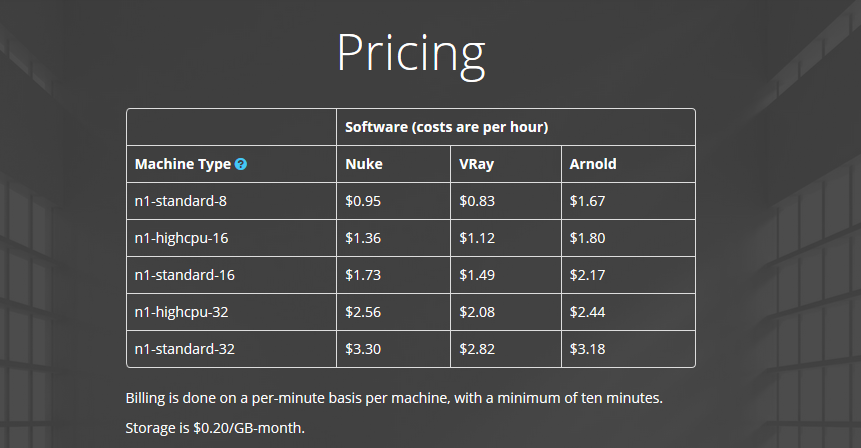 Another great situation you can take benefit from it, if you have a rendering job running at an say $1.50/hour cost, and you decide to speed this process up by adding several other machine to this running job, you can do it in real time. And from then onwards, the costs will be calculated per minute with new configuration.
In addition to these Google's Zync platform also comes with the $.20/GB cloud storage plan, which is another great add-on, in case you want to keep online backups of your rendered files.
Such flexibility can never exist in pre-owning the hardware, and cloud rendering solutions like Zync will always be keep staying updated and top-notch performers in the segment.
Do let us know your thoughts, suggestion and tips for this new Zync online rendering platform, in following comments section.