I am sure most of the iOS device users believe that the Apple's iTunes is the most comprehensive software for the music transfer and handling the rest of media. But when you want to do some powerful management on cross-platforms, it fails to act as you expect it to.
So if you are looking for something even more advanced that can manage your music even when you are away from your home PC/Mac, then there is nothing better than – KiwiG PhonTunes!
KiwiG PhonTunes Review
This tool is firstly and more importantly available on cross-platform, and virtually never restricts you to access or manage music on any type of hardware. No matter if you want to use any PC, Android, iOS devices or even your external storage, PhonTunes will quickly help you transfer file between these unique platforms.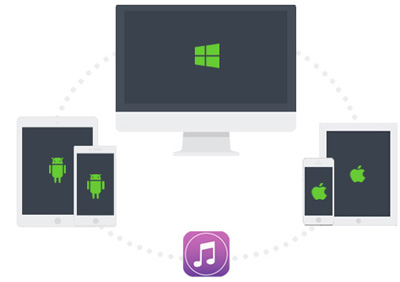 Most users I hear from are suffering for music management losses like – reduced sound quality, corruption of files, or even missing complete files while doing the syncing. KiwiG PhoneTunes makes sure that you access the music seamlessly without any quality issues during managing the music.
As this tool is available on any platform you know, the compatibility issues do not occur, availing you the complete toolkit for superior music transfer everywhere you go.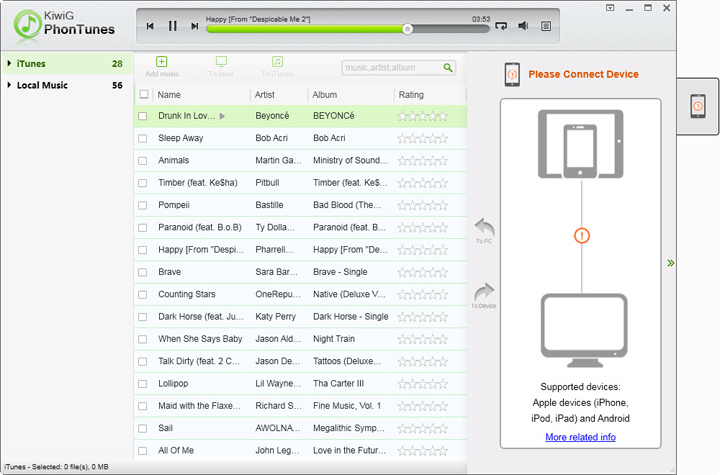 When you start using this app, it is recommended to have the iTunes pre-installed to get your previous data synced properly. If you are an Android user, you can skip this step if you want. And yes, this device is not just for Apple iPhone, iPod or iPad, you can use it to sync with any Android smartphone or tablet as well.
I constantly talked about the powerful management capabilities of this device, but what are some of the most essential tools available with PhonTunes are – local music management, ratings management, duplicate content removal & import/export of the content.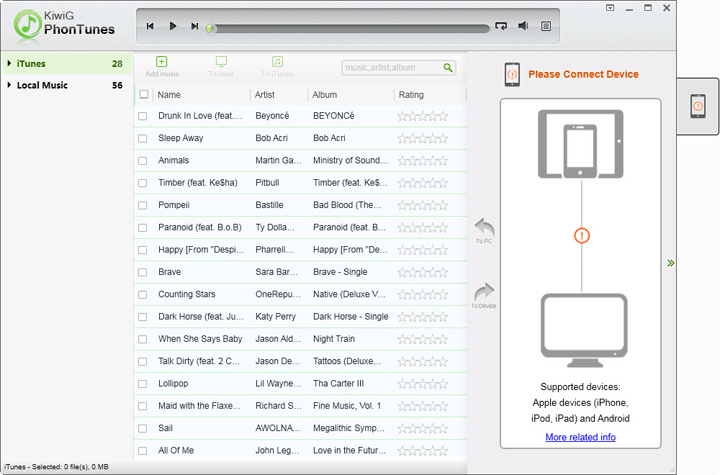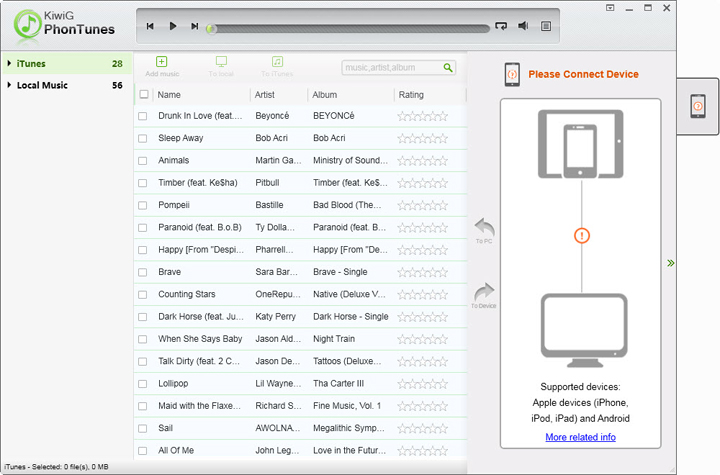 KiwiG PhonTunes is such a lightweight software, it comes in only 4-5 MB of size of installable package, which is a huge advantage over the bulky iTunes software, that takes time to accomplish simple tasks. Apart from its fantastic set of tools to manage and sync your music, it's also a great lightweight music player for your PC or device, where you can directly start listening to your music flawlessly.
The developers dreamed of making something extremely simple to use music management tool, where people can enjoy music, rather than worrying about its management. And with the PhonTunes, I believe they have created ,The Complete Music Management Tool, for any device.
Cost:Free