Transcend StoreJet 2.5" SATA HDD comes with a aluminum case. It houses the 2.5" hard drive in many different types of colorful aluminum case making it lightweight. Now you can store movies, videos, music and data up to 500 GB in it. It comes with a storage elite software package which will take all you away from all you backup worries. It is compatible with Windows 2000/XP/Vista/7, Mac OS 9.x/OS X, Linux Kernel 2.4 or later. It can help you manage your data and take control on it. Also you will be able to take your office along with you. It is officially not shipped with a HDD, but in stores you will get it along with the HDD. Officially its just a HDD casing.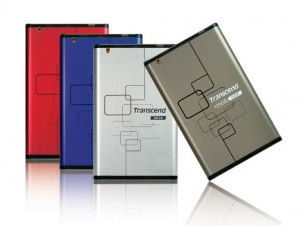 Technical Specification :
1) Capacity : 500 GB
2) Data transfer rate : Upto 480 Mb/sec
3) Interface : USB 2.0
4) Dimensions : Height: 13mm"
Depth: 129mm"
Width: 79.9mm"
Weight: 86 g (Without HDD)
5) Type : Portable Storage
6) Power Supply : USB Powered
7) OS : Windows/Mac/Linux
Pros :
It is light in weight and also have one touch backup button, comes with a anytime backup software. Supports any 2.5" HDD. Have a LED indicator for data access.
Cons :
Have to plug one extra USB for power supply. Buy 2.5″ HDD Separately.
If you have two empty USB ports for anytime use with this HDD, then move ahead and have one with you.
Price of Transcend StoreJet 2.5" SATA 500 GB HDD :
$ 16.80 and in India for around Rs 770, but without a HDD for HDD you have to pay $ 79 or say Rs 3600 extra.