Its just 1.8″ in size. It is based on the design of StoreJet 25M and is a Military Tested Shockproof HDD. It is the Award Winning HDD of Transcend. It has a two tone coloring scheme and is of size of a deck playing cards. The shock protection is Dual Stage and it contains a 1.8" HDD inside. It is drop tested and provides excellent protection along both Vibrations and impact damage. It is the most robust HDD available in the market. Outer part of the cover is made up of silicon to give a feel to you hand and to provide accidental damages to the HDD. It comes with a easy backup button and makes it easy to synchronize with your laptop or desktop. It is a Mini Portable HDD.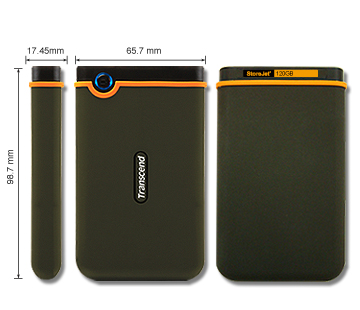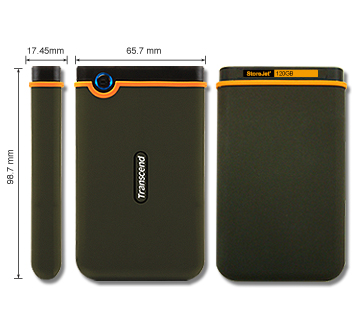 Technical Specification :
1) Capacity : 120 GB
2) Data transfer rate : Upto 480 Mb/sec
3) Interface : USB 2.0
4) Dimensions : Height: 17.45mm
Depth: 98.7mm
Width: 65.7mm
Weight: 120 g
5) Type : Mini Portable Storage
6) Power Supply : DC 5v USB
7) OS : Windows/Mac/Linux
Pros :
It is a Mini device to carry along. Comes with preloaded company software. Good feel of outer silicon material. Shock and accidental damage proof. Light weight. USB powered, no external power supply needed. Its just 1.8″ in size.
Cons :
It has a very less capacity of 120 GB only. Also the price is very high comparatively.
If you are working in office and do only documentary work and you always want high data transfer of your soft copy then this Mini HDD is fair to fit in your pocket.
Price of Transcend StoreJet 18M 120 GB HDD :
For $ 82 and in India for around Rs 3769.