Sony Ericsson announced the launch of LiveView an innovative accessory for mobile phones. Sony Ericsson LiveView which uses Bluetooth connectivity to wirelessly pair up to a compatible handset. Sony Ericsson LiveView allows consumers to control the phone without taking it out of their pocket or handbag.The Sony Ericsson LiveView allows the user to control the Sony Ericsson music features of the handset from the micro display, selecting tracks and controlling volume.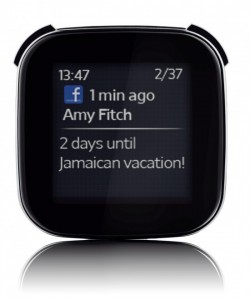 The new Sony Ericsson LiveView will let users to read Facebook, Twitter, and SMS messages, RSS feeds and show the time and date. It will be compatible with Sony Ericsson Xperia X10, Sony Ericsson Xperia X10 mini, Sony Ericsson Xperia X10 mini pro and most of other devices running on Android 2.0+ including handsets. The device has a 1.3 inch OLED touchscreen with 128×128 resolution. The product also serves as a calendar reminder, displaying calendar events and other phone applications.
Price and Availability:- The Sony Ericsson LiveView will be available in stores from Q4, 2010. and there are now words on price.
To see more about Sony Ericsson Extras visit: www.sonyericsson.com/LiveView
Sony Ericsson LiveView Video