OMG!- That was my reaction when I first watched the fast-paced action this game made by 16-year old game developers. I was eagerly waiting for this game, and Alter Army was finally launched on steam last week. I am still playing the game, but following is my review after playing it last few days.
Alter Army Game Review
Alter Army is a fast-paced action platformer that happens in a mysterious world that has a story to tell. You can be any of the four bad-ass army players and explore what happened in this world. This hidden story is the bits and pieces all over the world, and you have to reach a few good people (NPCs) left on this world through bloody encounters with freaky enemies.
These flights are the best parts of this game, and precisely what action platformers should be about. The enemies of Alter Army game are well designed to crush you along the way with their various skills. Unlike any other platformers I have played, the biggest looking enemies are sometimes easiest defeated whereas the tiny flying creatures can blow your ass off even when they are dying.
Its all about being fast-paced action, and team Vague Pixels has pushed these battle scenes 100 times with their artistic proficiency of animation and graphics. The terroristic monsters are designed to keep holding your breath. Every time you collect a crystal you are barred within the walls, where you have to essentially destroy all of the monsters to move ahead in the game. Monsters will run behind you, hack you with their big swords, drop on you from the sky and set bombs around you even when you jump. You have no time to relax when you capture the crystal, and that is exactly why I think Alter Army's combat is highly satisfying.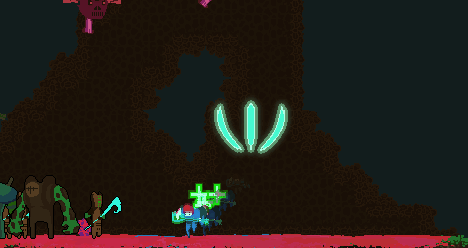 Developers have claimed that most combats are hand-crafted to give you the best possible experience, and the difference is visible when you compare it with traditional action platformers.
There are over 50 monsters with unique attack styles, and so there are always new challenges. It's not super hard though to figure out how to beat most of these monsters if you fight with them once or twice. It is still satisfying as they come in hordes, and challenges keep on escalating as you move ahead in this game. You will have to face two mini-bosses with entirely new attack styles before you reach the biggest and the most bad-ass boss of each biome (worlds). Alter army offers four distinct worlds to explore – Forest, Snow, Mutated Forest & Hell.
The game can be played with a keyboard, but I had more fun with my PS4 controller as recommended by the developers, though it is not hard to master the keyboard controls as well. Sound and music are very well designed that matches the high-octane battles in Alter Army.
Verdict
Four distinct worlds that offer the unsolved story to explore, a massive variety of monsters to defeat, insanely bloody battles heightened by the breath-taking visual effects, Alter Army has all right elements that are well executed to compose a deeply satisfying fast-paced action platformer!
If this what 16-year old's first game looks like, I can barely imagine the level of fantastic games they will produce for us in the future! Kudos to Vague Pixels team.