Samsung Galaxy S LCD I9003 is an high end phone launched by Samsung 2-3 months back. Recently I had chance to get hands on for 2 days on this device & thought it would be great to write a quick hands on review on it.
Display
I am already using HTC desire myself having 3.7 inch of screen & I hardly seen any device larger than mine in past year. But when I had Galaxy S LCD in my hand my phone was looking smaller thanks to its 4 inch screen.
The touchscreen quality is great & UI feels fluid overall while using it both portrait and landscape mode. Screen size is a real asset of this smartphone as games like Angry Birds & Glow hockey were a super experience on such a big screen.
Display is of size 123.7 x 64.2 x 10.6 mm & have 480×800 resolution to deliver best image & video quality overall. Screen is of type Super Clear LCD (SC LCD) more about it is discussed below in comparison.
Storage
Higher internal memory on Android is must need when you download and use lot of apps. Galaxy S LCD I9003 have 4GB internal memory which is not dedicated to apps only. You can install apps on 2GB of it & save other data on ret of 2GB. But still 2 GB is more than enough even if you play HD games on your smartphone.
The phone have expandable memory slot up to 32 GB which is standard in this category.
Build Quality
I don't know what relation Samsung does have with plastic compared to the other high grade materials used in smartphones but they just kick off every time with plastic again.
Galaxy S LCD is made up of high grade plastic & it feels of little bit cheaper quality if you have used HTC or Apple devices. There is single plastic panel at back with space for speakers & slot for camera.
Nothing for getting grip on and I felt it many times than in case I drop this phone it is definitely going to break in to pieces. But technically its not true the plastic is of very good quality too. So don't back off just for build quality.
Performance
Phone performs really well thanks to its 1 GHz processor & 478MB RAM . You'll notice the faster performance while playing games & using web browser for long time.
In built web-kit browser is cool but you use advanced ones like Dolphin HD or Mozilla Firefox. Pinch to Zoom works like charm no matter you are inside browser or scrolling through pictures.
Phone did not give sluggish performance at all at any point while I used it for two days & its definitely as good as the Samsung Galaxy S.
The battery life is also really great overall & thanks to its S LCD screen it gives you edge over lot of AMOLED users in case of battery life. 15 hours of talk time on 2G network & 7 hours on 3G is offered by its 1600 mAh Li-on Battery.
Camera & Multimedia
Phone comes with 5MP camera without flash at rear & for 3G video calling phone have VGA camera. Phone records video of HD resolution 720P at 30 FPS & is of good quality if recorded in daylight. Picture quality is also great in daytime compared to evening.
Music player comes with MP3/WAV/eAAC+/AC3/FLAC format support & video player with strong support of MP4, Div X, WMV, H.263/H.264
Headphones are of good quality that is packaged with device but if you are a music fan you can upgrade to better one thanks to its 3.5mm headphone jack.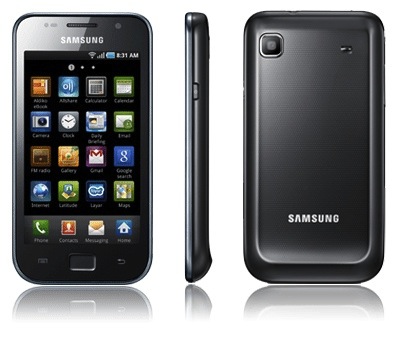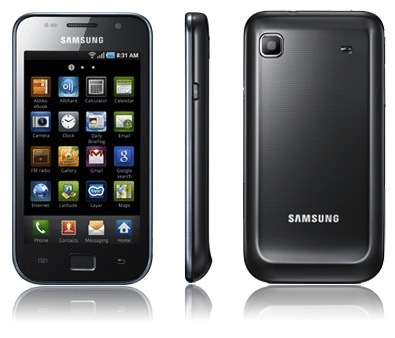 Android & UI
Galaxy S LCD comes with Android 2.2 Froyo & you'll definitely can upgrade to 2.3 when Samsung make it available for the device. You can download variety of apps & games from Android Marketplace for doing almost anything.
Samsung as usual stuffed it with Touchwiz UI which you can see in very low budget android smartphones from Samsung too.
Connectivity
This powerful yet 'Smart'Phone comes with HSDPA, 7.2 Mbps; HSUPA, 5.76 Mbps (3G) & class 12 GPRS/Edge connectivity for wireless broadband.
You can also use it on 802.11b/g/n Wi Fi network with add on DLNA technology. Bluetooth is of next generation (3.0) for high speed data transfer between phones.
Price of Samsung Galaxy S LCD
This is the best category where Galaxy S LCD outshines many of the phones in this range. You get the highest quality & performance at price of just 19900 Rs. In India
I would recommend this if you are on budget of under 20K & need complete experience of Android OS & powerful smartphone. At this budget Galaxy S LCD is clear winner for the quality it is delivering overall.
Galaxy S (I9000) Vs Galaxy S LCD (I9003)
The very first android high end device of this generation was Samsung Galaxy S. The basic difference between Galaxy S & Galaxy S LCD is screen itself. Galaxy S featuring AMOLED screen where as this one have Super Clear LCD screen. AMOLED & S-LCD technology gives similar crisp & sharp image quality but the difference is S LCD is cheaper and consumes less power which at the end improves your battery life.
Galaxy S have 16 GB Internal Memory, AMOLED experience & Little bit lighter compared to the 4GB internal memory, S LCD screen & just a little thinner.
S LCD have RAM 478MB compared to Galaxy S having 512 MB & both of the phone having similar ARM Cortex A8 1GHz processor with Bluetooth 3.0 , 3G 7 Wi Fi Connectivity
I would recommend that you can save 4000INR and get same quality if you buy Samsung Galaxy S LCD over Galaxy S.