Many of you might think that this is quite a late review for phone like Samsung Galaxy S I9000 which has been in market for while now. But as per my consideration this is best time for Samsung to make more sells of this great device as well as you to buy Samsung 's second most powerful Android 2.2 smartphone after the Samsung Galaxy S2.
Display
Samsung Galaxy S comes with large 4 inch AMOLED display having screen resolution of 480×800 . This makes your overall viewing experience very good at all conditions. Though AMOLED consumes little bit more battery compared tot the current S LCD version of this phone. Screen size is a great asset for playing games, watching movies & images on this smartphone.
But overall colours are vivid & Big screen makes a very first plus point compared to most other 3.7 inch devices in similar price range.
Storage
Another great feature of Galaxy S I9000 is its very high storage capacity of 16GB which is given in build. So you can optimize this space for installing hundreds of HD Games, Apps, Music & HD videos on its internal memory itself. The device outsmarts major smartphones from HTC, LG & Sony thanks to its very high in built storage capacity.
Moreover you can expand this memory up to 32 GB by the expandable microSD slot provided by Samsung on this great device. Its own S LCD version galaxy S LCD comes with 4GB internal storage so Galaxy S still high on storage and display capabilities.
Build Quality
Galaxy S was the very main phone on basis of which whole series was developed by Samsung from cheap phones to mid range android smartphones.
And through out they have managed to make the phone of cheaper looking build quality. The phone is made up of tough plastic which won't break or scratch but you also don't get that premium quality phone feeling that you must get in this high price point. The phone is so light that you might get confused – was this the best smartphone from Samsung whole last year ???
But do not get my words wrong – Galaxy S does not scratch or break easily & it have metal lining running down sides of the phone body. It still lacks in build quality & looks department compared to HTC & Sony.
Performance
Samsung Galaxy S outshines almost every other single core android smartphones in this category & is a main reason to still stand still in market as a powerful android phone. Galaxy S I9000 comes with 1 GHz ARM Cortex A8 Hummingbird processor makes it a powerful device for outstanding browsing, gaming & app experience overall. Pinch to zoom, text reflow and browsing works really faster thanks to its 512 MB ram & 2GB ROM.
Galaxy S equally performs well compared to HTC Desire, Galaxy S LCD, LG Optimus & many other high end smartphones. PowerVR SGX 3D graphics engine makes it powerful workstation for watching movies, streaming, downloading & HD gaming.
Galaxy S has manged to be in list of the best performing smartphones of the year & you should not doubt its multitasking, browsing, gaming & processing capabilities at all.
Camera & Multimedia
Sadly the phone comes with only 5Megapixels of resolution which take decent photos in daylight where as we have to keep flash light away from dark photos. Camera lets you record HD videos at 720p & gives decent quality in daylight an in early evening. Camera comes with Auto focus, Face detection , ISO adjustment, white balance, auto contrast & blink detection. You can also make video calls by using its tri band 3G technology by using it front VGA camera.
The powerfull pricessor makes it easier to play games and watching movies on Galaxy S & the device supports DivX and XviD video playback too. FM tuner, digital compass with A-GPS.
For connectivity you have Wi Fi, 3G, Bluetooth & USB slot which will make you sharing data across gadgets more easy and faster.
Android 2.2 & UI
Galaxy S I9000 is sported with the Android 2.2 Froyo which can be upgradable to Android 2.3 Eclair version. Phone comes with the all new Touchwiz user interface which does not have much of upgrades form its previous versions. Comparing it with HTC's industry standard UI Sense, Samsung Touchwiz UI lacks many capabilities. It gives you all the tools to utilize powerful Android but not innovative enough for such smartphone.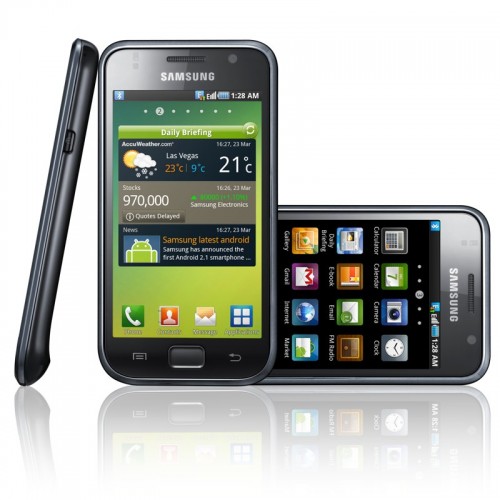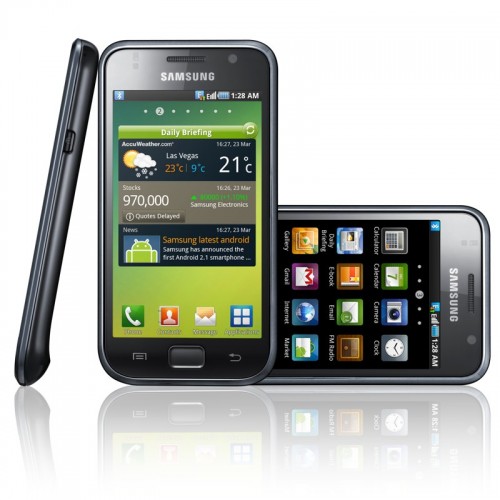 Price of Samsung Galaxy S I9000
This is most interesting thing that'll still make you think for this phone – Samsung Galaxy S price in India has dropped from around Rs 30000 to Rs 23599 in past year.
So, you can buy one of the most powerful 1GHz phone from Samsung at price of Rs 23599. In similar price range there are phones like HTC Desire S, HTC Legend & LG Optimus which are also as good as Galaxy S.
Comparison With Galaxy S LCD I9000
Galaxy S is having its newer version launch with AMOED screen replaced by new S LCD screen. But it has 4 GB internal memory which is expandable up to 32 GB which makes major difference. Newer version is also comes cheap at around Rs 19900 and has all other features similar to Galaxy S. Because of S LCD screen it gives more battery life and same bigger screen will give you experience close to Galaxy S. Check out this Samsung Galaxy S LCD Review & Comparison – For more information about both phones.
Verdict
Overall Galaxy S I9000 is a great smartphone & stable device in market from long time. You would definitely like to have this phone if you like phones from Samsung . My personal recommendation would be to invest 2k more & buy HTC devices to experience better UI & build quality. But talking about performance- Galaxy S is great phone to have.
­­