Have you ever wished you didn't need to devote days contemplating or gazing at an empty screen to develop a plot? Fortunately, in this rat race of AI tools like AI art generators and AI voice mimicking tools, we also found some of the best AI story generators for writers.
Just input a seed idea, and the rest story will be cooked by AI software.  These tools prove that artificial intelligence is evolving to become a  part of everyone's jobs. They not only help you save time, but these AI apps may also help you be more creative and come up with fresh ideas that you may never have considered or at least save you from that good old writer's block.
Let's explore these AI story generator tools to spark your imagination or simply come up with a polished plot for your book or story.
Best AI Story Generators You Must Try – 2023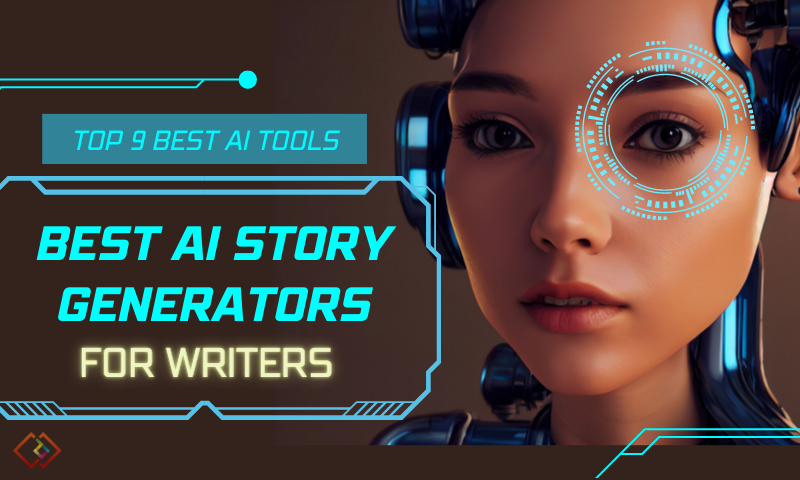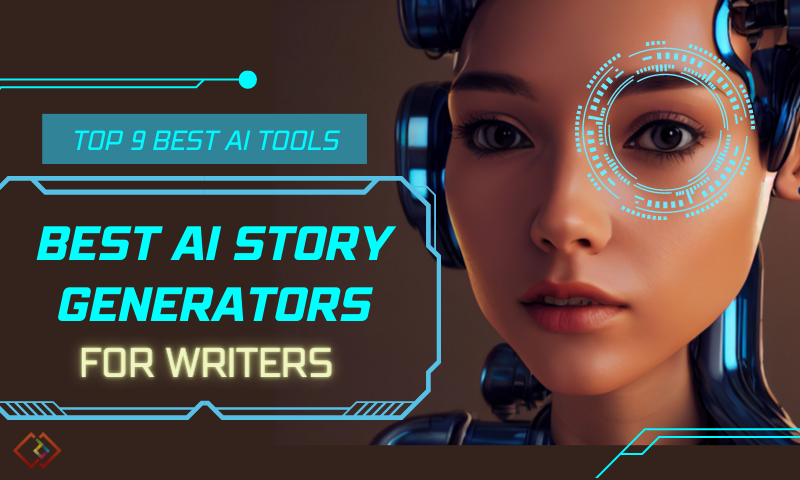 Value for Money Pick for Students, Story Writers and Bloggers
Rytr is an ideal AI story generator that analyzes your input using GPT 3 and produces material depending on it. Based on an analysis of tens of thousands of stories published online, it has been taught how to compose long-form stories. Rytr is always changing and picking up new stories. It becomes more intelligent the more you use it. – a straightforward, unobtrusive writing tool that handles all the technical details so you can concentrate on your tale.
Rytr makes it simple to create numerous drafts of your story and select the best one. To aid you as the storyteller, you must employ their "Story Plot" use-case assistance. It has the potential to produce a captivating story.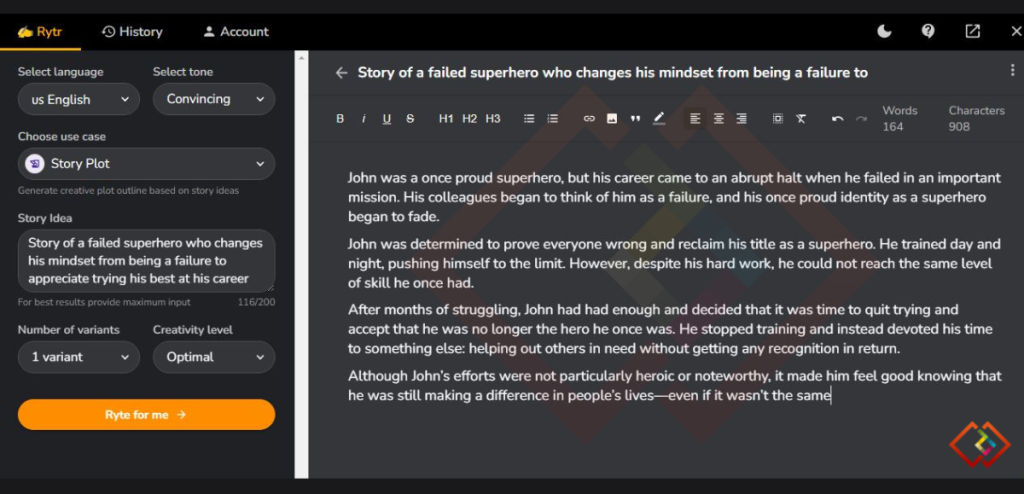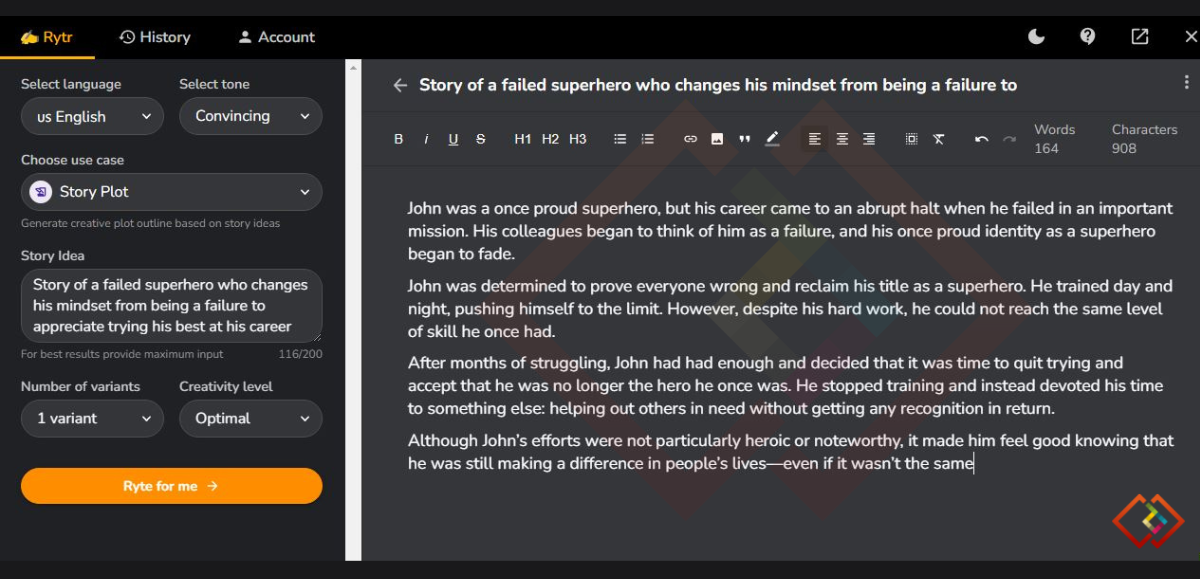 Pricing:
You can write in more than 30 different languages and 20 distinct tones with the Free Plan, which offers 5000 characters each month.
The Saver plan has a monthly minimum of $9. Every month, you will receive 50k characters, which may be sufficient if all you need to write is a brief story.
You may generate a limitless amount of material with the Unlimited Plan, which costs $29 per month. You are not limited in how many stories or novels you can create.
Best Performing AI Story Generator
Another excellent AI story-writing tool that can assist you with your narratives is CopyAI. GPT-3, CopyAI's most recent natural language processing algorithm, makes it simple to write stories. It examines your input, including the genre, subject, and narrative of the story you wish to write, and then compiles a list of possible stories. A great template for creating stories is CopyAI Freestyle. The quality of the story will increase with the level of detail you provide. It results in natural writing, thus, editing these stories may require less of your time and work. It is simple to create stories on the move in Google Docs as well as other apps thanks to this AI story writer.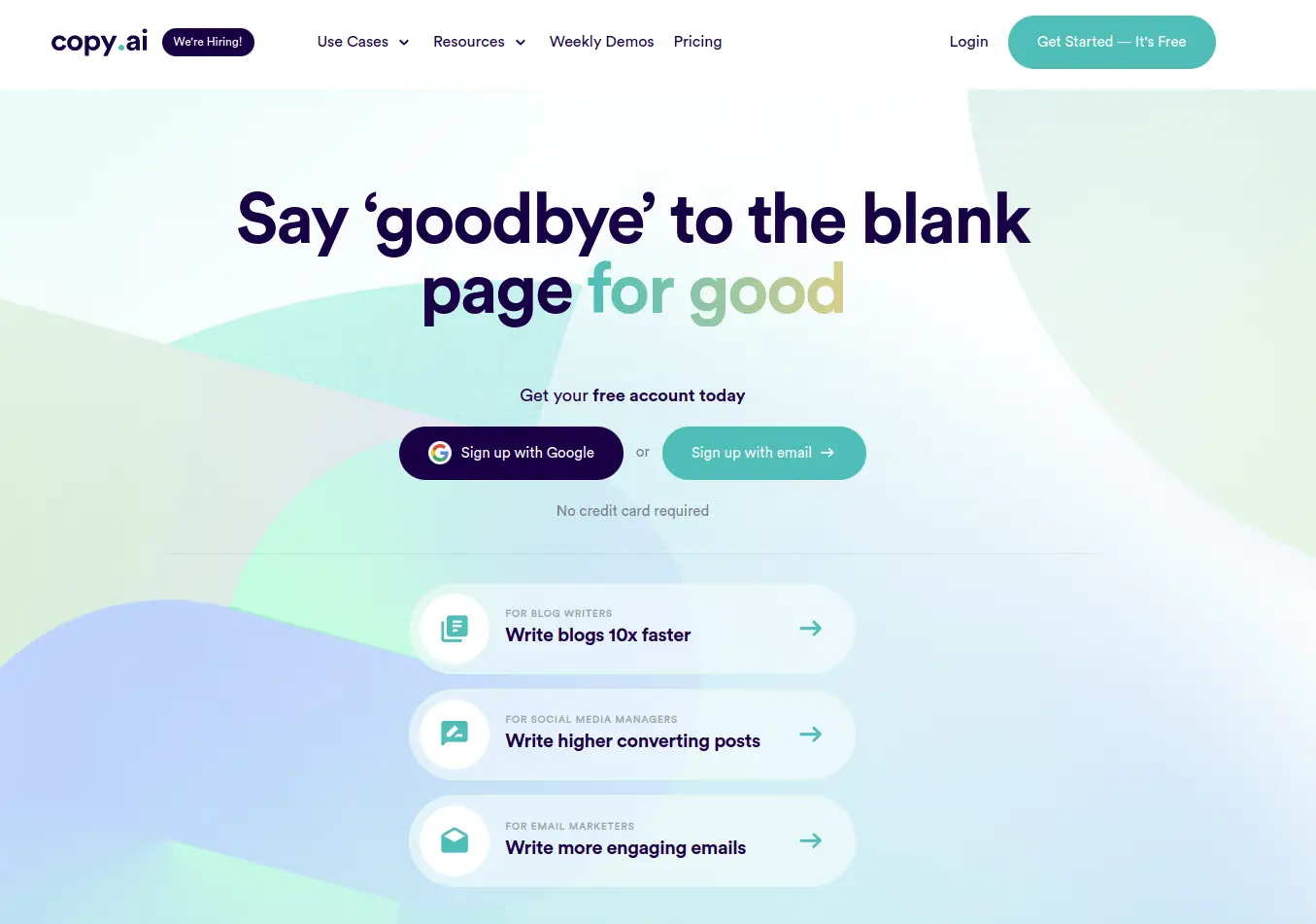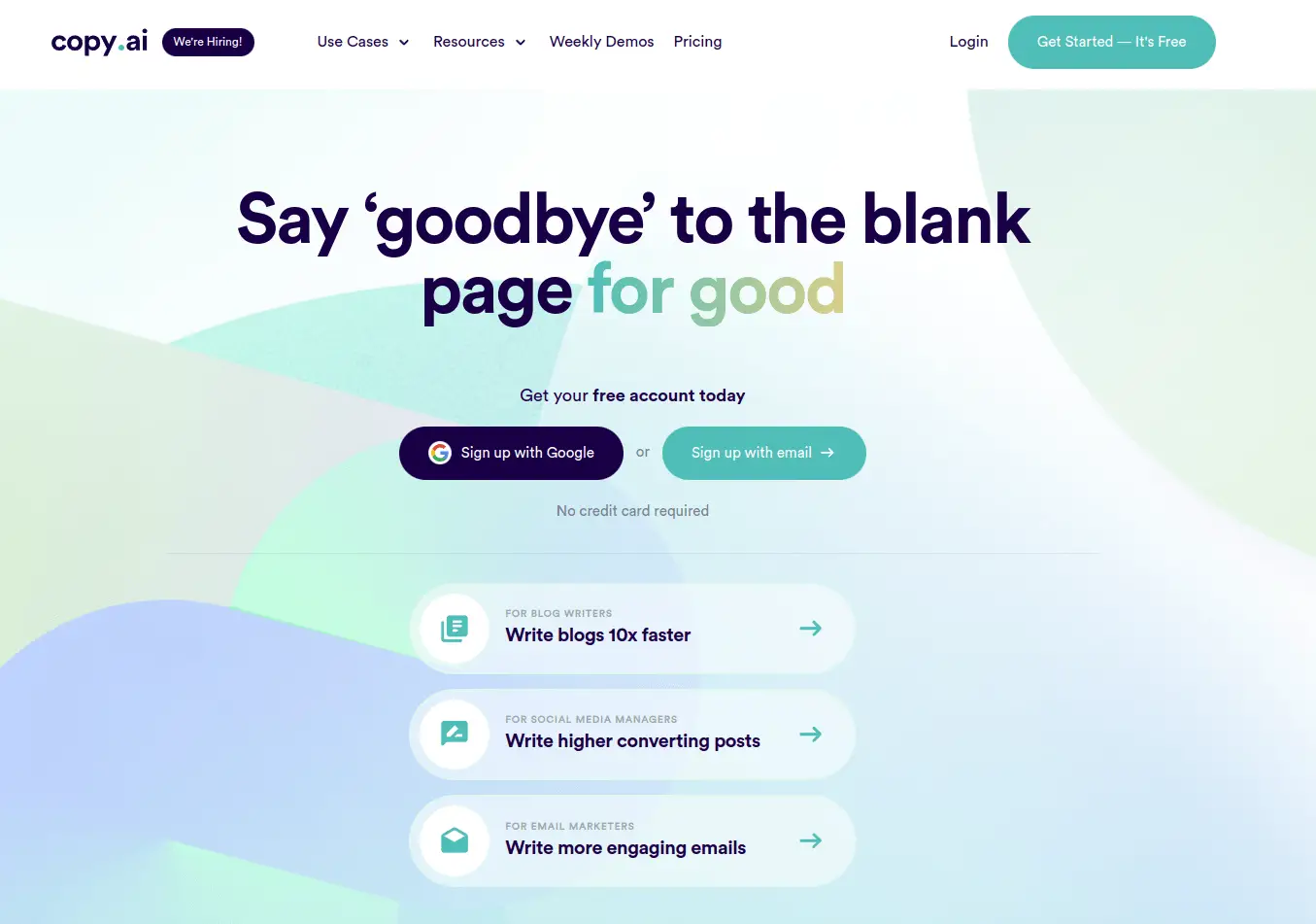 Pricing :
Choose the Free Plan to explore the software with 2,000 words each month. The Pro Plan costs $19 per month at first. It is ideal for people who need to write tales and content on a large basis.
Our Best Pick – Most Experimental Features, Slightly Buggy and Costly
Jasper, one of the best AI story generators in 2022, is not only great for writing stories, but it can create different types of content, including blog posts, books, novels, and even song lyrics. Jasper has been trained to write content, especially stories from the best authors in the world. It can help you overcome writer's block and get back to writing.
Jasper creates superior content and coherent stories from beginning to end, in contrast to other AI narrative tools. Through the document editor (Boss Mode Plan), where you may use commands to guide Jasper to compose everything you want, it can create long-form content. Many of the templates that Jasper offers can be used to build your original stories, including the Sentence Expander and Creative Story templates.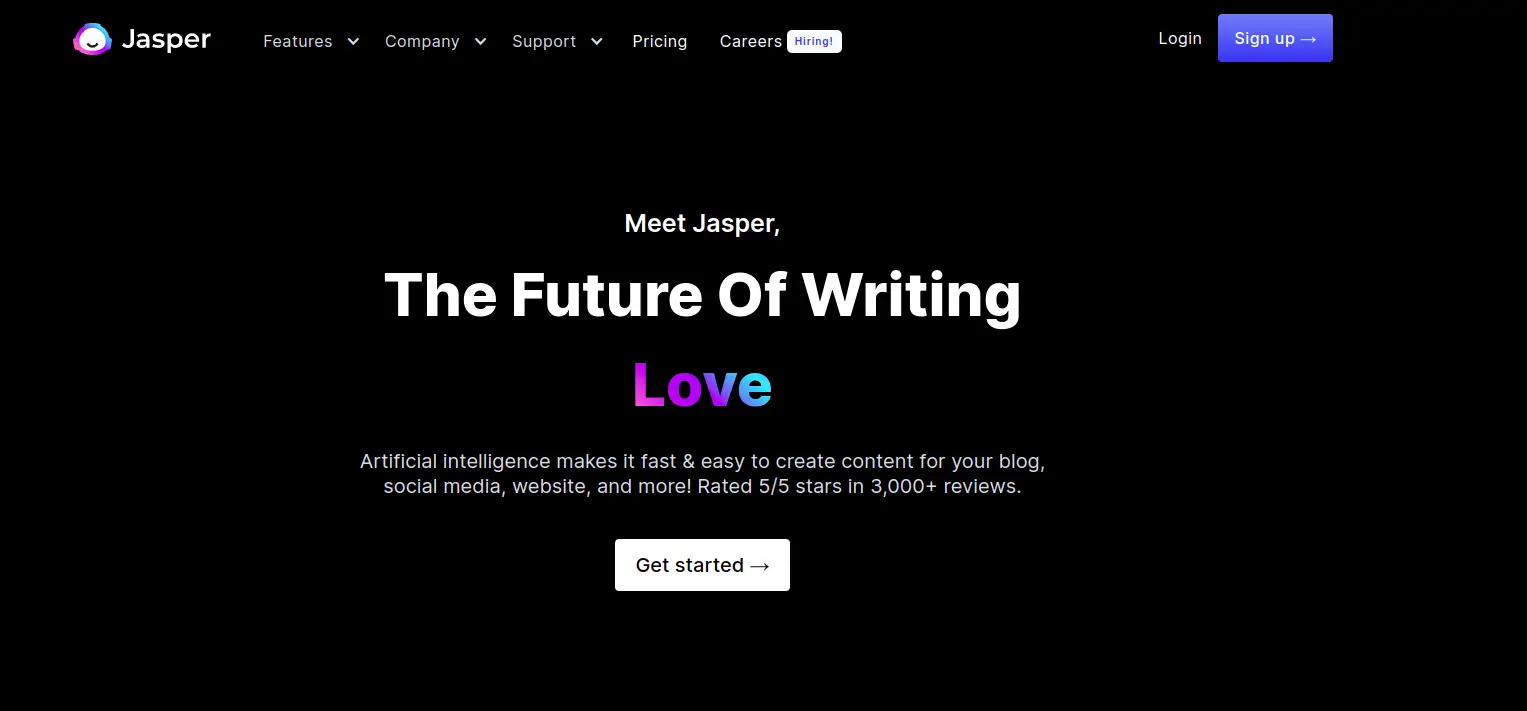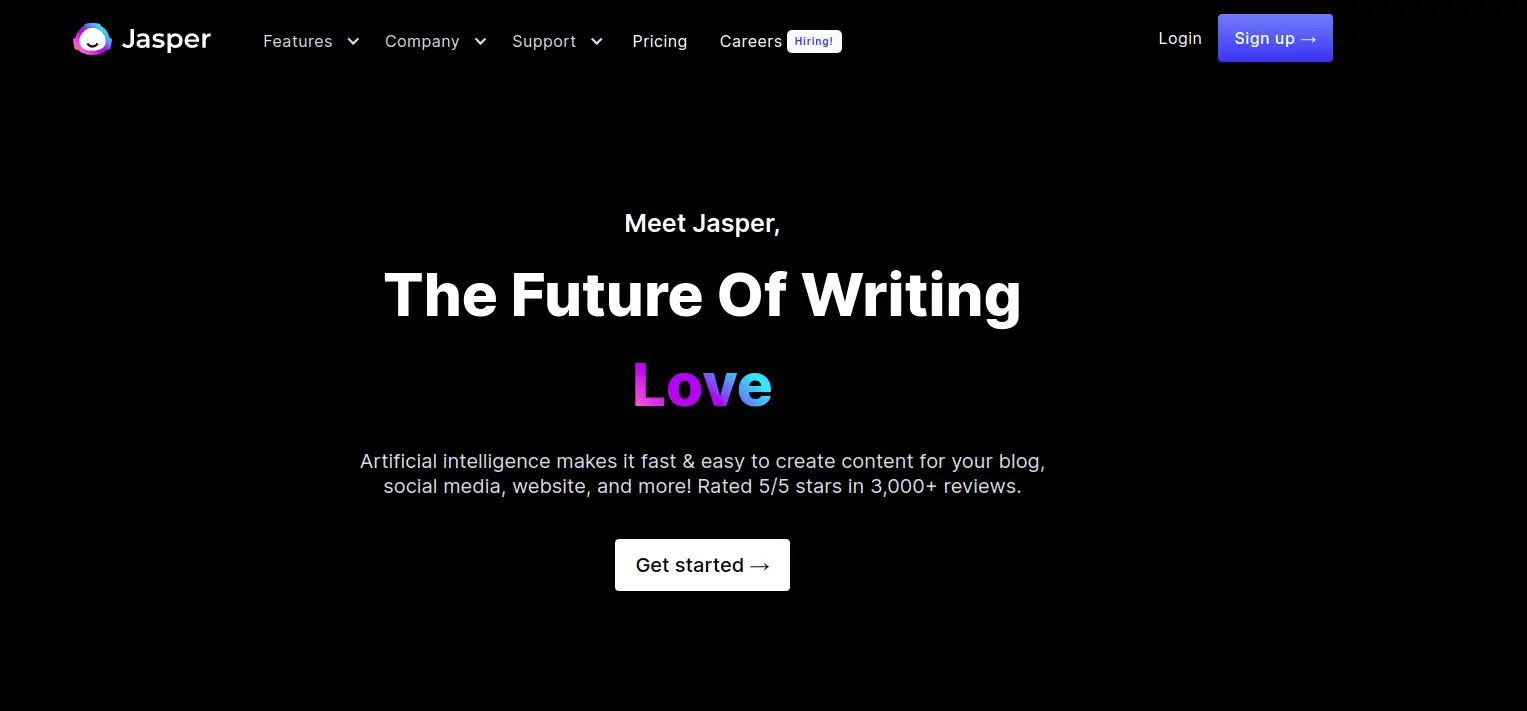 Pricing :
The monthly price for the Starter Plan is $29: If you're looking for a quick and easy way to write stories, look at Jasper's beginner kit. It's perfect with up to 20K words monthly and more than 50 unique templates! The only drawback? This strategy can't produce long-form content.
The Boss Mode Plan costs $59 a month as of right now: All of the starter plan's capabilities, the ability to write long-form material from scratch, a plagiarism detector, Grammarly, and Surfer SEO integration, are included in the Jasper boss mode plan.
The Business Plan: Special pricing and plan that can be customised as per your AI story writing needs in bulk.
Scalenut is a tale generator that aids in improving your storytelling. It employs natural language processing (NLP) to recognize a story's essential components and provides you with prompts to respond to. You may simply develop fresh story ideas or enhance existing ones using Scalenut. It can also be used to experiment with several storylines and determine which of those feels right. Additionally, it offers writing-related comments so you can improve your abilities and eventually reach the desired degree of storytelling.
Scalenut has several features that can help you become a better storyteller. It provides a story planner so you can keep track of the status of your projects and organize your thoughts. Additionally, it features a Feedback Loop that gives you an immediate response on how well you're doing when producing stories and receiving user feedback. To ensure that your writing is free of mistakes, there is an automatic grammar checker. Along with Scalenut, there is a talent network that allows you to interact with other authors and discover project partners.
Pricing:
You can produce up to 5,000 words each month with the Individual Plan, which costs $12 per month when paid annually.
You can create an infinite number of AI phrases with the Growth Plan, which costs $32 per month and is invoiced annually.
All the features of the Growth plan are included in the $60/month Pro Plan, along with an excellent client success manager.
With the aid of an AI content generator called Writesonic, you may develop narrative and character outlines for your stories as well as tale ideas. Artificial intelligence is used by the software to assess user input. The program will automatically create tale plots and character profiles that suit specific criteria, such as the genre and other preferences set by the user, based on any line or paragraph that is provided. Based on your feedback, Writesonic often produces believable and relatable scenarios as well as writing naturally to keep your reader interested.
Its four-step content writing methodology makes the process of writing tales more efficient than before. Additionally, it includes a WordPress plugin that makes it simple to upload tales on WordPress. 
Pricing:
With the Free Trial plan, you can write up to 2,500 premium words every month for no money.
With some sophisticated capabilities, the $15/month Short-form plan enables you to produce up to 12k words.
All the benefits of the short-form plan are available in the long-form plan, which has a monthly starting price of $19 and allows you to write 15K high-quality words.
Using the power of artificial intelligence, the program called Shortly AI helps you come up with fresh concepts for your stories. It is also intended to assist content producers, such as authors, bloggers, and marketers, in producing content. The software generates ideas based on input from the user using GPT-3 technology. The program will come up with ideas based on the sort of information you choose. With SHortly AI, you can also create stories by issuing instructions, just like in Jasper. The software features high-quality output and lets you specify the length of your story.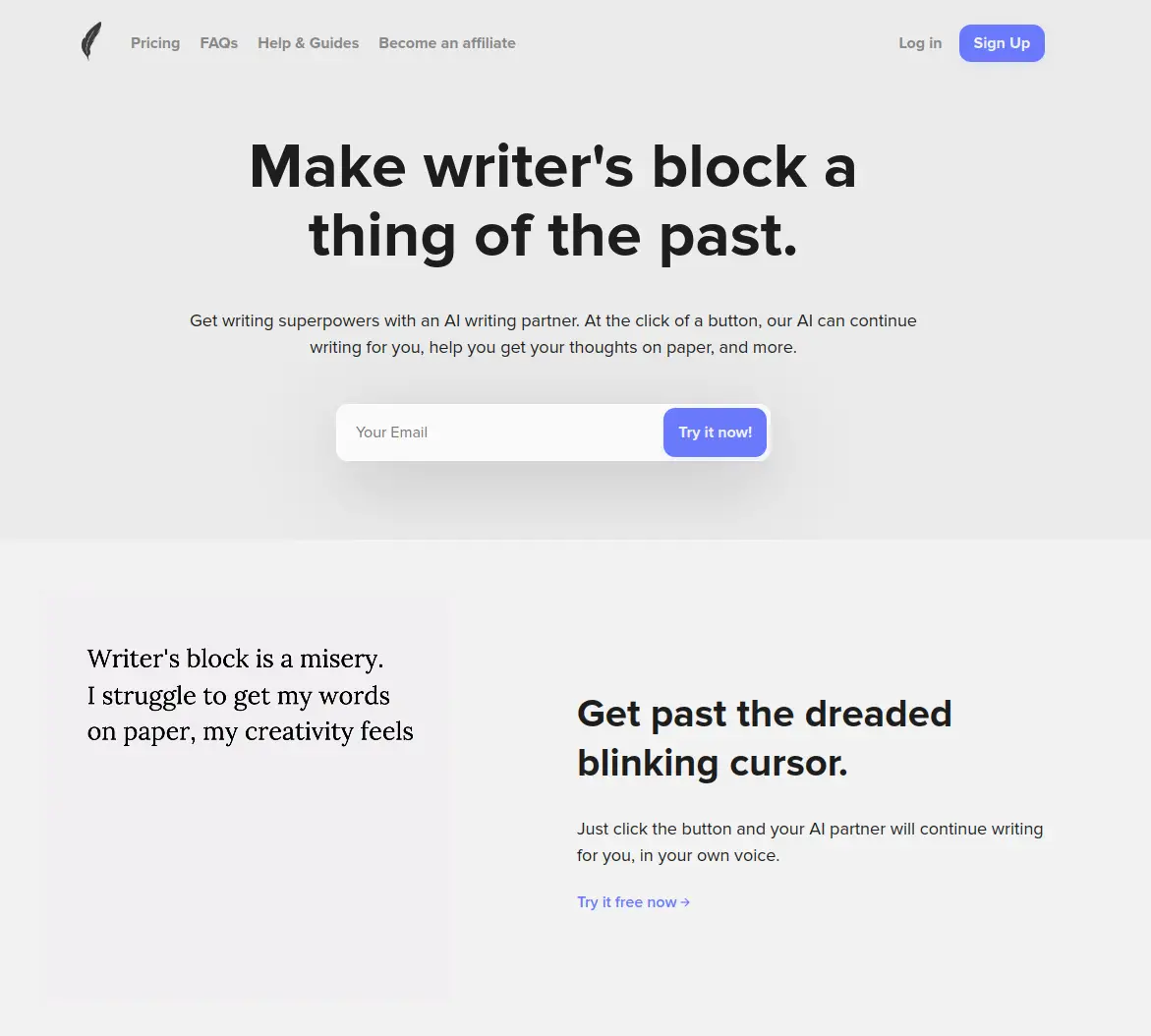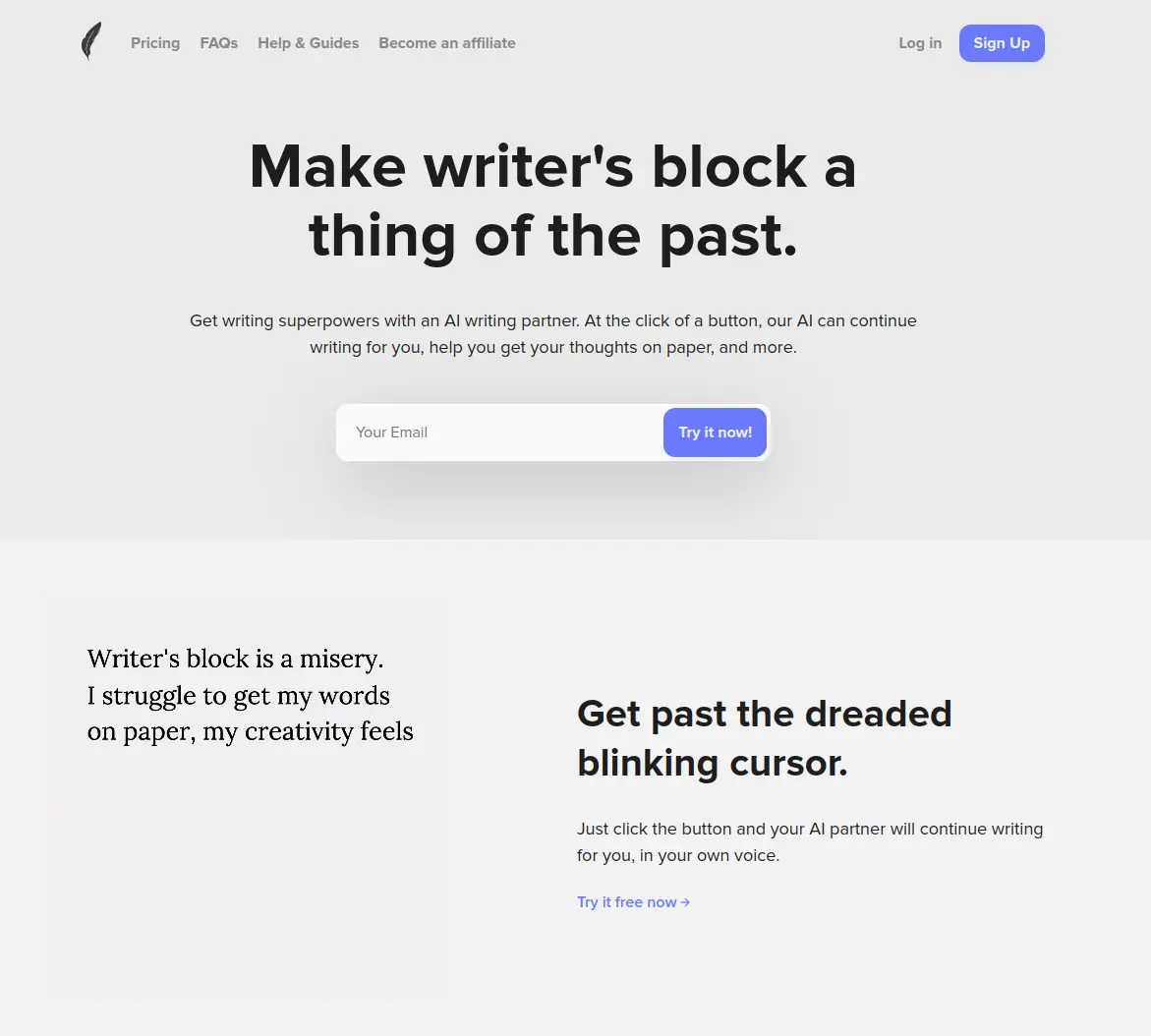 Pricing:
Shortly AI provides limitless monthly and yearly paid choices.
InferKit is a useful AI for creating fiction since it can be customized to meet your specific demands and offers texts that are in the desired style. The AI story tool InferKit may make predictions based on the text you enter. The user has a great deal of control over the content produced as well as its durations because it uses a cutting-edge neural network. Additionally, it creates high-quality content on any subject imaginable.
The user interface is straightforward and uncomplicated. Simply enter some text, position the cursor where you want it to stop, and then select "Generate Text." The tool may be used either through the web interface or the developer API thanks to its developer-friendly API. You don't even need to establish an account to produce up to 8000 characters for free each week. For those who only occasionally desire to write, this feature is fantastic. 
Pricing:
The Basic Plan begins at $20 per month and includes 600,000 monthly characters.
Starting at $60 per month, the Premium Plan offers up to 2,500,000 monthly characters.
The Novel AI tool is ideal for individuals who want to give their stories more life. It enables you to develop novel and intriguing ideas that match your preferences, making it simpler to select the ideal one for your story. To enable anyone to produce high-quality material, intelligence algorithms that write naturally have been developed. The AI seamlessly blends into your writing, keeping your voice and viewpoint. The type, size, and color scheme can all be changed to personalize the editor completely.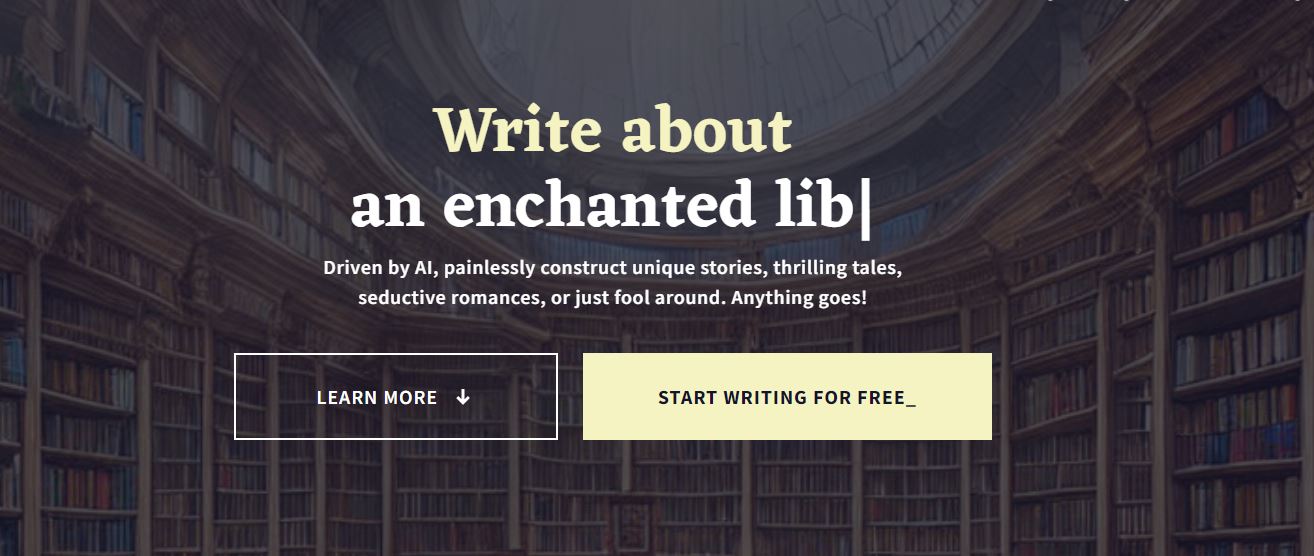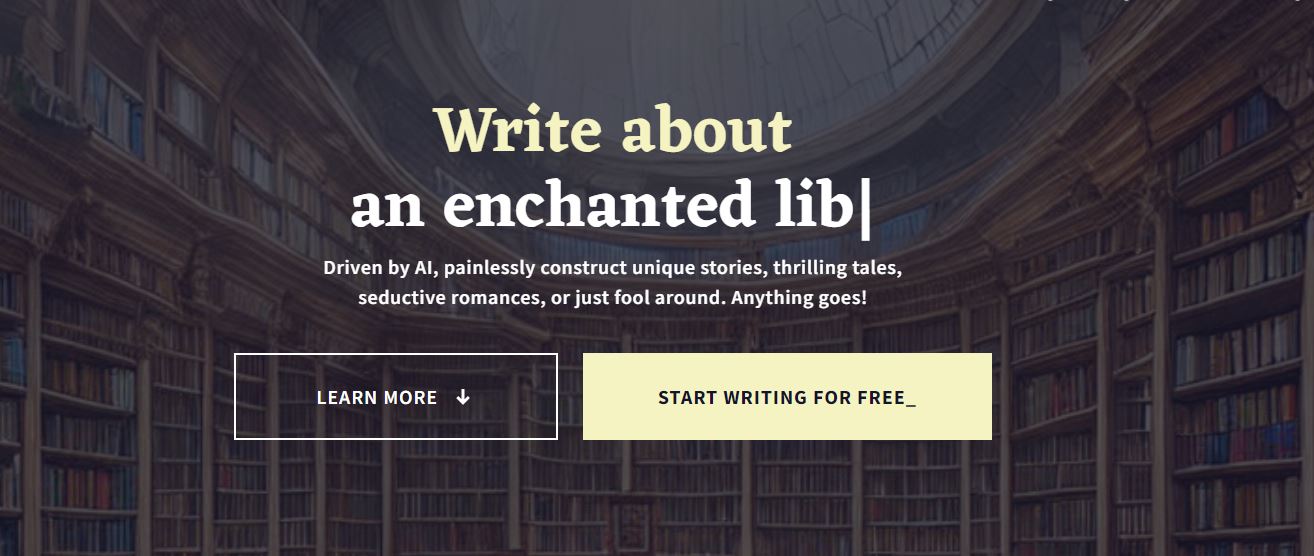 Pricing:
The Free Plan offers Euterpe AI Storyteller access and 100 free AI generations.
The monthly cost for the Tablet Plan, which offers limitless word generation, is $10.
Everything from the tablet plan is included in the $15/month Scroll Plan, along with 8192 characters that the AI can remember.
Access to their complete AI family is included in the Opus Plan, which costs $25 per month. Krake, the most recent addition, and Snek, a Python model
Another one of the most significant AI story generators is called AI Writer, which uses cutting-edge AI writing models to produce stories with little user involvement. The verifiable citations function helps non-fiction writers save time by facilitating faster fact-checking and less time on research. You may create a high-quality piece of material in half the time with the help of the AI writer tool. Utilizing AI writers is simple. You only need to enter a topic; a button click will produce an entire tale.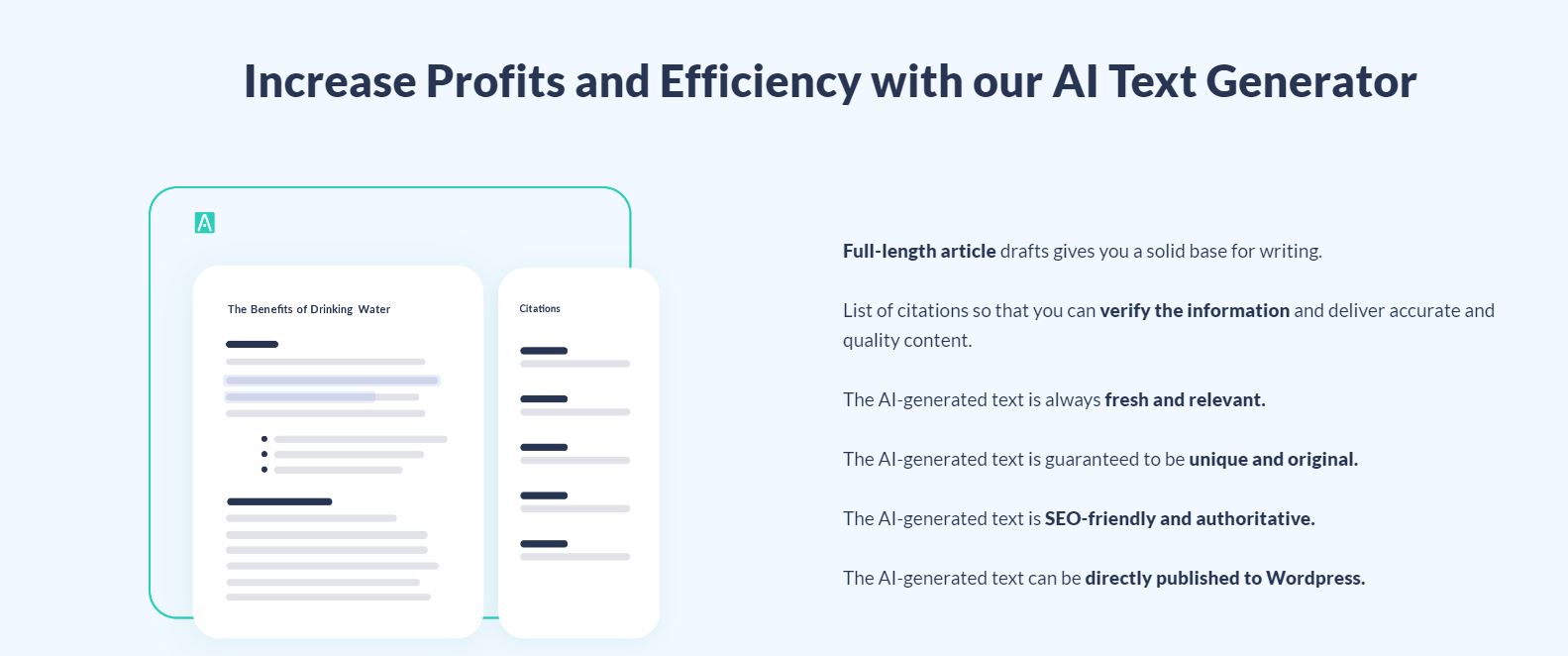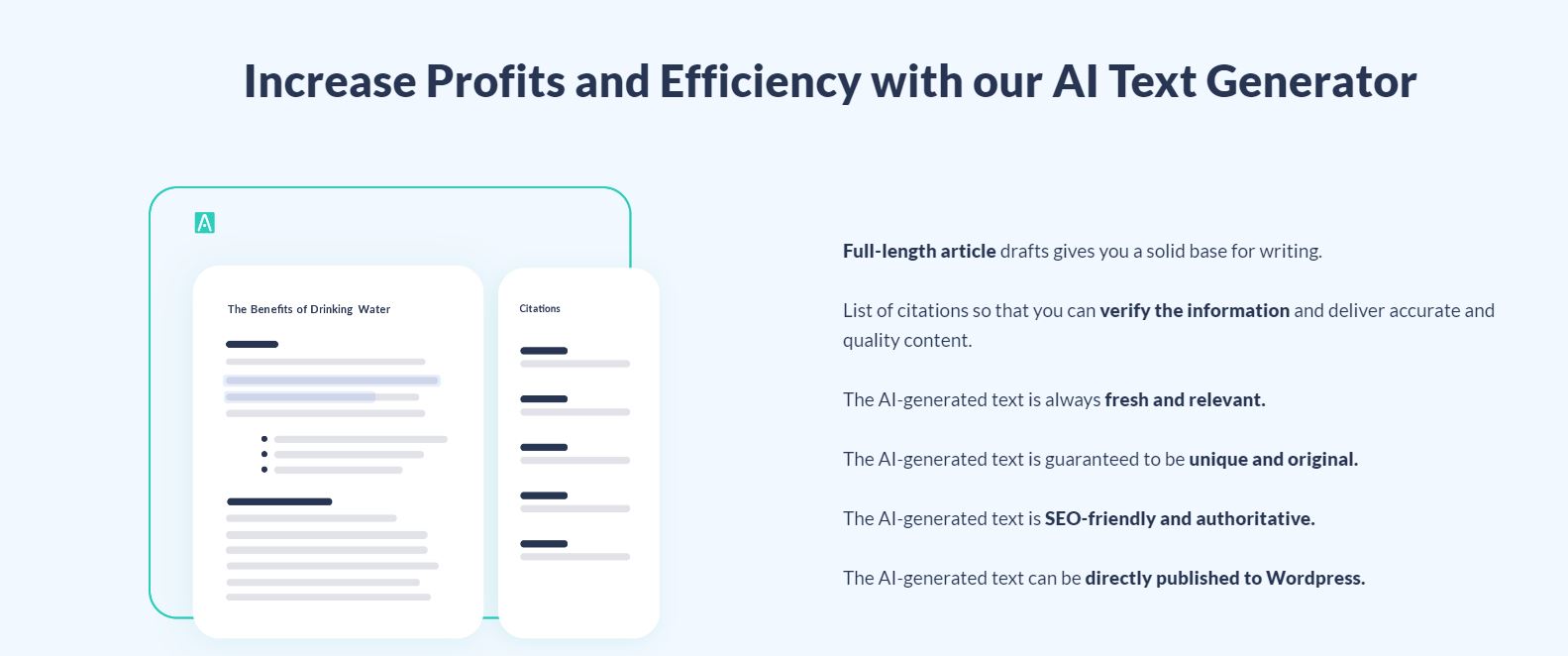 Pricing:
The price for the Basic Plan is $29 per month.
The monthly price for the Standard Plan is $59
The Power Plan costs $375 a month at first.
With the aid of artificial intelligence, the content creation tool ClosersCopy, you can generate fresh concepts and plotlines. It can assist you in coming up with characters, stories, and even language. The more you use ClosersCopy, the better it grows at coming up with fresh story concepts because it is always learning. A plot generator and an AI narrative idea generator are just two of the many tools ClosersCopy has to offer to inspire fresh ideas.
Closerscopy employs neural networks and its models are trained by professional writers, in contrast to other AI tools that merely use GPT-3 to generate stories. ClosersCopy is also incredibly simple to use.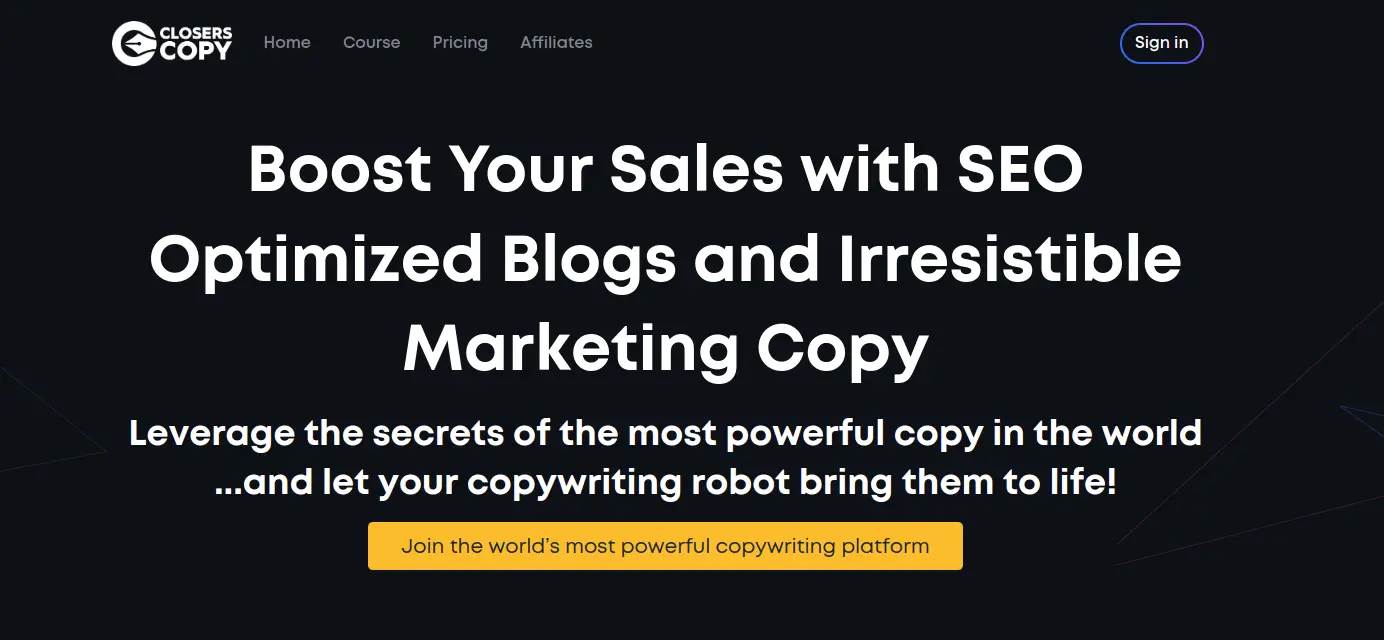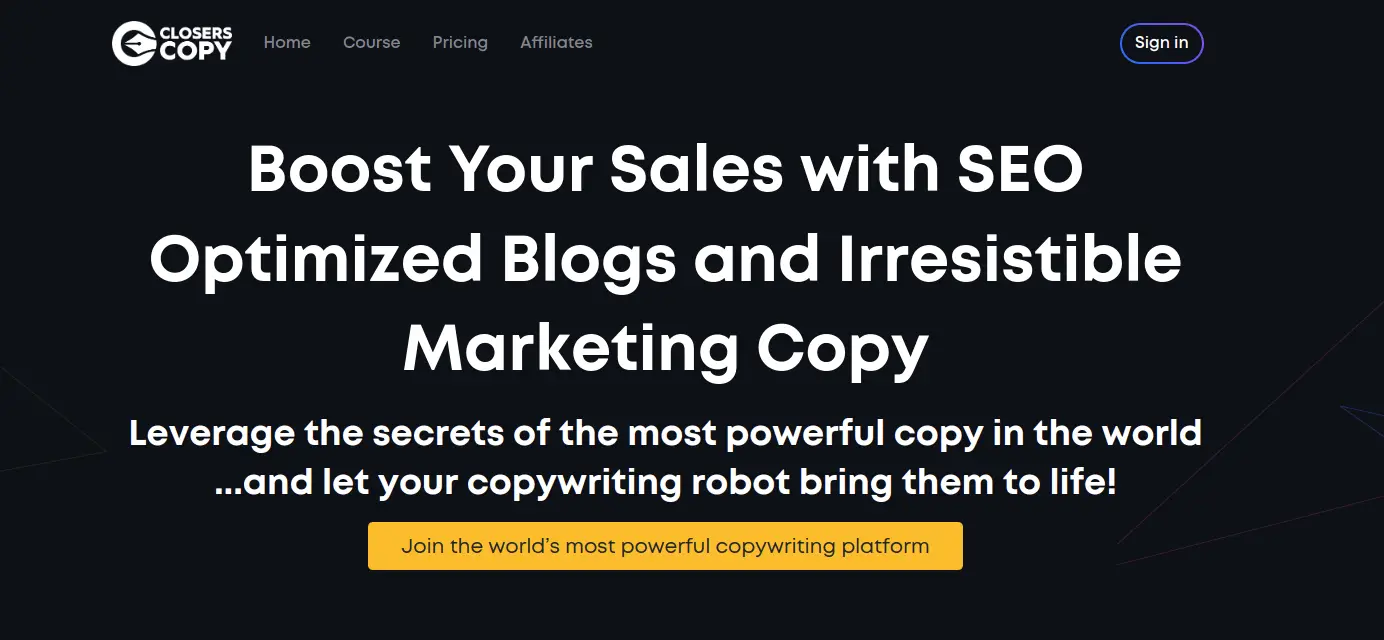 Pricing: 
The ClosersCopy Power Plan costs $49.99 a month and includes 300 AI Runs. The Creative AI Story template is part of this approach and will aid in your story writing.
Unlimited monthly words are included in the SuperPower Plan, which costs $79.99 per month.
All the benefits of the previous plan are included in the Superpower Squad Plan, which has a monthly starting price of $99.99. Additionally, the account can used up to five people, which why it makes it to our top AI story generators list.
Frequently Asked Questions About AI Story Generators
What is the best AI story generator?
After a rigorous comparison of features we concluded that Copy.AI, Rytr and Jasper AI are our best AI Story Generators recommendation.
Are there any free AI story generators?
There are four free AI story generators WriterSonic, Novel AI, InferKit Rytr and Copy.ai. They offer variety of limits on free plans but are great to start exploring story writing with AI.
Can I use AI to write a story?
Yes, indeed you can. You can write simple or complex stories with AI and it al depends on how well do you provide inputs/prompts. It takes some practice to work on detailed stories but simpler stories can be written by AI software in few minutes.
What AI creates stories?
Almost every GPT based AI like ChatGPT also creates stories. However above mentioned apps/softwares like Rytr, Copy.AI, Jasper are most popular ones to write stories and other text based content.