Imagine, how great it would be if you wake up on a beach or your dream paradise? Well, It can now be done with an amazing tropical alarm clock app I would like to review today called – Tropical Sunrise.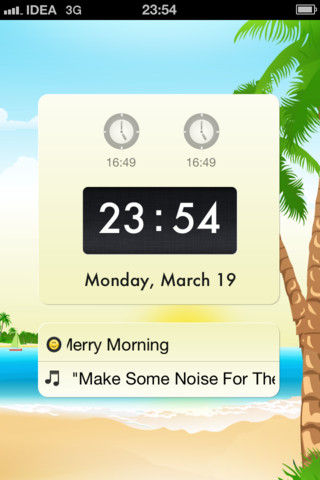 There has been two alarm clocks you can set within this app which can be customized according to your dream paradise waking up fantasy. Do not compare it with any ordinary alarm app, as it brighten up the screen to one of your best mornings.
The backgrounds scenes and sounds are few of the most useful features of Tropical Sunrise which makes your morning on iOS devices more fresh. Additionally you can set up your own alarm sound which you can of course select from the iTunes Music.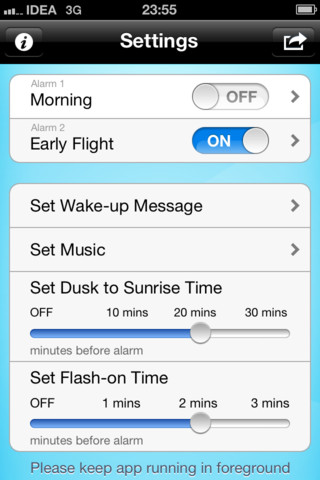 The layout of the app is very refreshing an innovative and you do not have to struggle at all to understand how everything works in the app. The app displays various good morning messages as customized by the iPhone user and then you can set alarm and go to sleep.
You can set the alarm to wake you up gently in 20 to 30 minutes as it slowly wakes you up with various pleasing music that gives you feeling to wake up on a tropical island.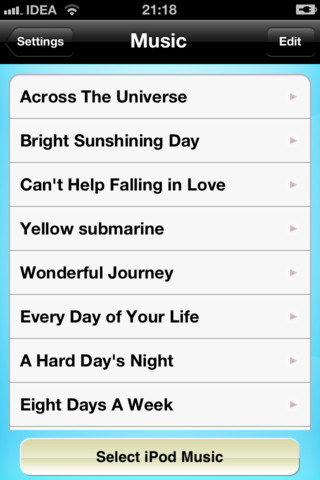 You might not get best of it on first or second day use, but in 2-3 days, you will start seeing changes in your overall waking up pattern. You would feel fresh, brighter and would love to feel the day around you positively, thanks to tropical Sunrise.
I would recommend this app to all iPhone users, as we work hard everyday but do not spend special time to make our sleep better and Tropical Sunrise might make significant improvements in your morning and even a day.
Cost: $1.99
Ratings – 4/5
Download Tropical Sunrise iPhone App