Recently I've been reviewing few iPhone apps which were interesting, useful or informative. Today I'm writing about one of the app that can actually help you get the conversation started – Conversation Helper.
Many time we get out of the questions for any kind of party, social gathering or fun event, and conversation helper is mainly aiming to assist you in the similar situations with its 1600 unique and interesting questions.
Lets check out how does this app works in following app review which can be used for iPhone, iPod Touch or iPad.
Conversation Helper iPhone/iPad App Review
Even though Conversation Helper is easy to understand there are several features I would like to focus on, which makes your overall app experience.
There are few apps which promises big things and are helpful if you read about them, but not all of them practical. Imagine a situation of being on first date with someone and you are out of ideas what to ask for?
Well, This app can truly be a nice experience, if you use keep your apple iPhone in hand & smartly swipe your fingers to the new questions. I mean how cool will that be?
Definitely Supercool!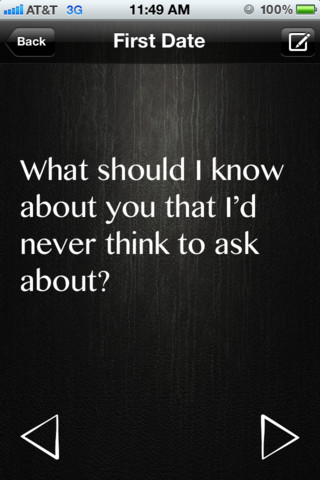 And yes, the app does allows you to swipe on touchscreen or use on-screen buttons to quickly move on to next questions. There is one more interesting thing you can do with this app is, You can forward those questions instantly by SMS, which can help your friend in similar situations. Which is absolutely brilliant!
The interface is simple and fast to use and as I said, it will help you in many situations. Questions are clearly readable, and arranged in good format. There is also a smart grouping of questions which you can see in following screenshot.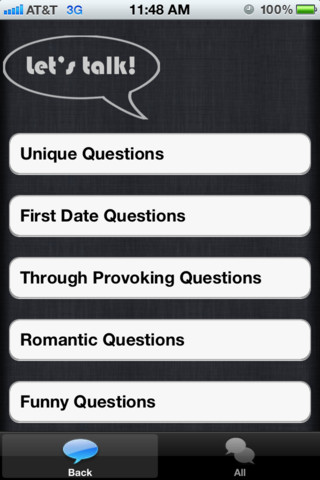 Almost 1600+ questions covers almost anything you can think off and I would definitely recommend this app for all the Apple iPhone & iPad users for sure!
App Rating – 4/5
Cost: $0.99
Download The App