Are you faking your wake up alarm system, by just setting it and dismissing the same in your mornings? Well, you need some type of extremely annoying alarm, and today we are going to review such app called – Alarmy (Sleep If U Can!)
Alarmy iOS App Review
Most of us face this issue, and we end up snoozing or dismissing the alarms we set on our iPhone. What Alarmy does at its core, is make dismissing the alarm little hard… let me rephrase that – much hard for people like us!
I said much hard, because it physically want us to move so as to shut the alarm off. You can set the different location in your home, as per your choice to set the alarm off.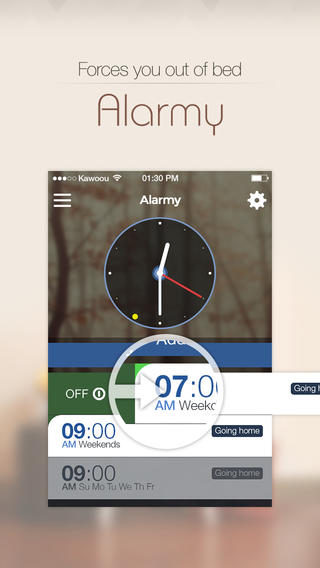 If you set it as your bathroom, then Alarmy need us to go to bathroom in the morning, take a picture of bathroom, and then only it will shut off. What this does is, it forces you to get out of the bed, and make a habit for your body to get out of it naturally everyday!
And the picture thing works with any place you want, so user can get as creative as they can be, when it comes to shut the alarm off.
The user interface of this alarm is very impressive to look at, and has very easy to understand navigation system. There are several standard alarm features that you can expect from any other alarm app like selecting alarm sounds, alarm turn off methods, labels and recurring alarm settings.
Overall, its a great alarm app for all iOS users, especially those, who are lazy as I am and need to build a habit of waking up with alarm promptly. For the price of $1.99, Alarmy is a must have app for you that will take care of your sleep!
Cost: $1.99
Ratings: 5/5