Making a budget is the first step in taking control of your finances. Without a budget, you don't really know where your money is going, which means you can't lower your expenses or decide how much money to put into savings.
Unfortunately, budgeting isn't exactly the most enjoyable activity for most people. If you hate budgeting, then you should add these four apps to your mobile device. They will do the hard work for you.
CoinKeeper
Price: $1.99 per month
CoinKeeper makes creating a budget easy and entertaining. You start by telling the app about your income, savings goals, and expenses. After that, it only takes a few seconds for CoinKeeper to generate a useful budget that helps you make the most of your money.
CoinKeeper's interface and visual style really help it stand out from other budgeting apps. It has a simple design that makes it easy for you to see exactly where your money is going. It also makes budgeting fun (well, as fun as possible) with brightly colored graphics and icons.
You can download CoinKeeper for free, but the free version doesn't have some key features that you'll need to create and follow a budget. Download it if you just want to see how the app works and looks. You'll need the paid version, though, to really benefit from CoinKeeper.
Dollarbird

Image via Google Play
Price: Free
Dollarbird is a calendar-based budgeting app that breaks down your income and expenses by the day. This helps you understand your spending habits so that you can take greater control of your money. For instance, you may find that you tend to buy an extra cup of coffee on certain days of the week. If you want to lower your spending, then you know to bring a thermos on days when you need an extra pick-me-up.
Having a calendar also makes it easy to see how your spending habits evolve over time. By viewing your expenses over several weeks and months, you can see whether you're reaching your goals.
BudgIT
Price: Free
BudgIT has all the features you would expect from a free budgeting app. It lets you track your spending, set recurring expenses, and get notifications when it's time to pay bills. What makes BudgIT special is that you can use it with your smartwatch such as the new Samsung Gear S2.
Most budget apps will only work on smartphones and tablets. That's perfectly fine for people who don't mind setting aside a few minutes to update information on their mobile devices. Busy people looking for more convenience, however, will appreciate that BudgIT lets them view their spending and income information on smartwatches. If, for instance, you buy a sandwich while you're rushing to an afternoon meeting, you can input the cost directly into your smartwatch.
Since smartwatches have smaller screens than smartphones, you can't expect to access a full graph on a smartwatch's small screen. Still, you get the flexibility and convenience you need to keep accurate records without taking time out of your day.
HomeBudget with Sync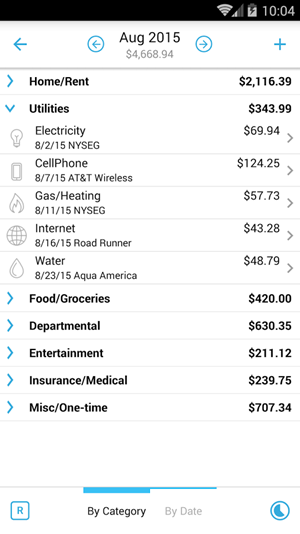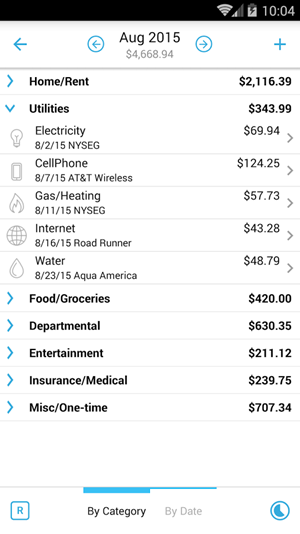 Image via Google Play
Price: $5.99
If you want to coordinate the incomes and expenses of several people in your household, then HomeBudget with Sync is the right app for you. This app makes it easier to control your family's spending. If, for instance, your spouse creates a recurring expense, it will appear on everyone's device.
HomeBudget will also let you scan receipts quickly, generate charts, and connect your checking, savings, and credit card accounts. In other words, it gives you all the features you need to develop and follow a family budget.
You can try HomeBudget Lite for free, but the free version doesn't include the synchronizing feature. Since that's what makes this app special, you should opt for the paid version.
It's unlikely that many apps will actually make budgeting fun. With the help of these four options, though, you won't have to spend as much time thinking about where your money goes. Whether you truly hate budgeting or you just don't care for it, these apps can make your life better.