Do you wish to alter or create your voice when you're live-streaming or talking to your friends? If so, it is now feasible thanks to the best real-time voice changer apps for PC, Mac, and Discord versions. Changing your voice can be done for a number of reasons, but most individuals do it for social purposes with their loved ones. We'll demonstrate the top voice changer for PC, Mac, and Android in this article. The benefits, drawbacks, and prices of the top 11 voice changer software applications will be revealed if you stick with us.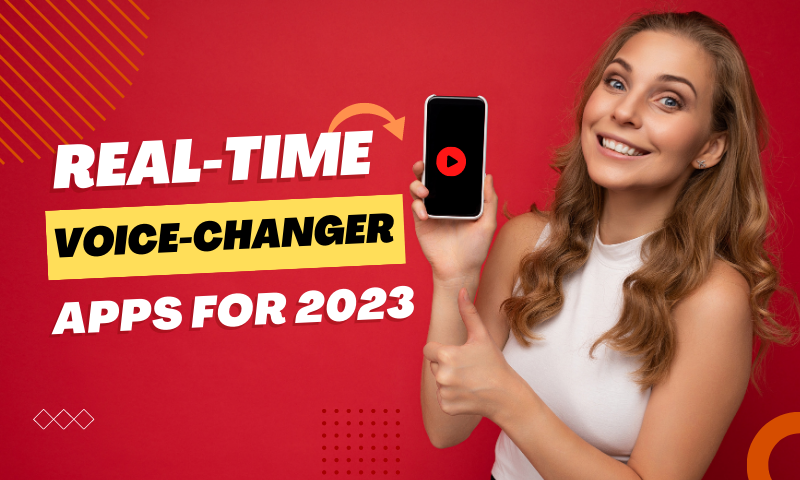 Top 7 Real-time Voice Changer Apps
Suitable for both Windows and Mac computers, MagicMic is a good real-time voice changer. Due to the real-time nature of its operation, the voice changer automatically changes the voice to the one you have chosen. Its sound effects can be used easily as well. The biggest surprise is that despite being brand-new software, it includes practically all the features of a voice changer, including voice and sound effects, voice customisation, keybinds control, voice altering background sound, etc. Among all voice changers on the market, the voice effects are the most prevalent.
For your convenience, it offers more than 125 voice-changing options. A few of them include ambient noises. It may be used with a variety of platforms, including Skype, Discord, Second Life, Fortnite, PUBG, and CS:GO.
During gaming, talking, or live streaming, you can add more than 600 sound effects and voice memes. Some voice effects include background sounds so you may modify the surroundings and adjust your voice in a more realistic way. In order to easily play and stop speech and sound effects while playing a game or performing live, users can set keybinds for them. With the voice studio feature, you can even add your distinctive voice and name to it. Moreover, you can upload MP3/MAV sound recordings as additional sound effects.
Both Windows and Mac systems can use MagicMic. There are free and premium versions of MagicMic. Only $12.95 for a quarterly plan, $19.95 for a year, and $39.95 for a lifetime license are required to purchase the paid version.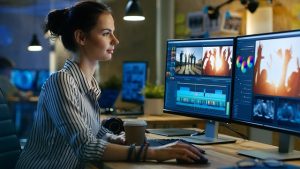 An Android voice-changing app is called RoboVox Voice Changer. Anyone can alter their voice using the almost 48 various styles and its simple to use interface. Users of this voice-changer are able to alter the pitch of their voice as desired. It offers three voice-changing options, including real-time and recorded. You may analyze your voice using real-time spectral analysis. Both iOS and Android devices make use of it easily.
Additionally, you can record your modified voice on your gadget. It facilitates the creation of ringtones and the saving of audio files. You must spend $1.49 to get this app onto your smartphone, and it is compatible with both Android and iOS devices.
Due to its seamless and speedy voice conversion, Voicemod is one of the best voice changers on the list. The user's voice can be changed with this voice changer software to sound like a woman, child, man, chipmunk, or robot. To have fun, it can be used to switch voices for online games and live streams. It may be used with a variety of programs, including Viber, Paltalk, and Hangout. During the conversion, your voice can have a variety of effects added. Utilizing it is pretty simple. A novice can use the software to choose any sort of voice with ease.
To their sound effect library, you can contribute your own sound effects. It's vital to note that Voicemod is only compatible with Windows PCs. There are free and premium versions of Voicemod. Voicemod Pro is the name of the premium version, which you can purchase for $45 for a permanent license, $18 for a year, or $12 for a quarterly account.
One of the simplest, most user-friendly, and straightforward methods for switching voices from one style to another is the Clownfish Voice Changer. Additionally, it enables free use across a number of platforms. It contains a built-in sound player that is useful for managing audio. It supports text-to-speech. features for controlling audio and advantageous sound players. The VST plug-in is supported. It can serve as a player for background music. Clownfish Voice Changer, on the other hand, is a free program that only works with Windows.
Audio can be edited in a variety of ways using Voicemeeter, a smart audio mixer. Your smartphone or any other program can be used to add audio. Your voice will be mingled naturally with games, various musical styles, dinnerware, and other sounds. For you to customize your own voice, it offers a variety of sound characteristics. This voice changer is expert-grade and potent. VoiceMeeter has the ability to combine audio sources from audio software and audio hardware. It works with Windows 10 as well as Windows 8, 7, and XP. It costs nothing to use Voicemeeter. You can, but are not required to, purchase some features while utilizing the software.
Software called MorphVOX allows you to alter the voice of a user's character to fit various styles. Users can alter their voice to sound like a female, male, child, or a variety of other supported voices by using the built-in voices, noises, and effects. MorphVox offers excellent voice output quality. Users can choose from a wide variety of included voices and noises. The impacts of voice changing can be done best. Users can adjust and change their voices with exquisite precision thanks to this feature.
To change your voice, it offers you a variety of vocal settings. Both Windows and Mac can run Morph VOX. For users, a free model is available. However, a premium version is also available, with prices starting at $39.99, if you wish to use it for consistent voice altering.
It is software for modifying sounds in real time, giving your music a distinctive and varied style. It may be used with numerous platforms, including recorders, WhatsApp, Line, and Skype. It's incredibly simple to use. Because everything in the software is set up automatically, you won't need to adjust any sophisticated settings. Automatic installation and setting of every setting. It can be used when conversing with other people. On its own, it will alter the voice or sound. It provides sophisticated customizing capabilities. Windows 7, 8, and 10 are all compatible with it. It costs nothing at all to use this program. It can be turned on with no fees.