India, Delhi May 2017:  COMPUTEX TAIPEI 2017, the world's 2nd largest B2B PC exhibition, will start from May 30th to June 3rd. Today, the COMPUTEX Best Choice Awards winner announcement was made. The MSI GT83VR TITAN SLI gaming laptop proudly shines out from over 300 competitions and wins the Golden Award in the Gaming & Entertainment Category, as well as the MSI VR ONE gaming backpack receives the Best Design Award, the MSI Vortex G25VR gaming desktop receives the Category Award, the MSI X1000 Network Security Gateway receives the Category Award, and the MSI Telematics Solution for Commercial Vehicles receives the Jury's Special Award. A total of 5 pieces of winning product, again proving MSI's world leading position in the field of Gaming and eSports. "This year MSI breaks the historical record to wins 5 Best Choice Awards at COMPUTEX! This is truely a great honor and encouragement for MSI. MSI sincerely thanks to the recognitions from the juries. MSI will remain stand on the same principle of breakthrough in design as we always do, to bring the best gaming products to all global gamers, leading them to the next gaming dimension." says Eric Kuo, MSI Vice President of Global Sales & Marketing.
Golden Award: GT83VR TITAN SLI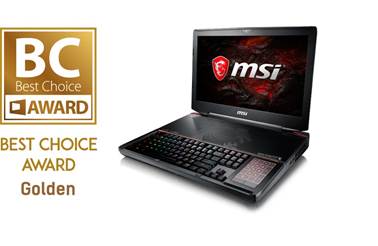 Supporting GeForce® GTX 1080 and 1070 SLI dual graphics, GT83VR TITAN SLI is ready to be the top power system for all VR gears in the market. The GT83VR TITAN SLI has an enhanced Cherry MX Silver mechanical keyboard with Per-Key RGB backlighting and SteelSeries Engine 3 for Macro Keys setup. Incorporated ESS Sabre Hi-Fi DAC, Dynaudio speakers and Nahimic 2+ software, the GT83VR TITAN SLI provides a fully immersive sound experience. MSI does not merely focus on gaming but also VR. The world's first Nahimic VR with 7.1 sound is now provided exclusively to some MSI gaming laptops, driving the audio more advanced to VR. The powerhouse fulfills the highest 4K gaming demands with VR Ready, making it the king of the latest generation of SLI platform design.
Best Design Award: VR ONE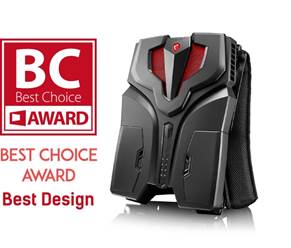 VR ONE backpack PC is the world's thinnest and lightest virtual reality backpack PC weighing only 3.6Kg and makes VR One easy to wear. Ergonomic back and decompression straps increase stability, ventilation and comfort. Armor style chassis demonstrates power and mobility. Powered by the latest in gaming technology and a unique cooling system to prolong gaming sessions, the VR ONE backpack PC comes with swappable batteries, eliminate cables and chords, and is now available to deliver a truly wireless VR experience. Using this fancy backpack remains burden-free even after play for hours. VR ONE is not only ready for different business usage but also flexible for gamers and users to make it as a PC replacement platform.
Category Award: Vortex G25VR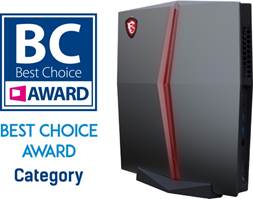 Vortex G25VR only has 2.5 liter! The refined chassis features a small and exquisite size which is easy carry or set up in any places. Even can be integrated with VR arcade machine and other devices. Vortex G25VR comes with dual fans and 8 heat pipes in order to maximize the cooling performance. Exclusive Hi-Res Audio/ Nahimic 2+/ VR for best home theater and VR Gaming experience which from enhancing audio output intelligently by Creating surrounding immersive audio experience and strengthening dialogue clarity for Gamers. Vortex G25VR is not only designed for gaming, but also the center of future smart home. MSI redefines desktop gaming with this impossibly compact and incredibly powerful brand new product. 
Category Award: X1000 Network Security Gateway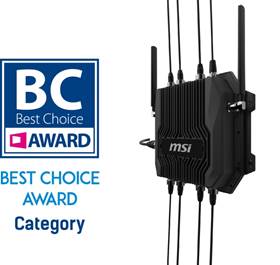 X1000 Network Security Gateway has a robust and stylish look through its octagonal outlined, matte black chassis. Creative cooling fin design allows better thermal air flow and larger heat dissipation area. Physical characteristics of the nano-carbon coating further enhance heat radiation efficiency. For X1000 to be wall-mounted outdoors, fillister in the middle and drainage channels on both left and right sides are implemented to drain off water. Integrating aesthetics and functionality, X1000 is a clear winner worthy of the name. 
Jury's Special Award: Telematics Solution for Commercial Vehicles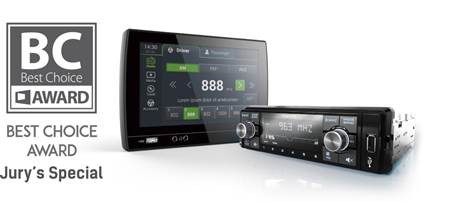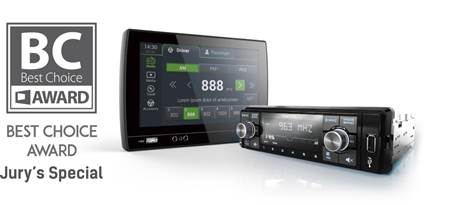 Specially designed for commercial vehicles, this solution can be extensively applicable to buses, coaches, city bus, trucks, logistic vehicles and other vocational vehicles. With the integration of fleet management, driver performance, safety, and multimedia, it is a smart and comprehensive solution that helps operators optimize fleet efficiency, reduce operating costs and enhance driver and cargo safety. Currently, this product has been approved and accepted by several major car manufacturers, as well as seamlessly integrates with the leading brand of ADAS.