If you are on the hunt for entry-level gaming keyboard for casual gaming, there are plenty of options available that are of okay quality. But if you're looking for something that gives the fancy RGB effects, looks and feel premium and great for casual gaming, HyperX has something to offer that ticks all the boxes – HyperX Alloy Core RGB Gaming Keyboard [HX-KB5ME2-US]!
Let's dig deep into the review after I used it for almost two weeks as my primary keyboard for gaming, writing and pretty much all day to day computing.
HyperX Alloy Core RGB Gaming Keyboard Review [HX-KB5ME2-US]
As I've said you'll find lot of cheap to average quality keyboards from local, Chinese and some serious brands as well. But HyperX, who makes professional mechanical gaming keyboards like HyperX Alloy Elite RGB , has put out this amazing piece of technology that sets it apart from the rest.


Alloy Core RGB has these amazing effects built in, which you can switch with the dedicated RGB lighting buttons on the top right. Form breathing single colors, to wave patterns and brightness switch, you have pretty much the same effect you get with their premium offerings. The keyboard is used in multi-colored RGB mode, is divided into 5 RGB zones, that virtually separates from each other, and looks amazing. The feature it does not have is, the customization, as it doesn't rely on any software to produce its effects. But at this price the signature RGB lightbar on the Alloy Core with available 5 RGB effects, you'll be pretty satisfied with your investment.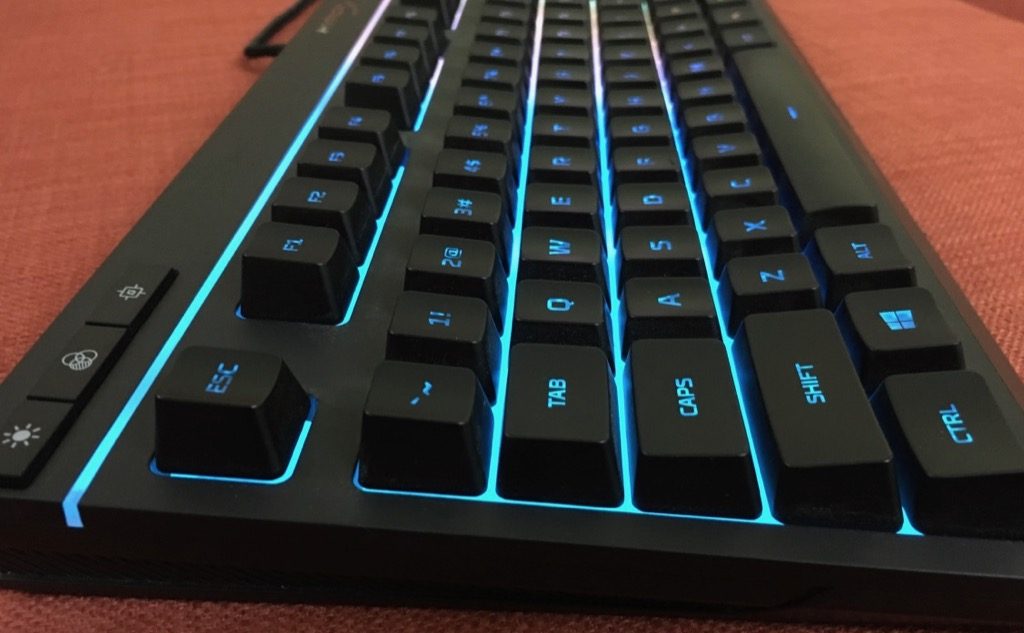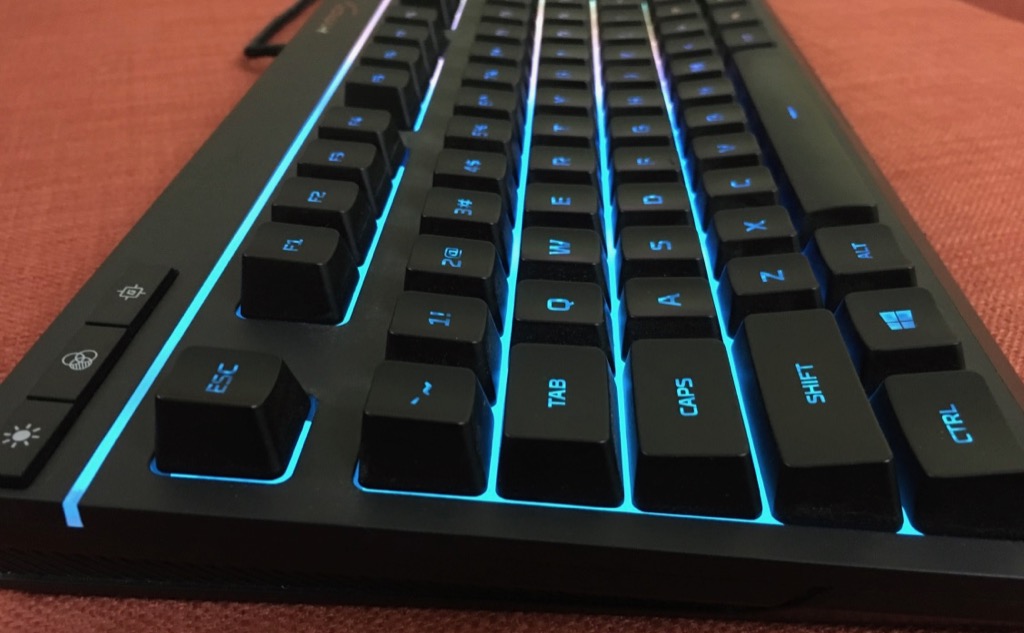 Being free of software like HyperX Ngenuity also makes it a simple plug-n-play for any computer.
HyperX Alloy core has decent weight and dark black finish with the shiny HyperX logo on the top-center, and an Embossed short HyperX insignia on the bottom center. There is no palm rest, and the bottom part has a linear texture that just to make it look better.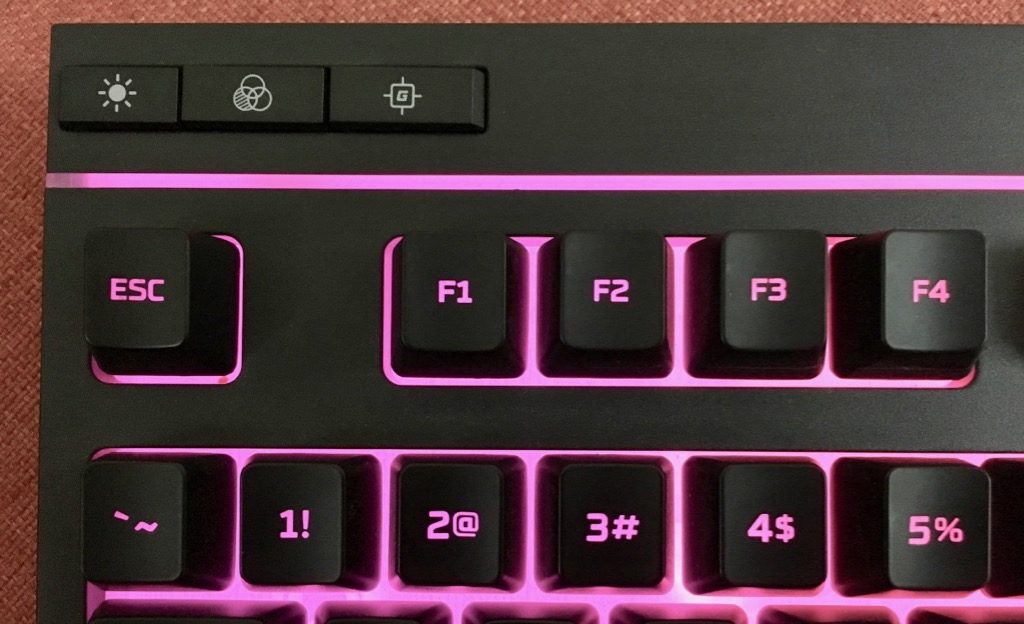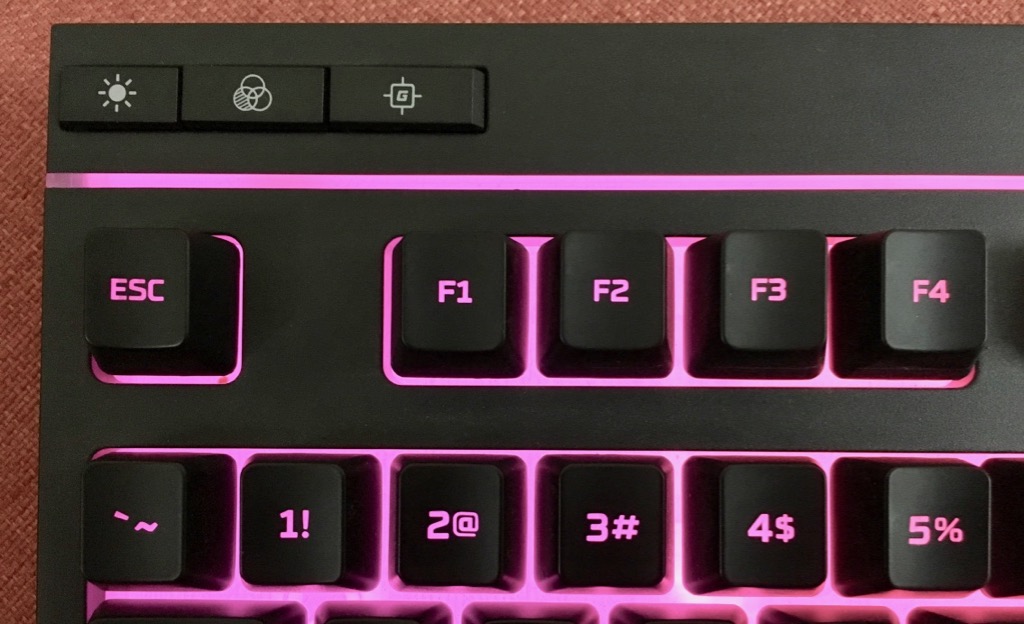 Top left you ll find RGB ON/OFF-cum-brightness button, Effects button,  and Game Mode button, that basically saves you from accidental windows key presses during gameplay.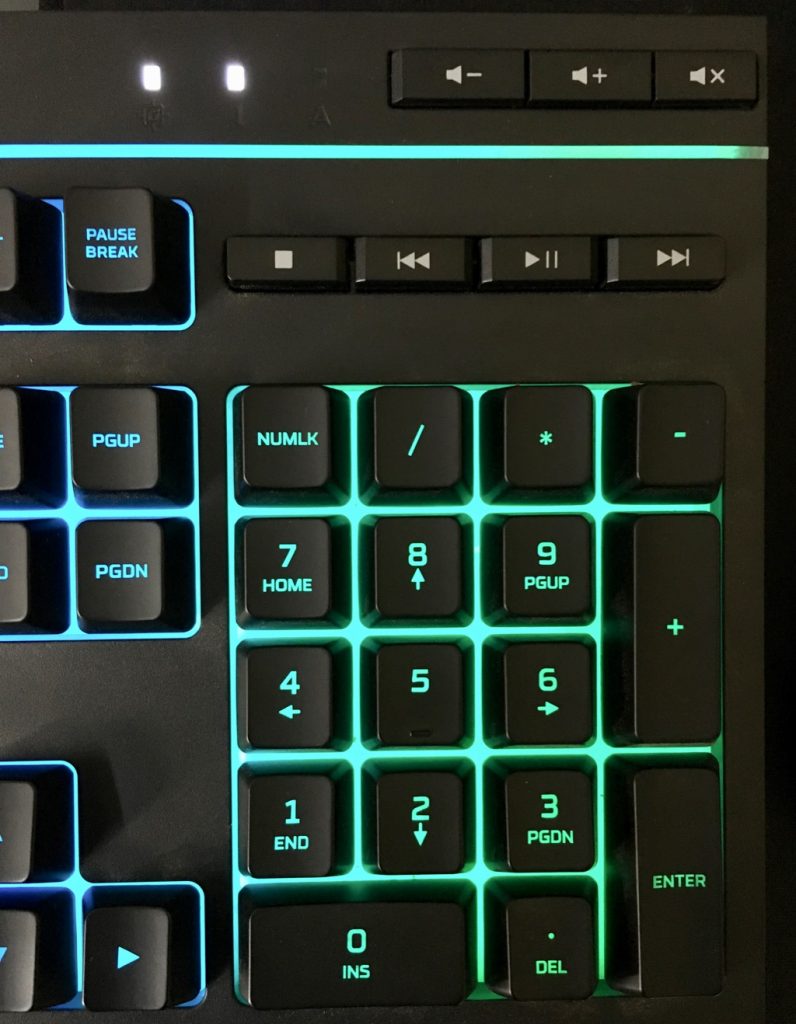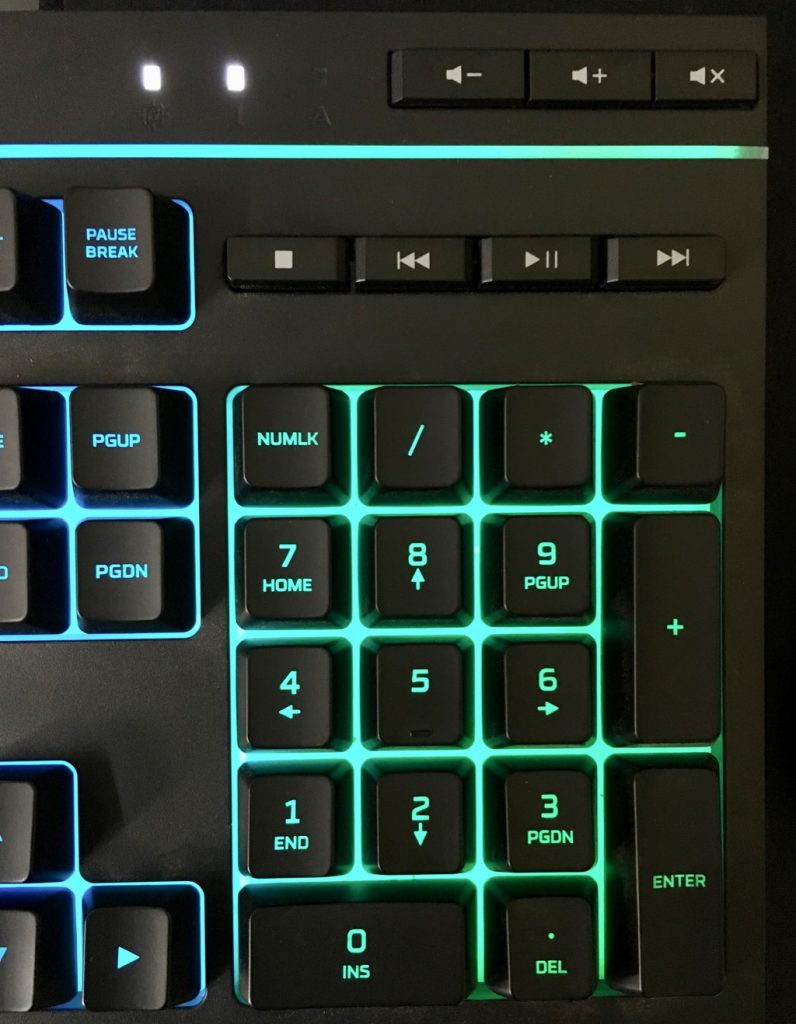 On the top-right you have volume buttons, followed by the three white LEDs that indicate Game Mode, Num & Caps lock status. Just below this top-right bar, to my surprise, they managed to keep all the dedicated media buttons, which are even missing on some of the premium mechanical gaming keyboards these days.
All the buttons placement is easy to access, they give great feedback on clicks, have a premium feel as well. The spacing on the keyboard is very good, which prevents you from accidental key presses.
Alloy Core RGB is a spill-proof gaming keyboard as it comes with the rubber membrane that serves as an RGB effects platform as well as the protector that covers the underlying hardware.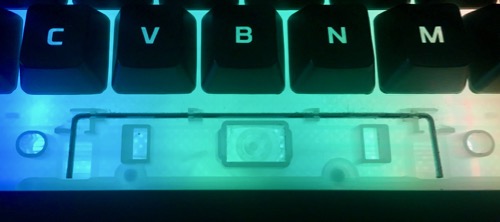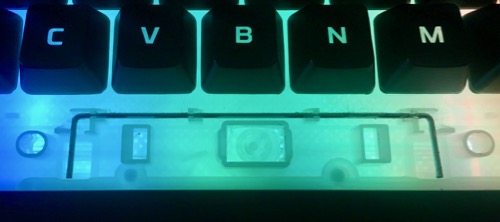 Being a membrane keyboard, it has custom plastic make keycaps that fit on the rubber membrane. The unavailability of the suitable stem makes it a
On the back, you get rubber padding for stability and elevated flips to raise the height.  There is no possibility of using custom key sets like CherryMX, as there is no suitable stem available, and you're pretty much stuck with the keys that you get with the keyboard.
The sound that the keys make are good, not clunky as mechanical keyboards produce, and the feel of the membrane keyboard is a level lesser than a mechanical keyboard for obvious reasons. The keys are pretty responsive and you can use this keyboard as an all-purpose device and not just for gaming. It has no fancy features that are precision related, but you get the anti-ghosting and tactile feel for gaming. You also get the keyboard lock option, which doesn't need you to lock down the whole system, and it comes handy at times. There is braided USB cable for Alloy Core RGB, which prevent from tangling and improves the life of the keyboard. hype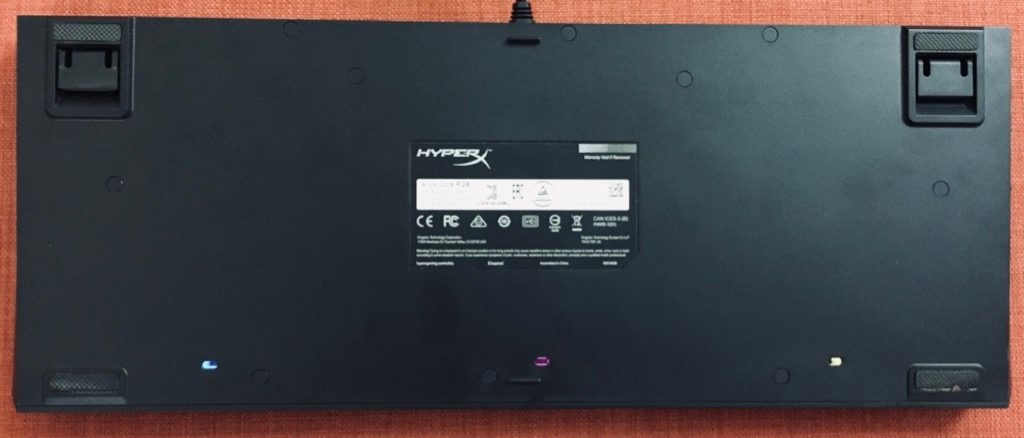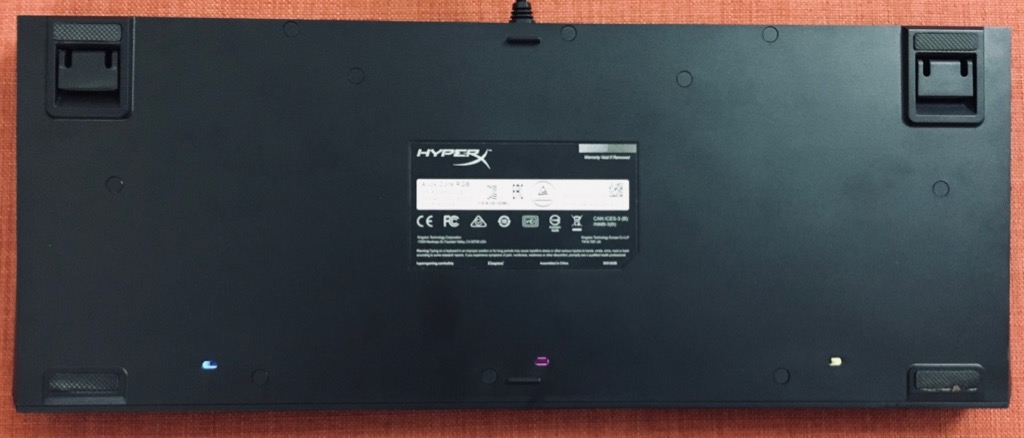 The build quality is very good considering this device is made by top gaming gear makers, and It will be a durable and long-lasting keyboard if you're a casual gamer.
This keyboard is normally priced around under Rs.4000, and only comparable option you have in this range is Corsair K55.
Verdict
HyperX Alloy Core RGB Membrane Gaming Keyboard is something I would definitely recommend for someone getting started with serious gaming, or who enjoys casual gaming, and wants a premium durable keyboard that looks and feels great. It's also the fanciest affordable keyboard that looks great with your RGB gaming computer!
Even if you crave for a mechanical keyboard for future, this keyboard can be a great starting point instead of putting your hard earned money into cheap mechanical keyboards that don't look as great or has better quality compared to HyperX.