[paragraph]HyperX Alloy Elite RGB Gaming Keyboard was launched last year that offers a variety of gaming features and comes with Cherry MX Switches. I finally got a chance to play on it for the past few weeks, and following is my in-depth review of this top of the line mechanical gaming keyboard.[/paragraph]
HyperX Alloy Elite RGB Gaming Keyboard Review
Even though this keyboard has been around for a while, it is one of the top choices in around Rs.14,000 price range. At first glance, it's dark, sturdy and offers two layers of RGB customization powered by HyperX's very own NGenuity software.
Build Quality
The keyboard is spacious, its sufficiently heavy which provides excellent stability against sliding. On the bottom, you will find two lifters on both top ends to give the significant rise for comfortable gameplay. It also comes with detachable palm rest that has a rubberized finish that offers enough comfort while playing games or typing.
[metaslider id="37840″]
[spacer style="1″]
On the top front of the HyperX Elite RGB keyboard, you will find a USB Port to power other USB devices on the desk. Both the sides have been designed as holders to lift the keyboard without much of the effort. The keyboard itself feels very sturdy on sides as well as middle, and it is built to last longer without any issues.
My HyperX Alloy Elite review unit came with the Cherry MX Red switches, but you can pretty much buy all three – Blue, Brown, and Red switches with this keyboard as per your choice. You should prefer Brown ones if you do extensive typing as well as gaming, as you do not have to bottom these keys out and avoid the clicky sounds. The red ones that my device had is a linear switch which produces clicky sounds which most gamers expect from a gaming keyboard. The blue switches offer the clickiest sound ever and take less effort to activate.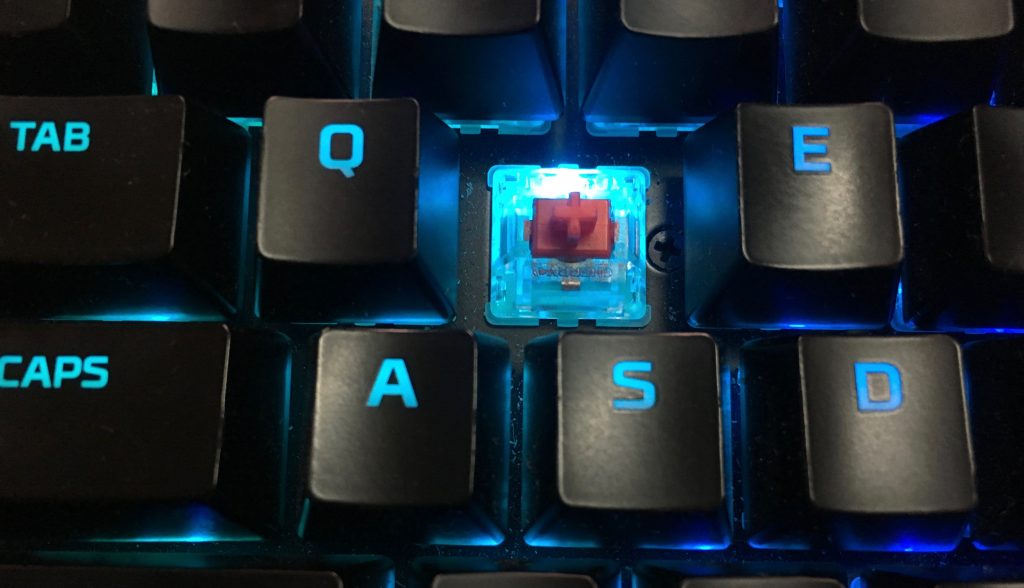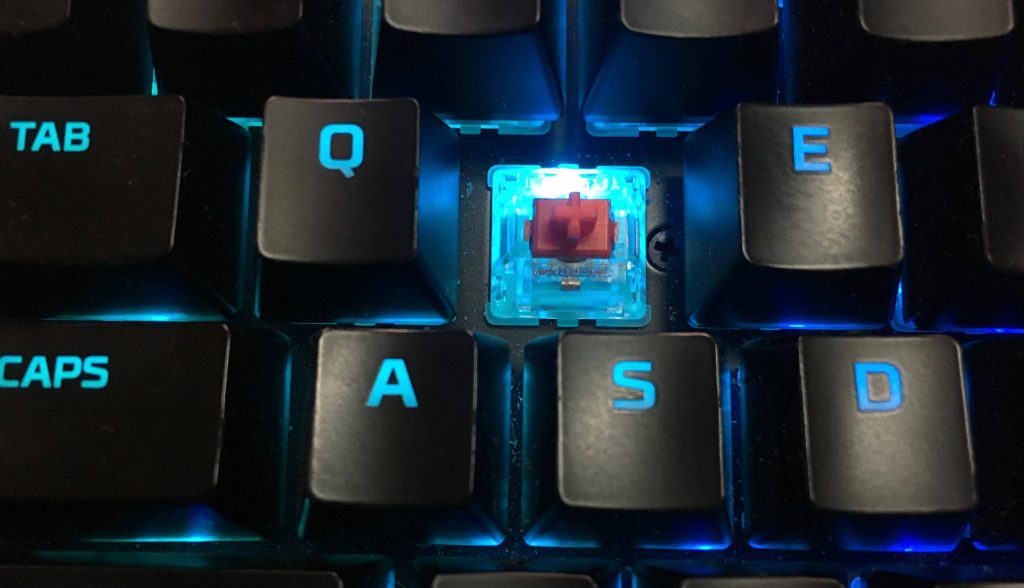 On the very top comes in the signature RGB bar, a thin strip that provides the edge over regular RGB keyboards when it comes visual appeal.
The cable that comes with HyperX Elite keyboard is thick and nicely textured that ensured high durability with its extra covering.
Features
Talking about features, you get three quick buttons on the top left to turn ON/OFF the RGB effect, the RGB profile switcher and ENABLE/DISABLE WINDOWS key. All of these switches are quite handy during gameplay and to quickly swap through your RGB options.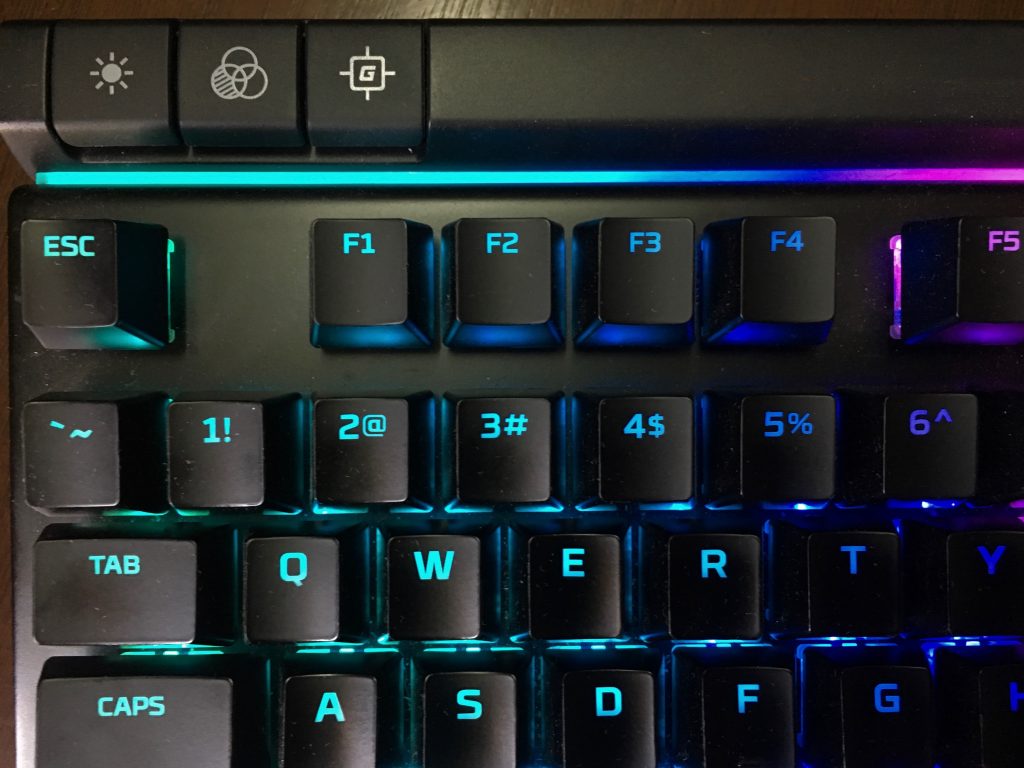 Alloy Elite has striking black colored buttons that give excellent contrast for colors that are produced by RGB feature. The darker choice of keycaps also makes it easier to use in broad daylight (with the RGB lighting turned OFF) compared to overly shiny black color keycaps that other brands provide. You also get additional keycaps set for AWSD keys which have textured silver finish and 1234 number keys with similar color excluding the texture. The same box also contains key detacher/holder for smooth removal of keycaps.
On the top right of Alloy Elite gaming keyboard, you have the dedicated media keys along with a scrolling bar that offers quick volume control. Just below that you get enlightened indicators that let you know if any of your quick buttons (on the top-left) are active or not.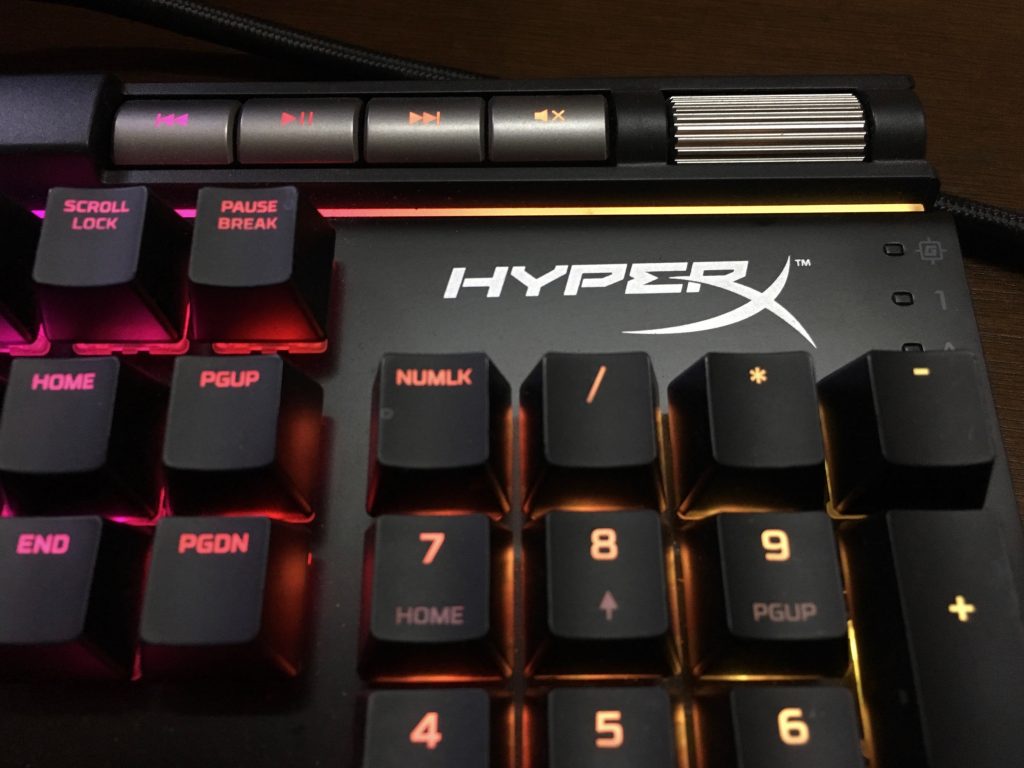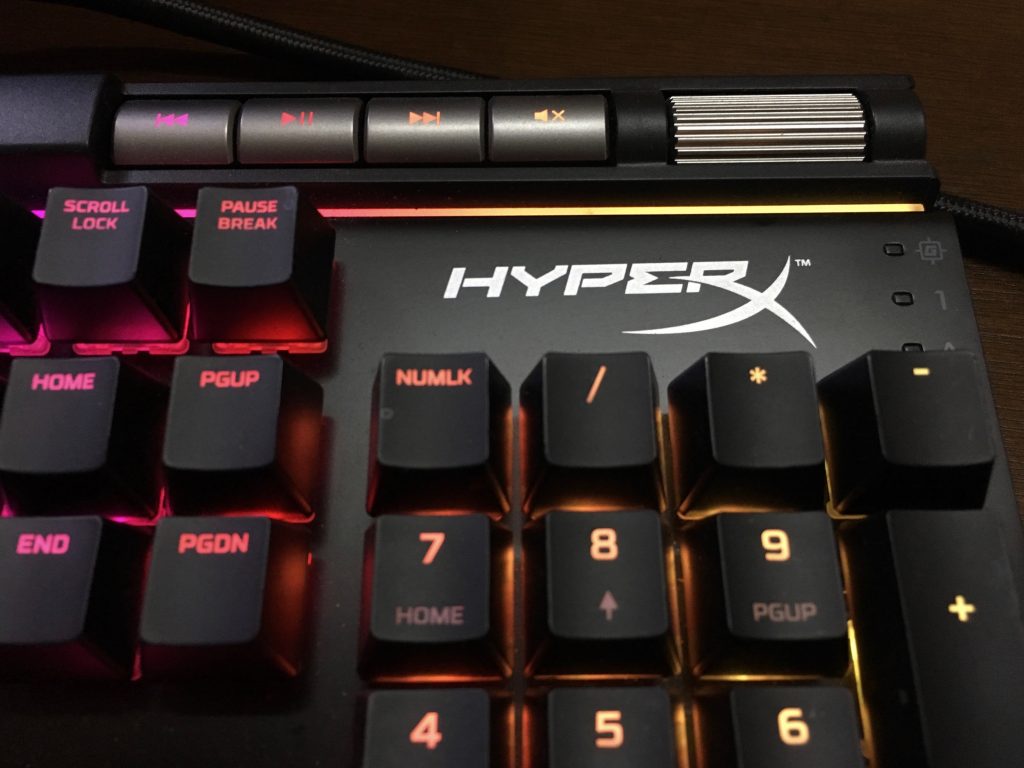 RGB Customization
The RGB effects look extremely cool, and one of the best effects you will see on the gaming keyboards, especially due to the accent RGB bar on the top of function keys. I love focussed single color (FPS profile) for gaming, but otherwise, I always kept the Wave profile active that looks amazing.
HyperX NGenuity offers a ton of customization that comes with default FPS, Wave, and Flame (all red) RGB customizations. These profiles can be completely customized and changed as needed. You can even import the customizations done by other players if you have the exported files. You can also select from profiles like CS: GO, Destiny II, Diablo and many others that come preloaded with the software.
You can link particular profiles to respective games or applications, and you can customize the seven various zones of this gaming keyboard with your RGB settings. For an RGB geek, the offered two layers of RGB profiles might feel restrictive, but for most of us, the available options are more than enough to make their gaming PC setups look Ultra Cool!
Performance
HyperX Elite RGB Gaming Keyboard ticks all the boxes when it comes to gaming. It offers much-needed stability, high-end RGB customization available in the market and the performance-oriented Cherry MX switches you have options to select from. The solid frame of this keyboard help provides sturdy and stable controls even when you're frantically spamming actions. It comes with the Game Mode, N-Key Rollover, and anti-ghosting functions keep the inputs as accurate as possible. I had a fantastic time playing FPS games like CS: GO or Battlefield 5 on this keyboard, and it's a great option if you are in the market for a high-end durable mechanical gaming keyboard.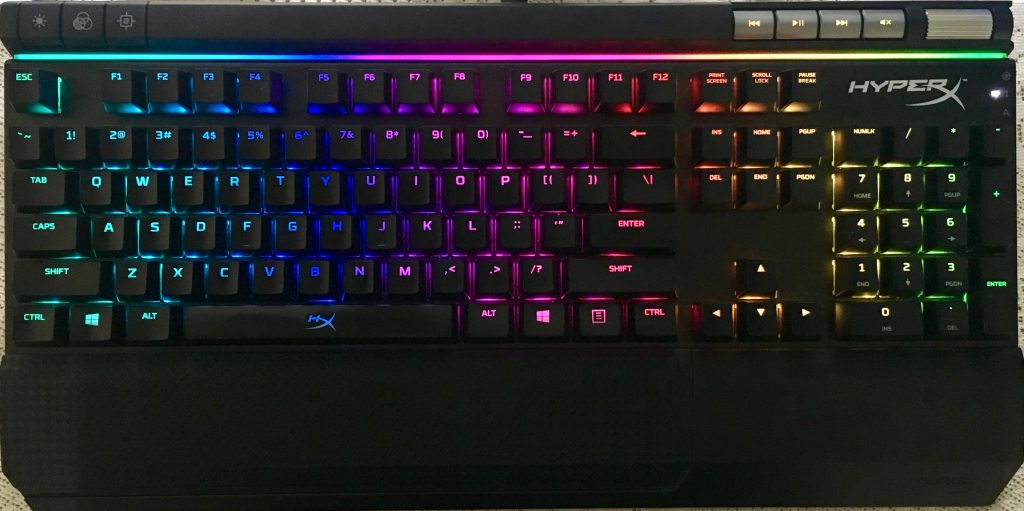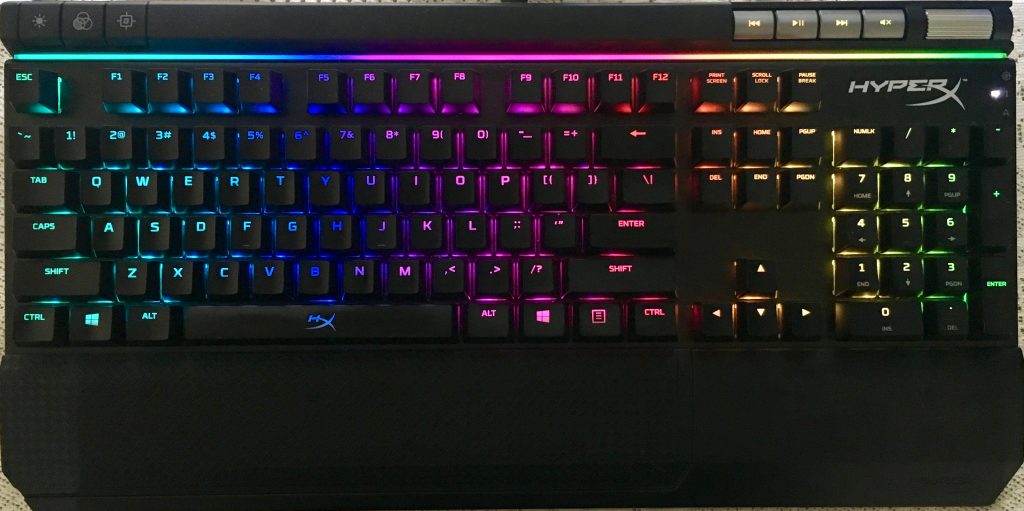 For typing in general as well its a great experience on Cherry MX Red switches but I will prefer brown switches ones for the mixed usage. In the beginning, it took some time to get used to, as I was accidentally touching nearby keys, which thankfully did not activate and I was still getting the right input in my text editor. So, great work there by HyperX on that part.
Verdict
The only con, if I have to look for this device is the price it is offered at even after a year of launch.
At the price of Rs. 14000 as of today, Elite RGB is an expensive device, but a perfect mechanical gaming keyboard to own. It will be out of reach for major gaming population, but still a worthy gaming keyboard that will last many years to come. I would highly recommend buying HyperX Elite RGB Gaming Keyboard (maybe at some online sale), for its sturdy build quality, loads of features, appealing RGB customizations, and outstanding overall performance.